Goods and Services Tax (GST) is an indirect tax which was introduced in India on 1 July 2017 and was applicable throughout India. So, If you are searching for how to apply for GST and how to get a GST number, you have reached the right article. This article is going to be a step by step guide and by following it, anyone can learn about the process.
How to apply for GST Number?
First of all open official website, scroll down a little bit and you will find two options.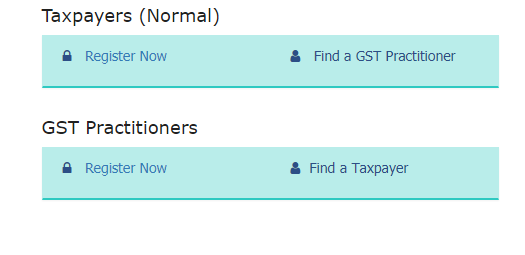 Just click on the Register Now under Taxpayers (Normal). Then Fill the form shown below.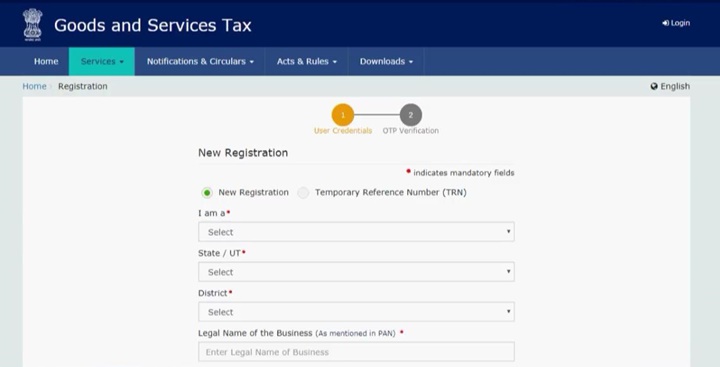 First of all, select I am a Taxpayer and fill all the information like State, District, Legal Name of Business (your name as written on pan card), PAN number, email, mobile number. Then click on proceed.
Then you will receive two OTPs. One on mobile number and other on email id. Enter those OTPs and click on proceed. Make sure this verification step must be done within 10 minutes.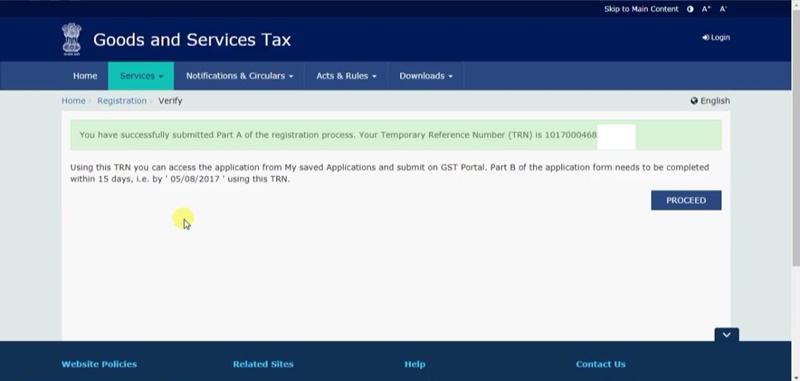 After completing the above steps or PART-1, you will get a TRN (Temporary Reference Number) which will remain valid for 15 days. It means you need to complete the PART-2 of the application within 15 days. This TRN will be used to login and complete the PART-2 of the application, so keep it safe.
On the next page, you will have to enter your TRN and the captcha. Then click on proceed. You will receive an OTP on your email and mobile number, just enter that in the required place and proceed.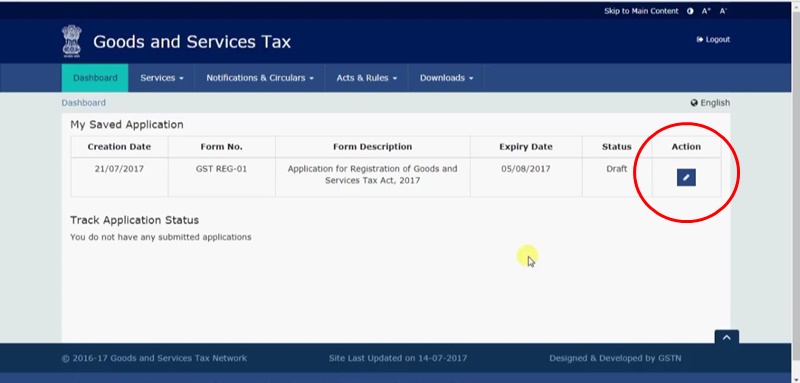 You will be redirected to the Dashboard. Here you can track the status of your application. Now, click on the action button as shown in the figure above.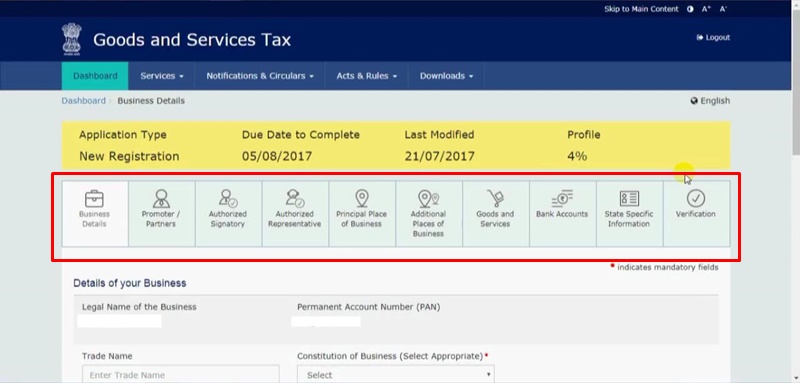 The main part of your application will start from here. Now, complete each and every tab shown under the red box.
Let's start with Business Details: You can fill all the details like Trade Name, Constitution of Business (type of business), district, state, etc by your own.
For centre jurisdiction, refer the link given there.

If you want to opt for composition scheme then turn ON the "option for composition" button and check the declaration below.
"Reason to obtain registration" – just select anyone applicable to you.
"Indicate Existing Registration" – Here you will have to add details of documents like the TIN number, Sales Tax Registration Number or anyone that you have. If you don't have any, just click on save and continue.
Promoter/Partners: If you have a partnership business, the fill the details of your partner like his/her name, Father's name, designation, PAN no., address etc and upload a photograph of your partner. Then click save and continue.
Authorised Signatory: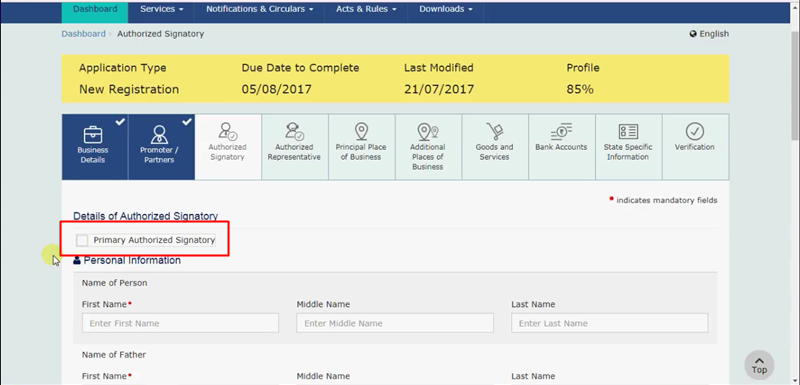 Here you will have to fill details of a person whom you want to authorize for taking decisions of your business. You can also make the person "Primary Authorized Signatory" if you want only him to take major decisions.
Authorized Representative: If you have any authorized representative for your business, turn this field ON. Select the "type of representative". If he is a GST Practioner, just enter his enrollment Id, all the details will be automatically filled up. If he is someone other, fill the details manually.
Principal Place of Business: Fill address details of your business like where it is located, district, state, contact number and upload the appropriate document (address proof) in jpg format. Then save and continue.
Additional Places of Business: If you have any additional places where you do commercial work, add all the details of those places. Then save and continue.
Goods and Services: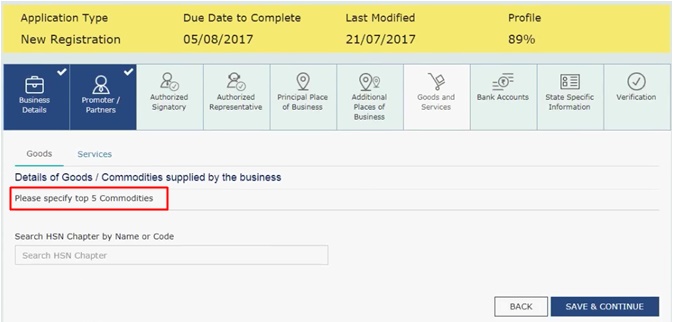 Here, Add HSN (Harmonized System Nomenclature) Code of top five commodities that your business offers or sell. You can search HSN number easily on Google. Like if you sell cement, then its HSN code would be "6810". Likewise, for services, add appropriate SAC (Service Accounting Code) codes.
Bank Accounts: Add your bank account details. You can add any number of accounts that you have but the minimum requirement is "one".
State specific information: If you are a professional tax employee or have any state excise license, fill their details here otherwise leave it.
Verification: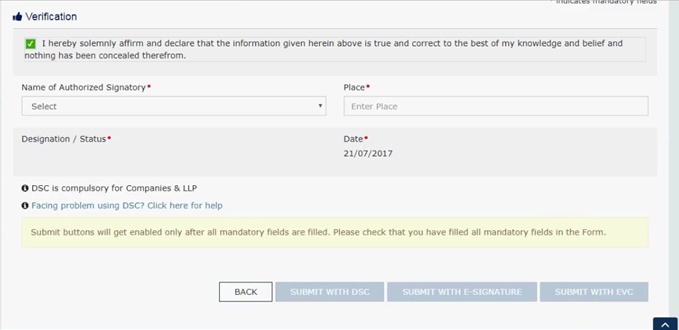 This is the last portion of the application. Select the name of Authorized Signatory that you have filled earlier and enter the place. Then submit the application using any of the options shown – Submit with DSC, Submit with e-signature or submit with EVC.
After verification of all the information, you will get your GST Number within 7 days. In case, if your application gets rejected, you will receive the reason for its rejection. Just correct your application and submit again.