Looking to dive deep into the ocean of artificial intelligence? Or, want to stay updated with the latest trends and events in the field of AI? You must consider listening to an artificial intelligence podcast. Continue reading this article to explore some of the best AI podcasts.
Artificial intelligence, one of the sought-after technological breakthroughs, has evolved rapidly over the past decade. And it will definitely continue to advance in the coming future. Hence, AI is an ever-evolving and extensive field.
Staying atop this field has become the need of an hour for everyone. With multiple resources available to equip you with the latest trends and news in AI, podcasts have emerged among the trending ones.
AI podcasts offer you in-depth insights into artificial intelligence, its applications, and up-to-date information. In addition, they are a great resource to equip you with best practices, thoughts, and experiences from industry-recognized AI experts. You don't even have to leave your comfort zone to obtain this valuable knowledge.
This article lists some of the most popular and best artificial intelligence podcasts you must consider to listen to and gain in-depth knowledge.
Best Artificial Intelligence Podcasts You Must Listen To
From the below list, you can choose the artificial intelligence podcast that matches your experience level in the AI field.
So, let us explore the list!
1. AI and the Future of Work
Host Dan Turchin, the CEO of PeopleReign, talks about how AI is reshaping workplaces. He takes the interviews of thought leaders and technologies from the field and academia. They share their experiences, views, and insights into artificial intelligence.
You can listen to this artificial intelligence podcast on several platforms, including Spotify, Apple Podcast, Podcast Index, Amazon Music, Castro, Stitcher, Castbox, Pocket Casts, Listen Notes, Player FM, and RSS Feed.
Furthermore, this podcast divides thoughts or insights on a specific topic from different AI experts in different episodes. This helps you easily find the one that you need. Also, before listening to the podcast, you can read its description to know what exactly it is about or its entire transcription. Sharing a specific podcast via a URL or on social media platforms is possible.
Click here to listen to this podcast!
2. AI in Business
Artificial intelligence has left no field untouched. It has revolutionized the functioning of businesses and still continues to do so. While it is pretty challenging for business leaders to stay on top of AI's latest facts and hype, this is where AI in Business comes into play.
This artificial intelligence podcast equips non-tech people with knowledge of using AI in their businesses. The host, Daniel Faggella – the founder of Emerj, interviews executives from the AI and machine learning (ML) fields and global researchers and investors from renowned companies.
The podcast covers the following:
Critical trends and applications of AI.
AI applications that are driving more business.
Experimental AI applications.
Business planning with strategic AI considerations.
How do top business executives leverage the latest AI trends?
All episodes airing on this podcast span over five years of interviews and have millions of downloads worldwide. You can listen to all episodes on iTunes, SoundCloud, and Stitcher.
Click here to listen to this podcast!
3. The AI Podcast
Hosted by Noah Kravitz, a long-time journalist, hosts The AI Podcast. He interviews several tech leaders, and they share the impact of AI, deep learning, and machine learning in today's era.
Furthermore, Noah is the creator of one of the most popular YouTube channels, Science and Technology. He has served as a tech expert on local TV outlets and cables. Also, he wrote on game-changing technologies for several media outlets, including WIRED, Business Insider, and Entrepreneur.
This podcast shares a single person of each tech leader in a single story. These people range from several backgrounds, from wildlife biologists tracking endangered rhinos to astrophysicists and data scientists.
You can find episodes on iTunes, Google Podcasts, Amazon Music, Castro, PlayerFM, Pocket Cast, Soundcloud, Audible, and many others.
Click here to listen to this podcast!
4. AI Today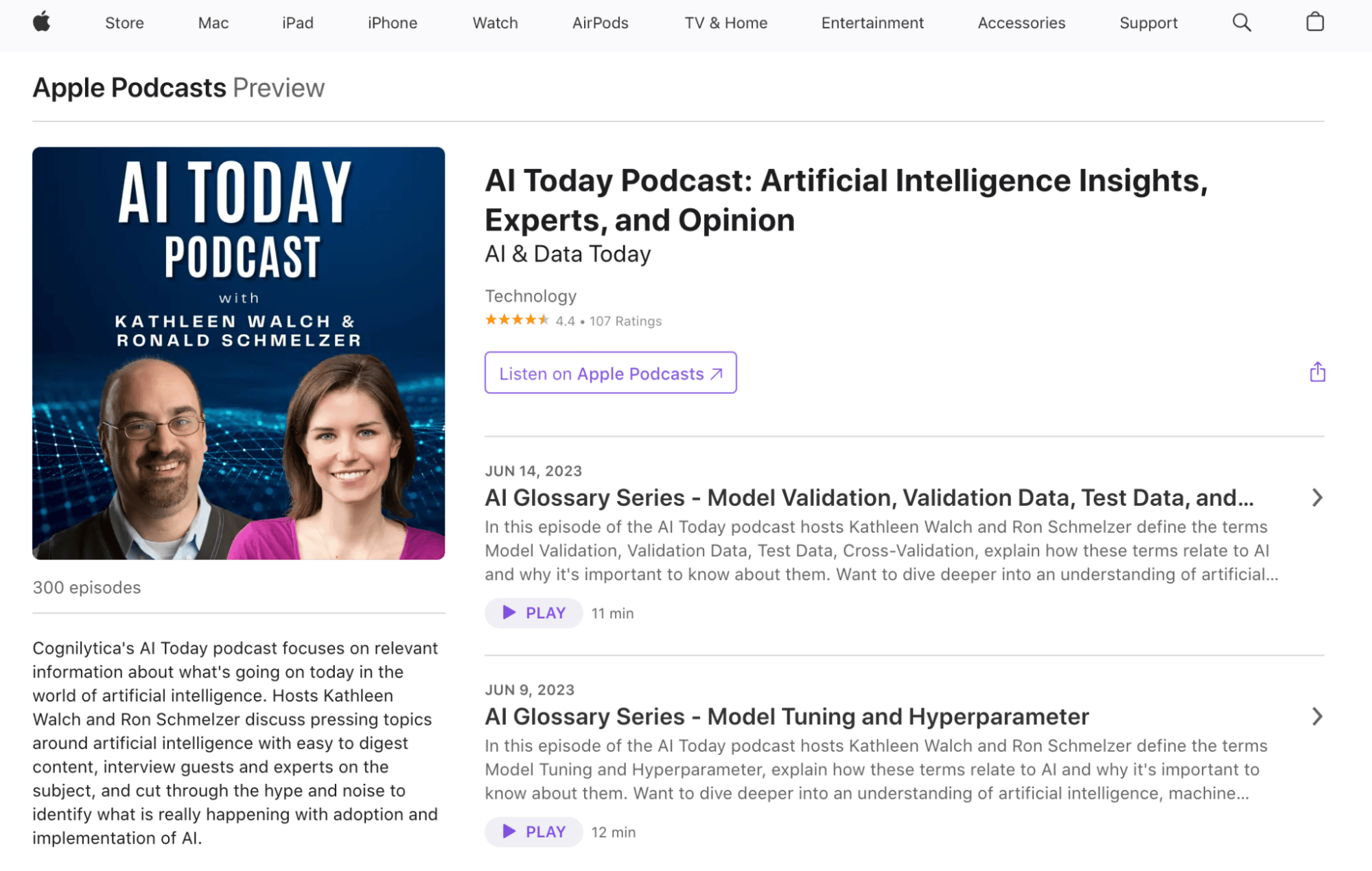 AI Today is an artificial intelligence podcast providing listeners with relevant information about the current trends and other nitty-gritty in the field of AI.
Kathleen Walch and Ron Schmelzer host this podcast. They interview experts and guests and share their opinions and insights on AI. In addition, the hosts help you grasp the pressing topics of AI with easy-to-digest content. They provide insights into the impact of the adoption and implementation of AI.
There were a total of 300 episodes while writing this article. You can listen to them on Apple Podcasts, Stitcher, Spotify, Amazon, Tunein, and others.
Click here to listen to this podcast!
5. Data Skeptic
Data Skeptic is an authoritative source on artificial intelligence, machine learning, and data science. It hosts podcasts on hundreds of interviews, which are available for download later.
Kyle Polich and Linh Da Tran host Data Skeptic. They come up with a specific theme in every season and interview active researchers and industry professionals in accordance with the decided theme.
With this artificial intelligence podcast, you can start your journey of discovering the vast field of AI. Listen to engaging episodes and discussions from industry experts on Apple Podcasts, Data Skeptic's official website, Spotify, Pocketcasts, Podcast Addicts, Tune In, Amazon Music, Castbox, Google Podcast, and Stitcher.
Click here to listen to this podcast!
6. DeepMind: The Podcast
Deepmind: The Podcast is created by Hannah Fry, mathematician and broadcaster. It explores cutting-edge innovations and other latest in AI and provides knowledge on exceptional ways of using AI to transform the world.
Hannah Fry is about to release the second season discussing the ways AI is accelerating science. In addition, the second season dives deeper into the challenges and potential of developing artificial general intelligence (AGI), an advanced problem-solving system.
You can listen to season 1 and the upcoming season 2 on YouTube, Spotify, Apple Podcasts, and Google Podcasts.
Click here to listen to more podcasts!
7. Eye on AI
Eye on AI offers insights into the fastest-growing artificial intelligence field. Besides podcasts, it features articles, weekly newsletters, aggregated news, and event coverage targeting industry professionals and the financing community. It publishes podcasts biweekly.
Sponsored by Oracle Netsuite, this artificial intelligence podcast is led by Craig S. Smith, a former New York Times correspondent. Each episode highlights engaging conversations with trailblazers making a significant change in the AI landscape.
So, tighten your seatbelts and start gaining insights into AI and machine learning with Eye on AI on its official website, Apple Podcasts, Google Podcasts, and PlayerFM.
Click here to listen to this podcast!
8. HumAIn
HumAIn is a 2.5% top global technology podcast on AI, data, and developer tools. Hosted by David Yakobovitch, an Education Delivery Specialist at SingleStore, he converses with top tech professionals about hot topics, such as artificial intelligence, data science, the future of work, and developer education.
The latest episode airing on the platform is from Steven Banerjee, highlighting the contribution of machine learning, NLP, and AI in the revolution of the healthcare sector. The episodes air on Apple Podcasts and Spotify.
Click here to listen to this podcast!
9. Lex Fridman Podcast
Lex Fridman is a research scientist with research on human-robot interaction and machine learning. He interacts with top tech industrial revolutionaries and shares their views and experiences in several episodes.
To enjoy episodes from Lex Fridman Podcast, you can subscribe to his YouTube channel or Apple Podcasts, Spotify, and RSS Feed. Some industrial revolutionaries Fridman interacted with are Mark Zuckerberg, Neil Gershenfeld, Joe Rogan, Vitalik Buterin, Grimes, Dan Carlin, Roger Penrose, and Leonard Susskind.
Click here to listen to this podcast!
10. Voices in AI
Voices in AI is a new artificial intelligence podcast sponsored and published by GigaOm. It features long interviews with leading minds in the artificial intelligence landscape. These minds share valuable viewpoints regarding this game-changing technology.
Byron Reese, the CEO of GigaOm, interviews one guest at a time for an hour long. This podcast helps you explore AI's economic, social, ethical, and philosophical implications. It covers a wide range of topics, including robots, income inequality, conscious machines, robot rights, and weaponized AI.
Subscribe to iTunes, Google Play, Spotify, Stitcher, and RSS Feed to listen to all the episodes of the Voice in AI podcast.
Click here to listen to this podcast!
11. Living With AI
Hosted by Sean Riley, this artificial intelligence podcast explores all possible issues encountered when building, operating, and deploying AI-powered machines and applications. It features views from experts in the field of Industry & Academia. Also, you can find episodes discussing Robots in Space, Driverless Cars, Autonomous Ships, Drones, Covid-19 Track & Trace, etc. They are available on Apple Podcasts, Spotify, Overcast, Amazon Music, Castbox, and other platforms.
Click here to listen to this podcast!
12. Me, Myself, and AI
Me, Myself, and AI is an artificial intelligence podcast in Business. Two hosts, Sam Ransbotham (Boston College) and Shervin Khodabandeh (BCG), converse with people achieving big wins with AI in pharmaceuticals, beauty, and agriculture.
The website hosts 6 seasons and has just started with the 7th season, airing its first episode. You can listen to episodes of all seasons on Apple Podcasts and Spotify.
Click here to listen to this podcast!
Recommended: How Dangerous is AI? 5 AI Risks You Should Know About
Conclusion
These were some of the most popular artificial intelligence podcasts. If you are looking to unlock more opportunities in the AI landscape, listening to podcasts can help you tremendously. You get aware of the latest news and events in the field, in addition to the basics.
So, choose the artificial intelligence podcast from the above list based on your experience with the field, and explore more new dimensions of AI.