Messenger, the official chat app of social media giant Facebook has improved a lot since its inception. The company has added many new features along with optimizing the existing ones. You can now use Messenger to chat, voice call and video call your friends. But this is not what Messenger is limited to, the app offers tonnes of customization options like colors, stickers, emoji, etc to improve your experience.
If you are new to Facebook or just installed the Messenger app for the first time, you are at the right place. In this article, we will explain all the important features of Facebook Messenger so that you don't have to go anywhere for more help.
Also Read: What is Clubhouse App? Everything You Need to Know About it
How to Use Facebook Messenger
When you launch Facebook Messenger app, you will see all the conversations on the main screen. You can open any conversation, write your message in the text input box present at the bottom and hit the arrow icon to send. Along with text messages, you can also send photos, emojis, stickers, etc using the respective buttons present around the text input box. You can also voice call and video call your friends clicking on the respective icons present at the top of the screen. Read more.
1. The Main Screen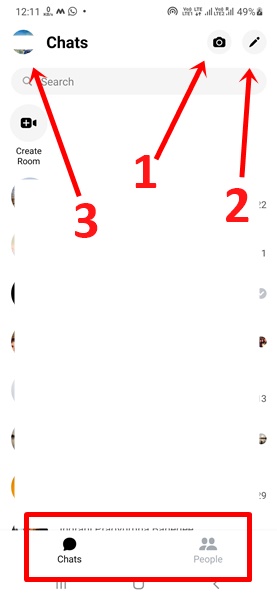 This is the first screen you see whenever you open the Facebook Messenger app. Though the screen is self-explanatory. I would like to talk about marked icons and their functionalities.
You can tap the Camera icon (1) to click a photo record a video or also select an existing photo/video from the gallery to share with your friends, in a group and set it as a story for 24 hours. All these options will appear once you select an image or video file.
You can tap on the pencil icon (2) to start a new conversion or a secret conversion with your friends. If you don't know, secret conversations in the Facebook Messenger app are end-to-end encrypted. Here, you will also find an option to create a new group with a selected number of people.
Lastly, tapping on your image (3) will take you to the Settings page where you can manage options for customization, privacy and security.
2. The Settings Screen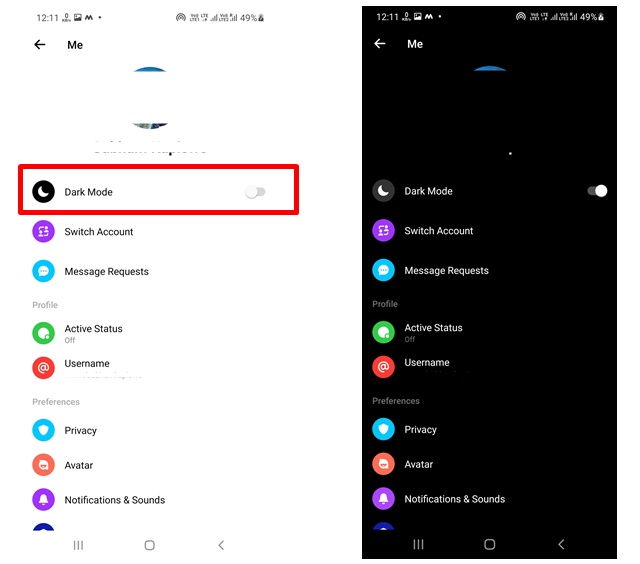 Dark Mode: Messenger app comes with inbuilt dark mode. Just tap the option to turn it on and give your eyes relief while using the app in dark rooms.
Switch Account: If you have more than one Facebook account, you can add them all in Messenger and use this option to switch accounts easily. This option also allows you to switch to your own pages (if you have any) and message on its behalf.
Message Requests: When some unknown users messages you on Facebook or Instagram, it will be shown under Message Requests. The Messenger app gives you the options to accept the request or block the person.
Active Status: As the name sounds, you can turn your active status or online status on/off using this option.
Username: Username makes it easier for you to share your messenger profile with others, and also help others to easily find you on Messenger. It generally creates a unique short URL like https://m.me/username which you can share with anyone.
Privacy: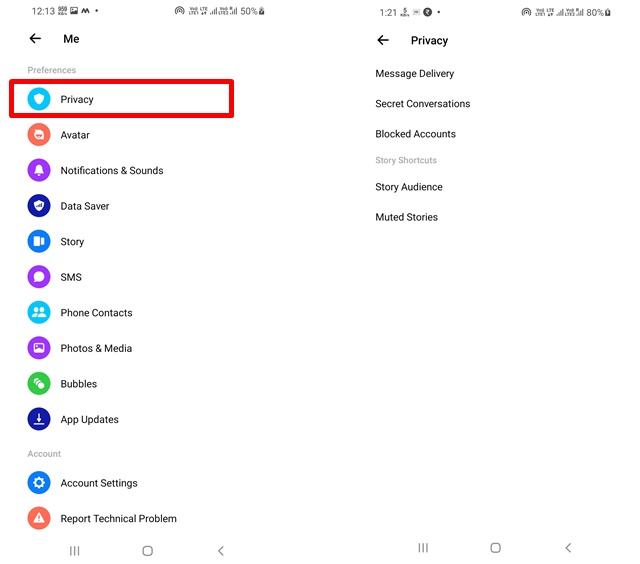 Under Privacy, you will see the following options. Let's understand what they are.
Message Delivery – This option lets you decide whether you want to receive message requests. If yes, where they will go? To your chat list or Message Requests folder?
Secret Conversations – This will show all the logged-in devices with their secret key. Each of your devices will have unique secret keys. You can also remove the device if it's unknown or no longer in use.
Blocked Accounts, Story Audience and Muted Stories: These options will help you check the accounts you have blocked, people who will see your stories and the accounts whose stories you have muted.
Now, let's skip Avatar and Notifications & Sounds as they are self-explanatory and talk about Data Saver.
Data Saver: If you are on a limited data plan, you can enable this option to save some data. This option turns off the auto-media download feature so that you can only download the required photos and videos.
Story: It lets you control the options related to stories.
SMS: If you want to manage your Facebook messages and text messages at the same place, you can make use of this SMS feature. Enabling this option will ask you to choose Messenger as the default SMS app. And after that, you can read and reply to your text messages also from the Messenger app itself. However, I always prefer to keep both things separate.
Phone Contacts: If this option is enabled, the Messenger app will keep checking your phone contacts and notify you whenever someones join Messenger.
Bubbles: Messenger app allows you to minimize any chat as floating bubbles. This doesn't only look cool but also help you use other apps while chatting with your friends.
That's all for this article. I hope you have now enough idea of all the options provided by Messenger's app in its the current version (303.1.0.12.119).