Gone are the days of the modern monitors that make it challenging for your eyes to keep an accurate focus. Modern manufacturers came up with a creative solution to the issue of skewed imagery: curved monitors.
The best-curved monitors have just gained popularity even after being in the market for several years. The gradual curve in the monitors edges into your field of vision, preventing image deterioration. Curved monitors use your peripheral vision, giving the best outcome for immersive viewing or gaming experience.
For the perfect viewing setup, picking a monitor with the best possible screen curvature is necessary. Of course, there are some specifications you need to look for when choosing a curved monitor with a high refresh rate, adequate ports, outstanding resolution, brightness, contrast, color accuracy, and price. But how can you choose the best-curved monitor maker when so many options are available?
So, to make it easier for you to select, we will list down the best curved monitors you can buy in 2023.
Read: 7 Best Gaming Chairs You Can Buy
Best Curved Monitors to Buy in 2023
The Best Curved Monitor You Can Buy
1. Dell Alienware
If you are looking for the best ultra-wide IPS display monitors, this Dell curved monitor has to be one of the primary options. Sporting a 34-inches curved, three-sided display without bezels, it features Dell's trademark design. The Dell Alienware AW3420DW includes a 21:9 aspect ratio and an infinity display that makes every moment epic.
Features
Wide178/178-degree viewing angle
NVIDIA G Sync displays vibrant pictures in full frame
4 ms response time and 120 Hz refresh rate
A dashboard that displays function key status, six different gaming modes, and numerous quick-access ports.
Rating – 4.7/5
Price – $699
Buy on: Amazon
2. Acer Predator X34
One of the most immersive and sharp curved displays with 3440 x 1440 ultrawide QHD gaming resolution is the Acer Predator X34. The 34-inch curved monitor has two silver-colored aluminum arms that expand outward.
Features
120 Hz refresh rate
Response time of 4ms
No screen tearing with NVIDIA G-SYNC
100% sRBG and unlimited colors.
Eye strain protection using Flickerless, Low Dimming, BlueLightShield, and ComfyView.
Various features and settings for different gaming profiles, including dark boost, ambient lighting, ECO, and more.
Rating – 4.6/5
Price – $1099
Buy on: Amazon
3. Gigabyte G32QC A
The 32″ screen size can be a suitable choice for people seeking an immersive experience or a monitor they can sit a little farther away if needed. Gigabyte G32QC provides this feature by combining a fast refresh rate VA panel and a 2560 x 1440 (WQHD) resolution for a comfortable pixel density. Additionally, If you do not want to spend a lot of bucks and go easy on your pocket, this is the best bet on a curved monitor.
Features
165Hz refresh rate
1 ms reaction time provides responsive and fluid gameplay
It has OSD Sidekick, Dashboard, Game Assist, Black Equalizer, and Auto Update features.
93% DCI-P3 color gamut and VESA display HDR400 support for better color
It has Low Blue Light and Flicker-Free technology, so people who game or work for a long time do not have to worry about getting eye fatigue or strain.
Rating – 4.6/5
Price – $259
Buy on: Amazon
4. MSI Optix MAG342CQR
The MSI Optix MAG342CQR has a curvature ratio of 21:9 with a 3440 x 1440 VA display resolution for optimal viewing. Additionally, it has super-narrow bezels and a screen-to-body ratio that is 36% higher to provide the best immersion when using a multi-monitor 180° setup.
The benefits of gaming OSD apps are anti-flicker technology, reduced blue light, and a 178-degree wide viewing angle. For the first time, there is a lighting effect on a monitor.
Features
Steelseries GameSense provides riveting gameplay
144 Hz refresh rate
1 ms response time is necessary for games requiring quick and accurate responses.
A wide color gamut
FPS front sight toggle
2560×1440 WQHD resolution due to FreeSync
Rating – 4.6/5
Price – $409
Buy on: Amazon
5. BenQ MOBIUZ EX3415R
If you want a curved monitor with superb specifications that will not break the bank, the BenQ Mobiuz EX3415R is an exceptional choice. The monitor provides respectable color performance with the help of HDR10 VESA DisplayHDR 400 compatibility. A 34-inch display that you may use for business, gaming, or other purposes is available for just a little above $1,000.
Features
1900 R curve levels up your immersion
A fantastic eye care technology
A 144Hz refresh rate with a 1ms response time
Free-syncing premium support
98% color gamut and
It has a 5W subwoofer and a 2.1-channel system with deep bass.
Rating – 4.5/5
Price – $795
Buy on: Amazon
6. LG 40WP95C
LG is one of the top manufacturers of curved monitors; this model is ideal for creative workers who want to make the most of the screen because it has a 40-inch curved WUHD5K2K Nano IPS display. The monitor features a sleek and contemporary design to fit well with any workspace. Ergonomic design allows the monitor to swivel, tilt, and adjust to accommodate the monitor.
This LG monitor is built carefully to save your eyes from harmful blue light.
Read: 9 Best Gaming Keyboards to Level Up Your Game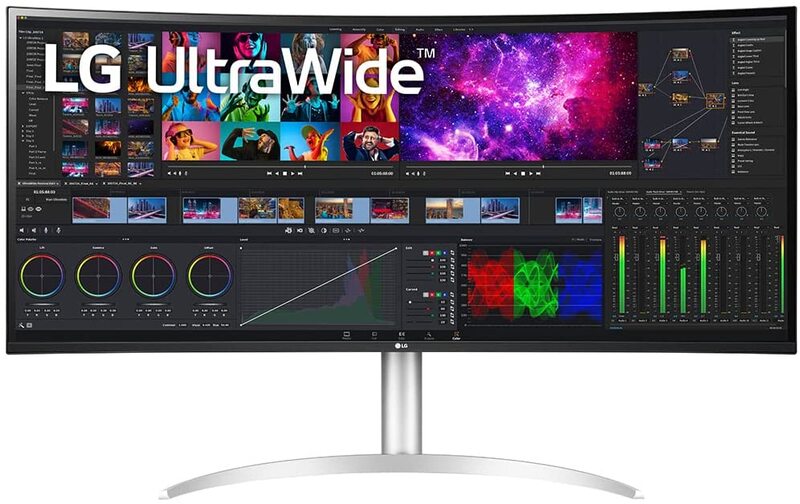 Features
HDR10 support and DCI-P3% color gamut and thunderbolt connectivity.
Dynamic Action T helps to reduce input lag
It supports AMD FreeSync.
Live color low blue light with TUV Rheinland Eyesafe Display
Rating – 4.4/5
Price – $1799
Buy on: Amazon
7. Asus ROG Swift PG35VQ
This curved monitor is the best you can buy if you are in for an elevated gaming experience. It provides a 27-inch full HD curved gaming monitor with 1920 x 1080 pixels to help combine slick game graphics with adaptive sync technology. With the screen refresh rate of 144 Hz and 1ms response speed, the gamers are in for a treat. Overall, it gives a fantastic gaming experience but is pricier.
Features
Extremely little motion blur technology from ASUS
A 27-inch curved display
RGB lights with a nominal bezel.
Adaptive-sync technology
Customizable light signature projection.
Supports display widget software
It has an OSD menu and navigations.
Robust connectivity with several ports
It consists of flicker-free technology and ultra-low blue light technology.
Rating – 4.4/5
Price – $1999
Buy on: Amazon
Bonus Pick
8. SAMSUNG 27″ Odyssey G55A
This 27-inch QHD Samsung curved monitor is a beast. With a 165hz refresh rate and 1ms response time, gamers will be excited about its performance.
The monitor boasts a WQHD 2560×1440 resolution. It is almost 1.7 times the normal Full HD screen. So, you can guess the level of details in this one.
Features:
Realistic HDR portrays true black and white colors
A classy black futuristic design
Quality speakers
Rating – 4.3/5
Price – $369
Buy on: Amazon
Also Read: 5 Best External Graphics Card (eGPU) for Gaming
Wrapping Up: Best Curved Monitors
Curved monitors have become a fad nowadays. If your line of work requires curved screens for graphic design or video editing, you have a variety of possibilities to choose from these. You can determine which features and specs fit your skills and requirements.
We hope this article helped you to understand and find the best-curved monitor you desire.