For everyone seeking to buy the best gaming chairs, it is essential to check for both style and comfort. When it comes to day-to-day involvement, sitting for longer sessions you need to pick the best this market has to offer.
It is imperative to enjoy your gaming sessions while ensuring it doesn't hurt your body. Whether it's a gaming desk or chair, Ergonomics should be at the top of your priorities, with a proper curved back, adjustable armrests, and proper neck support. 
Not to mention, you need to look for gaming chairs that are properly rated for your weight and height. The choice of material, as well as durability, is also an important feature to look for. In this article, we have handpicked some of the best gaming chairs you can use to give your body the right care it needs.
Read: 9 Best Gaming Keyboards to Level Up Your Game
Gaming Chairs: The Ultimate Buyer's Guide
You can always refer to this guide to narrow down the options and choose the best gaming chair that suits your need and budget.
1. Fit and Comfort
Fit and comfort are the key facts to consider when buying a gaming chair. A well-designed comfortable chair ensures that you maintain the correct posture as you play, and this will further prevent back and neck pain. 
Look for a gaming chair that offers comfort. So, we suggest that you do some research from your end before purchasing the gaming sofa. You can also check the product rating and reviews.
2. Material of the Chair 
Don't forget to check the material of the chair. While genuine leather is durable, PU and PVC leather are prone to crack and peel. However, if you don't want to spend a chunk of money on genuine leather, then we recommend that you go for PU leather.
Compared to PVC leather, PU leather is durable and breathable. But PVC leather is also a popular choice as it is water-, fire-, and stain-resistant. Another material used in making gaming chairs is fabric. Though it is breathable and involves minimum maintenance, as compared to leather and its imitators, it is not water and fire-resistant.
3. Check for Armrests 
Before buying the chair, we suggest you check if the chair has armrests or not. Most gaming chairs come with armrests, while most don't. You would require armrests to support your lower arms and lower back while sitting. Make sure it is adjustable so that you can easily fit into it. 
4. Weight Capacity and Recommended Height
It is also important that you check the weight capacity and recommended height for the gaming chair. A standard gaming or office chair can typically hold around 250 lbs while specially-designed chairs can hold around 300-400 lbs on average. 
5. Joinery of the Gaming Chair 
Getting a comfortable and good quality chair is important, but it is also important to look at the joinery. You can check the technical specifications and reviews to determine if the product is worth your money.
6. Consider your Budget
We know you're going to spend some money on buying a quality product. Fortunately, you can get a high-quality gaming chair on a budget, you just have to know where to look. No worries, we have compiled a list of products that is comfortable yet affordable. 
Best Gaming Chairs to Look For
1. Hbada Gaming Chair
If you want a gaming chair on a constrained budget, then Hbada has got you covered. The Hbada gaming chair offers the best of both worlds while offering superior comfort and aesthetics at the same time. The anatomically-curved backrest, backed by an adjustable armrest offers you all the comfort for longer gaming sessions.
The Hbada gaming chair is also durable and capable of handling up to 440 pounds. This ensures the chair works well for tall people as well. The only catch with the Hbada gaming chair is the lack of any memory foam, due to competitive pricing.
Pros:
Comes with great design
Offers ergonomic features
Comes with a 440-pound weight rating
Highly adjustable and reclines between 0 to 155 degree
Cons:
Doesn't have any memory foam whatsoever
2. Secretlab Titan Evo
The Secretlab Titan and Omega are by far one of the most sought-after models for gaming chairs. In fact, the Titan Evo is by far one of the best gaming chairs put together by the company. With a variety of sizes to choose from, you can easily pick the one best suited to your preference. 
When it comes to the overall functionality of the chair, the integrated adjustable lumber support makes sure that you can rotate the same in any possible direction. Even the magnetic headrest is height adjustable. In a nutshell, this allows users to accommodate a personalized level of comfort. 
Pros:
Comes with an adjustable magnetic headrest
4-way lumber support
Best-in-class material and build quality
Cons:
Lack of any memory foam lumber cushioning
Can be more on the expensive side
3. Cougar Explore S
The Cougar Explore S is yet another budget option on our list. A racer-style design language, backed by a large chunk of features puts the Cougar Explore S right at the top. The quilted-styled PVC leather finish with a solid metal frame screams its premium built. The high-density foam makes it extremely comfortable for longer gaming sessions as well.
The re-adjustable 3D armrest makes it easier for everyone to sit in their ideal position. Furthermore, there is also a neck pillow for added comfort as well. When it comes to relaxing, the deep recline has got you covered as well.
Pros:
Offers a very sturdy built
A very comfortable and supportive structure
Offers a wide range of adjustability
Cons:
The design might feel generic for some
Buy Cougar Explore S
4. Homall Racer
The multicolor aesthetics along with embroidered back design makes the Homall Racer a very unique gaming chair. You are going to enjoy the chair, especially knowing that it can go toe to toe some of the most premium chairs with a price tag of just 100 USD. 
The racing-style seating arrangement also makes sure that you are easily secured without getting the feeling of pinching at the sides. Furthermore, the Homall Racer comes with a steel frame backed by high-density foam with synthetic leather.  
Pros:
Comes with great visual aesthetics
Very easy to adjust
Offers a very affordable price
Cons:
The armrests might feel smaller for some
Buy Homall Racer
Read: 10 Best Gaming Laptops You Can Buy
5. Noblechairs Hero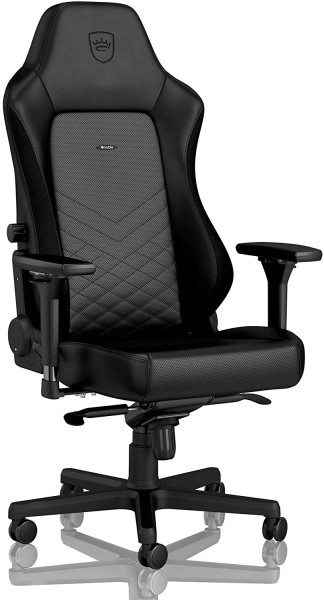 Predominantly we buy gaming chairs for health concerns. Oftentimes, these chairs are advertised as some of the most comfortable chairs to sit and work for. The same is applicable for Noblechairs Hero. The added uPVC leather makes sure you are able to retain the right posture.
You can easily assemble the chair while using it for extra comfort. The pivoting armrest is yet another great feature. It is also height adjustable, while the lock tilt mechanism makes sure you can easily maneuver anywhere you want.
Pros:
Works seamlessly with the additional lumbar support
Best suited for larger frames
Comes with a firm seat and backrest
Cons:
The seat can feel a bit firm for some
Buy Noblechairs Hero
6. Respawn RSP 900
If you want the epitome of comfort, the Respawn RSP: 900 is the perfect gaming chair for you. It offers the best of both worlds. Along with comfort, the RSP: 900 keeps up with the practicality. Apart from being aesthetically pleasing, you can enjoy the comforts of a recliner.
That being said, the Respawn RSP:900 is more suited for console gamers, where you don't have to actively use the keyboard and mouse. Simply take your controller, sit back and enjoy your game. The only trade you would be making is the lack of height-adjustable seats.
Pros:
Absolutely stunning and beautiful
Comes with a dedicated cup holder
Dedicated footrest and back recliner
Cons:
Not suitable for everyone
Buy Respawn RSP: 900
7. Razer Iskur X
If you are a Razer fan and already have a gaming setup from the company, the Iskur X is going to complement your design aesthetics. Given the price range, you should also factor in the overall level of comfort of the Razer Iskur X.
The PVC leatherette along with the snakeskin backrest makes the chair extremely unique altogether. The Iskur X model is also well capable of accommodating a wide range of sizes, making it extremely versatile as well. 
Pros:
Offers a very striking design
Very comfortable
Comes with the backing of Razer
Cons:
Lack of any adjustable lumbar support
Buy Razer Iskur X
Read: 5 Best Lightweight Gaming Mouse for Hardcore Gamers
Wrapping Up: Best Gaming Chairs
Getting an ergonomic gaming chair is a perfect fit between experiencing the adverse effects of sitting for longer sessions and experiencing standing desks. You are bound to fall in love with all the chairs mentioned above for all PC gamers. So, let us know in the comment section below, which chair is perfect for you.