Now that you have bought yourself an awesome gaming rig, it's time to step up your game. This goes without saying, your making set-up is never complete without a proper gaming desk and relaxing gaming chair. Although it won't be able to add that extra FPS you seek, the ergonomics would surely add comfort to your gameplay. That is why we have curated a list of some of the best gaming desks money can buy. 
You can also read our article on gaming laptops, 4k laptops and laptop cooling pads.
How to Buy a Good Gaming Desk?
This goes without saying, when it comes to gaming desks, there are a plethora of options out there in the market. But there are several determining factors finding the right fit for you. So, in this section, we have curated a buying guide offering you the right assistance towards finding you a gaming table. 
Factors to Consider While Buying a Gaming Desk
1. Size of the Desk
This goes without saying, the size of the desk makes all the difference. So, before getting yourself a gaming desk, make sure to measure your room. Similarly, for multiple monitor setups, you should look for a long desk. 
2. Shape
Currently, at the moment, there are various shapes of gaming desks you can find. Dome of the most common being curved, rectangular, T, and L shaped. For multitasking, L-shaped desks are just the right fit. Otherwise, T shapes are quite trending at the moment.
3. Ergonomics
An ergonomic desk ensures you are going to get less tired using it. Look for a design that can help you to work and play for a longer duration of time. There are also gaming desks that come with USB ports, a cup, and a headphone holder. All these add up to the overall ergonomics of your desk. 
4. Desk Height
This goes without saying, the desk height ensures that you get the right ground clearance while working. In fact, it is one of the most important ergonomic factors to count on. In this article, you can always expect the majority of the desks to be above 28 inches in height. Still, look for the height you are most comfortable working with.
Best Gaming Desks You Can Buy
The Best Gaming Desk You Can Buy
1. Arozzi Arena Gaming Desk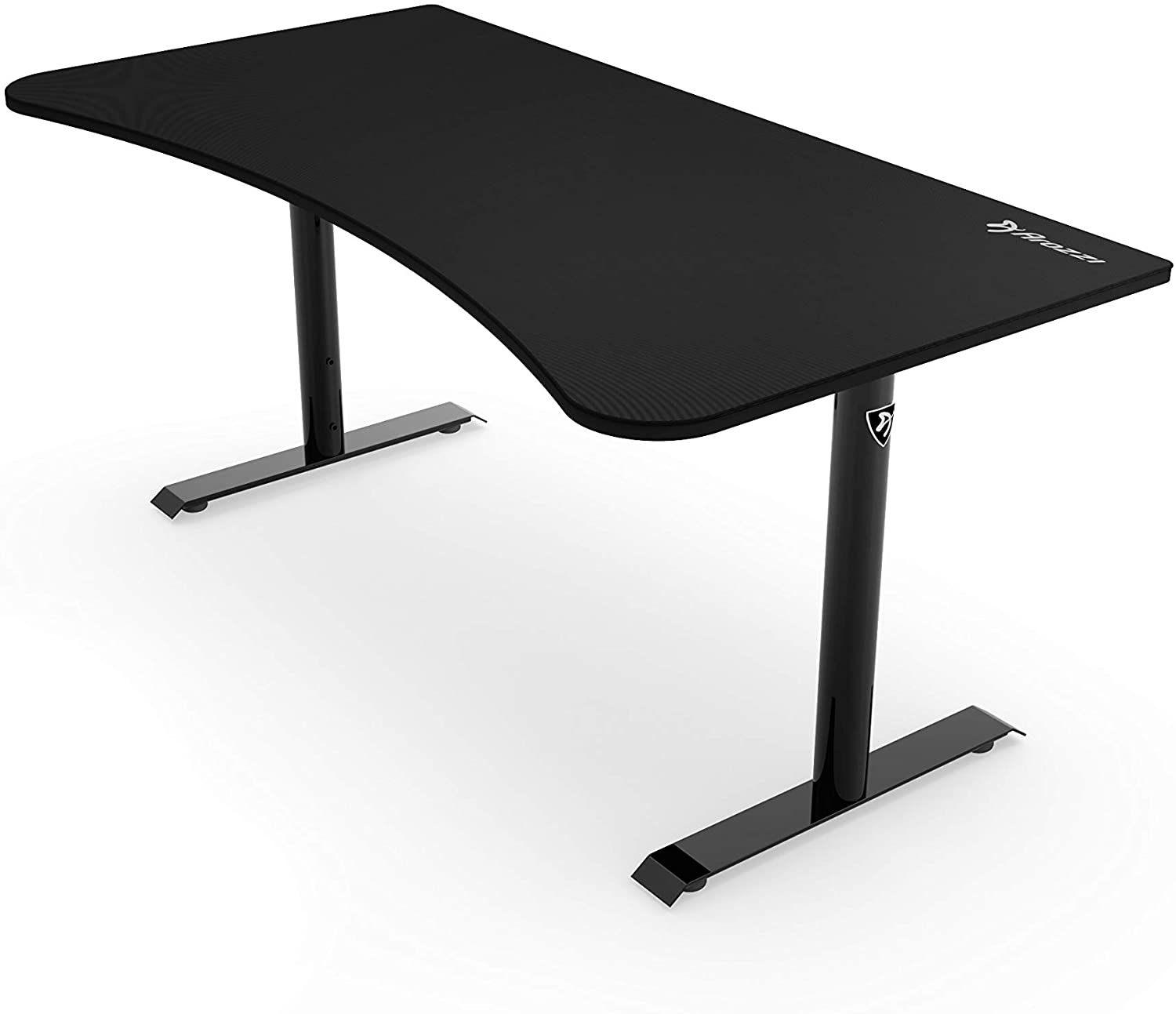 The Arozzi Arena Gaming Desk is by far one of the best gaming desks you can ever get your hands on. With its immense 63 inch width, you can rest assured to get plenty of workspaces. The 31-inch depth ensures you don't have to sit up close as well. The perfect fit for everyone rocking a widescreen or double monitor. 
The gaming desk offered by Arozzi is extremely durable. And the custom mouse pad finish ensures you don't have to worry about putting any additional mousepad whatsoever. Either opting for work or gaming, the Arena Gaming Desk has got you covered.
Pros:
Comes with an intuitive design

Ample workspace

Offers a plethora of color options
Cons:
Being heavy makes it hard to move

A bit more expensive
Buy on: Amazon
2. Homall Gaming Desk
The Homall Gaming Desk can be your gateway toward a gaming setup, without burning a hole in your pocket. Apart from the whole suite of features, you can also expect some decent construction well under 100 USD. At just 44 inches, the Homall Gaming Desk is not the largest desk you can find out there in the market. 
Although, given the ergonomic Z-shaped design, you are not going to have any issue managing the desk space whatsoever. Not to mention, the Homall Gaming Desk comes with a plethora of colors to choose from, ensuring it can suit the aesthetic based on your preference. 
Pros:
Comes pre-included with a headphone hook and cupholder
Offers a carbon fiber tabletop
A very ergonomic design
Cons:
Might be on the smaller side for some
Buy on: Amazon
3. Vitesse Vit 63
This goes without saying, when it comes to aesthetics, there's hardly any gaming desk that can beat Vitesse Vit 63. With a very intuitive design, it comes with everything you need for long gaming sessions. While the solid PVC tabletop brings and steel frames ensure a sturdy built, the carbon fiber laminated surface speaks of visual appeal. 
The Vitesse Vit 63 comes with convenient charging ports. The smart USB gaming handle comes with four different charging ports. The gaming desk also comes with storage trays, cup holders, and headphones holder, everything needed for a professional gamer. 
Pros:
Offers a great design

Comes with a one-year warranty

Included charging ports
Cons:
More on the expensive side
Buy on: Amazon
4. Eureka Z1S Gaming Desk
The Eureka Z1S is a gaming desk that is very articulate about its design and offers just about everything including a carbon-fiber pattern, raised and protected edges, and ambient blue lighting. In a nutshell, it is not only just functional and practical but also eye-catching. 
With the Eureka Z1S, you can also buy the additional trolley for PC towers. The introduction of the wheels ensures that you can easily push the desk anywhere you want. Now, if you are looking for a good starter desk, the Eureka Z1S has got you covered.
Pros:
Best suited as a starter desk
Comes with dedicated cupholders
Cons:
The design language is subjective
Buy on Amazon
5. Walker Edison Gamer Command Center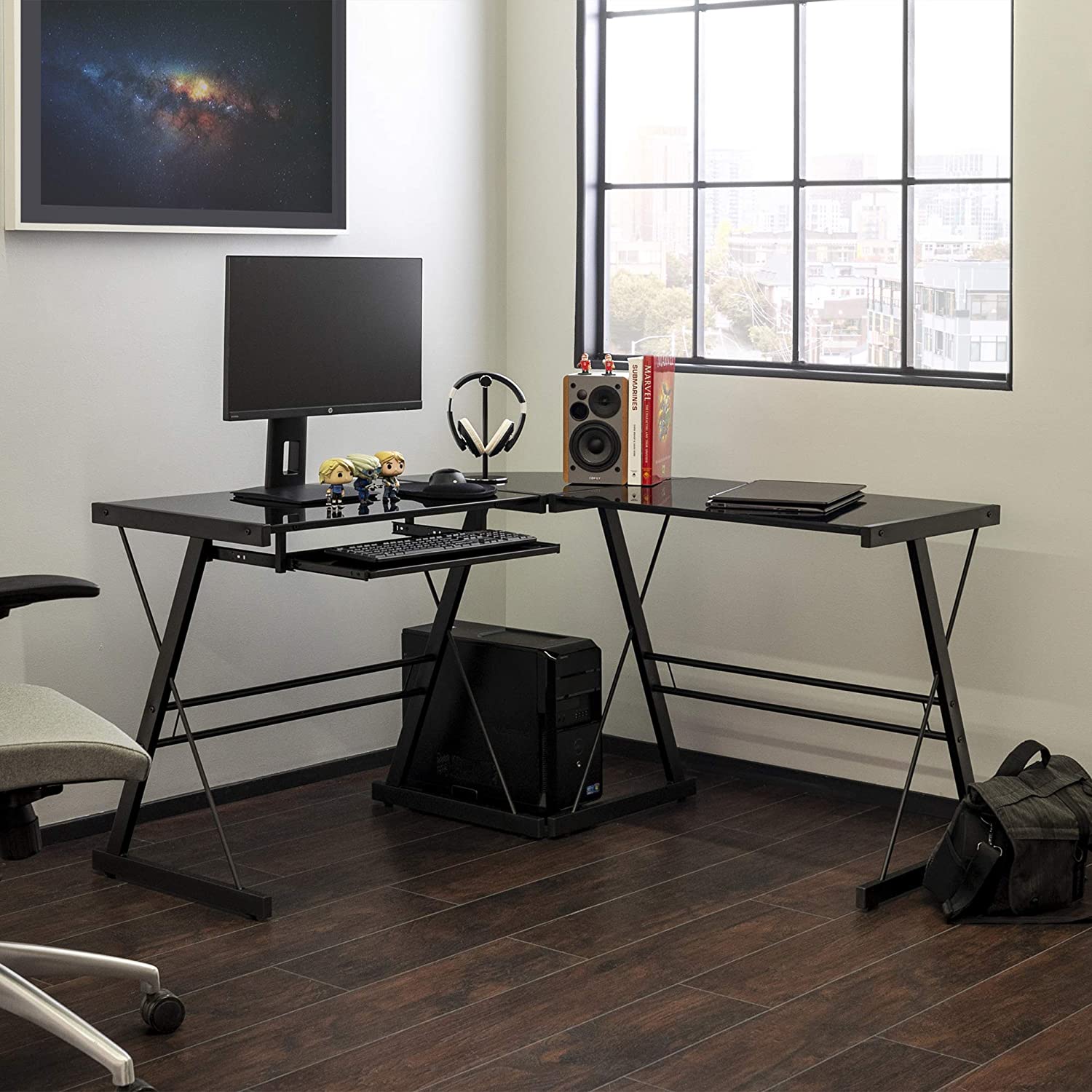 If you are in the need of a corner desk, the Walker Edison Gamer Command Center is all you would ever need. Even though it is not the biggest of the lot, it is certainly ideal for small spaces. In fact, the idea of a corner desk is pretty simple. 
While on one side, you can keep the monitor, the other can be used for working. Neither less to say, you can get the monitor in varieties of colors as well. So, choose the one that works best for you and you are always good to go.
Pros:
Best suited for constrained spaces

Comes with a universal CPU stand

Offers support for multiple monitors
Cons:
Buy on: Amazon
Read: 5 Best Video Game Consoles You Can Buy
Choose Your Favorite Gaming Desk in No Time
It is imperative to understand that no gaming rig is ever complete without a proper gaming desk. Not only it improves your performance, at the same time, but it can also provide you with an immersive gaming experience. So, make sure to go through our above-mentioned list and let us know in the comment section below, which one worked the best for you.