This goes without saying, drones have completely revolutionized the way we perceive aerial photography. Then again, buying drones with cameras for the first time can get overwhelming. In this article, we strive to provide you with all the relevant information you need to get the best drones for both professional and enthusiastic usage.
Not to mention, each drone comes with its unique selling point and set of functionalities. So go through them according to your preference and the right bank for your buck. Furthermore, we will be discussing the use cases of each drone along with the skill set required for each drone. This way you can find the drone that suits your preference. 
Guide to Your Professional Drone 
We are curating this guide for everyone who wants to get their hands on some of the top-rated drones for aerial photography and videography. While looking out for a drone, it is very important to understand the type of camera being used.
This way you can use them for either filmmaking or running ads for commercial agencies, and even for inspections. Professional drones with cameras always come with high resolution, optical zoom, long-range as well as extended flight time. 
Also Read: 8 Best Camera Tripod for Photography and Shooting Videos
1. DJI Mavic Pro
The DJI Mavic Pro is the epitome of what drone cameras can contribute to aerial photography. It is a great starter for everyone who wants to try their hands on drone shot aerial cinematography. Even with a compact size, it comes with all the advanced features including obstacle avoidance, OcySync transmission technology, and more.
Not to mention, the return to home mode, flight autonomy, ActiveTrack gesture, and tripod mode truly enhances the overall functionality. Furthermore, the DJI Mavic Pro is the perfect fit for everyone who wants a drone on the go. It is also a great starter for serious hobbyists. 
Pros:
Offers utmost portability
Seamless control via hand gestures
Comes with crash resistance
State-of-the-art flight time
Cos:
Doesn't come with a wide-angle lens
Not beginner-friendly whatsoever
Buy DJI Mavic Pro
2. DJI Phantom 3 Standard
The Phantom 3 Standard is an entry-level quadcopter from DJI. The autonomous mode truly comes in handy, while you need to focus on getting the perfect shot. The Phantom 3 comes in four different variants including Standard, Advanced, 4K, and Professional.
Our recommendation goes with the standard model, as it shares similarities with some of the top models at a competitive price point. The addition of a three-axis gimbal makes the Phantom 3 ultra-stable. In terms of overall performance, stability and price, there's nothing that can beat the Phantom 3 Standard.
Pros:
Comes at a very affordable price point
Offers a very stable control system
Easily controllable
Cons:
The wings sometimes come up in the video
Battery requires additional warm-up in cold climates
3. DJI Mavic 2 Zoom
The DJI Mavic 2 Zoom has everything an aerial photographer can ask for. It is an engineering marvel that has all the signature technology from DJI. Not to mention, the Mavic 2 Zoom can sustain longer, quieter, and faster flight sessions. The added 12MP sensor offers 4x zoom with 2x optical zoom.
This makes the Mavic 2 Zoom an absolute must-have for mid-range and wide-angle shots. The trajectory prediction algorithm makes sure that you can lock into fast-moving objects with ease. While there's a lot more to say about the drone, the Mavic 2 Zoom is undoubtedly one of the most advanced drones to look for.
Pros:
Comes with an in-built obstacle sensor
Ability to predict the trajectory
The camera offers enhanced HDR photos
Extensive support for a panoramic view
Cons:
Can get expensive for some
Lack of precision landing
Buy DJI Mavic 2 Zoom
4. DJI Phantom 4 Pro
The DJI Phantom 4 Pro is well for its capability of shooting at 4K 60 FPS. It comes with a whopping 1-inch 20MP sensor. The Phantom 4 Pro is also the first-ever drone from DJI that is equipped with a mechanical shutter.
Some of the other prominent features of the Phantom 4 Pro include TapFly free, gesture mode, new and better Return to Home, dual compass module, and more. Not to mention, the DJI Phantom 4 Pro is capable of locking into flying objects making it easier for you to capture the right moments.
Pros:
Offers smooth cinematic shots
Comes with great stability
The included sports mode is something
A very easy flight experience
Cons:
GPS signal degrades at times
The ActiveTrack feature is hard to control
The DJI Inspire 2 is the first-ever drone from the company dedicated to filmmaking. The Inspire 2 is equipped with a dedicated HD video transmission setup, a 4K camera, and a 360-degree rotating gimbal.
The Inspire 2 comes with two different cameras. While one is used for 360 rotation, the other offers a first-person view. The Remote Pilot-in-Command and double operator mode make the Inspire 2 a marvel in aerial photography. Be rest assured, that the Inspire 2 is a drone with a commercial-grade camera that's built to truly dominate the sky.
Pros:
Capable of enough of shooting in RAW footage
Comes with dedicated PCIe SSD storage
Seamless 360-degree camera rotation
Retractable landing gear
Cons:
Can get expensive for some
Properly locking is required for the props
Buy DJI Inspire 2
6. DJI Spark
The DJI Spark is the perfect companion drone you can ever ask for. It comes with all the signature features DJI is known for. With an added gimbal, you can achieve a completely shake-free shot.
The Spark is a very compact, reliable, intuitive, and smart drone with a camera. The intelligent flight mode helps in easy maneuvering for complete beginners. Apart from the main camera, you get a Vision Positioning System backed by 3D sensors and high-precision measurement units to give you the perfect stability.
Pros:
Make for utmost portability
Comes with gesture controls
Have its dedicated quick shot modes
Easily share the footage with the DJI GO app
Cons:
Has a limited flight time
Come with a shorter Wi-Fi range
Buy DJI Spark
7. DJI Mavic Air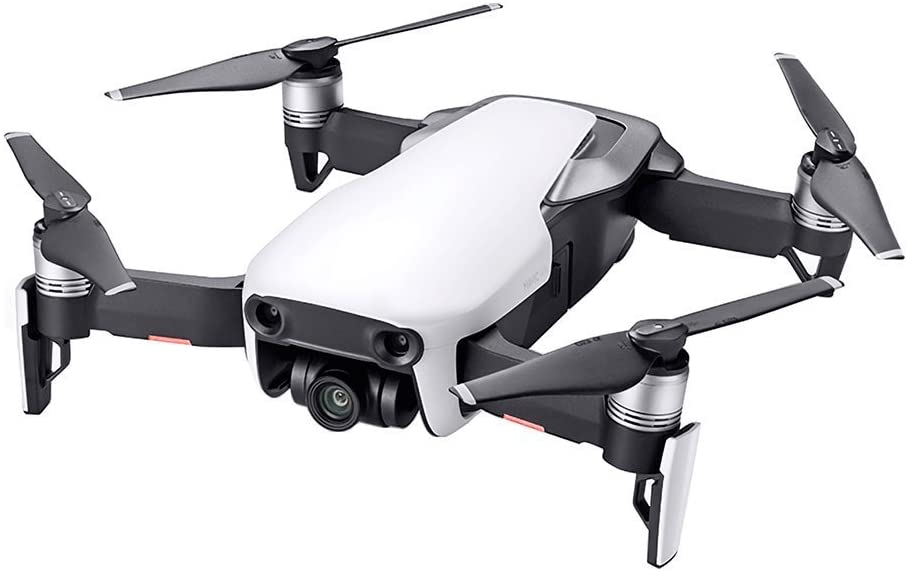 The DJI Mavic Air can be the perfect companion while adventuring. Furthermore, it is ultraportable, lightweight, and foldable. But don't get fooled by its compact form factor. You can still expect state-of-the-art flight performance and a plethora of functionality out of the Mavic Air.
You also get a dedicated remote controller with the drone. Given its ergonomic design, you can easily fit your smartphone into it. Even with a compact size, the Mavic Air comes with a 3-axis gimbal system that allows for taking steady shots. With the Mavic Air, you can get faster, further, and higher in no time.
Pros:
Offers a very compact and small form factor
Has a foldable and portable design
Has a superior build quality
Capable of seamlessly flying back home
Cons:
Has a shorter battery life
You can only fit slimmer smartphones
Buy DJI Mavic Air
8. Ryze Tello
Ryze Tello is yet another drone with a camera that is specially curated for utmost beginners. With a cheaper price tag, you can do just about everything with the drone. Backed by DJI, the Ryze Tello comes with an easier learning curve as well.
Tello is also packed with EIS (Electronic Image Stabilization) allowing you to consistently capture stable shots. Trello is also a treasure trove for all electronics enthusiasts, as you can completely program it from scratch. Overall a pretty good alternative for anyone who wants to get their hands on a drone with a camera.
Pros:
Comes with a programmable board
Stable, portable, and easy to use
Capable of delivering high res pics
Compatible with other Bluetooth controllers
Cons:
Doesn't come with a dedicated controller
Buy Ryze Tello
Recommended: 10 Best Wireless Security Cameras for Your Home
The Bottom Line
It is imperative to understand that looking at the drone market from a broader spectrum, there are a plethora of options to choose from. Each of them is equipped with its own feature. So, it all comes down to your personal preference and the budget under which you are looking for.
If aerial photography is a newly acquired hobby, you can always go with the cheaper alternatives. While for the serious professionals we have also covered some of the best drones with cameras you can find out there on the internet. So let us know in the comment section below, which drone is your personal favorite?