Be it a stolen package from the porch or a car broken into right at the driveway, this is something you must have come across at least once in your lifetime. To make things worse, chances are you could never find the real culprit behind such mishappenings.
Under such circumstances, investing in an outdoor home security camera pays off. Designed to withstand even the most extreme temperatures, outdoor security cameras can seamlessly connect over your home Wi-Fi, allowing you to view live footage of everything happening outside your house.
Not to mention, these are equipped with several security features such as sending alerts to the owner when someone comes near to your properties. Finding the right one might feel intimidating at times with a plethora of outdoor cameras to choose from. We have curated our list of some of the best outdoor security cameras you can find out there in the market.
Read: 8 Best Beauty Camera Apps for Android
Best Wireless Security Cameras You Can Buy
1. Reolink Argus 3 Pro
Reolink Argus 3 Pro tops the list for several reasons. It offers flexible options for Wi-Fi connectivity and has decent video quality. It's powered by smart motion detection technology. It can differentiate human and vehicular shapes within a scene. Reolink Argus 3 Pro allows you to record videos in 4MP super HD video resolution.
Reolink Argus 3 Pro constantly remains the favorite wireless security camera. Its easy-to-use functionalities are what makes it worth buying. You can charge it via a 5V 2A phone adapter and Reolink solar panel. Reliable and affordable, Reolink Argus 3 Pro is perfect for home security.
Salient Features:
4MP super HD video resolution
MicroSD video storage
2.4/5GHz Dual-Band Wi-Fi
2. Arlo Pro 4
Arlo Pro 4 captures good quality video and can be mounted anywhere for capturing everything that goes inside and outside of your home. It delivers amazing 2K HDR videos. You can zoom in to see the sharpest of details.
The security camera is packed with some great features including color night vision, motion detection, voice control, local video storage, and a built-in siren. It is exclusively designed to withstand heat, cold, rain, or sun. Plus, the camera is easy to install. Get a wider 160º view and 30 days of cloud storage at $2.99 a month.
Salient Features:
2K HDR image clarity
Easy to install
Powerful AI – object detection
Buy Arlo Pro 4
3. Wyze Cam v3
Wyze Cam v3 is comparatively affordable. It can integrate with Alexa, Google Assistant to offer you a full automation experience. Wyze Cam v3 comes out as a great indoor/outdoor security camera within a budget. It can withstand rain and heat all thanks to its IP65 rating.
The Wyze Cam v3 allows continuous video recording with a 32GB MicroSD card (buy separately). You can also opt for its paid cloud storage. The monthly plan starts at $2 a month and $15 annually. In terms of usability, Wyze Cam v3 boasts great features and is reliable as well.
Salient Features:
Color night vision
Motion & Sound detection
24/7 Continuous Recording
Buy Wyze Cam v3
4. Ring Stick Up Cam
Ring Security cameras are easy-to-install security cameras. It remains a worthy competitor to many brands in the market. It has gotten better over the years. Ring Stick Up Cam is a battery-powered camera that can be mounted anywhere. Whether it be indoor or outdoor, Ring Stick Up Camincreases the overall safety of your home.
You can monitor your home from the ring application. You can also go for its ring protection plan. The monthly plan starts at just $4. Ring Stick Up Cam is perfect for an Alexa smart home. The only downside of the security cam is that it doesn't support Google Assistant and HomeKit.
Salient Features:
Local backup storage
Motion & Sound detection
Easy installation
5. Amcrest 4MP ProHD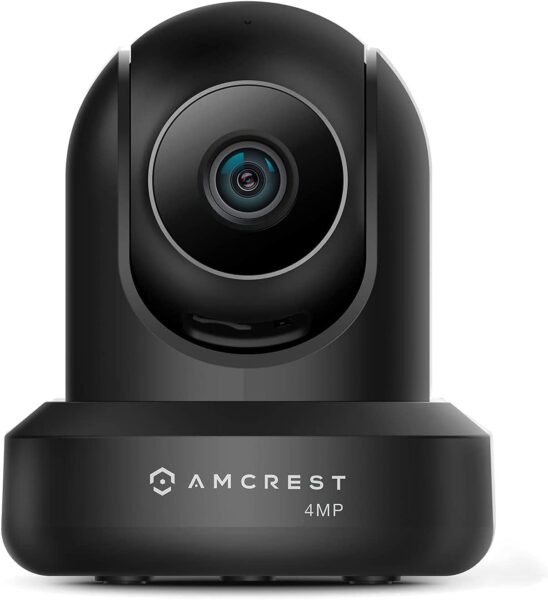 The Amcrest 4MP ProHD is arguably one of the best wireless security cameras you can find under $100. Not to mention, its pan-and-tilt function, seamless setup process, and various video storage options get it a perfect score in terms of usability.
The most notable downside is the slight delay you experience while watching your footage in real-time. But at the same time, the free could storage along with the two-way talk feature surely makes up for it. Overall, a good option for anyone who is running on a constrained budget.
Salient Features:
Low light night vision
Secure cloud video backup
24/7 professional monitoring
6. Canary Pro
Canary Pro brings forth the goodness of home security features into a smart home security camera. Even with a small design footprint, it is packed with a siren and top-of-the-line environmental sensors.
The climate monitor sensors allow the Canary Pro to keep track of the temperature, humidity as well as air quality within the house. In other words, the security camera can easily alert the residents when the fireplace remains lit or when the tub keeps running. The only trade you have to make is with a 20 feet night vision capability.
Salient Features:
Easy setup
Designed to blend into your home
Motion and person detection
Buy Canary Pro
7. Blink Indoor
Blink, the Amazon-owned security camera company caters towards more affordable security camera setups. The Blink Indoor offers a long battery life that can expend up to 2 years. This is something its competitors struggle with at such a price range.
Backed by Amazon, the Blink Indoor allows seamless connectivity with Alexa and Fire TV devices. In fact, using an Echo Show, you can watch the live feed of your Blink Indoor. Now, if you want to store videos, it comes with an additional cost of $3 per month. Overall, an affordable indoor security camera that you can recommend to anyone.
Salient Features:
Battery-powered
Works with Alexa
Easy set-up
Buy Blink Indoor
8. YI Dome Camera
Although you might find a close resemblance to the YI Dome Camera with R2-D2 but don't get fooled by its cute design. The Yl Dome Camera is best suited for keeping track of kids and pets if you happen to be outside the house.
Not to mention, the anti-noise filter makes sure that you can hear crystal-clear audio, making it easier to listen to the baby's cries. The physical privacy shutter makes sure that the camera stops recording when you need some space.
Salient Features:
2-way audio and sound detection
Smarter alerts with face detection
2K super clear video & image quality
Buy YI Dome Camera
9. Google Nest Cam
No list of wireless security cameras is ever complete without mentioning the Google Nest Cam. In fact, nothing beats out the Nest Cam in terms of video, image, and audio quality. With free cloud storage, you can even perceive the Nest as an affordable option.
The smart alerts feature ensures it can differentiate among people, animals, and vehicles that come within the motion zone. Although, the proprietary facial recognition is reserved for subscription-based users only.
Salient Features:
Offers superior video quality
Completely battery operated
Comes with a very minimal design language
Buy Google Nest Cam
10. Abode Lota
Last on our list, Adobe Lota is considered one of the high-end home security cameras, offering a comprehensive security solution. With a built-in motion detection sensor, two-way talk, you can also expect superior video quality.
For more coherent support, users can also opt for 24/7 professional monitoring. This directly links your footage to a dedicated monitoring center without opting for any security add-ons. Bear in mind, the subscription price starts at $20 per month.
Salient Features:
Comes with in-built motion detection
Offers two-way audio
Works on both Wi-Fi and Cellular
Buy Abode Lota
Also Read: 6 Best Photo Scanners You Can Buy
Choose the Best Wireless Security Camera For Indoor or Outdoor Usage
Bear in mind, outdoor security cameras are going to be costlier, as compared to their indoor counterparts. So, make sure to look for the one that offers the perfect balance between cost and overall feature. In the comment section below, let us know the wireless security camera you would entrust to protect your house?