Taking the perfect pictures is not as easy as it seems. But it's not impossible. With beauty camera apps, you can take the perfect selfie with minimum effort. More and more young people are using beauty camera apps to sharpen, shrink, enhance, touch-up, and re-color their faces and bodies.
Applying filters and adding stickers to your pictures could actually be a lot of fun. The Play store is flooded with beauty camera apps, but a few of them are worth trying. If you wish to add more colors to your photos, then consider trying these best beauty camera apps.
Also Read: 7 Best Photo Editing Apps for Android
Best Beauty Camera Apps for Android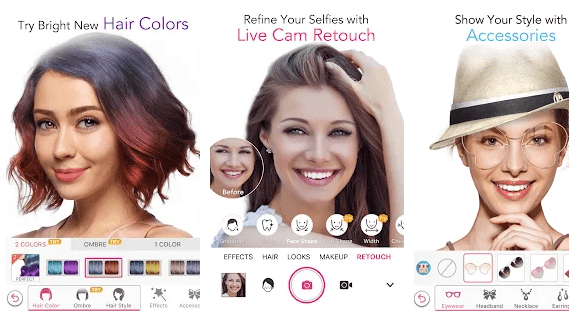 YouCam Perfect is a great app, to begin with. If you want some touch-ups in your pictures, though keeping it natural, then YouCam Perfect should be your first pick. The app features all the basic photo editing tools, including a blemish remover, retouch, teeth whitener, and many more. Some enhancement tools like nose enhancement, lip reshapes, and hairstyle modification give you that flawless look.
You would find similar apps like YouCam Perfect on Play Store, but what makes this app unique is its additional features like makeup application, and augmented reality real-time makeup tool. You can also add accessories to your pictures. Switch to its premium version for more features.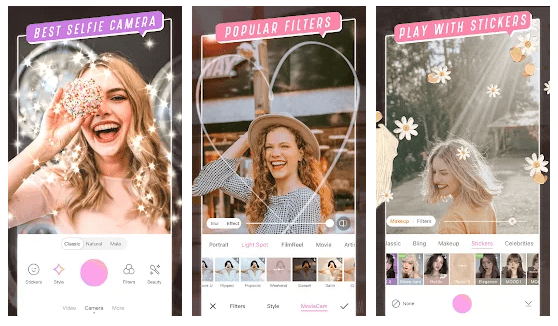 The next on our list is BeautyCam. The app features some amazing features like Soft Focus, AI Portrait backed by HD photos that feel like taken on a DSLR. There are also a variety of high-quality filters to choose from as well. Using BeautyCam is quite easy. It has an easy-to-use interface with a slightly kitschy design.
If you're a beginner and don't know how to use the app, then don't worry, the app offers tutorials on how to use each feature. You can take the pictures, save them and edit them later on BeautyCam. There are so many filters and effects to try. It provides you with tools that can turn a boring picture into an amazing one.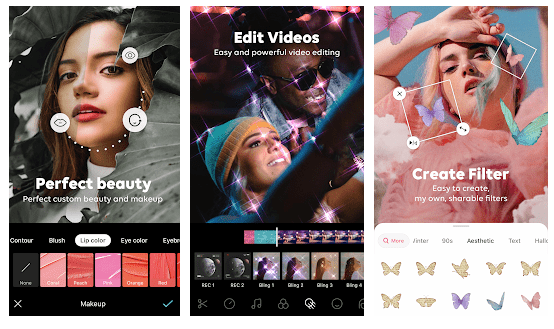 Don't miss out on this one. Like YouCam Makeup and BeautyCam, B612 has several features. You can directly take pictures from the app and share the pictures with your friends via Facebook, Twitter, and Instagram. You can download the app from Play Store. It's absolutely free.
Just go to the app and shoot a short selfie video or take beautiful selfies. You can either edit your pre-clicked pictures or use effects and filters to click selfies from the app itself. Undoubtedly, B612 is one of the best beauty camera apps in the Play Store, with over 50 filters and dozens of effects. Just try it. You're going to love it.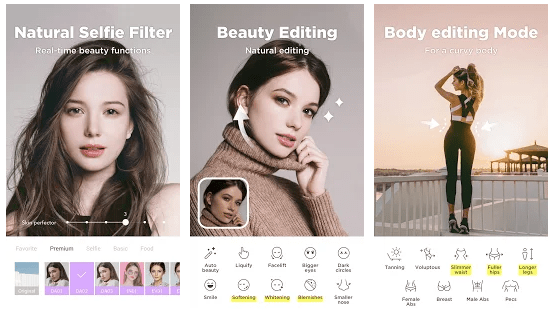 Candy Camera offers a variety of real-time filters which you can choose before taking a shot. Take beautiful selfies anywhere, anytime. Enhance your selfies with this amazing beauty camera app. From the time of its release, the app has over 7 million active users worldwide. It's easy to use, reliable, plus free. There are many stickers available to lift your mood and selfies, too.
Candy Camera is exciting and fun. Change your looks in minutes. Besides, adding some touch-ups to your selfies, you can also add accessories.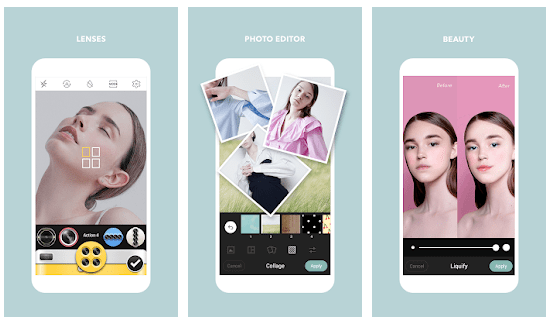 Cymera offers a ton of filters to choose from. The most exciting thing about Cymera is that it's a camera cum photo editor. Users can try out several filters and effects. You can also add stickers and accessories to your selfies to give them a cool look.
Without a doubt, we can say that Cymera has emerged as an ever-growing photo editing and enhancement solution amongst the millennials. It's difficult to find a beauty app that is packed with the latest editing features. You may face some stability issues. Other than that, it's great. You can definitely try it. The beauty app is free and packed with a ton of features.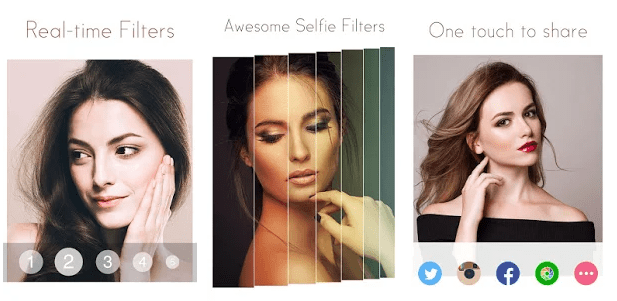 It's a simple yet amazing beauty camera app that offers a handful of tools and features. There's no need for you to look for a professional if you can take great selfies at home. You can transform your dull pictures into perfect, shareable selfies. You can also blur out the unnecessary things from your photos. Choose from the thousands of stickers and add filters to your selfies. You can do it all with a few clicks. You would also find beauty enhancement tools like teeth whitener, smooth skin, acne and pimples remover, adjust facial features, and many more.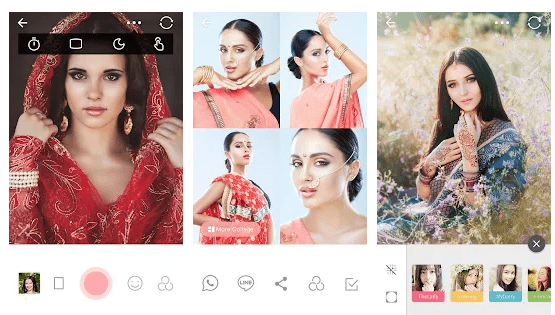 For everyone who has gotten bored with their ordinary beauty camera app on an android device, then consider using Bestie- Camera360 Selfie. The app has over 100 filters, several effects, along with a variety of animated stickers. Like other beauty camera apps on the list, Bestie- Camera360 Selfie comes with many features. You can retouch their selfies, add accessories, erase acne and stickers. The app is not limited to these features only, you can combine different makeup effects on your face.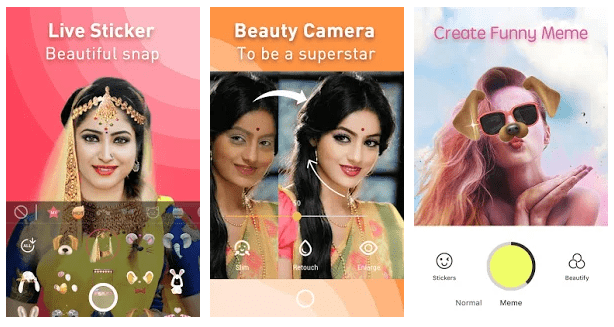 Sweet Snap is yet another exceptional selfie camera app for Android. This selfie camera app is fun and easy to use, with lots of advanced filters and formatting options. Sweet Snap has been around for a long time. You can directly use its camera or edit your pre-clicked selfies. It's intuitive with easy to edit options for your selfies with its amazing user-friendly interface. The app comes with all your favorite features, so try it today.
Also Read: 8 Best Digital Photo Frames You Can Buy
Wrapping Up
These free beauty camera apps are great and feature-packed along with all your beauty enhancement solutions. Taking good selfies is all about the light. Find the light. You can always experiment with angles and get the desired selfie to put on your social media profile. Hope you like the list. Link down your favorite beauty camera apps for Android in the comment section below.