It's no wonder why people love digital frames. Being able to serve more than just a static photo frame is not only new but quite intriguing as well. This goes without saying, with all the priceless moments we capture using our smartphone and camera, it is only an injustice to use a handful of them. And that is exactly where a digital photo frame comes to save the day.
With the ability to display multiple images of your liking, this is exactly what you should be looking for. Get your hands on the best digital frame from the wide collection of digital frames. In this article, we have curated a list of some of the best digital picture frames that you can use to best complement your interior decor. 
Also Read: 5 Best Bluetooth MP3 Players You Can Buy
The Best Digital Photo Frame You Can Buy
1. Nixplay Smart Photo Frame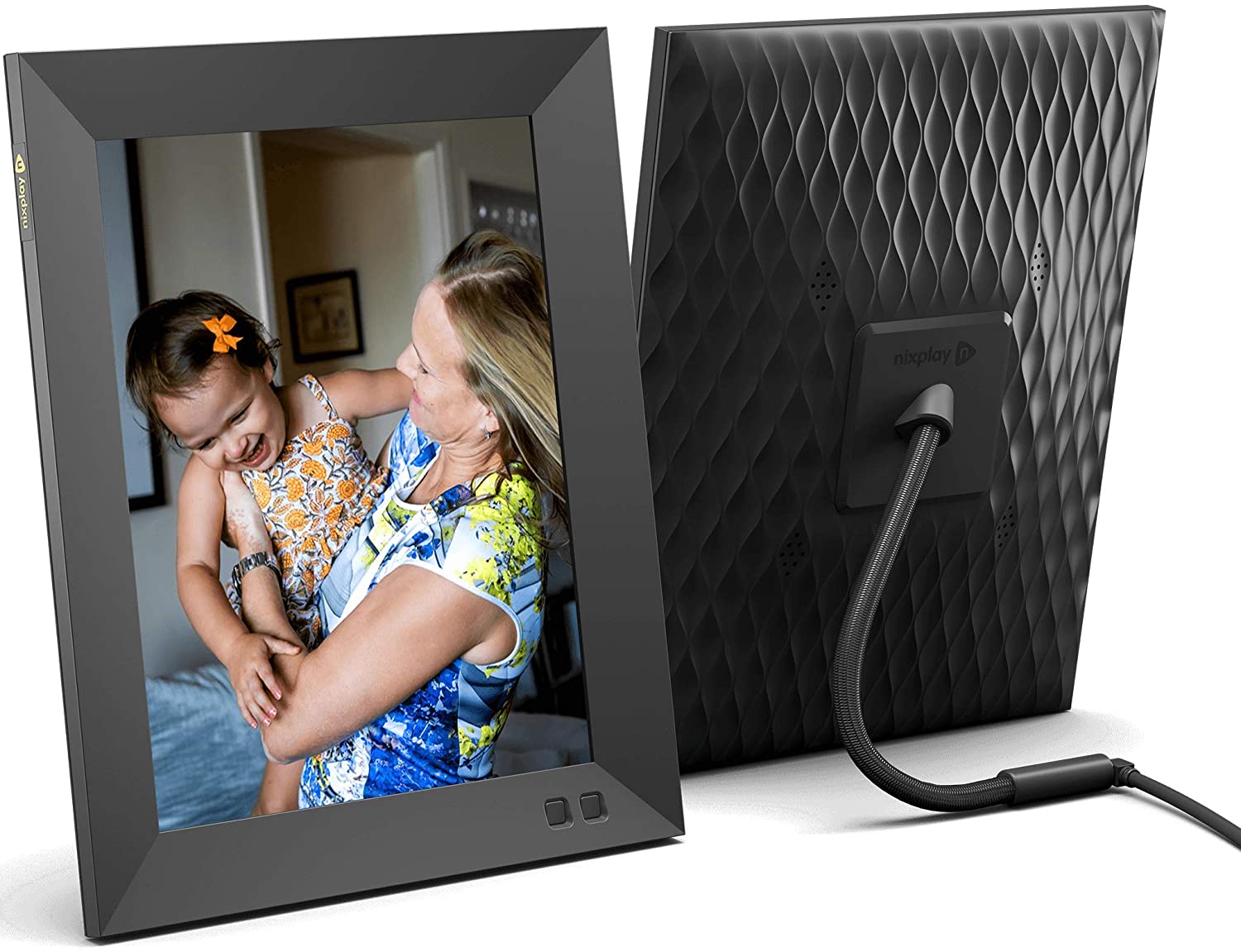 If you are looking for a digital photo frame that speaks of sophistication, Nixplay Smart Photo Frame is just the right fit for you. With a whopping 9.7-inch, 2K resolution, there's nothing on par with its display. As for the body, you can expect Nixplay's signature honeycomb pattern. It also comes with a magnetic remote that you can attach to the back. Set it up with the home Wi-Fi and you have got yourself a perfectly crafted digital photo album. 
Pros:
Comes with a beautiful 2K screen.
Offers some of the most advanced cloud features.
Elegant, effective, and speaks premium.
Cons:
Requires internet connectivity. 
Buy on: Amazon
2. Facebook Portal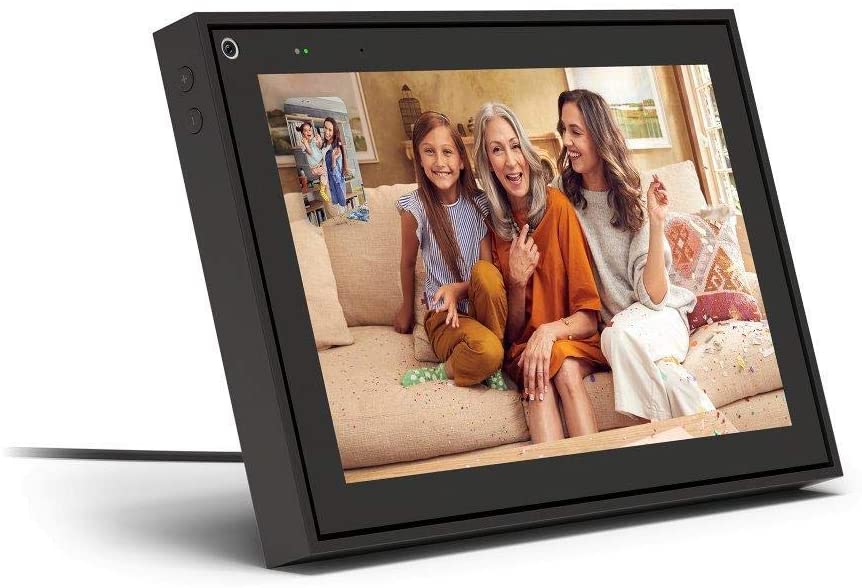 If you want a digital photo frame that also doubles up as a video calling device, you should definitely check out the Facebook portal. After all, Facebook was one of the first companies to ever explore the domain of digital photo frames. You can simply plug in your SD card or USB drive, and showcase pictures from them. Or, there's also the option to directly view photos from Facebook, which makes this product so unique. 
Pros:
Seamless video calls from Facebook and WhatsApp.
Directly display photos from Facebook and Instagram.
Comes with in-built Alexa support.
Cons:
Doesn't offer any in-built internal storage. 
Buy on: Amazon
3. Skylight Frame 10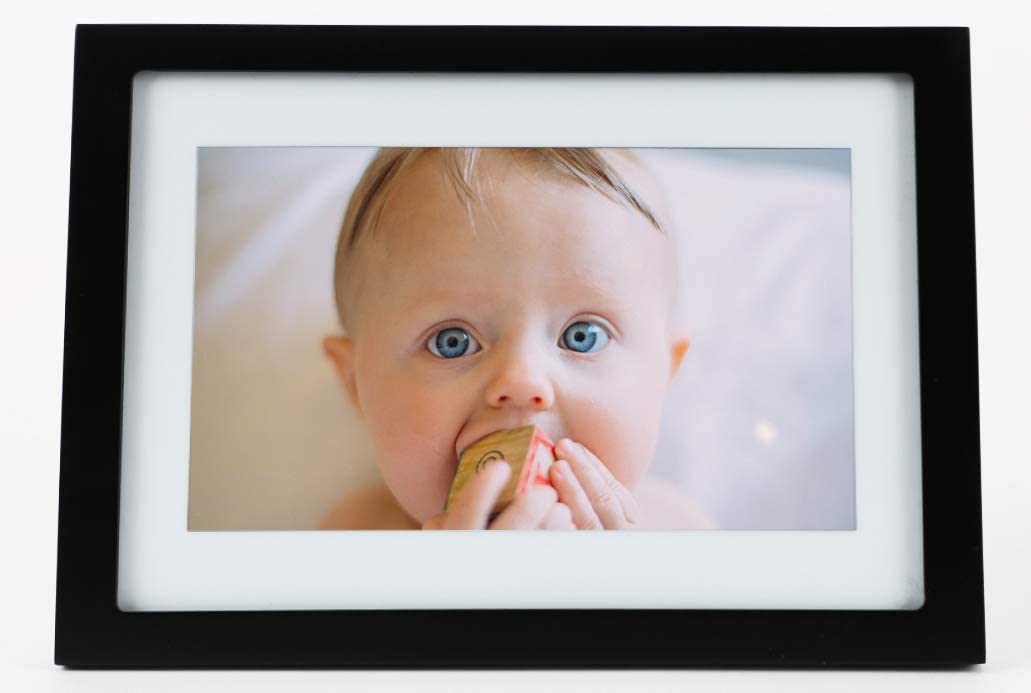 There's a reason why Skylight Frame 10 can be considered as one of the best gifts for our older folks. One of the simplest frames within our list. The immersive 10-inch display, ensures you get a better viewing experience with the frame. The overall setup process is very easy as well. Simply, plug in and connect to the Wi-Fi and you are good to go. 
Pros:
Offers a seamless set-up process.
Well suited for sharing photos.
Offers a very attractive design.
Cons:
Offers very limited settings.
Buy on: Amazon
4. Google Next Hub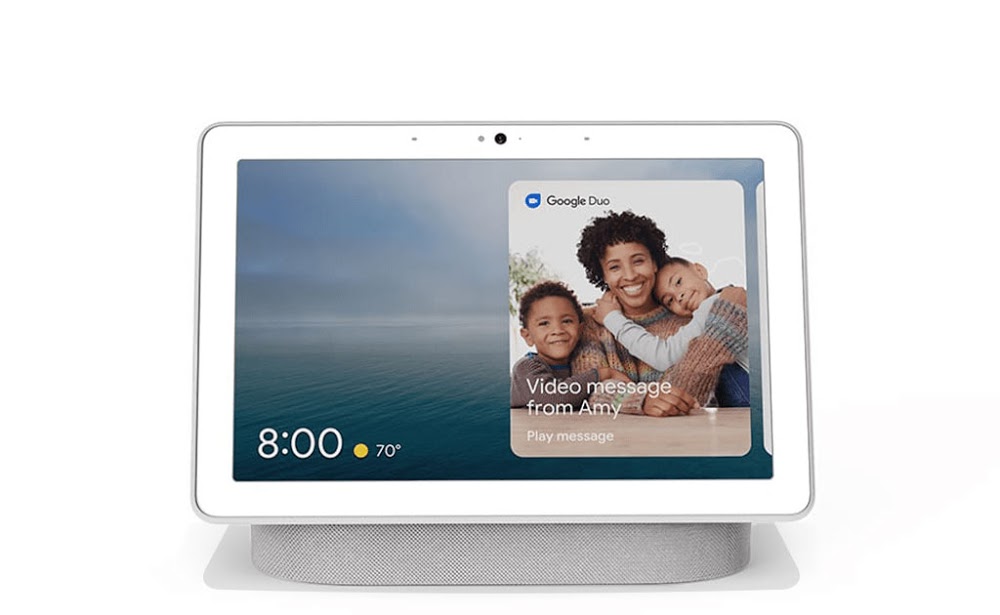 If you want to step up your game, while the smartest digital photo frame, Google Next Hub is everything you need. As the name suggests, it can also be used as a smart hub for all the connected devices at your home. Our only complaint was with the 7-inch small display, but all the additional features surely make up for it. You get auto-brightness and color adjustment, which helps it to seamlessly blend in with the room for starters. Lastly, you get complete control over all your smart devices at home. 
Pros:
Multifunctional smart home device.
Offers a great experience while sharing pictures and videos.
Comes with a convenient voice assistant.
Cons:
A smaller 7-inch display.
No support for offline media. 
Buy on: Google Store
5. Brookstone PhotoShare Smart Frame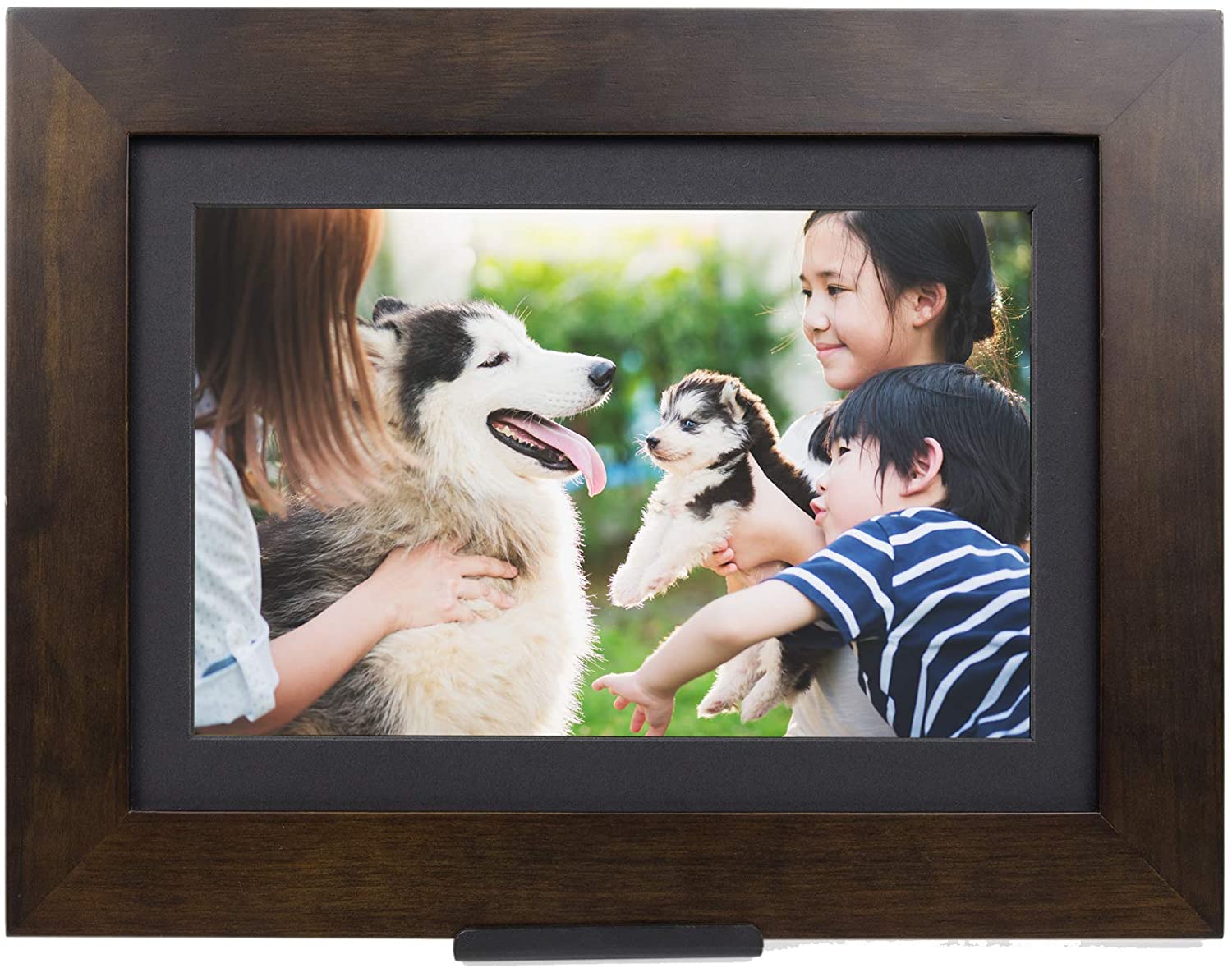 Brookstone PhotoShare Smart Frame is the right combination between an elegant design and technological marvel. You can avail of the smart photo frame in various resolutions, including 8-inch, 10-inch, and 14-inch. Similarly, there's also an option to change the design based on your décor. Apart from all the standard features, you also get in-built speakers, which are a nifty add-on. 
Pros:
Comes with a very durable design.
The smart frame offers its' own email address.
Have a built-in speaker.
Cons:
Doesn't have any battery. 
Offers very limited portability. 
Buy on: Amazon
6. Nixplay Seed Wave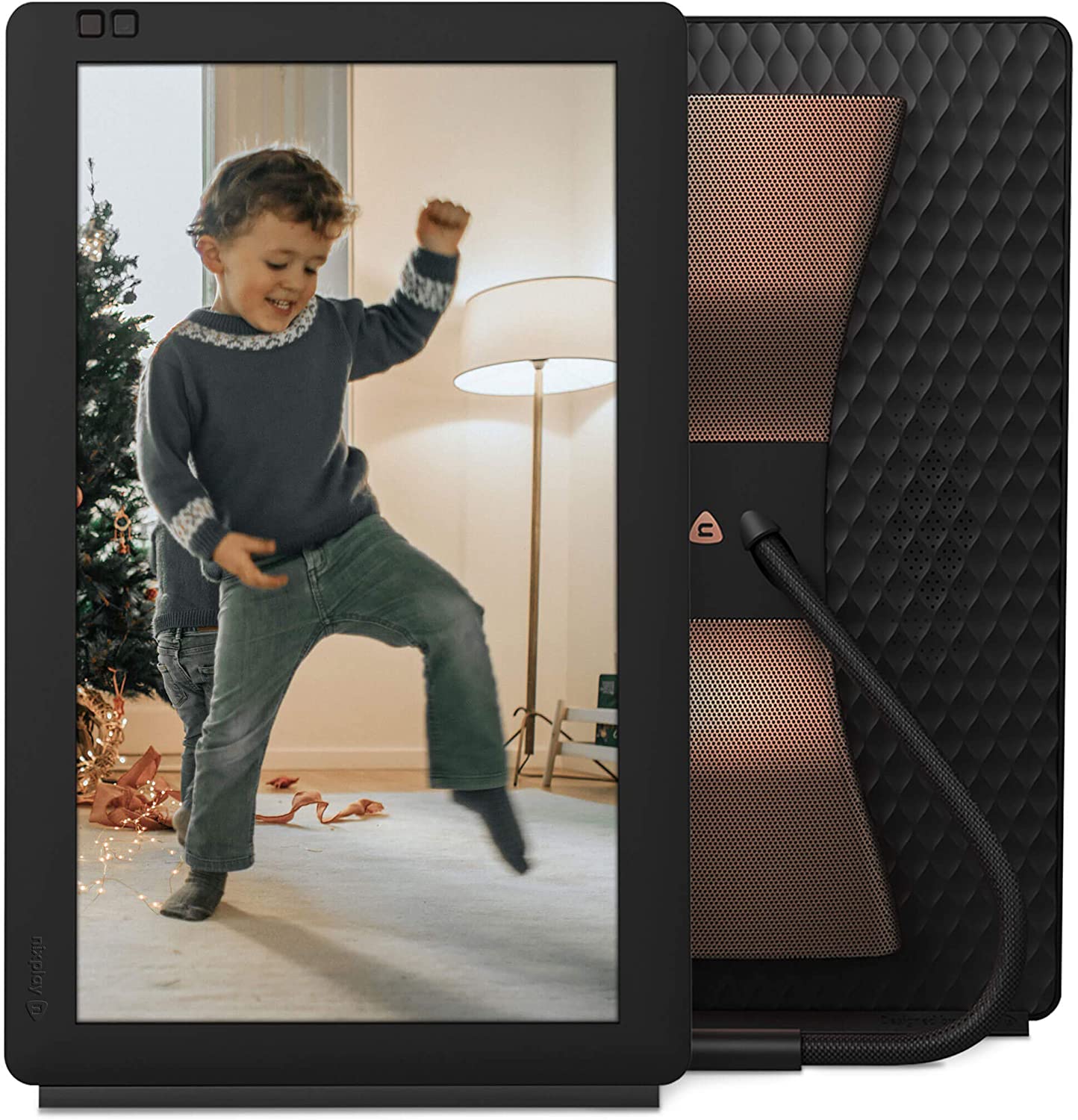 Strong sounds with great visuals are what describe Nixplay Seed Wave the best. With a wide 13.3-inch display, viewing photos has never been easier before. Packed with powerful 5W speakers, and you have got yourself a good entertainment device as well. Similarly, you can also use the same Bluetooth speakers, offering great versatility altogether. With vertical orientation, portrait photos work the best with Nixplay Seed Wave. 
Pros:
Works as a great Bluetooth speaker.
Some of the best online features.
Offers a large display.
Cons:
A bit on the expensive side. 
Buy on: Amazon
7. Aura Carver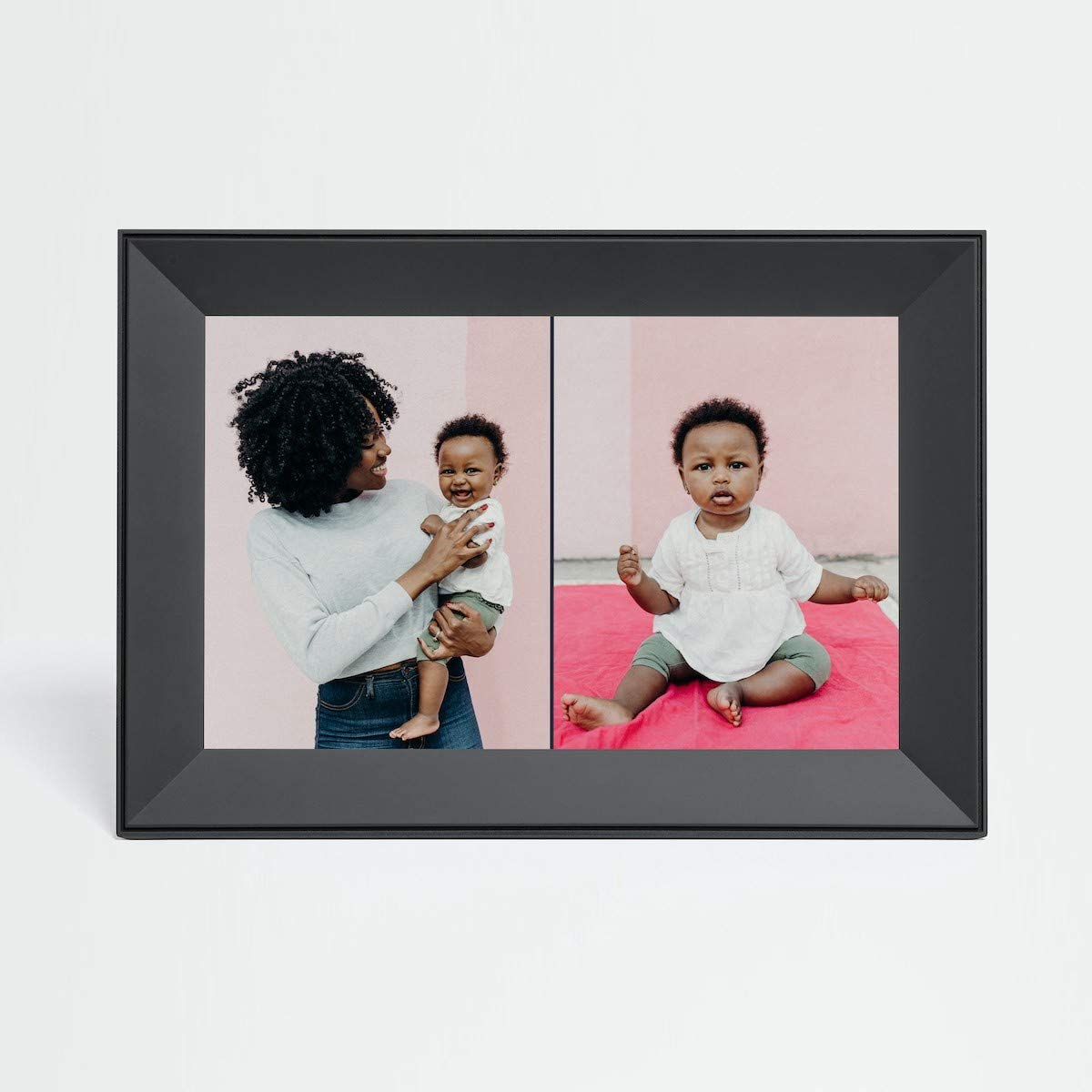 With a large 10.1-inch display, viewing crispier photos has never been easier before. And the best part, without any subscriptions you can actually add an unlimited number of photos. Just bear in mind, being a landscape-style photo frame, you might have a hard time displaying portrait photos. Simply provide Aura the access to your smartphone and you are always good to go.  
Pros:
Offers a seamless set-up process.
Comes with a very attractive and intuitive design.
Particularly designed for sharing photos.
Cons:
Limited additional settings. 
Buy on: Amazon
8. Dragon Touch Classic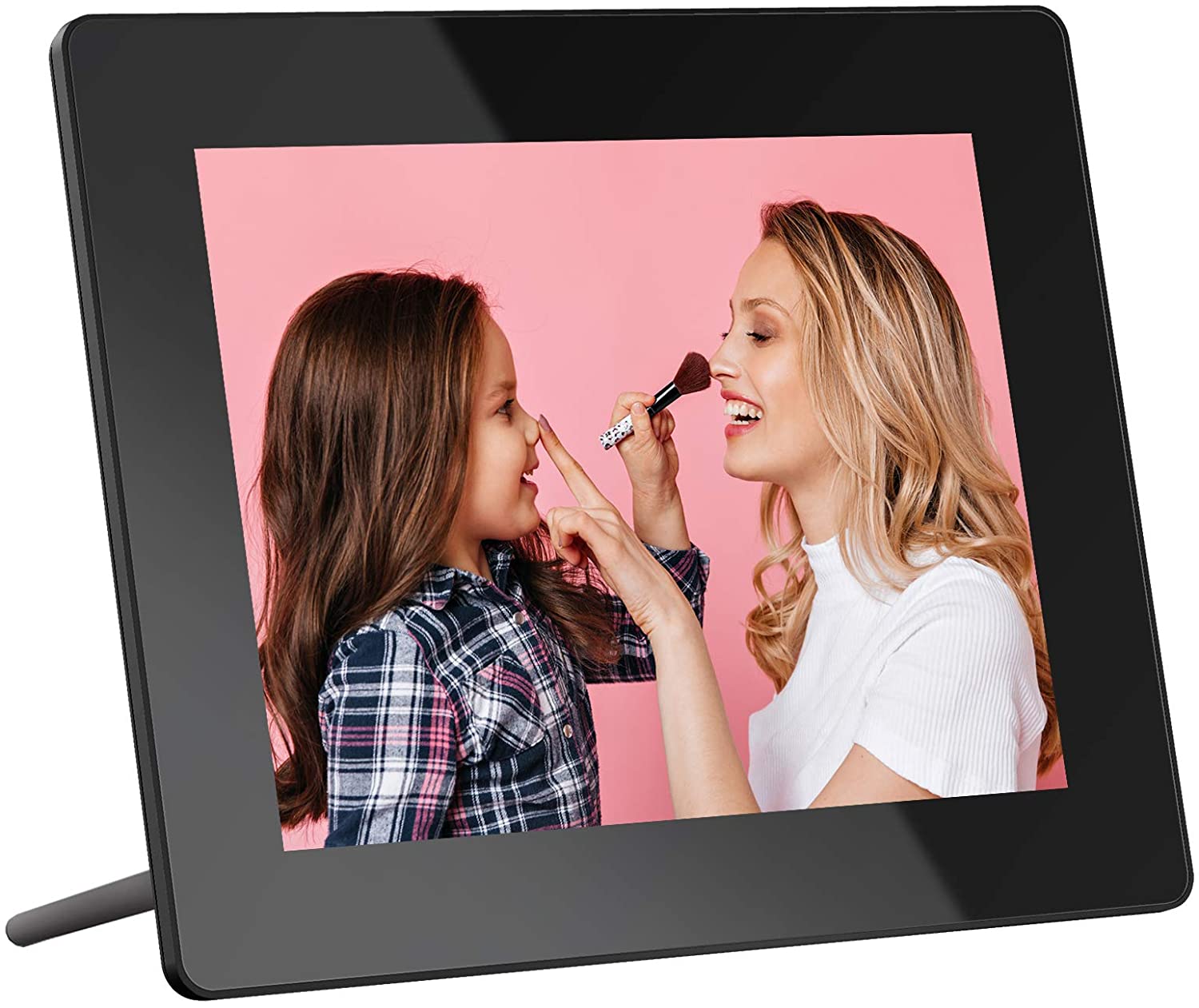 The Dragon Touch Classic 8 is by far one of the most comprehensive smart picture frames on our list. Offering an 8-inch touchscreen, you can easily change and set pictures according to your preference. There are various ways in which you can upload images to the frame. You can use the mobile app, or even the dedicated email address of the frame. Lastly, with 16GB of internal space, you are not going to run out of storage any time soon. 
Pros:
Offers touch support.
16GB of internal storage space.
A very intuitive user interface.
Cons:
Buy on: Amazon
Recommended: 5 Best Bluetooth Sunglasses You Can Buy
Concluding Words
So, that was our curated list on some of the best digital photo frames you can find out there in the market. Bear in mind, prior to making any purchase consider all the factors related to quality, prices, sizes, features, and many more. Hope this article would help you with your next purchase. You can also link down your favorite digital photo frames in the comment section.