For all the audiophiles out there, your smartphone can hardly satisfy your needs. This is exactly where a Bluetooth mp3 player comes into play. You can always expect an unprecedented sound quality, and enjoy music to its full extent.
But, while getting your hands on an mp3 player, there are several aspects to look for as well. The addition of an advanced DAC (digital-to-analog converter) can help you to get the most out of any lossless file format. Getting a high-end MP3 player would not only improve the overall quality of the sound but also make your quality headphone purchase justified.
Bluetooth MP3 Player Buying Guide
When you are buying a dedicated MP3 player, it is always more than just listening to music. So, here is a list of some of the most prominent features that you need to look for while getting an MP3 player.
1. Support Format
If you are buying an MP3 player, iTunes compatibility might not be your primary concern. But, it is a must-have for the player to support all the major music formats. For the most part, your player should be able to work with WMA and MP3 formats. 
Now, if you want the best sound quality, make sure that your MP3 player supports FLAC codec. To add further versatility, you can also Bluetooth connectivity on your player. This way, you can easily stream music directly from your laptop or smartphone to the device.
2. Battery Life
There is a good reason to look for a quality MP3 player that can offer you long battery life. After all, one of the most prominent reasons to get an MP3 player is to play music uninterrupted, without worrying about the battery life. 
For the most part, a good MP3 player should provide you with 30 hours of playtime on a single charge. So, make sure to follow through our MP3 player guide and pick the one that can provide you with unprecedented battery life.
3. Bluetooth Connectivity
Picking your MP3 player, always make sure that it comes with Bluetooth connectivity. This can really come in handy, especially if you want to pair wireless earbuds or speakers. Furthermore, there are also MP3 players that come with built-in DAC.
This way you can also connect your wired earphones, and listen to lossless high-quality music. The way you are going to use the MP3 player can also help you with decision-making. For instance, with workout music, it is always a good option to consider wireless connectivity.
4. Durability
Picking the best MP3 player, if you want to use it for running, hiking, or any other training purposes, always go with a model that comes with a small form factor. Not only it should be well within your budget, but also come with a durable construction. 
Going with the best MP3 players, either they are going to have all-metal construction or offer scratch-resistant acrylics. If you are a casual listener, you don't have to emphasize too much on its physical durability.
5. Accessories 
Last but not least, if you are paying a premium for an MP3 player, always pick the one that comes with accessories. Take, for instance, any MP3 player used for running or gym should always come with a built-in clip or a sports armband. This will ensure, that the player doesn't fall off your pocket.
Also Read: Top 10 Best AirPods Pro Cases You Can Buy 
Best Bluetooth MP3 Players You Can Buy
1. FiiO m3 Pro MP3 Player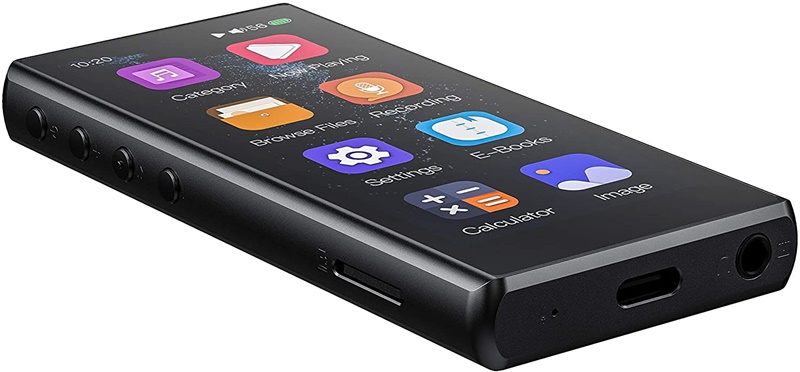 Another entry-level mp3 player, but this time from FiiO. Ranging below the $100 price tag, this is for everyone who wants to explore the world of music. The 3.5-inch touch display packed with a sleek and compact design enhances its visual aesthetics. The M3 Pro comes with a very intuitive UI, along with added voice recording functionalities as well.
The added microSD card slot ensures you are not going to run out of space any time soon. The acoustic capabilities of the FiiO M3 Pro make it a worthy competitor to its expensive counterparts as well. With the inclusion of the Superior quality DAC, you can always enjoy lossless audio files as well. Being able to deliver up to 15 hours of audio playback, you can get the most value out of your buck.
Buy on: Amazon
2. SanDisk Clip Sport Plus MP3 Player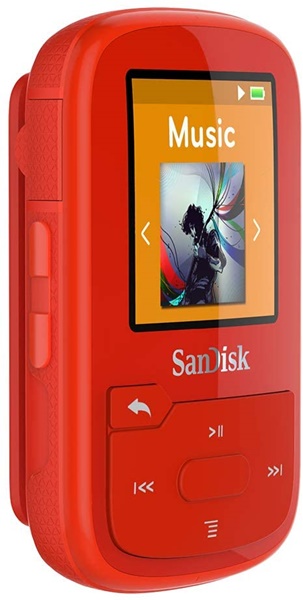 For all avid workout lovers, the Sandisk Clip Sport Plus is the perfect fit for you. Experience music like never before while taking your sweet break from the smartphone. This Bluetooth mp3 player is water-resistant, compact, and above all affordable. Its specifications are as simple as they can ever get.
Packed with a 1.44-inch color display, it has 16 GB of onboard storage along with Bluetooth functionality. With a single charge, Clip Sport can deliver an unprecedented 20 hours of audio playback. With a plethora of colors to choose from, you would also get a pair of good earphones as well. Lastly, SanDisk offers two years of warranty as well.
Buy on: Amazon
3. Apple iPod Touch (7th Generation)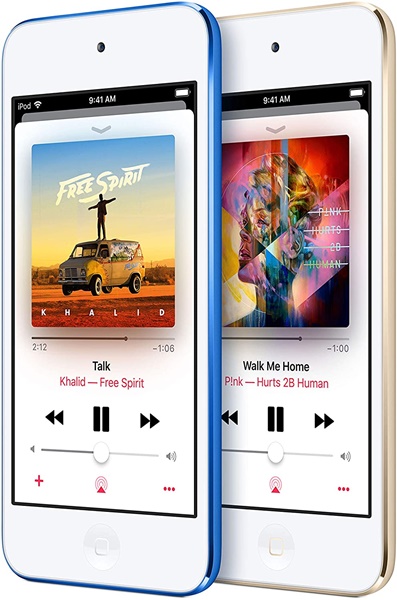 A list of mp3 players is never complete without mentioning Apple's iPod. That being said, the latest generation iPod Touch is more than just meant for listening to audio. With the A10 Fusion chip at its heart, the iPod touch features a 4-inch touch display. With Apple's iOS, you have access to a wide range of apps as well.
Apart from making phone calls, you get a complete iPhone-like experience. You can also FaceTime your loved ones with the iPod touch. Lastly, with six different colors to choose from, and the standard audio jack, the iPod touch is perfect for everyone who is already in the Apple ecosystem.
Buy on: Amazon
4. Sony Walkman NW-ZX507 MP3 Player

Moving to the more premium range, the Sony Walkman NW-ZX507 is for everyone who wants the best of the best. Apart from your standard 3.5 mm audio jack, the NW-ZX507 also provides a very balanced output for high-end headphones. The device is capable of playing Hi-Res Audio files with ease.
Powered by Android, the 3.6-inch touchscreen display offers you a whole new world of apps to choose from. Offering the loss audio formats, the NW-ZX507 also comes with NFC for pairing with compatible devices.
While it comes with 64 GB of onboard storage, you can further expand them as well.
Buy on: Amazon
5. Astell & Kern Ultima SP2000T
Starting our list, we have Astell & Kern Ultima SP2000T, which can be hailed as one of the best portable music players on the market. It comes with two amplifier stages, offering 7 distinct options. Not to mention, there are a total of 4 DACs to handle the two channels seamlessly.
Not to mention, the SP2000T is well equipped with handling majority of the audio formats with ease. The overall user interface is also responsive and very easy to navigate. The only trade you might need to look for is the half-decent battery life along with the chunky design of the player.
Pros:
Offers a very good sound quality
Packed with specifications
Best suited for audiophiles
Cons:
A bit on the pricier side as compared to others
Buy on Amazon
Also Read: 5 Best Flip Phones You Can Buy
Let the Party Going with the Best MP3 Player
All the Bluetooth mp3 players within our list are some of the best you can find out there in the market. Ranging from various price segments, you can always find the right fit for you. So what are you waiting for? Grab your MP3 player and indulge in an audio experience like never before.