Photo editing has turned into a preferred spend time for all of us. It strenuously engages innovative minds in bringing the best of photography. It is also a full-time occupation for many people. So, are you seeking a top photo editing app for your Android phone? If yes, there are plenty to choose from. But, we have done the job easy for you! In this guide, we will walk you through the 7 best photo editing apps for Android free. So, let's get started!
Also Read: 5 Best Free Photoshop Alternatives You Can Try
Best Photo Editing Apps for Android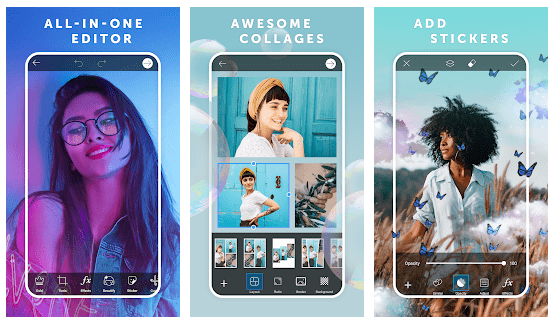 It is the best destination to create, find, study, and share. This best photo editing tool allows altering your images in hugely different ways. They are free for usage. It aids in the edition of photos and videos; thus, have fun using this awesome app. PicsArt Editor App has millions of users and is the best photo editing app for Android in the year 2020. As a result, you can sketch and avail yourself of the magical effects through this easily, thus forming Doodle art and drawing.
Special Attributes Included in this Photo editor
100+ templates in the creation of collages
Form and share personalized stickers through the use of the cut-out tool.
Draw elegant things using personalized brushes in the PicsArt draw.
Flip the images and also do share them with PicsArt Community.
Magical effects provide your photo with a full creation in just one click.
There are the very simplest and easiest photo editor applications that are available for usage. This Pixlr app aids you in editing even very minute information about a photograph. It also helps add the effects and filters in the photos.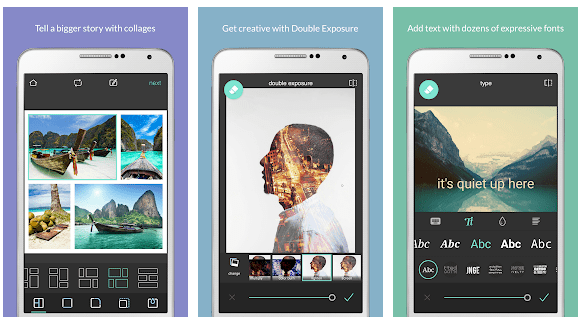 Pixlr application is free to download and comes with a list of interesting features. However, most of the features free. Also, you can pay for the extra filters and then availed.
What are the Special Features?
It comes with a double expose attribute that permits the combination of two or more pictures.
The auto-fix helps in the correction of the image colors easily.
Render to create collages of images of nearly up to 25 images.
Save the wishful effects and overlays for an easier view the next time.
The color splash effect helps in forming very colorful and attractive photos.
Blur, pixelate, or mosaics the parts of pictures that you did not wish to showcase.
This wonderful app assists in the transformation of the images into collages of the pictures. It comes with special effects like filters and stickers, which can be added to the colleges, making it a very special one. Therefore, the app is one of the top photo editing apps for Android.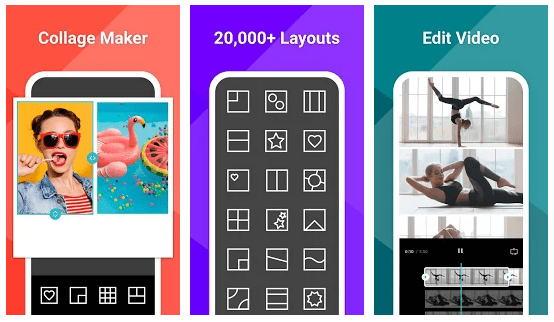 It provides the users with 300 layouts to select from the attributes. This photo editing app makes it easier for the users to modish their pictures and thus adds the stickers, text, and other forms of effects to a personalized background.
With this app, firstly, you can also rearrange the pictures on the collages. Then, picks up a choice from immense frames and layouts.
It is the best selfie camera and photo editor app used by nearly 800 million users worldwide. As a result, there are around 1.5 billion-plus images and videos created every month by using the Beauty Plus application.
Now, beautify your pictures from this magical camera and convert them from ordinary to extraordinary ones.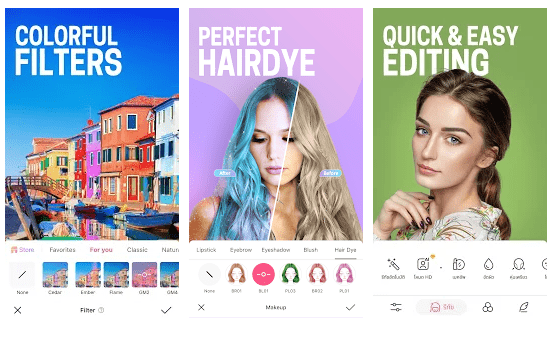 Standout Features of Beauty Plus
It comes with real-time face shape adjustment.
Personalize your complete beauty solutions. Also, create selfies by providing a stunning and natural look.
Easy editing options that are ideal for face shapes, good body shapes. All this can be availed in just a matter of a few seconds.
This is one of the best professional photo editing applications created by Google. Like the other products of Google, this application is very simple to use. It permits you to alter the photograph's perspective. Also, you can save the photos easily in SnapSeed and have future access from other forms of tools like Notebook, Desktop, Tablet, or Mobile. As a result, you can do editing in the curves, depth, and white balance of the pictures.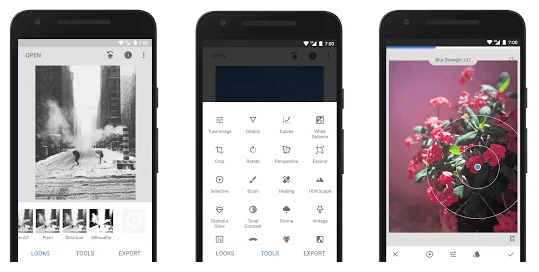 The Features are more Exciting.
Avail access to 19 specific tools and attributes simply.
Also, you could save your favorite filters and then use them for the other pictures.
The minute information of pictures can be edited through SnapSeed easily.
It aids in retouch the option of brightness, exposure, saturation, and warmth.
You can also soften the background of the photographs using Lens Blur options.
Increase the facial attributes by adding the lighting effect or by skin shaping.
It is another the best photo editing app framed for Android devices and also permits you in the edition of images and allows you to monetize. The app assists in professionally editing the pictures. You can also add several filters, effects, and styles like kaleidoscope, film. HDR, Vintage, and much more.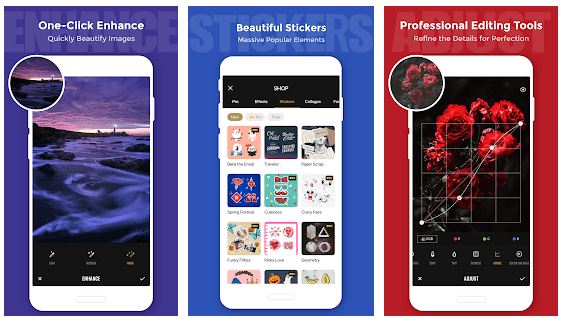 Special features of Fotor Photo Editor
Several photo collage templates such as magazine, classic, poster and others.
It comes with a user-friendly interface.
Provides the possibility of weekly photo competitions conducted by the topmost brands.
It also comes with trendy stickers, frames, filters, and fonts for the pictures.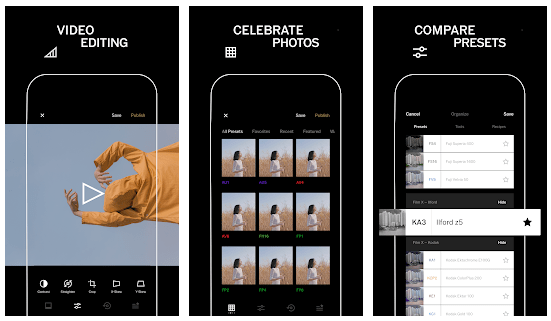 This free photo editor app offers a series of great filters that makes a photo speaking thousands of words. It is known for giving a dull photo a striking look. It has soft and subtle filters that add a classy touch to your photo compared to many heavy filtered Instagram presets. Also, you can adjust them through a simple slider.
Also Read: 5 Best Free Photoshop Alternatives You Can Try
Conclusion
Hope the above-furnished information will be very useful for camera photo lovers. So try out the best 7 photo editing apps for Android and enjoy your days with beautiful moments.