For the majority of us, the photo scanner might feel like an ancient tech that has gone obsolete. But the resurgence of film photography while using all things retro is gradually creating a demand for the photo scanner once again. So, if you want to digitize some of the old slides or even films for that matter, a photo scanner is exactly what you need. If you want a good photo scanner with distinguished features, then we highly recommend you to read the article. Without further ado, let's look at the best photo scanners you can buy this year.
Also Read: 8 Best Digital Photo Frames You Can Buy
How to Buy the Best Photo Scanner?
Do you want to scan 4/6 inch photos, 8/10 icon photos, or something larger? You will need a letter size in order to scan larger documents. Furthermore, there are also scanners specifically designed to scan transparencies and negatives as well. So, if you are concerned about getting the right photo scanner for yourself, here's a buying guide for you:
1. Scanner Resolution
Scanner resolutions are often given in the form of dots per inch (dpi). For the majority of the time, 300 dpi can be sufficient enough. If you need exceptionally high quality, you can look for 1200 dpi. For exceptionally large scans, there is also the option for 3200 dpi.
2. Speed of Scanning
If you want to extensively scan documents, it is very important to take into account the speed of the scanner. Oftentimes, manufacturers specify the speed of their scanners on their websites. So, make sure to compare them prior to buying.
3. Scanner Sensor
The image sensors used in the scanner will determine the overall quality of the scan. A better sensor would be able to convert the lights reflected from the object with a clearer digital image. Typically, there are three different types of sensors used in scanners including contact image sensors, charged-coupled devices, and photomultiplier tubes.
4. Connectivity Speed
Ideally, the majority of the scanners come with USB 2.0 or higher. This ensures that you can actually scan documents faster with a better connection to your PC. Try looking out for scanners that offer a USB 3.0 interface to quickly scan your documents.
5. Duplex Scanning
This is certainly one of the features that is more on the premium side. As the name suggests, duplex scanning allows you to scan both sides of the page at the same time. Although keeping the overall number of scans a priority, you can always go with duplex scanning.
6. File Formats
The majority of the scanners are actually capable of storing scanned images in various image formats. The most common file formats include PNG, JPEG, BMP, and TIFF. You can also directly convert them into PDF, TXT, and RTF files.
7. Type of Photo Scanner
Last but not least, there are several types of scanners available in the market depending on the scanning task. Understanding the different varieties can help you decide on the scanner based on your preference:
Flatbed Scanners: For the most part, Flatbed scanners can easily meet all your scanning needs. Along with high-resolution scans, you can easily get a set of adapters to scan slides, transparencies, negatives, and films. Certain manufacturers also offer additional photo-enhancing software.
Sheetfed Scanners: These scanners work similarly to flatbed scanners, where the documents are fed from one end and pulled out after scanning. Many sheetfed also offer automatic document feeder (ADF), so that you don't have to worry about manually inserting the sheets.
All-in-One: As the name suggests, all-in-one are printers that come with the functionalities of a scanner. This also makes it extremely easy to scan and print documents right at the same time.
Best Photo Scanners to Buy
1. Epson Perfection V600
If you want fast scanning, then there's no better option than Epson Perfection V600. It can scan up to the resolution of 6400 x 9600 dpi. Moreover, you can also convert scanned documents into editable text, all thanks to its Optical Character Recognition (OCR) software. The scanner's built-in Transparency Unit allows you to scan slides, documents, negatives, and medium-format panoramic film (6 x 22 cm).
You can restore your old-fragile photos, films and make some necessary changes including correction, removing dust and scratches, ensuring you get the best results. If you look forward to the best scanning results and can spend on a good quality photo scanner, the Epson Perfection V600is what you need.For energy efficiency andbetter-increased productivity, get Epson Perfection V600.
Salient Features:
Restores faded color photos.
6400 x 9600 DPI.
Fast and efficient.
Buy on Amazon: Epson Perfection V600
2. Epson FastFoto
Epson FastFoto is one of the finest photo scanners in the market. The tray would easily handle 36 standard photographs, which would save you a lot of time. Honestly, if you have got a stack of old photos to scan, Epson FastFoto can be a time saver. Plus, it would also scan your documents and slides. The maximum number of sheets that can be loaded in the scanner is 100 standard sheets.
Its single-step technology allows you to capture both the image and any handwritten notes on the back of a photo in a single scan. There's no doubt about the quality of the scanning, it's amazing. The scanned photos can be uploaded to Dropbox, Google Drive or you can save them to the USB. If you're looking for a budget-friendly photo scanner, then we don't recommend Epson FastFoto.
Salient Features:
The Fastest personal photo scanner.
Powerful document scanning.
Excellent resolution with double-sided printing.
Buy on Amazon: Epson FastFoto
3. Canon CanoScan Lide 400
In all honesty, at present Canon CanoScan Lide 400 would be one of the best photo scanners you can purchase. It's because the scanner can preserve detailed photos and images at an excellent resolution of 4800 x 4800 dpi. With 8 seconds of high-speed scanning, you would be able to scan multiple documents and images in a jiffy. It automatically removes all scratches and dust from the images ensuring better scanning results.
If you're searching for a cost-effective option to scan images and documents, then you can never go wrong with Canon CanoScan Lide 400.In terms of scanning,you can feed it with documents and images of various sizes, and save them in various formats. Canon CanoScan Lide 400 is the best-designed scanner on the list which would take up a small portion of your working desk.
Salient Features:
High-speed scanning.
Handles text documents and photos with ease.
Image enhancement features.
Buy on Amazon: Canon CanoScan Lide 400
4. Canon imageFORMULA RS40
Canon is one of the best brands that offer great quality along with significant features. Canon imageFORMULA RS40 would be a good choice if you want to scan both photographic prints and documents. The product stands out in terms of functionality and versatility. With just a single touch of a button, you can scan photos and documents up to 40 items/ minute, which is incredible for a product at this price range. Moreover, it's compatible with both Windows and Mac.
The best part about the scanner is that it features built-in enhancement software that would allow you to make some necessary changes to the photos including corrections, enhancing the photos, and many more. You can easily modify the pictures as you want. Plus, it can easily handle both photos and documents. (Polaroids, driver licenses, cards, and many more) of various sizes. Needless to say, the scanner is perfect for old-fragile prints as well.
Salient Features:
Built-in enhancement tools.
Good resolution.
Versatile and functional.
Buy on Amazon: Canon imageFORMULA RS40
5. KODAK Mini Scanner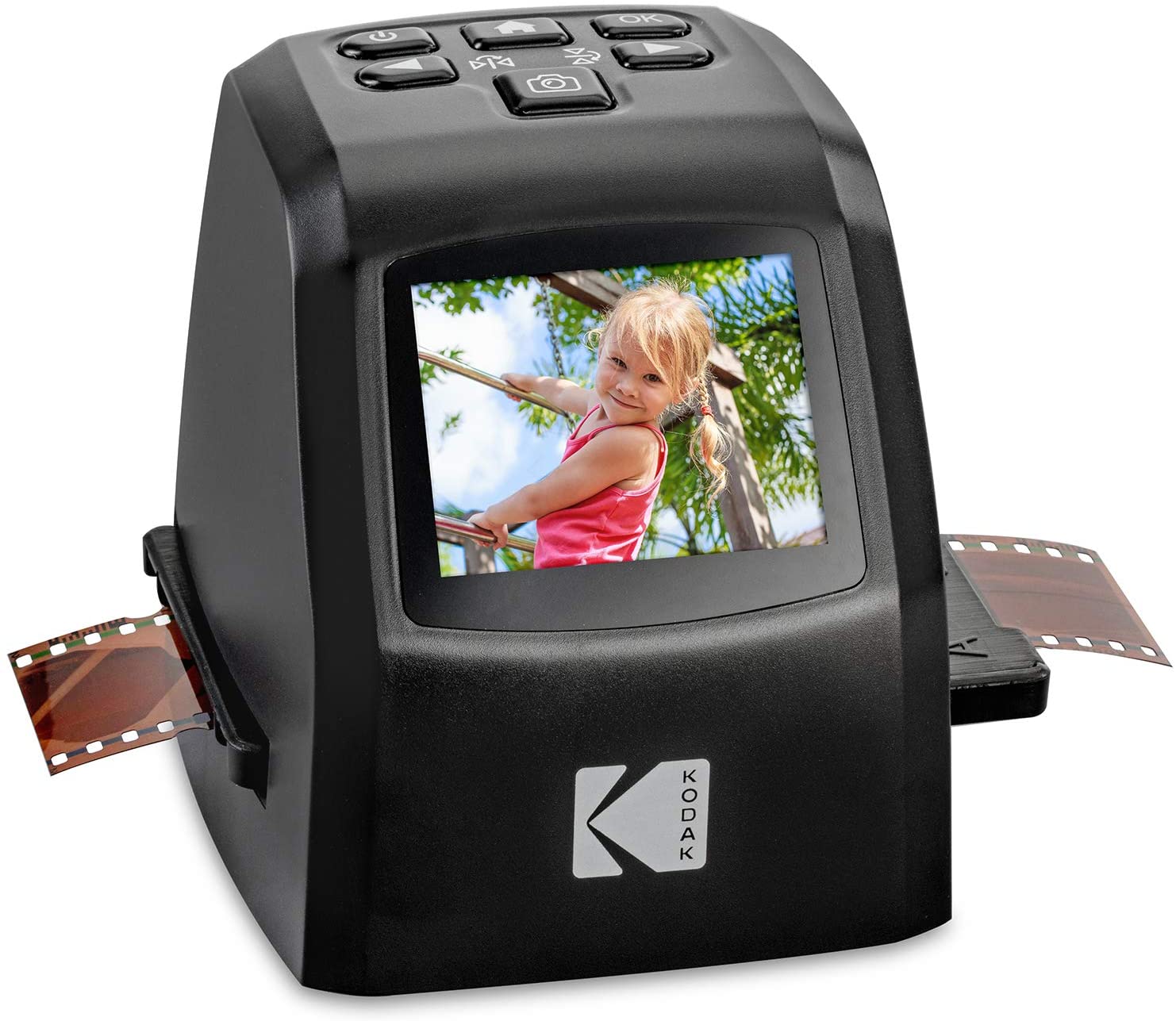 Archive your most important memories with KODAK Mini Digital Film & Slide Scanner. KODAK Mini Digital Film & Slide Scanner would be a good choice if you need a scanner that is relatively economical and efficient. This one-in-all mini digital scanner allows you to scan, view, edit, convert as old-fragile negatives and slides.
You have to feed it with film and slides through the loader, and then you can easily edit it on the 5-inches LCD. Plus, you can enhance the films from 14 to 22 megapixels. Though the scanner isn't that versatile, for films and slides it's great.
Salient Features:
Easy to use.
Compact and portable.
Perfect for films and slides.
Buy on Amazon: KODAK Mini Scanner
6. Plustek Photo Scanner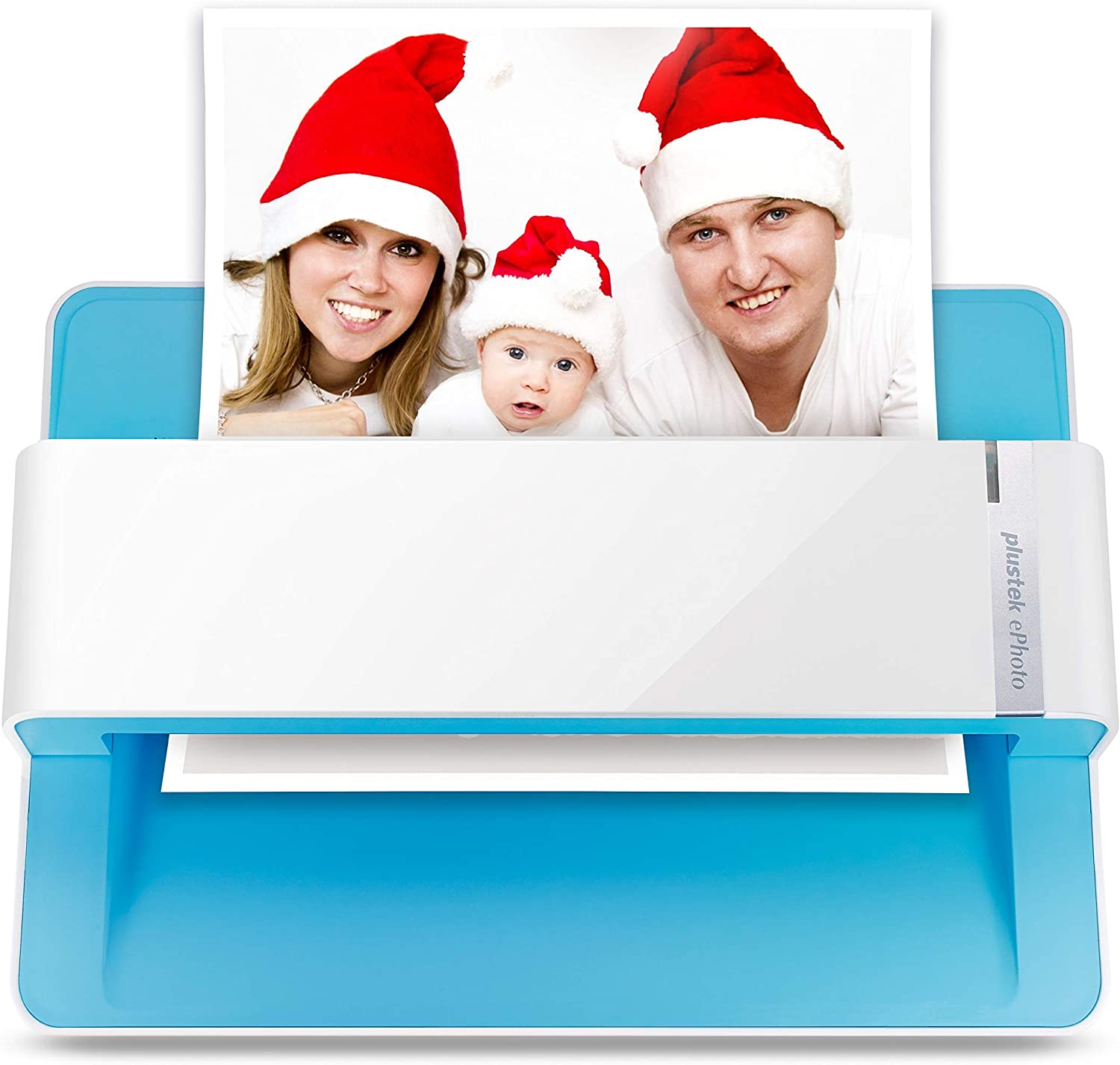 Probably, one of the most affordable products on the list. Plustek Photo Scannersupports both PC and Mac. It can scan at a resolution of up to 600dpi. The resolution isn't the highest when compared, but it's decent for non-professionals. It's comparatively fast and efficient, 2 seconds for one 4×6 photo, while it's 5 seconds for an 8×10 size photo in a resolution of 600dpi. The powerful Image enhancement functions allow you to enhance the pictures and make some necessary changes like reducing fading, dust, and many more.
But we don't recommend the product to professionals, for home use it's perfect. You can feed it up to 1000 prints in a day. The design is ergonomic and would do your job perfectly. Besides that, the scanner supports versatile size photographs, documents, and cards, making it ideal for official use. To put it briefly, if you are looking for a versatile, no buttons operated photo scanner then you can definitely go for this one.
Salient Features:
Fast compared to flatbed models.
Affordable.
Powerful Image enhancement function.
Buy on Amazon: Plustek Photo Scanner
Recommended: 7 Best Photo Editing Apps for Android
Wrapping Up
Finding the best photo scanner is like discovering a magical tool that brings your old photos to life in the digital world. Remember, it's not just about turning your pictures into files on a computer; it's about preserving your precious memories for the future.
We have shared the Photo scanners of different price ranges. Make sure you set your budget right and make the purchase as per your need. These scanners are easy to use, making them perfect for beginners. Happy scanning!