Internet browsers play an important role in our daily life. It's like one of those things which make our smartphone work like a computer. I am talking in terms of usability. After all, we spent so much time visiting websites, reading content and downloading stuff. The top players like Chrome, Firefox, UC Browser are no doubt doing their job perfectly but at the same time, they are eating battery and affecting performance immensely.
These browsers may come with so many useful features but if you are running an old Android device with limited resources, it would become a headache to surf the Internet on these browsers. So, why not try something lite.
Today,  I am going to write about some best LightWeight Browsers For Android. Ofcourse, these browsers won't make your device rocket-fast. But they will definitely release some internal storage and RAM which in result improve the performance of your phone.
LightWeight Browsers For Android
1. Firefox Rocket
Mozilla's latest mobile browser, Firefox Rocket is now available in India. Believe me, It's one of the best lightweight browsers I have ever used. It focuses on improving speed and saving data by eliminating features which most of the time people don't need.
If we compare this Firefox Rocket with the standard Firefox browser, Firefox Rocket comes in the 2.66MB only whereas for installing standard Firebox browser, you need at least 38MB of storage.
Talking about the features of the new browser, it has something called 'Turbo Mode' that allows users to save the whole webpages locally to read them later. Firefox Focus blocks all the common bugs and trackers by default. So, you don't need to worry in this direction. Last but not the least, it also has a very useful built-in screenshot tool.
The Firefox Focus is available in India and you can download it from the Play Store. In case, you can't find this app in your Play Store (due to some country restrictions or any other reason), you can download it from APK mirror easily.
Also, there's no information on when it will be released for IOS. So, stay tuned for that.
2. Opera Mini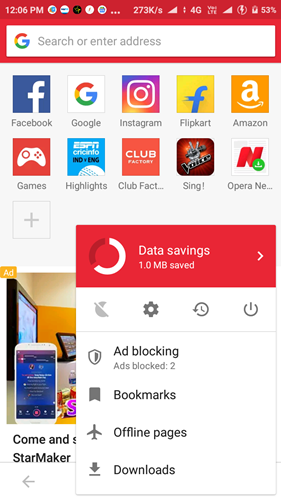 How can I forget Opera Mini who was once the only browser on my phone? I am talking about the Nokia ages long ago, so don't try to guess my phone.
The small-sized browser has improved too much in recent years. Now, Opera Mini has different Data Saving modes as per your internet speed, built-in ad blocker, download manager, private browsing and a lot more which you expect from a full-fledged browser.
The user-interface is also very simple and user-friendly. You can customize websites shortcuts on the home screen if you want to. Opera Mini is among some of those browsers in which you can open so many tabs just like you do in your laptop (see image below). All the settings are beautifully categorized in their place which makes the experience more cooler.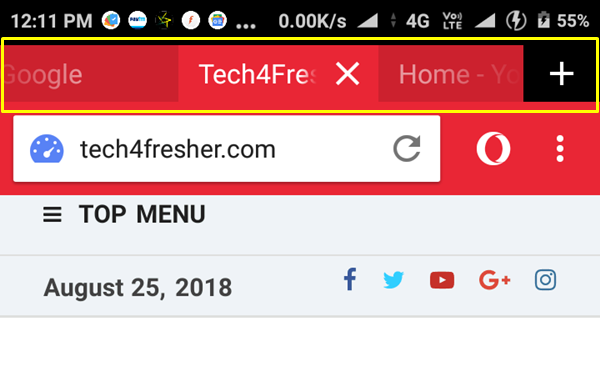 You can download this app free of cost from the Google Play Store (Download Now).
3. Via Browser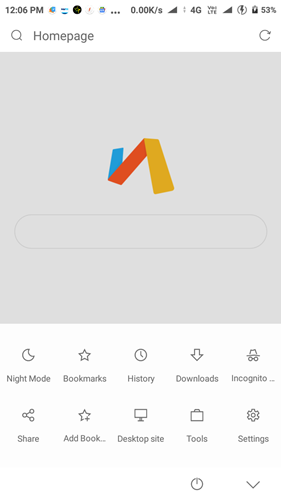 Via Brower is one of the most underrated browsers for Android. It offers a complete package in a very small size. it does not only provide a fast browsing experience but also care for keeping the user-experience as awesome as possible.
The user interface is completely clean and uncluttered. You will only see a search bar on its home screen. Via Browser has a default ad-blocker which works really well. If you would be unhappy browsing a lite version of any website, there's an option to switch into desktop mode.
Its other features include Night Mode, Incognito Mode, Find in Page tool, customizable downloads, different UI Modes, etc. So, if you are looking for a best lightweight browser for Android, Via Browser can fulfil your wishes.
You can download this browser from Google Play Store for Free (Download Now).
4. UC Mini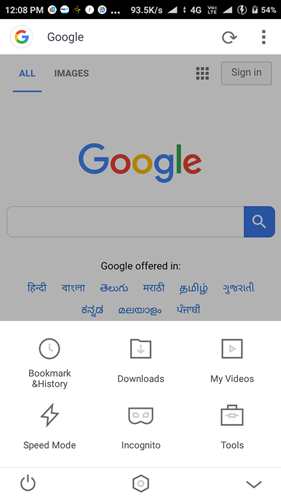 The little brother of Alibaba's most popular UC Browser has also become quite popular over time. This lightweight browser is very famous in China, India and Indonesia. The user interface is very simple and easy to use. You will get popular sites and the latest new section right on the home screen of UC Mini.
Talking about the other features, UC Mini offers many useful features that every browser must have. Here, you will get Speed Mode, Incognito Mode, Night Mode, QR Code Scanner, etc.
UC Mini is known to provide high-speed browsing experience by loading web pages quickly. UC Browser uses cloud acceleration and data compression techniques to make web pages load faster. It sends the traffic through UC servers and compresses the webpage before sending it back to the user. So, UC servers act as a proxy in working of this browser.
UC Mini also works on the same technology. But in order to make it lite, some less used features are removed from this browser. You can download it free of cost from the Google Play Store. It comes in a size of 3MB only.
5. Dolphin Zero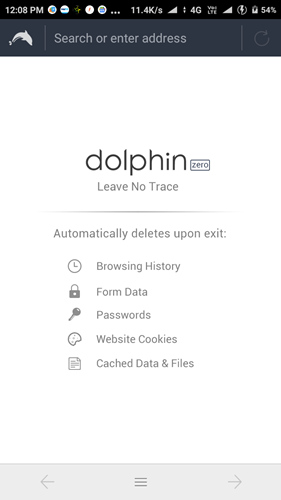 If you own an Android device which is an age-old, then Dolphin Zero browser would be a perfect fit for your device. It's the most lightweight browser in our list. In the size of 500KB only, it allows you to surf the Internet seamlessly.
Although, Dolphin Zero browser does not offer any fancy features like other browsers, what it offers is private browsing experience. The browser has a URL bar only to search for websites and after you exit this browser, it will automatically delete browsing history, Form Data, Passwords, Cookies, Cached Data & Files.
The best thing about the Dolphin browser is it comes in a size of 500KB only. This app was available on the Play Store earlier but currently, it's not there. You can download this app from the APK Mirror (Download Now).
Wrapping Up: LightWeight Internet Browsers For Android
All the Internet Browsers listed above are personally tested by me. I use Chrome on my Android. It keeps all the history and bookmarks synced between my laptop and mobile. Despite being the most popular browser, no one can deny the fact that Chrome uses a lot of resources. I hope the above lite browsers would fix some of the performance issues of your phone. So, which of the above browser you liked the most? Tell me in the comments section below and for more, stay Tuned with Tech4Fresher.