Are you fed up with all the notifications popping up constantly on your phone? Do you want to play your favourite game without getting disturbed? Well, you're in luck because we've dived into the depths of the app stores and compiled a list of ten of the best offline solitaire games that will transport you back to those peaceful moments. From Microsoft Solitaire to the more challenging Spider and Full deck solitaire, these games are perfect for passing the time on long flights or relaxing during your daily commute. So, sit back and explore with us the wonderful world of offline solitaire gaming.
Also Read: 10 Best Offline iPhone Games You Should Play
Best Offline Solitaire Games
Classic Solitaire is a game of sorting cards for any solitaire lover. With over 200 different solitaire variations, this game offers endless hours of entertainment and challenge.
From classic games like Klondike and Spider to more unique games like Beleaguered Castle and Agnes, Classic solitaire has something for everyone. The kinda game also includes various customization options, allowing players to choose from their preferred card designs, backgrounds, and sound effects. But what truly sets this game apart is its amazing user interface and helpful features like hints and undo moves.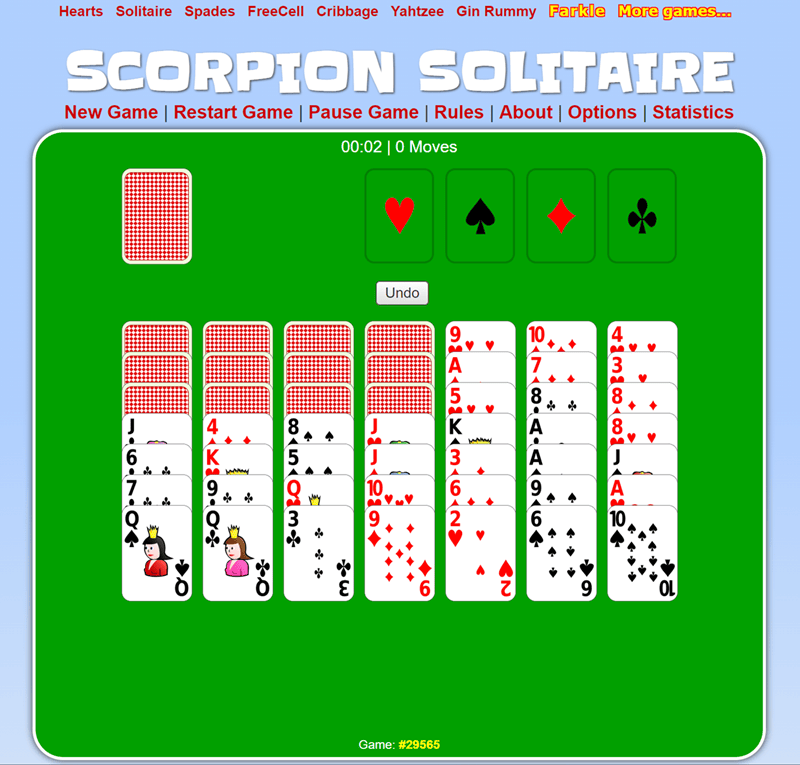 Scorpion Solitaire is a challenging addictive version of the classic card game that will test your strategic thinking and patience. Scorpion demands you to construct a tableau of cards that is not in numerical sequence but must adhere to suit, in contrast to usual solitaire games.
The objective is to move every card from King to Ace in descending order to the foundation piles. Scorpion Solitaire has a special ability that allows you to move an entire stack of cards at once, but only if the stack is arranged by suit. That's why it will add an extra layer of complexity to the game.
Full Deck Solitaire is a delightful card game with an impressive collection of over 22 different variations to play offline. Both novice and expert solitaire players will enjoy the game's user-friendly interface, gorgeous graphics, and simple rules. Further useful functions in Full Deck Solitaire include the ability to change the background and card backs, undo moves, and provide hints.
There is never a dull moment in Full Deck Solitaire since the game types range from the traditional Klondike to more interesting games like Monte Carlo and Midnight Oil.
FlipFlop Solitaire is an innovative and engaging take on traditional solitaire games. The game was created by Zach Gage, a renowned game designer known for his ability to reimagine classic games in new and exciting ways. Players flip cards from the stockpile onto the tableau in a manner that alternates between red and black suits in FlipFlop Solitaire's distinctive flip mechanic. Because of this, playing the game requires rapid thinking and strategic planning and is exciting and fast-paced. You can play FlipFlop Solitaire for hours of entertainment thanks to its many game settings and levels of difficulty.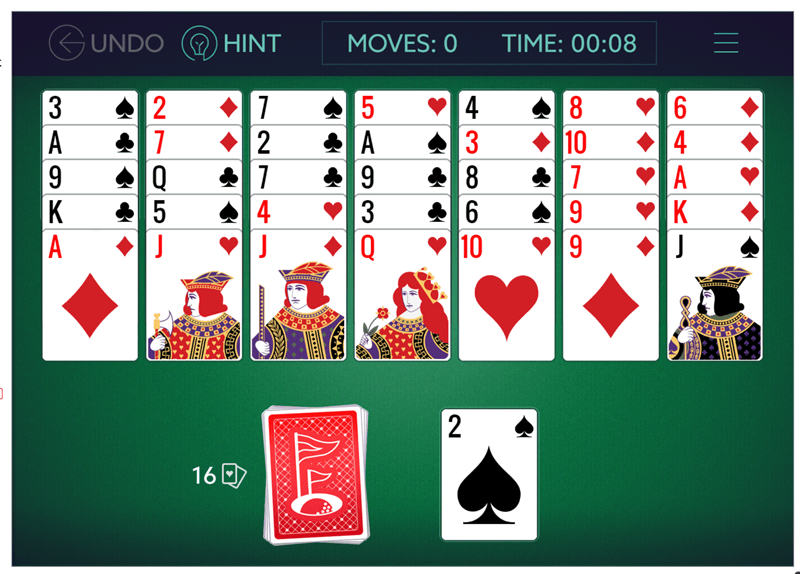 Golf Solitaire is a popular and addictive version of the classic card game that players of all skill levels enjoy. The game is named after the fact that the layout of cards resembles a golf course, with cards arranged in a grid pattern of seven columns and five rows. It can be played similarly to the previous games but its interface is way more beautiful than any other solitaire game.
Canfield Solitaire is a challenging and thrilling version of the classic card game players have enjoyed for over a century. The game is named after its creator, Richard A. Canfield, a well-known American gambler, who developed this variant to provide skilled players with an extra challenge. Players in Canfield Solitaire begin with a tableau of seven columns of cards, with the top card of each column facing up.
The objective is to build as many tableau stacks as you can while constructing four foundation piles from Ace to King in ascending order. Players can transfer complete tableau stacks to different columns in Canfield Solitaire, which adds an extra degree of strategy and intrigue to the game.
Spider Solitaire is a thrilling and challenging version of the classic card game that has captured the hearts of solitaire fans worldwide. The tableau, which comprises 10 cards dealt face down with the exception of the lowest card in each column, creates a spider-like pattern that gives the game its name. Building eight foundation piles from King to Ace in descending order is one of Spider Solitaire's objectives, as does construct as many tableau stacks as you can.
The usage of numerous decks, which gives Spider Solitaire a distinctive edge and increases the game's strategic depth, is one of its distinguishing characteristics.
BVS Solitaire Collection is the ultimate experience, offering a comprehensive collection of over 530 different solitaire games. The game's stunning graphics and personalization features allow players to tailor their solitaire experience to their liking, from choosing their preferred card designs and backgrounds to selecting their preferred complicated levels.
The game also includes helpful features like hints, statistics tracking, and auto-play options, making learning and perfecting your favourite solitaire games easy.
Freecell Solitaire is a beloved and addictive version of the classic card game that has been entertaining players for decades. Freecell Solitaire adds an additional degree of strategy and excitement by allowing players to move any card to a place on the tableau, unlike previous solitaire games.
The objective of the game is to construct each foundation pile in ascending sequence from Ace to King. The game's layout consists of four foundation piles and eight tableau piles. A "free cell" area is one special aspect of Freecell Solitaire, which enables players to momentarily remove cards from the tableau and make room for more moves.
A well-liked card game version that calls for both skill and strategy is called Pyramid Solitaire. A single deck of cards is used for the game, and it is shuffled before being laid out in a pyramid shape with one card at the top and rising numbers as you travel below. Pyramid Solitaire's objective is to remove every card from the pyramid by matching together pairs of cards that total 13. Kings are the only cards that can be eliminated on their own. Only uncovered cards can be paired and removed.
Also Read: 10 Best Free Offline Games for PC
Which Offline Solitaire Game You Are Gonna Try First?
That's all for this article. I hope all the Solitaire enthusiasts will find a good offline Solitaire game which they can play without the Internet in bliss. If you know or play any other Solitaire game that deserves to be on the list, make sure to leave a comment below.