Recording computer screen is an important part of your job if you are into content creation, course making, gaming, etc. Being a tech YouTuber, I have tried several screen recording software for my work. In the beginning, I have used free software to record screen. They were good but started causing crash issues when I tried to record and save long tutorial videos.
After all such experiences with free and paid screen recording software, today, I will show you how to record your computer screen using Filmora and Debut Screen Recorder. These are the some of of the simplest screen recording software available out there. They are compatible with all the popular versions of Windows operating system like Windows 10, Windows 8 and Windows 7 and MacOS. All of these software comes with either a free version or free trial option to test their product.
Talking about the essential features, All of the screen recorders allows you to record the entire screen or any selected portion, record webcam or as a webcam overlay. I will also share their other useful features in their respective sections. So, let's get straight into the tutorial part.
Record Your Screen Using Filmora
The popular video editing software Filmora also allows you to record your screen with just a few clicks. The recorded video is just not stable but the quality is also very good. It can record long videos easily without any hiccups or crashes. If your work requires recording screen often, you can definitely go for it. Apart from recording screen, the feature-rich video editor will also help you edit your videos in the way you want.
Step 1: First of all, Download Filmora from the official website.
Step 2: Launch Filmora and click on Create New Project to start a new project.
Step 3: Now, click on Record and choose Record PC Screen from the options provided.
Step 4: There are three types of screen recording. Depending on your requirements, you can choose from any of them: Custom, Full Screen and Target Window. We recommend you to check Settings before you start recording and see if there are any changes required. If you want to record either from your record computer system audio or microphone, then look for the icons and turn them on/off as per your need.
Step 5: Once you're done setting up, press the REC button. Now, wait for the three-second countdown. Press on the F9 key and the recording would stop. The video would be saved in the media library. That's it.
Some Other Salient Features of Filmora:
GIF Support.
Split Screen.
User-friendly interface.
Significant features.
Audio Equaliser.
Record Your Screen Using Debut Screen Recorder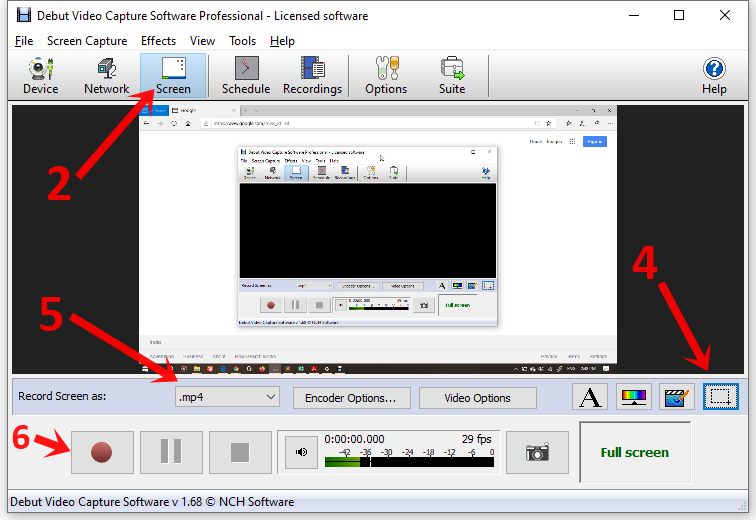 How to Record Your Computer Screen
First of all, download and install the Debut Video Capture software from here.
Once launched, click on the Screen tab as shown above.
You should be able to preview your screen now.
Click on the dotted rectangle icon present on the lower toolbar. This option will let you choose the portion of your screen that you want to record.
Now, select your desired video format from Record screen as: dropdown menu.
Lastly, click on the red button to start the recording.
This was all about steps for screen recording with Debut Video Capture software. Let's have a look at some other useful features of this software.
Some Other Salient Features of Debut Screen Recorder:
Multiple format support (avi, wmv, flv, mp4, etc)
Allows you to record video using M-JPEG url of the network camera
Cursor highlighting
Record Screen Using Inbuilt Screen Recorder in Windows 10
If you are using Windows 10, you can just press the Windows + G keys to activate the Game Bar and there you will find options to capture or record your screen. You can use this inbuilt recorder for basic screen recording tasks as the options are limited. Also, do remember, in order to use this feature, your GPU must support any of these encoders – AMD VCE Intel, Quick Sync H.260 or NVIDIA NVENC.
Also Read: 5 Best Free Online Screen Recorder You Can Use
Final Words: Screen Recording in Windows and Mac
Overall, Debut Screen Recording software provides all the essential features needed for recording lectures, YouTube videos, online tutorials, gameplay, etc. The user interface is simple and has a very low learning curve for beginners. If you have used any other better screen recorder and want to share with us, feel free to use the comment section below.