Recording computer screen is an important part of your job if you are into content creation, course making, gaming, etc. Being a tech Youtuber, I have tried several screen recording software for my work. In the beginning, I have used free software to record screen. They were good but started causing crash issues when I tried to record and save long tutorial videos.
After all such experiences with free and paid screen recording software, today, I will show you how to record your computer screen using Debut Screen Recorder by NCH software. This is one of the simplest screen recording software available out there. It's compatible with all the popular versions of Windows operating system like Windows 10, Windows 8 and Windows 7 and MacOS. Debut Screen recorder comes in a free version for non-commercial purposes but you can also buy the full license if you want to use it heavily.
Talking about the important features, Debut Screen Recording software allows you to record the entire screen or any selected portion, record webcam or as a webcam overlay and or you can also record using a network IP camera and other devices. So, let's see come to screen recording part first, will the shed light over the other useful features.
How to Record Your Computer Screen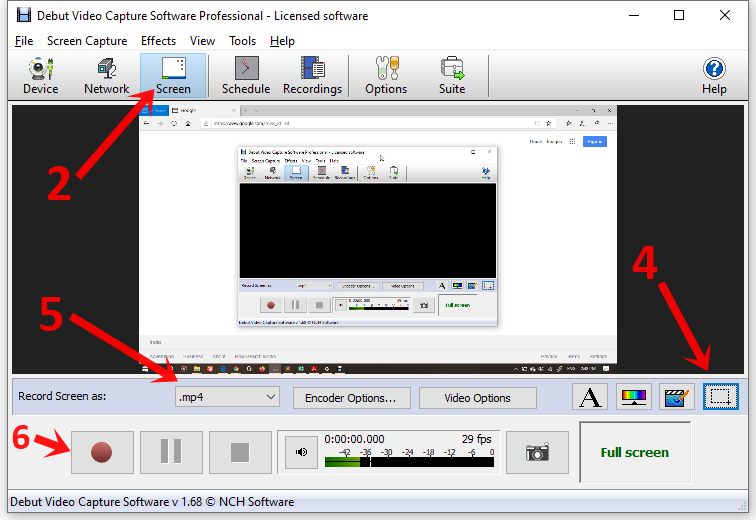 First of all, download and install the Debut Video Capture software from here.
Once launched, click on the Screen tab as shown above.
You should be able to preview your screen now.
Click on the dotted rectangle icon present on the lower toolbar. This option will let you choose the portion of your screen that you want to record.
Now, select your desired video format from Record screen as: dropdown menu.
Lastly, click on the red button to start the recording.
This was all about steps for screen recording with Debut Video Capture software. Let's have a look at some other useful features of this software.
Multiple Format
Debut Video Capture supports multiple popular formats like avi, wmv, flv, mpg, mp4, mov, etc. So, you will never be stuck into compatibility issues while working with different video editors or other programs.
Network support
This screen recorder comes with network IP support. You will just need the M-JPEG URL of the network camera and then will be able to record videos from a camera running over some network. Nowadays, many network-enabled cameras provide M-JPEG video streams over HTTP protocol. If you are unaware, please check the user manual for more details.
Cursor Highlighting
Mouse cursor highlighting is a very important feature for a screen recorder. It helps you to show the focus area efficiently while recording tutorial kind of videos. You can click on Options and then Record tab to turn this feature on/off.
Record Screen Using Inbuilt Screen Recorder in Windows 10
If you are using Windows 10, you can just press the Windows + G keys to activate the Game Bar and there you will find options to capture or record your screen. You can use this inbuilt recorder for basic screen recording tasks as the options are limited. Also, do remember, in order to use this feature, your GPU must support any of these encoders – AMD VCE Intel, Quick Sync H.260 or NVIDIA NVENC.
Final Words: Screen Recording in Windows and Mac
Overall, Debut Screen Recording software provides all the essential features needed for recording lectures, YouTube videos, online tutorials, gameplay, etc. The user interface is simple and has a very low learning curve for beginners. I find one thing missing as per my requirements i.e it only supports frame rate up to 30FPS only, but for other general tasks, you won't face any problem.