With the evolution of the Internet, its generation also upgrades. Today, we might be using the fastest 4G internet with a blazing fast download and upload speed, but the future belongs to Artificial Intelligence (AI), Augmented Reality (AR), Internet of Things (IoT), Autonomous Driving and lots of upcoming technologies. Apart from the all the technical challenges, these technologies will definitely demand one thing in the future – A Fast and Stable Network capable of handling all these efficiently.
After years of rumours and updates, the final pieces of 5G technology now started surfacing online. Qualcomm has just announced world's "first fully-integrated 5G NR mmWave and sub-6 GHz RF modules for smartphones and other mobile devices."
Talking about these Antennas in detail, the first one is called the QTM052 mmWave antenna module and is designed to "open up a new spectrum and improve mmWave signal using 5G technologies." The second antenna modelled as QPM56xx sub-6 GHz RF module works on lower frequencies like 3.3-4.2 GHz, 3.3-3.8GHz, or 4.4-5.0 GHz bands. This antenna will provide more consistent 5G coverage in fixed locations. These antennas will be used along with the Snapdragon X50 5G modem released in 2016. The two antenna modules will be used in front of each other to deliver fastest 5G speeds.
What is Millimeter Wave (mmWave) Spectrum?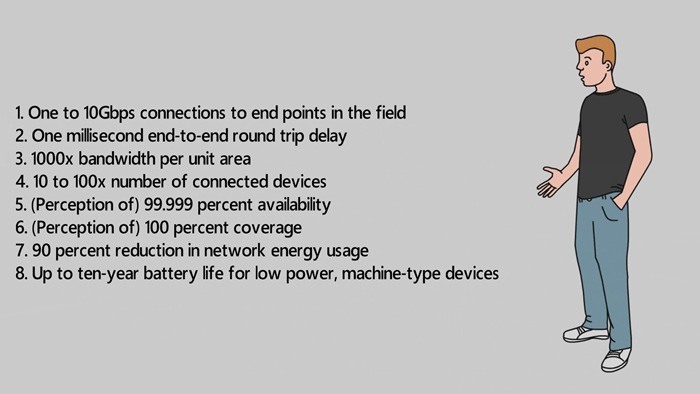 According to IEEE Spectrum, the 5G network will be able to handle 1000 times more traffic than today's network and will be 10 times faster than 4G LTE.  As the current spectrum is getting crowded with lots of devices, the researchers are now planning to broadcast on shorter millimetre waves (usually between 30 – 300 GHz). Opening new spectrum means more bandwidth and reliability to every device.
But the major challenge in using millimetre waves is to overcome signal interference. These waves cannot travel through buildings and even through simple obstacles and can easily be absorbed by plants and rain. So, mmWaves required some reliable way to be harnessed.
How will Qualcomm solve Signal Interference in mmWaves?
Qualcomm's first Antenna (QTM052 mmWave antenna module) will solve the signal interference problem using Beamforming. They also call it beam steering and beam tracking which can be used for bi-directional mobile millimetre waves. Currently, all the cell towers transmit signal in all direction which leads them to serious interference. Beamforming will also allow cell towers to broadcast focused stream of data in a particular direction (to a particular user) and thus improve overall range and coverage.
Which company will launch the First 5G Smartphone For Customers?
Almost all the largest smartphone companies are working on 5G technology and waiting to launch their first ever 5G smartphone in the market. The current market's king Xiaomi and some other popular manufacturers like Samsung, LG, Sony already confirmed that they work with Qualcomm to create 5G compatible smartphones. Huawei is also planning to launch its 5G phone in late 2019. But don't worry, there are strong chances that we will start seeing 5G compatible devices during the first half of the next year.