Whether a small or large company, home office, or freelancing, printers are essential to any office setup. There are varieties of printers available that does the job. But, the best Laser printers are better for conducting day-to-day office tasks. Furthermore, its cartridges run longer, giving you a better ink-to-paper ratio. It offers additional functionality as well.
The monthly print output differs depending on the number of employees and requirements. You may only need a printer to print receipts. For that, a basic model suffices. But, if you are more into balance sheets, project overviews, infographics, etc., you will need a fast and highly-functional laser printer.
So, while buying a printer, you must note your requirements wisely. That way, you save your budget and get an excellent printer that eases your workload. Here, I will share the 8 best laser printers of 2023 that are perfect for you.
Read: 8 Best Cheap Laptops You Can Buy
Best Laser Printers You Can Buy
The Best Laser Printer You Can Buy
1. Brother Monochrome HL-L5100DN Laser Printer
First on our list is the Brother Hl-L5100DN, a fantastic laser printer that can print up to 42 pages per minute. It has an automatic duplex feature that will save you quality time. You can add up to 1234 pages through the additional paper trays on top of the 300-page primary input capacity.
Budget-friendly and fast, the HL-5100DN provides too many exciting features. It has Ethernet connectivity. You can also print documents from cloud storage like Google Drive and iCloud. Furthermore, it allows you to set a custom PIN for an employee. With the Brother HL-L5100DN, you will get crispier output.
Pros
It's only a printer, not a scanner
Cloud printing facility
It only takes about 15 minutes from unboxing to setup
Cons
It only prints black & white
Buy on Amazon
2. HP LaserJet MFP M234dwe Printer
HP LaserJet MFP efficiently prints, copies, and scans all business documents. Small businesses and small offices will benefit from this multifunctional printer.
You can print up to 1500 pages per month. The black-and-white print output quality is excellent. It's fast and prints 32 pages per minute for single-side only and 19 both-side pages per page.
However, this laser printer only works with the Original HP Toner that you get free for 6 months upon buying the product. Moreover, you'll need an HP account and an internet connection for this to work.
Pros
Low price yet good performance
Smartphone integration through the HP Smart app
Free toner for up to 6 months
Cons
Buy on Amazon
3. Canon ImageClass LBP226DW Wireless Printer
Business professionals looking for a fast solution for their printing issues should look for the Canon ImageClass LBP226DW. This product yields 40 pages per minute efficiently. It has an input capacity of 250 pages that extends to 900 through an additional paper tray.
It prints the first page at a lightning pace of only 5.5 seconds. It efficiently handles duplex printing as well as saves you time and money. The Canon ImageClass offers a convenient LCD to show page settings, printing status, etc. Moreover, you get WiFi support through which you can print wirelessly.
Pros:
Mobile-friendly
Lighting fast output
Compact design
Cons:
Buy on Amazon
4. Brother MFC-L5700DW Laser Printer
A multipurpose solution for all business needs, the Brother MFCL5700DW is an excellent choice. It does print, copy, fax, and duplex print jobs with utmost ease. However, the most remarkable feature of this laser printer is the workload it can handle.
It can print at a speed of 40 pages per minute. You can extend the 300-page capacity to up to 1340 pages. Businesses requiring large prints daily will benefit from the high-yielding toner included.
Pros
Able to handle high-yielding print jobs
Simultaneous operation
Lower cost
Cons
Issues with wireless functionality
Buy on Amazon
5. Brother HL-L6400DW Laser Printer
Medium enterprises looking for a cost-effective laser printer must try the Brother Hl-L6400DW. It has a whopping printing speed of 52 pages per minute. Additionally, it has a broad paper capacity of 570. You can further layer and take the maximum input to 1610 sheets.
It can print high-quality photos and graphics as well. The overall size of this best laser printer is compact. So, it can be placed easily anywhere around the office. The product also has a touchscreen and can print from the most popular cloud storage.
Pros
Excellent print quality
Fast printing speed
Low maintenance cost
Cons
Buy on Amazon
6. HP LaserJet Pro M402n Printer
Although appearance is the last thing to judge the quality of the best laser printer, the product is worth looking at if it also performs well. The HP LaserJet Pro M402n does both of that and quite efficiently. Its attractive white build quality enhances the beauty of any office. Capable of printing at an incredible 40 pages per second, the first page printed at 6.6 seconds, this HP laser printer supports mobile and wireless printing. Furthermore, it has quality security features powered by Ethernet and Air Print and allows assigning up to 10 users.
Pros:
Stylish white body
Compact design
Crispier text and images
Cons:
Only provides monochrome print
Buy on Amazon
7. Canon Color ImageClass MF743CDW Printer
Our penultimate item is one of the best ones out there. The Canon Color ImgeClass MF743CDWAn all-in-one solution for enterprise needs and supports Android and iOS devices. It prints 28 pages per minute and has a 250-paper tray. Also, there is a 50-page multipurpose tray available as well.
Its high-yielding cartridge is among the best ones. Over a month, it can print 7000 monochrome or 6000 color prints easily. The Canon MF743CDW has a 5-inch LCD screen with which you can control all the settings.
Pros:
Supports Alexa
Single-pass duplex scanning
Connects with Android and iOS devices
Cons:
Buy on Amazon
8. Brother HL-L9310CDW Printer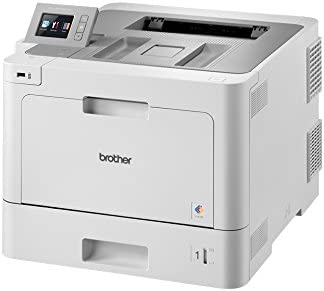 Our last entry in the list of best laser printers is the Brother HL-L9310CDW is ideal for medium to large offices with high-volume print requirements. It has top-notch security features that help to keep your documents safe. It comes with a 300-sheet input capacity and high-yielding cartridges that can easily compete with the best ones.
The Brother HL-L9310CDW supports USB, NFC, wired, and wireless networks. It also features a 6.8 cm touchscreen to control page setup, printing settings, etc.
Pros:
Outstanding print quality
Mobile connectivity
Fast print speed
Cons:
The touch screen is small
Buy on Amazon
Recommended: 6 Best Photo Scanners You Can Buy
Wrapping Up
Printers are integral to a growing company. A laser printer can help you with day-to-day tasks. Depending on the size of the company, load, and frequency of printing, you can choose accordingly. Overall, all these are manufacturers and are highly rated by users on various e-commerce sites.