Whenever we hear the term, 'cheap' we often associate a product that lacks the quality to a certain standard. But, with the ever-changing technology, laptops are becoming more powerful and affordable at the same time.
Not to mention, getting a laptop that is fast, offers solid performance, has decent battery life, and is lightweight can surely put a simple on your wallet. In this article we have combined a list of some of the best cheap laptops you can find out there in the market.
While choosing a cheap laptop, there are various factors to look for as well. This includes the CPU, how easily it can run demanding applications, and the overall build quality. Here are some of the budget laptops that you can pick based on your preference.
Read: 7 Best Laptops Under $1000 You Can Buy
1. HP Envy 13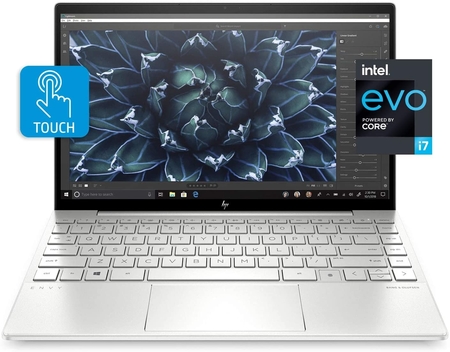 The HP Envy 13 is our favorite pick for the under $1000 laptop. The sleek and portable design, colorful 4K and 1080p display resolution, and overall good performance make it the perfect contender.
Just like all the latest models, the HP Envy 13 comes with a webcam kill switch and a dedicated fingerprint sensor. Backed by Intel i7 1165G7, 8 GB of RAM, and 256 GB SSD, there is hardly anything that would go wrong with the Envy 13.
For anyone who wants to save a buck or two, but still wants a premium device, the Envy 13 might be the perfect option. Although our recommendation would be to stay away from the 4K display. It can take a significant hit on the battery life.
Pros:
Comes with a very attractive and durable chassis
Quality bright display
Offers faster performance
Cons:
Lack of Thunderbolt 3
May experience poor battery life for 4K models
Buy HP Envy 13
2. Asus ZenBook 13
It is imperative to understand that there is something quite unique with a ZenBook. Apart from being visually pleasing, ZenBooks tends to be slim and lightweight while packing all the power you need.
Thanks to Intel's Tiger Lank CPUs, the Asus ZenBook 13 offers unprecedented performance. With almost 14 hours of battery life, along with Thunderbolt 4 and Wi-Fi 6. Don't get fooled by its professional look. It can offer you a fairly decent gaming experience.
Even with some of the demanding AAA titles, you can churn out 40+ FPS from the ZenBook 13. With intel's new Evo initiative, you can even play games at moderate settings, tweaking the graphics here and there.
Pros:
Offers a very sleek and lightweight frame
Good overall gaming experience
Great battery life
Cons:
The speaker might feel weak at times
Buy Asus ZenBook 13
3. HP Pavilion Aero 13
The HP Pavilion Aero 13 is one of the blazingly fast ultrabooks that you can find well under $1000 USD. Equipped with AMD Ryzan 5 5600U, 8 GB of RAM, and 512 GB SSD, this is as good as you can ever get.
Not to mention, the 16:10 aspect ratio really pans out well with a productivity-focused laptop. Some of the other highlights include a magnesium alloy chassis, that makes the Aero 13 extremely lightweight.
Even at this price point, you can get a backlit keyboard and a long-lasting battery life. With a very little compromise, the Aero 13 can be recommended for anyone with a constrained budget.
Pros:
Equipped with the latest Ryzen chipset
Ultra-lightweight design
Offers good battery life
Comes with a vivid 13.3-inch screen
Cons:
Very poor webcam experience
Offers plastic touchpad
4. Acer Chromebook 317
With Chromebooks all over the news due to their affordability, the Acer Chromebook 317 breaks all records. The massive 17.3-inch display certainly contradicts the whole idea of a Chromebook's mobility.
But even with an unconventional design, the large keyboard and trackpad surely make up for it. The Chromebook 317 is an ideal pick for anyone who wants a larger display for their workspace.
The only downside is the lack of a bright display, backed by a powerful processor. With decent battery life, and keeping your wallet intact, these are some of the sacrifices worth making.
Pros:
Offers a massive 17-inch display
A very spacious keyboard and mouse setup
Good battery life
Cons:
Can only expect mid-tier performance
5. Dell G5 15 SE
Even by 2022 standard, the Dell G5 15 SE stands to be a solid performer when it comes to gaming. Backed by AMD Ryzen 5 4600H CPU and Radeon RX 5600M GPU, there is nothing that can go wrong with the G5 15 SE.
Even being an absolute powerhouse, the AMD processor is energy efficient to offer great battery life. Being one of the best cheap gaming laptops, the G5 15 SE can give any competitor a run for their money.
The only downside is that the overall chassis might feel a bit chunky and heavy. Then again, the gaming aspect of it surely makes up for it. The G5 15 SE is also adequate enough to keep up with your daily tasks as well as lightweight video editing.
Pros:
Offers unprecedented performance
Good graphics support
Great battery life
Very bright and vivid display
Cons:
The design might feel chunky at times
Buy Dell G5 15 SE
6. Lenovo Yoga 7i
If you want the longest battery life on a cheap 2-in-1 laptop, the Lenovo Yoga 7i is the perfect fit for you. It is not only affordable but packs all the power you need. Coming just above $600, the 14-inch display and an aluminum chassis, speak for quality.
The only downside is the 266-nits peak brightness, which might not be adequate for a brightly lit environment. Similarly, the keyboard and touchpad are just above average which takes a massive hit on its overall functionality.
Look past the setbacks, and the powerful speakers make up for a great media consumption device. With two separate Thunderbolt 3 ports, you are never going to run out of connectivity any time soon.
Pros:
A solid performer
Packs a very powerful speaker
Offers a vivid display
Great battery life
Cons:
Moderate keyboard and touchpad
Buy Lenovo Yoga 7i
7. ASUS Chromebook Flip C433
If you are looking for a Chromebook that would get you just about anything, the ASUS Chromebook Flip C433 is a perfect choice. This 2-in-1 laptop is equipped with an Intel Core m3 8100Y processor, 8 GB of RAM, and 64 GB eMMC storage.
An aluminum design with a backlit keyboard makes up for everything to feel like a premium device. Even with such a form factor, you can expect a solid 10 hours battery life on a single charge. Aside from the new downsides, the Asus Chromebook Flip C433 is a perfect choice for anyone running on a constrained budget.
Pros:
Offers a sleek, premium finish
Very thin bezels
A vivid, 14-inch screen
Long-lasting battery life
Cons:
Performance can have a mixed response
8. Lenovo Chromebook Duet
With just a 10.1-inch display, the Lenovo Chromebook Duet is the perfect crossover between a tablet and a laptop. Running on the Chrome OS, you can expect a solid 13 hours battery life out of the Duet. Under $300 hours, it is a lightweight machine that can hold out any of day too day tasks.
Pros:
Offers long-lasting battery life
Dedicated keyboard and kickstand
A very colorful display
Cons:
The keyboard might feel cramped for some
Concluding Words
So that was our curated guide on some of the best cheap laptops you can get your hands on this year. To justify the purchase from your hard-earned money, make sure to pick the one that resonates with your preference. So, let us know in the comment section below, which cheap laptop you found the most intriguing?