This goes without saying, when it comes to laptops there's one in just about every price bracket. You can always go with inexpensive Chromebooks or even high-end desktop-grade performance. But, for the majority of us, finding a laptop under $1000 is just the sweet spot. Under this price range, you have all the options including Windows, Chromebooks, and even MacBook for that matter. That is why we have curated this article suggesting our top picks under $1000.
You can also read our articles on laptops under $500, best mini laptops and best gaming laptops.
How to Pick the Best Laptop Under 1000 USD?
When it comes to picking a laptop for under 1000 bucks, you might come across a plethora of options to choose from. But a lot of your choices depend upon your personal preference and everything you plan to do with the laptop. Here is a list of some of the questions that can assist you in making a better choice:
1. Which laptop type to choose from? 
For the most part, laptop types range from traditional clamshells to 2-in-1 to Chromebooks and more. You might go with a convertible laptop based on its 360-degree rotation. Not only you can use the laptop as a tablet, but it also makes it extremely easy to share content with your peers. Going with a traditional clamshell might not come with all the bells and whistles, but it can simply get the job done. 
2. How to pick the right CPU? 
If you aspire to perform CPU-intensive tasks, it is always a better option to go with processors with a higher numerical hierarchy. For instance, going with a Core i7 provides you with more room for gaming, while being able to handle day-to-day tasks with ease.
Intel processors are currently available in Core i3, all the way up to Core i9. Similarly, for team red, the Ryzen 5 can be your best bet as a solid all-rounder. 
3. Which GPU to consider? 
GPUs in laptops come in two variants. You can entirely go with integrated GPUs or dedicated ones. If you want to play games and perform heavy graphical intensive tasks, our recommendation would be to go with a dedicated GPU. While integrated ones from AMD, often known as APUs can provide the perfect line for everyday tasks. 
4. How much RAM do you need?
For the most part, 8GB of RAM can be adequate enough for general purposes. But, if you are looking for a laptop for gaming or performing creative tasks, it is always a good option to pick 16GB of RAM. 
5. Don't forget to consider battery life
Last but not least, the whole agenda behind a laptop is its utmost portability. So, if you are thinking of taking your laptop everywhere, consider getting something that can last for 10 to 12 hours. This can provide you with more than a full day of work, but do remember that battery life depends on many others things and can vary from device to device based on the usage.
1. Apple M1 MacBook Air
If you want the best of the Apple MacBook, with an affordable price range, well under $1000, the M1 Air is just the right pick for you. With the introduction of the M1 chip, the MacBook Air has received a huge boost compared to its intel counterparts.
Although physically you might not find such differences from the previous generations, it ceases to amaze us with outstanding battery performance. While Apple claims it to be more than 15 hours, you can easily get 9-10 based on your usage. Just bear in mind, as of now, there are still some compatibility issues with the M1, especially with Adobe software.
Pros:
Comes with an outstanding battery life
Unbeatable performance
Seamless integration with the Apple ecosystem
Great speakers
Cons:
Offers a very limited number of ports
Buy on Amazon
2. Microsoft Surface Pro 7
Contending the Apple M1 MacBook Air, you can actually choose a great Windows alternative from Microsoft. The Surface Pro 7 is just an incremental upgrade from that of its previous iteration. Even the design is kept almost the same with the addition of USB-C.
Now if you want to enhance your laptop experience, you can always grab one of Microsoft's Keyboard covers along with the Surface Pen. Under the hood, it has an Intel 10th Gen Professor with onboard graphics. But if you want a laptop solely for business and productivity, the Surface Pro 7 is the right fit for you.
Pros:
A plethora of color options to choose from
Great performance
Offers USB type C port
Cons:
The battery life has taken a significant hit
Buy on Amazon
3. Acer Chromebook Spin 713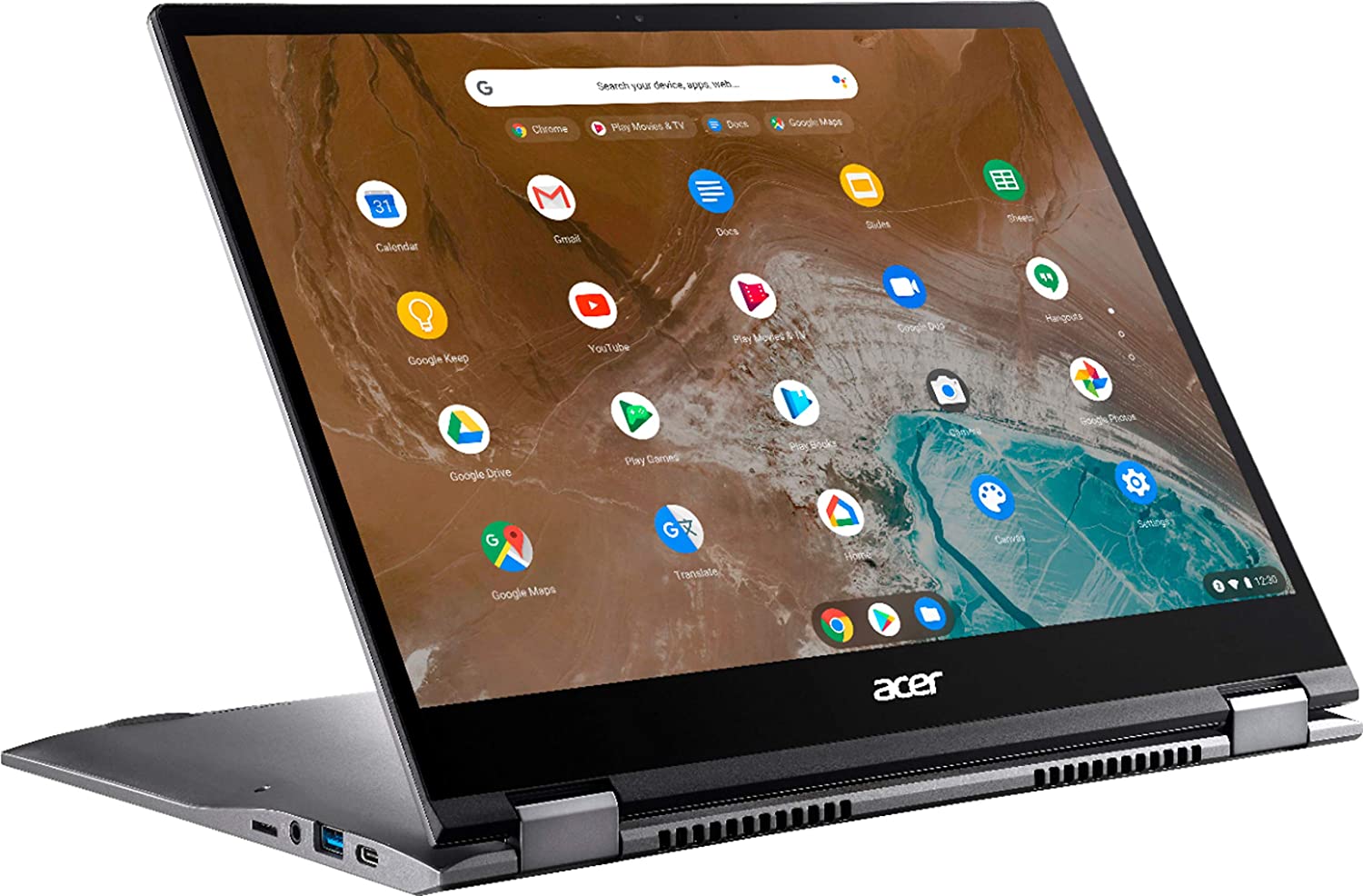 Now the list of best $1000 laptops is never complete without mentioning a Chromebook. That is why we have picked up Acer Chromebook Spin 713. It may not be the most premium-looking or powerhouse device, but that is exactly what Chromebooks are meant to be.
With a price tag of just over half a grand, the Acer Chromebook Spin 713 is the perfect device for students or anyone looking for everyday usage. Instead of emphasizing the hardware, ChromeOS brings forth a lot on the table. Using the right software you can even do some lightweight photo and video editing.
Pros:
Offers a very bright and colorful display
Great battery life
Comes with a very affordable price tag
Cons:
The keyboard and mousepad might feel clunky at times
Buy on Amazon
4. HP Envy 13
If you want all the goodness of HP Spectre without paying that premium price tag, the Envy 13 is exactly what you are looking for. Powered by Intel i7 11th Gen processor, 8 GB of RAM, and 265GB NVMe fast storage, HP offers a pretty sweet deal with Envy 13. 
The bright display, backed by narrow bezels gives it a modern look. That being said, this year HP has also introduced Thunderbolt 4 port. The onboard graphics is also suitable for any photo or video editing, and even lightweight gaming.
Pros:
A very attractive and professional device
Offers prolonged battery life
Comes with a vivid and bright display
Cons:
Our only complaint is with the plastic touchpad
Buy on Amazon
5. ASUS TUF Dash 15
If you want a good gaming laptop, well under $1000, the ASUS TUF Dash 15 is just the right fit for you. While there are other similar offerings from different manufacturers, ASUS is offering the best bank for your buck.
Powered by the 11th Gen Intel i7, GTX 3050Ti, and 8GB of RAM, it can easily handle the most popular titles. The 144Hz refresh rate is best suited for competitive gamers, who want a powerful device on the go. The TUF Dash 15 also comes with a decent no. of ports so that you can get all of your gaming peripherals in one place.
Pros:
Blistering fast 144Hz refresh rate
Outstanding GPU performance
Good battery life for a gaming laptop
Cons:
The trackpad is a bit smaller
Buy on Amazon
6. HP Envy x360 13
The HP Envy x360 13 is the best choice for everyone looking forward to an affordable 2-in-1 device. While HP doesn't offer a stylus out of the box, you can always flip it around and use the same as a tablet. With a 13-inch form factor and an aluminum design, the Envy x360 certainly gives a premium look.
While our variant comes with an 11th Gen i7 Intel processor, you can actually choose team red with Envy x360 13. The only downside is that it doesn't come with an IR camera or Thunderbolt 3 port. Then again, this might be something HP is saving for their Spectre x360 13.
Pros:
Offers unprecedented performance
Comes with a very compact form factor
A very vibrant 1080p display
Cons:
Doesn't offer any IR Camera for Windows Hello
Buy on Amazon
7. Asus ZenBook 13
The Asus ZenBook 13 can be hailed as one of the most portable laptops on our list. Powered by AMD Ryzen 7 5700U, you get 8GB of DDR4 RAM, along with 512GB SSD. Not to mention, there is also a wide range of features you expect out of ZenBook 3.
For starters, you get Wi-Fi 6, which would allow you to future-proof your system for years to come. Last but not least, the gorgeous-looking OLED display also provides one of the most compelling reasons to get this laptop altogether.
Pros:
Comes with unprecedented performance
Offers great battery life
A very gorgeous OLED display
Very lightweight and easy to carry
Con:
Due to the smaller form factor, the laptop might feel cramped at times
Buy on Amazon
You can also read:
The Bottom Line
So that was our curated article on some of the best laptops you can get for under $1000 in 2023. Let us know in the comment section, which one you are most excited about buying?