Welcome to our tech-savvy corner where we believe that upgrading your tech game shouldn't break the bank! Are you on the lookout for a reliable and powerful laptop that fits your budget? Look no further! In this blog post, we're thrilled to present to you our carefully curated list of the 5 best laptops under $500.
These budget-friendly powerhouses combine affordability with exceptional performance, offering you a seamless computing experience without compromising on quality. Whether you're a student, a professional, or simply an avid tech enthusiast, we've got you covered. So, get ready to explore the realm of top-notch laptops that won't drain your wallet. Let's dive in and discover how you can upgrade your tech game on a budget with these incredible finds!
How to Pick the Right Laptop Under 500 USD?
When it comes to picking laptops under 500 USD, you need to cherry-pick the perfect device based on your preference. While Chromebooks should be your primary option, getting a full-fledged Windows laptop might require due diligence. Here's what you need to typically look for in a laptop under 500 bucks:
Processor: To further trim product pricing, Windows laptops would often come with AMD Athlon or Intel Celeron and Pentium processors. Based on our recommendation, you can always look for Ryzen instead of Athlon for team red, while going with Core series for team blue instead of Celeron/Pentium.
Storage: Getting an SSD can make all the difference in your overall performance. Even though you might not get the best SSD under this price range, it is still better than a 5400 RPM HDD.
Display Panel: Another trade you might make is the washed-out displays that come with poor viewing angles. A large contribution goes to the TN (twisted nematic) panels that go into similarly priced laptops. Try looking out for an IPS (in-plane switching) LCD panel for better viewing angles and sharper displays.
Screen Resolution: Once you are looking for a laptop in the budget price range, always try to look for the screen terminology being used. Any HD screen, might not be a true high-definition. Try to look out for the actual screen resolution. The 1,920×1,080 pixels, is truly Full HD, while with HD you can expect 1,280×720 pixels.
Networking: Last but not least, cheaper models tend to cut costs using older chipsets which might only offer support up to Wi-Fi 5 or even Wi-Fi 4 for that matter. So, in order to future-proof your laptop, try looking out for the latest Wi-Fi standard.
Best Laptops Under 500 You Can Buy
Related: 5 Best 4K Laptops You Can Buy
1. Acer Aspire 5
Acer Aspire 5 is one of the best laptops in this price category. It comes with a 15.6 inches Full HD (1920 x 1080) display. The display quality is good and color production is also great, and that makes this laptop is a good fit for anyone who watches a lot of movies or a casual gamer.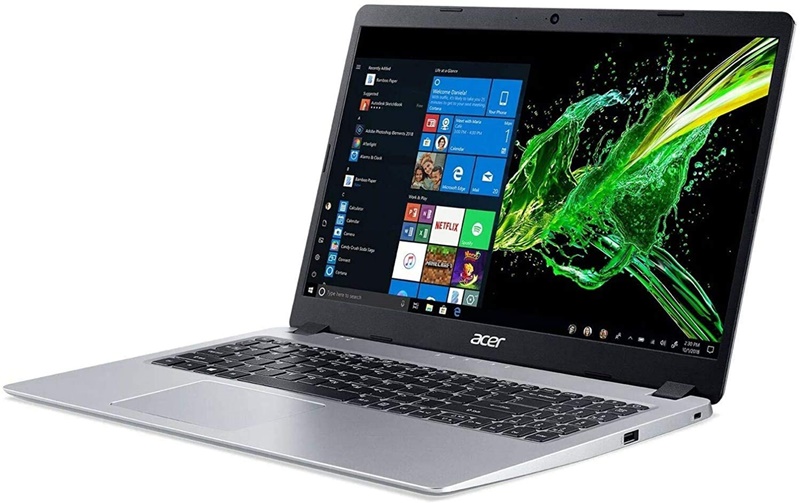 This laptop is equipped with AMD Ryzen 3 3200U processor which can provide the clock speed up to 3.5 GHz and AMD Radeon Vega 3 for handling graphics-related tasks. if you are unaware, the Ryzen 3 3200U has already got its place in medium segment laptops for providing sufficient processing power. The processor is coupled with 8GB DDR4 RAM for powerful multitasking.
Talking about the storage, Acer Aspire 5 comes with 256GB PCIe SSD which lets you save files fast and store more data. It also claims to provide 15x faster performance than a traditional hard drive. Lastly, it offers a battery life of up to 7.5 hours.
2. Microsoft Surface Go 2
Microsoft Surface Go 2 is a perfect laptop for people who just want to browse internet, binge watch series or play some time-pass games. If you are looking for a laptop for casual use like studying, shopping, email, calling, etc, this laptop is for you.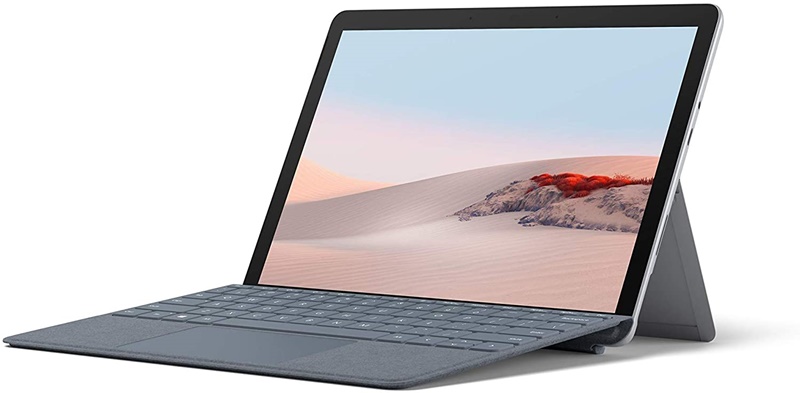 The Surface Pro 2 comes with a 10.5 inches Full HD (1920 x 1080) touchscreen display. It's equipped with Intel Pentium Gold 4425Y 8th Gen Intel Core m3 processor with integrated Intel HD Graphics and coupled with 8GB/4GB RAM.
When it comes to storage, Microsoft Surface Go 2 offers 128GB/64GB SSD options which are very good for storing your personal or work files. It weighs only 1.2 pounds and comes with battery life is up to 10 hours which makes it a good option for those who are looking for a portable device for travelling purposes.
3. Dell Inspiron 15 3000
Dell offers some of the most prominent laptops under 500 USD. Especially if you are someone who is just getting started with school or college, Dell Inspiron 15 has got you covered, given the 15.6-inch HD display backed by Ryzen 5 3450U CPU.
With 12GB of RAM and 256GB SSD, the laptop can easily handle day-to-day tasks with ease. There is also an adequate number of ports including an HDMI and SD Card Reader for utmost versatility. Topping it all off, Windows 11 Home comes pre-installed with the Inspiron 15.
4. Lenovo Flex 5i Chromebook
If you want to make your laptop experience enjoyable at an affordable price range, it is always a good idea to pivot toward Chromebooks. The Lenovo Flex 5i is an exceptional Chromebook for that matter, offering you great performance along with a great keyboard and trackpad.
The bright and vivid 1080p touchscreen is a great addition. Furthermore, given the price range, a Chromebook is always going to be faster than any Windows laptop. You can consider the Lenovo Flex 5i as your Android smartphone on steroids.
5. Apple iPad – A Smart Alternative
Based on how you are going to use your computer, you might not even need a laptop altogether. And this is where the Apple iPad shines as a lighter and more portable alternative. Not to mention, you can simply get a keyboard case or even a Bluetooth Keyboard to bring forth the same functionalities.
Primarily if you need a device for casual web browsing, taking notes, or making video calls, the iPad can provide you with a much smoother experience. That being said, the only catch is that traditional desktop apps might not work as intended.
Buy on Amazon
Also Read: 10 Best Gaming Laptops You Can Buy
Wrapping Up: Best Laptops Under $500
Finding the perfect laptop that strikes the right balance between performance and affordability is no longer an difficult dream. With our comprehensive list of the 5 best laptops under $500, you can now upgrade your tech game without breaking the bank. These budget-friendly powerhouses have proven that you don't need to sacrifice quality or features to stay within your budget.
Remember, great value doesn't always come with a hefty price tag :). We keep updating this article with the new product launches. So, you can bookmark this page for future also.