When we try to keep too many things in our mind, we end up forgetting some important things. So, it's always recommended to develop a habit of writing things and let our mind perform other important functions.
We usually have many tasks scheduled every day and keeping a track of them might be a tedious task. Today, I am going to share some best to-do list apps for Android which will help you boost your productivity as well as relax your mind.
To Do List Apps helps us stay organized in our life. You can note down anything running in your head like personal, professional or any other tasks you need to do. All these apps come with tonnes of useful options like scheduling, recurring, tracking, etc. So, without taking any more time, let's get straight into the best to do list apps for Android.
Also Read: 10 Best Android Apps for Classic Retro Gaming
Best To Do List Apps For Android
1. Any.do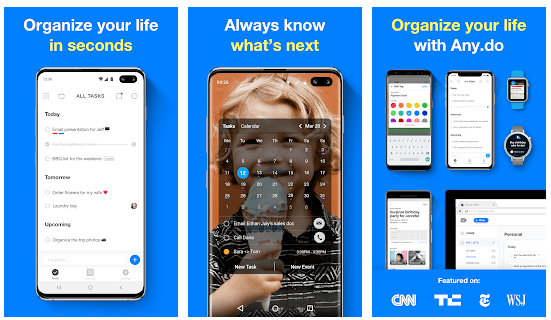 Any.do, one of the oldest and most popular to-do list app, is still the first choice of millions of users. Having more than 10 million downloads, Any.do offers an awesome user-friendly clean interface.
When I review these productivity apps, I look for the most essential features before any fancy things. Any.do can be an example of providing super cool user experience with with minimal design and simple animations.
It lets you add tasks and create reminders easily. The smart suggest feature will help you completing sentences. Any.do shows an overlay of tasks daily at the preferred time and you to prioritize items seamlessly. There's also a powerful one-time, recurring and location-based reminder option to make sure you can't forget important things.
There are two versions of Any.do – free and a paid. You can always install its free version, try it out and then decide whether you need its paid version or the free one is sufficient for you.
Install Any.do From Play Store
2. Memorigi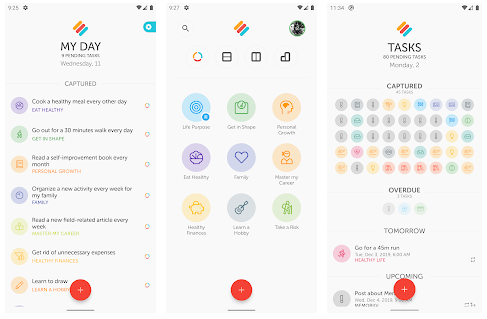 Memorigi is new but has evolved very much since the launch. I consider Memorigi as one of those apps which listened to user feedback very seriously and became better with each update.
A lot of users still find maintaining a to do list boring and this is where Memorigi can help. It's intuitive user-interface encourage first-timers to continue using the app. It has widgets, lists, colours, icons and ringtones and a lot of other useful features.
The best thing I liked about this app is it comes with a feature called Nag Me which make you unable to swipe away a task reminder until you finish it. If you even remove the notification, it will arrive again in a few seconds.
Taking about the other features, the app comes with powerful reminders, Backup and Real-time synchronisation, integrated weather, floating actions, etc. You can always try the free version, and when you feel that it's helping you in some way, upgrade to the paid version.
Install Memorigi From Play Store
Read: 5 Best Games Like Among Us You Can Play
3. Google Keep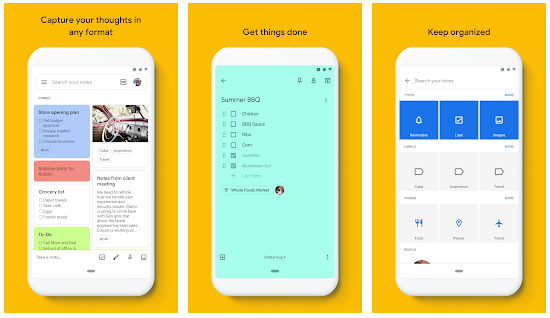 Google Keep is a note-taking app that comes with a clean and colourful user-interface. You can create virtual sticky notes with text, images and bullet points. The app is really to use and help you to quickly create to-do lists and with reminders.
Google Keep is already integrated with Google Docs which means If you have written an article or a note and want to share it as a doc file, you will have a one-click option – "copy to Google Docs". After that, just download it as a Doc file.
You can also share lists and notes with other Google users and using their email id and work collaboratively with your team or a group. Google has included this app with the new Gmail interface making it easier for you to keep notes.
Install Google Keep From Play Store
4. Ike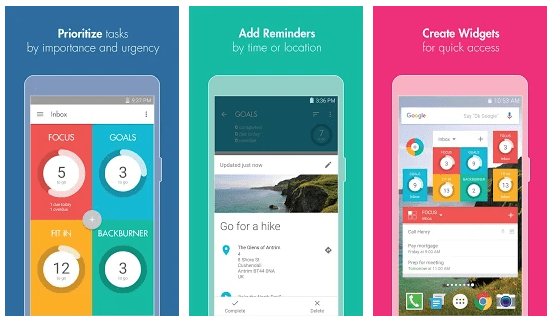 Ike is also one of the best to do list app for Android. It's based on Eisenhower's priority matrix i.e "What is important is seldom urgent, and what is urgent is seldom important."
Ike comes with a simple colourful Grid layout having four major categories – Focus, Goals, Fit In and Backburner. You can add and prioritize any number of tasks based on their urgency. You can also add multiple reminders, location reminders, notes, images and audio to ensure you never forget a task.
Though the app offers many options in its free version, it is recommended to go with the pro to unlock all the beautiful themes, widget and other important features.
Install Ike From Play Store
5. Google Tasks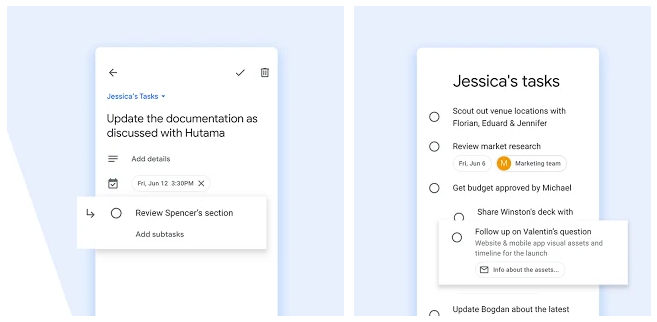 Also Read: 5 Ways to Fix Storage Space Running Out Problem in Android
Google Task is a simple to do list app which can help you in adding and managing your daily tasks easily. You can integrate it with Google calendar and can see all the tasks along with other events.
In case you don't know, Google Tasks is already integrated with Gmail inbox. Just click on the round icon at the sidebar of the Gmail. You can drag it in your emails and add them as tasks. It also allows you to create subtasks and list to make things as simpler as possible. With these features, it's also the best to do apps for Android.
Install Google Tasks From Play Store
Wrapping Up: Best To Do List Apps For Android
I hope the above apps will help you in sorting your life a little bit. Staying organized might sound weird to some people but believe me, it will help you a lot in a longer run. It's my personal opinion. And, there is no need to think even twice with these best to do apps for Android. If you know any other useful to do list app, feel free to comment it down. We would love to try and add that to our list.