Are you looking for cryptocurrency news apps to stay updated with all the buzz around the Crypto space?
Due to the volatility of the market, it's not easy to find good money-making opportunities. You have to keep yourself updated with all the important news related to cryptocurrencies. Today, I will share 8 best cryptocurrency news apps which will help you stay connected to the crypto space at any time.
Crypto market is growing with time. More and more people want to keep up with the updates of this market. So, what's better than your smartphone to get all the latest and breaking news? Whether you're using an Android or iOS smartphone, all you have to do is choose any of the crypto news apps listed below. So, without any further ado, let's get straight into it.
Read: 5 Best Anonymous Chat Apps For Android
Best Cryptocurrency News Apps
1. Crypto News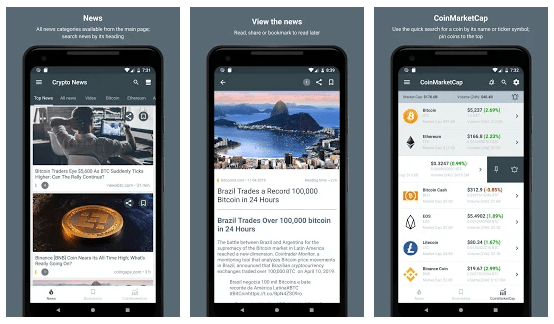 Crypto News is one of the best apps for crypto enthusiasts. It's basically an aggregator which collects relevant news from various sources such as Cointelegraph, Bitcoin News, CoinDesk, Forklog, Bit Media, etc and always strive to keep you updated. In this app, you can read all the cryptocurrency and blockchain-related updates from more than 100 websites.
Besides news, Crypto News also allows you to monitor changes in the cryptocurrency market and also covers its reaction with the news background. The application is brilliantly optimized to take less storage space, CPU and battery juice. Crypto News is available in three languages: English, Russian and German. Overall, it's a must-have application for all crypto enthusiasts.
2. Coin Stats
Coin Stats is another crypto app which is basically popular for portfolio tracking but it also provides crypto related news from more than 40 sources. You can track Bitcoin, Ethereum, Litecoin and over 3000 altcoin prices from over 100 currency. Coin Stats is a real-time app that allows you to sync favourite exchanges and wallets automatically.
Overall, it's also a very good app easily stay on top of the market. Let's have a look at some of the other features of this application.
Coin Research: Coin Stats comes with advanced filtering, sorting and research capabilities to help you find the right coin for investment. You can read updated information about any cryptocurrency or can check links to their website, Reddit, Twitter to get more information.
Portfolio Sharing: You cannot only see but also compare your portfolio with friends. This is a very useful way to track your gains over time.
Alerts: You can set price, limit, volume and market cap alerts for any cryptocurrency available on the app and ensure you don't miss a single update.
3. CryptoCurrency News Encyclopedia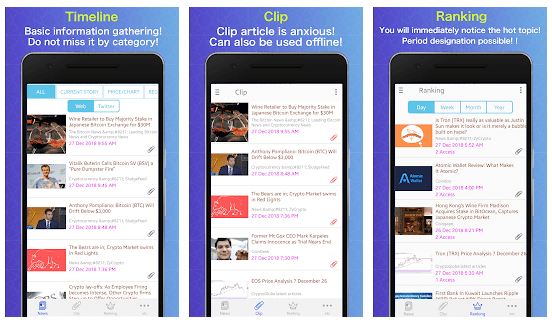 This cryptocurrency news app might not be popular like others, but some of its features make reading and tracking cryptocurrency updates really easy. It provides all the virtual currency news in real time by presenting them on a timeline.
This application has further simplified the design by dividing the timeline based on the genre such as "ICO" "Price · Chart" "For beginners", etc. You can use the clip function to keep the important news on the top. This app works good with poor internet speed and also has an offline feature so that you don't have to be dependent on your Internet connection.
Availability: Android
4. CoinMarketApp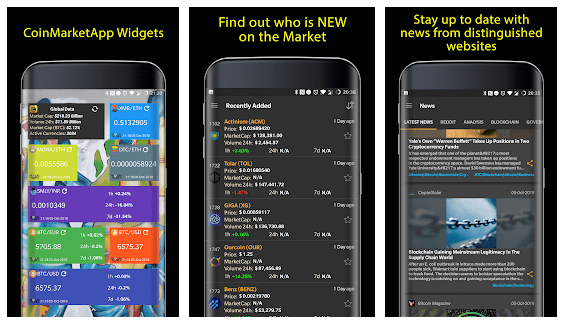 CoinMarketApp is an all-rounder in cryptocurrency space. It allows you to easily and quickly check cryptocurrencies prices, coin details, exchange markets, crypto news, etc. The application has a simple interface and you'll face no problem in navigating to any section of the app. You can also create the alerts to make sure that your investments are on the right track. The app is available in English and Spanish languages.
Some important Features:
Portfolio/Folio.
Exchange Markets.
Cryptocurrency Converter (convert from BTC to USD and from many other cryptocurrencies).
Crypto Education to learn what is a cryptocurrency and everything about related to it.
ICO Initial Coin Offering.
Aggregated and Reddit News from CoinDesk, CoinTelegraph and many more.
5. Blockfolio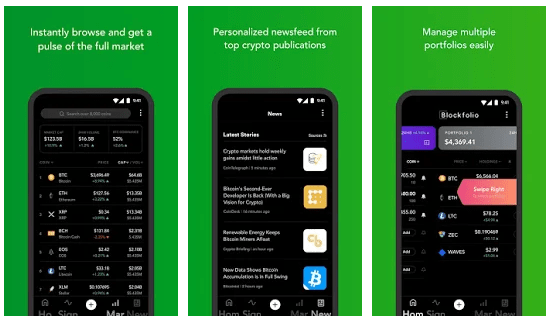 Blockfolio is one of the most popular free Bitcoin & cryptocurrency portfolio management app. It supports more than 3000 cryptocurrencies including Bitcoin Cash, Bitcoin Gold, Bitcoin Diamond, Binance Coin, Litecoin, Ethereum Classic, Ripple, Cardano, ReddCoin, Siacoin, Augur, Zcash, Monero Classic, Monero Original and more.
Blockfolio offers you the option to view your portfolio in 30+ fiat currencies. It also helps users save time on trades from fiat, ETH or BTC with Auto debit/credit feature.
6. BTCNews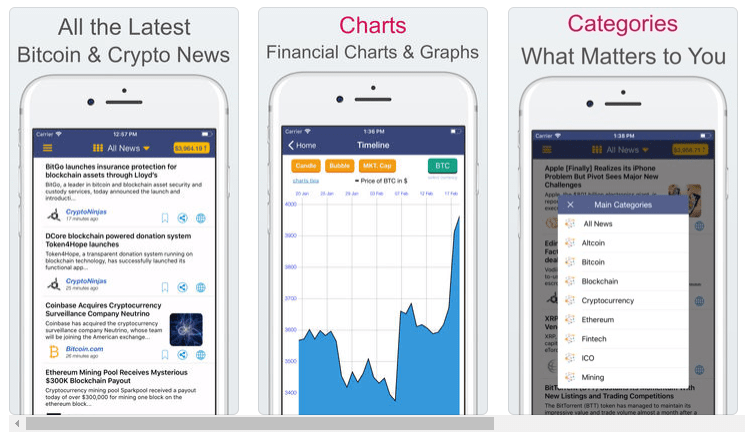 BTCNews is one of the popular and highest-rated cryptocurrency news apps on the App Store. It provides the latest news, analysis, opinion about the different cryptocurrencies under the same roof. As it collects all the news from various reputable and trustworthy sources, you won't have to check multiple apps for the same thing.
If you are busy and don't have time to find and read relevant news, BTCNews keep tagged the interesting items for quick access.
Features:
Support multiple languages throughout the world.
Financial information, charts and graphs with real-time information.
Real-time news updates throughout the day.
Human curation for one-off sources you won't find elsewhere.
Save an item of interest for later reading.
Easily view daily cryptocurrency videocasts.
Listen to podcasts from within the app.
View information for the 100 top cryptocurrencies by market capitalization, etc
Availability: iOS
7. Cryptocurrencies – Prices, News, Portfolio value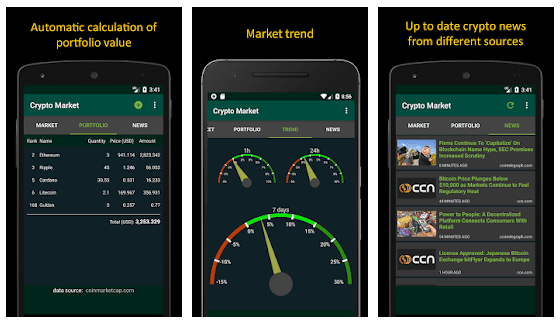 This application is designed in a way to provide breaking crypto news, updated prices of various cryptocurrencies and information about events. In this app, you can also create your portfolio to track the value of your preferred virtual currencies.
The app has simple and easy to use interface and so you don't face any problem to navigate between different sections of the application. The online reader which pulls in the latest news from trusted sources like CryptoCoinNews, BitcoinExchangeGuide and CoinTelegraph. Overall, this application will help you a lot in taking the right decisions at the right time.
Availability: Android
8. CoinView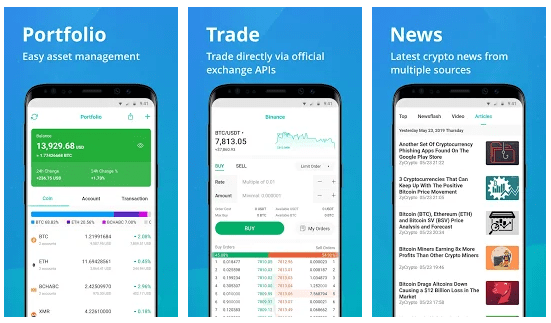 CoinView is a versatile Bitcoin and cryptocurrency portfolio management app that supports more than 2400 cryptocurrencies as of now. The interface is beautiful and quite user-friendly. Along with having a dedicated feature-rich section for the latest news and articles, the app has a lot more to offer.
You can join the crypto elite and track your entire portfolio in one place. This will enable you to get a detailed price, market information and receive alerts to stay updated. CoinView is available for Android devices only.
Main Features:
Ticker & Watchlist to keep a birds-eye on market analysis with 7,700+ trading pairs.
Detailed Analysis for every crypto asset you own.
Latest news and articles from top crypto media outlets, along with videos from top crypto influencers.
Get real-time market data from 61 crypto exchanges – new ones added regularly!
Maximize your efficiency on BigONE, Bytex.io, CoinEx, FCoin and more coming!
Stay Update With Cryptocurrency News Apps
I hope this list has provided enough options to choose your favourite cryptocurrency news app. I know there are many crypto news apps available out there. And, if you are cryptocurrency trader, investor or just want to be updated with all the happenings of this space, some good crypto news apps are necessary.
Cryptocurrency space is growing with time and making more and more people taking interest in this technology. So, whenever you are selecting a cryptocurrency news app, consider its core features. After all, the decision is up to you. If you are not sure, just try some apps as per your device and let us know which one you liked and why.