India is a versatile country for many reasons. One of them is Indian movies. We produce hundreds of movies every year and that too in many different languages. Not only our Hindi movies but also regional movies like Tamil and Telugu movies have their fanbase all over the world. If you also like watching these movies, you have definitely heard about Einthusan.
Einthusan is a very popular online streaming website where you can watch Tamil, Telugu, Kannada, Malayalam and Hindi movies. Einthusan also has a great collection of Hindi movies which are underrated and not available on every platform. Today, we will know about some best Einthusan alternatives which are completely legal and allows us to watch free movies and TV shows online. But before proceeding further, let's know Einthusan a little more.
Einthusan Not Working?
Einthusan gets millions of visitors every month but the website doesn't receive much love from legal authorities. Einthusan is accused of serving copyrighted content on its platform and that's why it's blocked in many regions including India. If you are also facing "Einthusan not working" problem, try out the Einthusan alternatives given below.
Is Einthusan 100% Free?
Einthusan allows you to watch hundreds of free movies in different regional languages without paying a single penny. However, it also provides a subscription option where you can enjoy the ad-free experience by paying the one-time charge.
Is Einthusan legal?
As per the website (einthusan.tv), they say "Our library consists of over 4000+ legally licensed content from 9 regional languages of India." You also find them promoting themselves as a "Legal Entertainment" platform. However, It's also true that Einthusan is blocked in many countries. If you search this website on Google, you may land up at a duplicate website who is charging one-time subscription-free from users for streaming pirated content. So, it's not clear whether this website is legal or not.
Einthusan Login
Einthusan offers two ways of streaming content. The first one is without creating an account but you will find ads here. So, If you are looking for ad-free watching experience, there's an option to pay one-time subscription-free and become a member. Once you have paid the fee, you can log in using your email id and password and stream your favourite movies without any advertisements.
Einthusan Downloader
Many users want to download movies from Einthusan and they keep searching for Einthusan downloader. If you search on Google or Bing, you will find several websites claiming themselves as Einthusan downloader but not all of them are safe. On visiting such websites, either you will be bombarded with ads or asked to pay a small charge for their service. We advise staying away from such fake sites.
Einthusan App
If you are a power mobile user, you might want to watch your favourite movies on Einthusan on your mobile device, but unfortunately, the official Einthusan app is not available right now. If you look for Einthusan app on Play Store, you will find a lot of similar apps. Even several third-party app stores provide Einthusan apk, but none of them is original. The original Einthusan app has been pulled off from the Google play store for unknown reasons. So, all these third-party apps could be a potential security risk to your device and data stored in it.
Einthusan Tamil Movies
As per the website, Einthusan provides movies in eight regional languages but its popularity for hosting south Indian movies like Telugu and Tamil movies is not hidden from anyone. However, if you are fond of Hindi movies, no worries, it has some excellent Hindi movies collection as well.
5 Einthusan Alternatives You can Try
If you are unable to access Einthusan website in India, you should know that there are many websites like Einthusan which not only provide free movies but are also completely legal. You can visit any of Einthusan alternatives below and enjoy the seamless online streaming experience. We have also covered the best websites to watch Hindi movies online some time ago. Do check out if you are interested. Otherwise, let's get started..!!
1. Yupp TV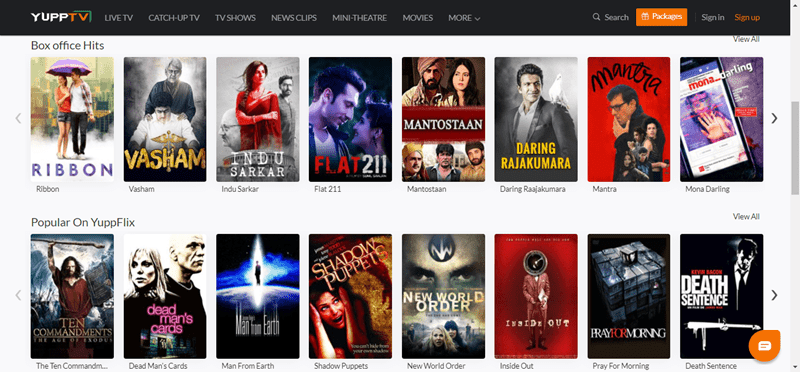 Yupp TV is one of the best Einthusan alternatives for people who loves watching South Indian movies. According to the website, it's offering "more than 250+ TV channels, 5000+ Movies and 100+ TV Shows in 14 languages." If Einthusan is not working in your country, you should try Yupp TV once. This website offers free 90-days access to every user, after that, you have to purchase a subscription to continue.
2. Voot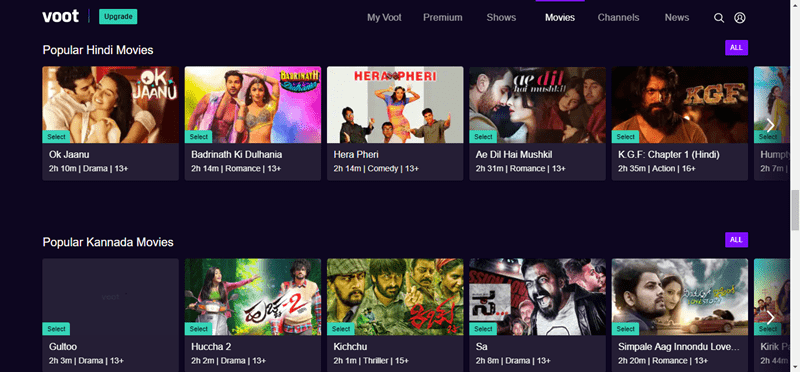 Voot has a great collection of Tamil and Telugu movies. Here, you will find movies in other regional languages also like Kannada, Punjabi, Bengali, etc. Talking about the homepage, the website has categorized all the movies in sliders which provides a great user experience. You can even use the search option present in the top navigation bar. It works quite well. If you are looking for websites like Einthusan for watching your favourite movies or TV-series, do give it a try.
3. Hotstar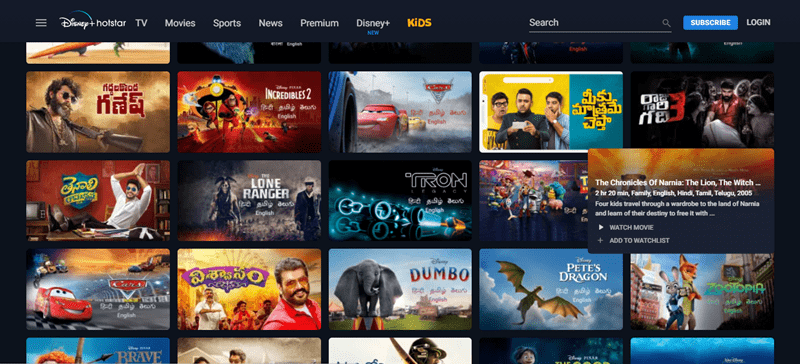 Hotstar has a vast collection of free movies and TV series. It's available on all the major platforms like web, Android and iOS. If you like binge-watching movies or TV series, Hotstar has got you covered everywhere. Moreover, Hotstar is also 100% legal and one of the biggest OTT platforms in India.
4. SonyLIV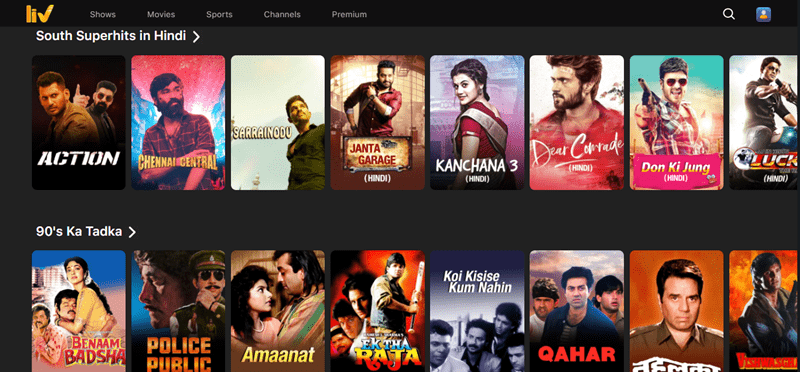 SonyLIV is also one of the very good Einthusan alternatives. It has a decent collection of Hindi, Tamil, Telugu and other south Indian movies. The platform has improved quite a lot in recent years. Just like Hotstar, SonyLIV also allows you to stream many good movies for free. As this platform is owned by Sony, it's stable and legal.
5. YouTube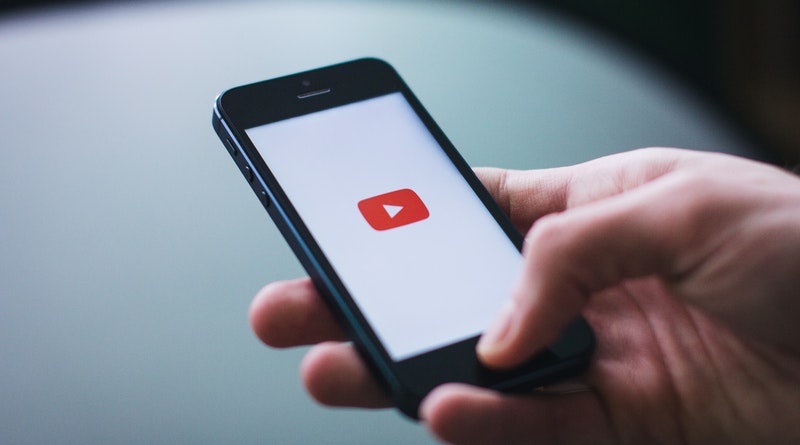 The name of YouTube in this article may look strange to some people but it truly deserves this position. If you were in love with Einthusan Tamil movies and Einthusan Telugu movies collection and feeling bad because the website is blocked in your country, YouTube is there for your rescue. You will find many channels on YouTube that upload full movies legally. Just search for your favourite Tamil, Telugu, Kannada, etc movie on YouTube and enjoy it just like any other youtube video. Some of these movies are free while some require some fee.
You may like: 5 Best Websites to Watch Free Movies Online Without Downloading or Other Hassle
Einthusan Alternatives: Wrapping Up
Einthusan is one of the largest online streaming platforms for south Asian movies. This website is preferred by people due to the availability of a massive collection of movies. Although the legality of Einthusan is an unanswered question, you can still access it via VPN or simply try any of the Einthusan alternatives above.