Since the beginning of computers and the start of the digital age, the function of cut, copy and paste has played a pivotal role. In popular culture, you might have also seen some jokes make their way around how students nowadays just copy their assignments online via this method. Well, there is a reason for that joke, and that reason is that it is a very simple task.
At first, you might wonder that these simple tasks are the first thing that a person learns while operating a PC or a Mac, but that is simply not true. From the perspective of a first-time user, even a simple task like copying and pasting seems complicated. We know that you too might have been asked by your kids or your elderly parents regarding this same query. Don't worry, by sharing this simple article might just help them get rid of the query.
Consider this article as a little tech guide for users who are new to the digital world. So, without any delay, let's get into that topic.
You may also like our guide on –
Ways to Cut, Copy & Paste in Windows and Mac
As discovered till now, there are two different ways in which you can cut, copy, and paste. Though both of these are quite simple and short, it depends on your workload as to which one you wish to choose. The two different ways in which you can cut, copy and paste are:
Using Mouse
Using Keyboard Shortcut Keys
Yes, these two methods might sound a bit scientific, but they are much easier than anything else. However, before we start with the steps, let's tell you a little bit about what some of these terms mean.
Copy: The word copy means copying a file from the initial location to the destination. It just duplicates the file. So, there is no difference between the original and the copied file. Both of them can be considered original in most cases.
Cut: Cutting a file is very much different from copying it. When you cut a file, it gets removed from its initial location and gets saved in the clipboard. However, you can simply just paste it anywhere else and it will be stored in that location from the clipboard.
I hope these two definitions have helped you understand the real thing that you need to accomplish. While copying a file might get you two files that share the same data, cutting it would help you change its location and move it.
Cut, Copy & Paste Using Mouse
Let's first cover the most ideal and conventional method of cut, copy, and paste, by using the mouse. In this, you would only require your mouse and there is no need for you to press any key on your keyboard. Here are a few steps that you need to follow: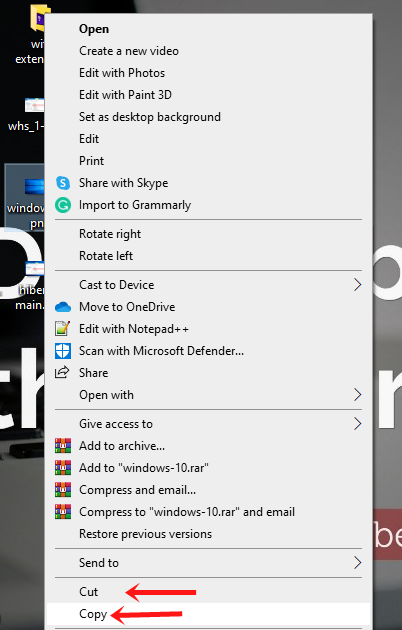 First of all, use the left-click of the mouse to select the file that you need to copy or cut.
Now, right-click the mouse and a popup menu will appear.
From that list, click on 'copy' or 'cut'.
Then, open the location where you want to paste the file.
Right-click on the empty area and choose 'paste.
And that's it. Your file will be copied or moved to the selected location.
Note: The paste option will only clickable when you have copied and cut the file. Otherwise, it will be faded and not available.
Cut, Copy & Paste Using Keyboard Shortcut Keys
Just like the previous method, the shortcut key method is also equally simple and short. In this, you will have to use some keys on the keyboard based on whether you are using a Windows or Mac device. Let's get into the steps without wasting any time:
How to Copy and Paste on Keyboard
Click on the file that you need to copy or cut.
Once selected, on your keyboard press 'Crtl/Cmd + C' for COPY, and 'Crtl/Cmd + X' for CUT.
Now, simply go to the location where you want to paste your file.
Once there, simply press 'Crtl/Cmd + V' for pasting.
When you follow both of these methods, one thing that you might notice is that the time difference between accomplishing a single task is negligible between the two. However, if you have a lot to do, the shortcut method might easily help you save more time and focus on the rest of the work.