For the majority of the users, there must have been several instances where you came across the TAG file but didn't know which software to use. In fact, before attempting to open up any file, it is very important to know what format you are dealing with. The tag file type is one such example.
Unless you are a web designer or a programmer, chances are you are going to run into the file type or open tag file for that matter. So, that is why we have curated this article on everything you need to know about the TAG file and how to open them.
Also Read: How to Open HEIC Files on Windows? (And Convert them to JPEG!)
What Exactly are TAG Files?
It is imperative to understand that there are not only a handful of cases when it comes to TAG Files. In the domain of web design and development, TAG files are primarily used for building custom tags. These are defined as mini JSPs (JavaServer Pages.)
TAG files cater to a single function that is defined by the programmer. Mainly it consists of various JSPs which web pages can reuse multiple times. The TAG file also finds its usage at the WordSmith Tools. It is a software suite primarily used to analyze words for texts and applications.
The TAG file is used for adding custom functionalities. Other times, it is simply used for storing metadata. If you ask, metadata is nothing but a more descriptive way of storing information about certain data or files.
There are also other programming tools that use the TAG file extension. Some of the most prominent ones include DataFlex and COREX. Both of these tools are used for the development of multiplatform software applications. TAG files are primarily used for data mapping.
How to Open TAG File?
Primarily you can access the TAG file with any application that natively supports the same. In this section, we are going to discuss the two most common ways in which you can open a TAG file.
1. Using CoffeeCup HTML Editor
Using any IDE (Integrated Development Environment) such as CoffeeCup HTML Editor (alternatively, you can try VSCode, Sublime, or any other HTML editor, the process will be mostly the same) is by far one of the easiest ways to open TAG files or any similar extension for that matter. So, follow the steps down below to access your TAG file.
Step 1: At first, download and install the latest version of CoffeeCup HTML Editor.
Step 2: This is by far one of the best parts. CoffCup HTML Editor will simply assign itself as the default editor for any web design-related file format. So, all you need to do is head over to your .tag file and double-click on it.
Step 3: Now the CoffCup HTML Editor will open the TAG file where you can easily access the same, and even make changes to the file itself.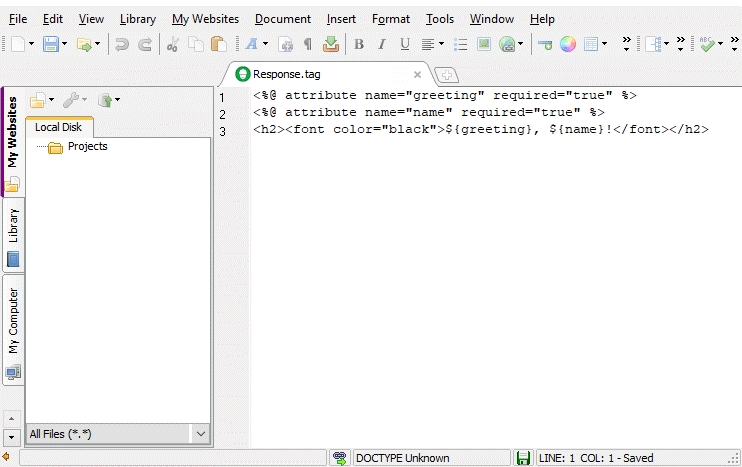 2. Using Notepad
Notepad, the proprietary Windows application can also be used to open TAG files. This is especially applicable if you just want to view the file. Follow the steps down below to open the .tag file on Notepad.
Step 1: At first open Microsoft Notepad.
Step 2: Head over to the 'File' tab and click on 'Open.'
Step 3: Instead of Text Documents, select 'All Files' from the drop-down options.
Step 4: Now navigate to the file directory and open your .tag file.
Also Read: What is Windows Page File (pagefile.sys)? Should You Delete It?
The Bottom Line
So that was our curated guide on how to open TAG. Since they are mostly used for recording metadata or encapsulation, chances are you are going to hardly run into them. But even in case you do, you exactly how to open them, or what they are. So, let us know in the comment section below if there are any other file types you want us to explain.