Deleted some important file by mistake and it's no longer available in recycle bin? No worries. This has happened to most of us. We have accidentally deleted some image, video, or file and then realized we need it back.
Today, I will show you how you can recover deleted files using the third-party tool Recuva by Piriform. Recuva is one of the popular and very good software to recover deleted files in just a few clicks.
Recuva comes in two versions – the first is a free version for basic file recovery and the second is Recuva Pro which supports advanced file recovery techniques like deep scan, etc. Though, the free version is enough for most of the cases, if your file has been deleted a long back, you can try the pro version also.
Also Read: How to Record Your Computer Screen
What Happens When You Delete a File on Windows
When you delete a file from your computer, it isn't really get deleted from the storage. Windows only remove the pointer to that file and mark the respective sector available.
So, as per file system view, the file is no longer available on your storage, and the sectors where the file was present are considered as free spaces. However, the deleted file is recoverable till the time Windows actually writes new data over those sectors
So, the chances of file recovery are inversely proportional to the amount of time passed after the file got deleted. If you try to recover a file after a long time of its deletion, you may not able to recover it or get a corrupted file back.
Recover Deleted Files in Windows 10/8/7
First of all, download and install Recuva from this link.
Open the software, and click on Next.
Select the type of the file which got deleted by mistake.
Now, select the location where the file was present. If you don't know, just select "I'm not sure" and proceed.
Then, click on the Start button so that Recuva will start scanning the files.
Lastly, you can select the files and click on Recover to restore them.
First of all, download and install Recuva from this link.
Once launched, click on Next.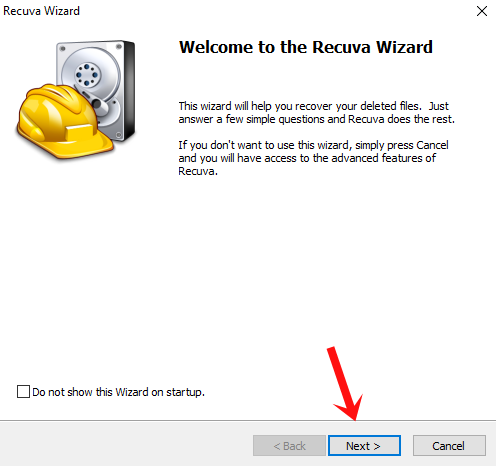 Now, if you know the file type i.e whether the deleted file is a Picture, Video, Document, etc, you can select it here. It will help Recuva to scan and recover the file faster. Otherwise, just select All Files and click on Next.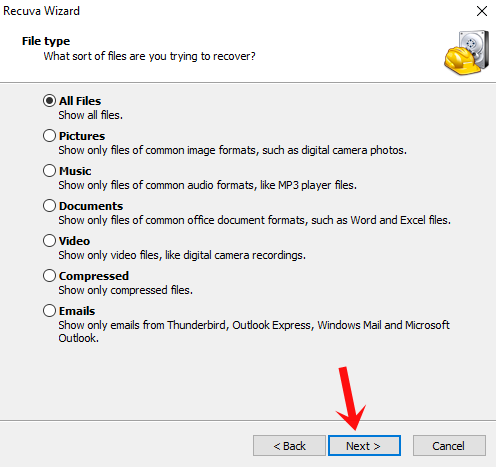 Then, select the location where your file was present before deletion. I highly recommend selecting In a specific location option and the location of the file. If you go with "I'm not sure", it will scan all the drives and take more time depending upon the total number of files present on your computer. Lastly, click on Next.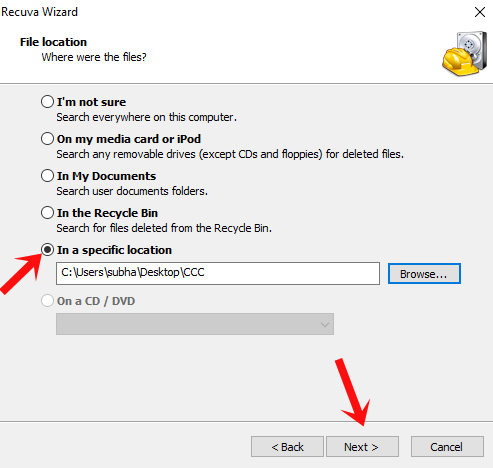 Now, click on the Start button to start the scanning process. If you are unable to recover your file in the first attempt, start Recuva again and tick "Enable Deep Scan" the next time.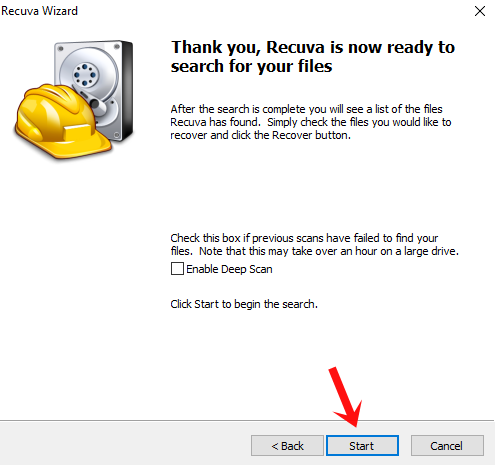 Once the scanning is complete, you will see all the recovered files here. Just select the files you need and click on Recover to restore them.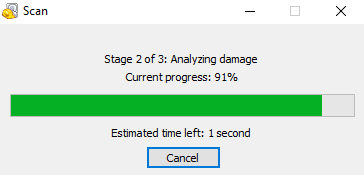 Recommended: 5 Free Open Source Games For Windows
Wrapping Up: Recover Deleted Files
That's all for this article. I hope you have successfully recovered the files which got deleted by mistake. Recuva is a very simple software which has helped me many times. It allows you to recover an unlimited number of files in the free version also which you won't get in most of the free file recovery tools available. If you have any questions regarding Recuva, do let us know in the comments below.