Nowadays, video calling applications are a part of our life. During the lockdown, it aided small, medium, and large businesses, schools, and individuals. There are numerous video calling applications from renowned software firms.
Our focus today is Amazon Chime, a great application that helps you to connect and share over video conferences. Today, we will look at everything related to it, starting from how to download Amazon Chime, how to amazon chime login, etc. So, without further ado, let's dive right into it.
What is Amazon Chime?
Amazon Chime is amongst the easiest and hassle-free video calling applications. And for this sole reason, you can use it at any place with any device. It is available for Android, Windows, and macOS. As you notice, it supports almost all the popular devices. So, you can connect with anyone without worrying about compatibility issues.
How to Login to Amazon Chime Web?
Like other popular video calling applications, Amazon Chime login offers a safe way to connect and share with your peers or business partners. You can create an address book in your Amazon Chime account with email ids and effortlessly connect with them. But before that, you need to login into your Amazon Chime account. Here are the steps to do that.
Step 1: Go to the Amazon Chime homepage by clicking this link.
Step 2: You'll see two options, Sign up for Amazon Chime and Attend a Meeting. Click on the first link.
Step 3. An advanced login page will open. Here you will also have two options: Create a new AWS account or log in to your AWS account, and Use Amazon Chime Basic. You need to choose the second option.
Step 4: Upon clicking the second option, you will end up on the Amazon Chime Login page. Enter your email id and click on Sign In/ Sign Up.
Step 5: The classical Amazon login interface will open. Here enter your Amazon account details used for login into Amazon. In and hit click on Sign-in.
Step 6: You have successfully logged into your Amazon Chime Login account. You can enter your meeting ID or connect with others using your Email address.
Also Read: Your Amazon Package Not Delivered? Here's What You Can Do!
How to download Amazon Chime For Windows?
Downloading the Amazon Chipe Desktop application is pretty straightforward. Follow the steps mentioned below.
Step 1: Follow this link. It will take you to the download section of Amazon Chime.
Step 2: Upon scrolling down, you will find various download options. Find Amazon Chime for Windows.
Step 3: You'll see a download button right beneath it. Click on it to start the download.
Step 4: After the download is complete. You will see the .exe installer in your browser's download section.
Step 5: Click on the .exe file to begin Amazon Chime installation.
Step 6: After the installation is complete. You are now ready for Amazon Chime Login. If you already have an Amazon account, use the same credentials to login into Amazon Chime.
How Do I Sign Into Amazon Chime Desktop Application?
After you have successfully downloaded and installed the Amazon chime desktop application, you are now ready to use the Amazon Chime application. But, before that, you need to get the Amazon Chime Login phase. Here's how to do it.
Step 1: Press Win+S to open the Windows Search and Type Amazon Chime.
Step 2: Click on the icon from the resultant to open up Amazon Chime.
Step 3: After the app opens up, you must enter an email address to proceed further. If you already have an Amazon account, enter the same email id here and click on Sign in/Sign Up.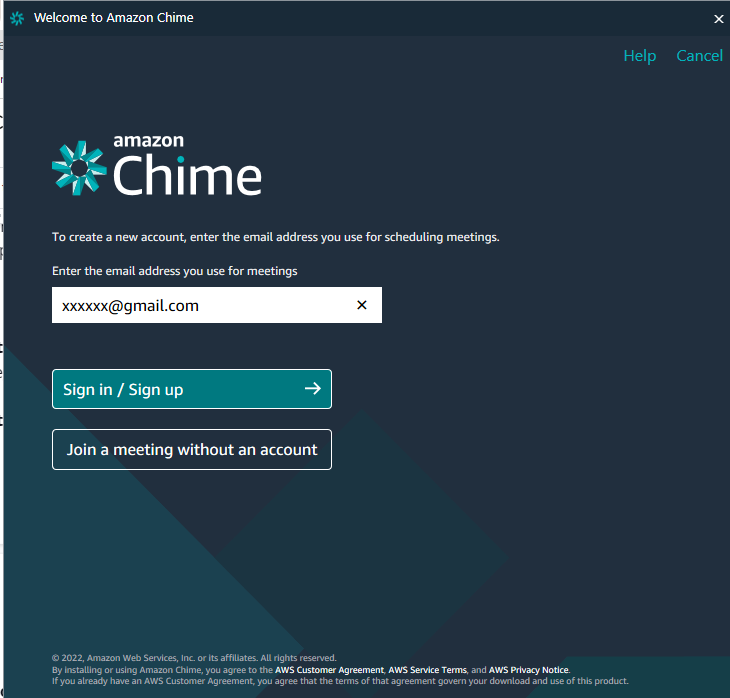 Step 4: The app will redirect you to the Amazon login page. Here enter your Amazon registered email id and password and press on Sign In.
Step 5: The app will once again redirect and log you into your Amazon Chime account.
FAQs
1. Can You Use Amazon Chime Without the App?
Yes. You can use Amazon Chime without the desktop application. You need to follow this link and go to their web version. Here, enter your Amazon login details, and you are ready to connect with others.
2. Is Amazon Chime exclusively built for Amazon Employees?
Amazon Chime is an easy-on-the-eye but powerful video calling application by Amazon. It is quickly becoming popular. Anyone with a desktop, laptop, or mobile device can use it. You don't have to be an Amazon employee to use it.
3. For using Amazon chime, do you need an AWS Account?
Absolutely no. It is not mandatory to have an Amazon AWS account for Amazon Chime login. You can use Amazon Chime's benefits by logging in with your Amazon email id and password.
4. Where is My Amazon Chime ID located?
The email-id you have used for logging into Amazon Chime or your Amazon. in email id is your Amazon Chime ID. You can share it with yo business colleagues or friends and connect via Amazon Chime.
Also Read: 8 Best Camera Tripod for Photography and Shooting Videos
To Sum Up
That's all, folks. I hope that we have covered all the basics of Amazon Chime Login. It is a simple process with no exceptional conditions. Ensure an active Amazon account before proceeding to avoid the hassle. Enjoy high-quality video calls and chats with Amazon Chime. Let us know what did you find interesting about it?