One of the best thing about Android is you can customize it in any manner you want. If you are not liking the default launcher, icons, fonts, navigation bar, status bar, notification drawer or almost anything, there are plenty of options available. You can choose from tonnes of apps available on the Play Store to customize your Android phone. Today, I will share 10 Best Clock Widgets For Android that can make your phone's home screen look beautiful and stylish. These widgets don't only improve look but also bring a clock, calendar, weather forecast and a few shortcuts to your home screen.
Also Read: Best Anonymous Chat Apps For Android
Best Clock Widgets For Android
1. Minimalistic Text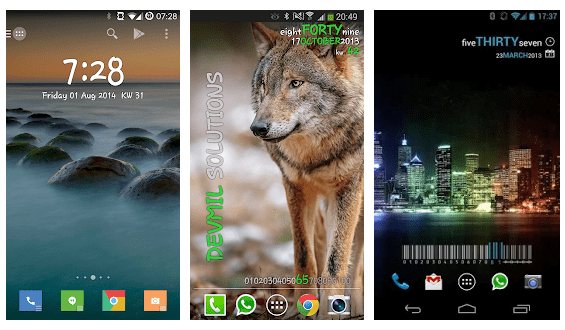 There are a lot of people like me who prefers a minimalistic setup over anything else. If you are also one of them, Minimalistic Text application is all that you need.
This app allows you to customize the clock widget in every possible way. It offers multiple ways in which you can control the information displayed on your home screen. You can add more sources of information without any issue. It also shows battery usage and consumption right at your home screen. It's a lightweight and user-friendly app which anyone can use to add simple and minimalistic clock widgets.
Download Minimalistic Text
2. Digital Clock Widget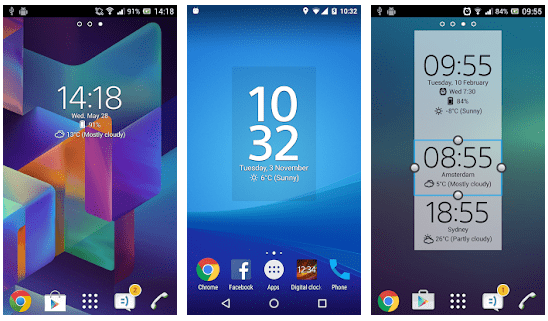 If you like the clock Widget on Xperia phones, this app is for you. Digital Clock Widget is a pretty simple app that offers tonnes of options to customize the clock widget for your home screen. There are options to configure it in many ways. You can show or hide date, set default time format, show alarms, battery levels at your home screen.
The Xperia clock widget app allows you to change the font, default theme colour and shadow effect. If you want to change the background colour, there is an option for it. You can even make it transparent if you want. Overall, this app allows users to change and customize its look and feel in any way they want.
Download Digital Clock Widget
3. Weather and Clock Widget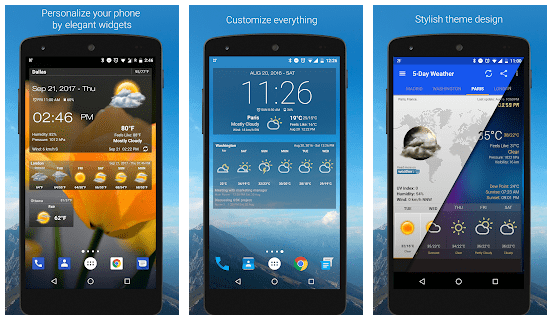 Weather and Clock Widget is one of the best feature-loaded and highly customizable app for Android. It comes with over 25 different sized and styled clock widgets to choose from. You can check time, date, weather forecasts, battery level, pressure, visibility, UV index, sunrise and sunset time, etc.
It also comes with features like Automatic location detection, Weather notifications alerts, Android wear support, themes, chart graphs, etc. If you are looking for some fully customizable clock widget for Android, this app will be perfect for you. With offering many cool widgets and options, the app also takes care of your phone's battery.
You can set automatic update intervals from 15, 30 min to 1, 3, 6, 9, 12 hours or Manual update. You can also set it to update on WiFi only and stop while roaming.
Download Weather and Clock Widget
4. BobClockD3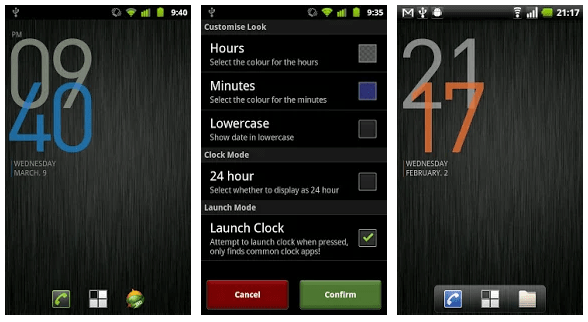 BobClock D3 is a unique clock widget for Android if you don't want Ads in any way. It's an open-source digital style clock widget based on the Cowon D3 clock. Unlike other apps, BobClockD3 offers an overlapped clock design that gives your home screen a cool look.
You can change the size of the date, lowercase and uppercase modes, colours, date formats, 12h/24h modes, etc and make the clock widget look as you want. If you are an Android developer, you can also contribute to the project by adding your own designs.
Download BobClockD3
5. Galaxy S9 Plus Digital Clock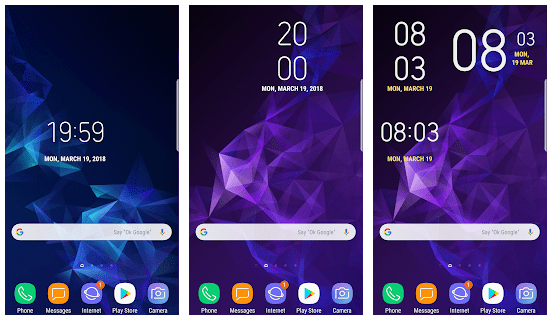 This widget is inspired by the Galaxy S9 Plus. Just like other clock widgets in our list, you can choose from 3 new clock designs and customize them in several ways. If you also like the Edge style of Galaxy S9, try this app once. It's a simple clock widget for Android but gives your home screen a premium look.
You can personalize the clock font colour, calendar font colour, change the font, hide year and calendar, etc. The app comes with ads but you can upgrade to the premium version to remove them.
Download Galaxy S9 Plus Clock Widget
6. DIGI Clock Widget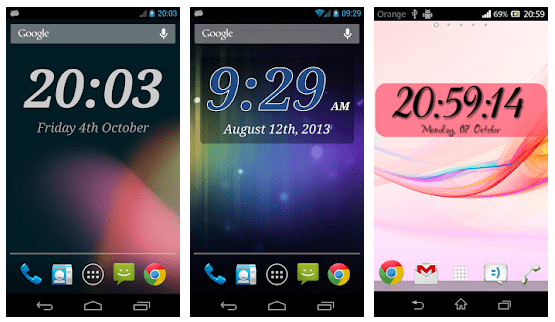 Digi Clock is another high-rated clock widget for Android. If you are fond of big fonts and clean interface, try this clock Widget once. The best thing about this app is it even allows you to select a photo from your storage and set it as the widget background.
Talking about the options, you can personalize the date and time colour, choose any font from 35+ stylish fonts, 12h/24h mode and text-shadow effect. DIGI Clock widget is supported by most of the smartphones as well as tablets, so there's nothing to worry about compatibility.
Download DIGI Clock Widget
7. Chronus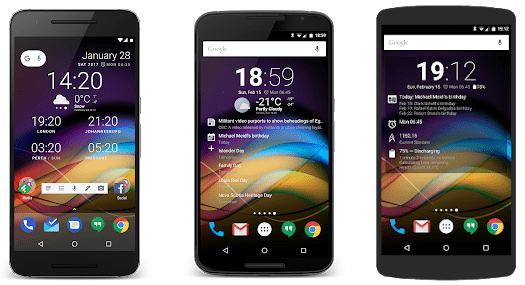 Chronus is one of the popular clock widgets for Android that comes with all the options that one may look for. It's flexible and offers some awesome looking widgets for your home screen. Though the app is not completely free, the default options are enough to try it out.
The app also claims to save battery even after adding multiple widgets. Apart from normal time and date, Chronus can also display news, tasks, stock alerts, etc. Overall, the app is fully customizable and you should definitely try it once.
Download Chronus
8. Seven Time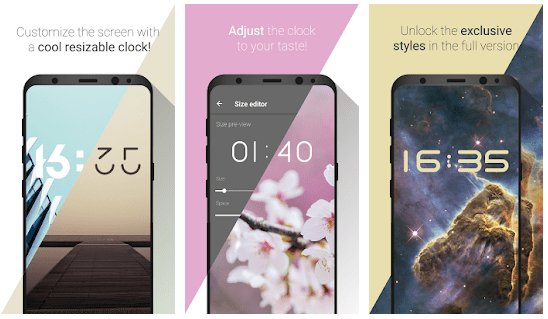 Seven Time is one of the most popular resizable clock widgets for Android. The designs are made from sketches and thus look really beautiful and premium. The app allows you to resize the clock widget on any phone screen with superb flexibility. Further, you can also adjust the spacing between clock numbers to make them look as you like.
The app comes with advanced options like HEX colour support, changeable fonts of AM/PM and removable colon, etc. The free version allows you to use only 12 freestyles, which can be expanded on buying the premium version of the app.
Download Seven Time
9. Neon Clock Widget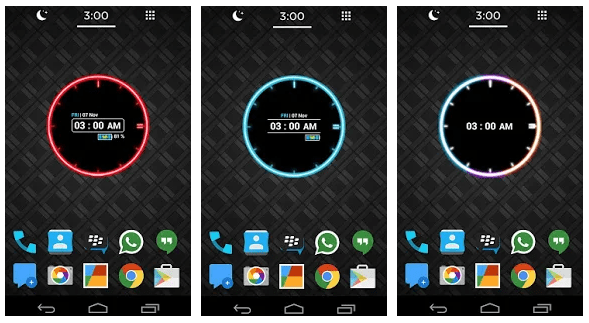 I know a lot of people who like Neon themes, fonts and other stuff. If you are among them, you will also like the Neon clock widget. The app comes with some amazing glowing neon colour widgets. You can either set an Analog or digital clock widget. It's totally up to you.
The app comes in two version – free and a paid. In the free version, you can only customize themes and the type of clock whereas, in the paid version, you can make clock transparent, choose from multiple clock shapes (circle, square and hexagon) and clock hands (default, dot, arrow and none).
Download Neon Clock Widget
10. Clock Widget by MASMAS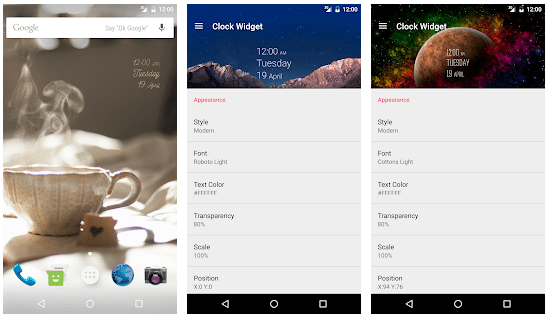 Looking for some simple clock widgets without much fancy settings and options? Here's a clock widget by MASMAS studio which can fulfil all your requirements. The app comes with Material design and offers many fonts for clock and date. You can use this clock widget on any phone running Android 4.1 and above. Though the app doesn't offer many customization options, you will be able to make it good looking with its few effective options.
Download Clock Widget
Also Read: 5 Ways to Fix Storage Space Running Out Problem in Android
Final Words: Best Android Clock Widgets
These Android widgets are not only for fashion or just make your home screen good looking. You can instantly check the time, date, calendar events, weather forecast, etc. I hope you found the above best clock widgets useful for your Android phone. Which one did you like the most? Just share with us in the comments below.