Notifications are available since the launch of Android. But earlier they were just for checking missed call information and messages. Neither we had innovative apps to customize the notification panel nor we knew how to use it effectively. But with time Android notifications become much more than that. Now, we can basically interact with notifications, reply, archive, and various other one-touch actions are possible.
Though Android still doesn't provide many options to customize or add new features to the notifications, there are hundreds of apps available for that. Today, I will share some best notification apps for Android that can help you get most out of your notifications.
Also Read: 5 Best Anonymous Chat Apps For Android
Best Notification Apps For Android
1. HelpMeFocus
Installing so many apps also bring tonnes of notifications, and if you're someone who does some meaningful work from your phone, you must try this application.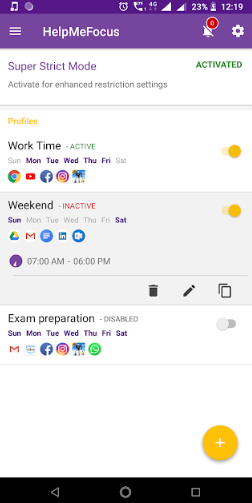 For example, if you use WhatsApp for your business and other apps like Instagram, Facebook, Telegram, etc distracts you. Then, you can make a group and block notifications from certain apps. You might be thinking that blocking notifications is also possible through app info screen, then why would anyone install a third-party app?
HelpMeFocus allows you to create profiles, select apps whose notifications you want to block and click save. Once, you are done, this app collects all the notifications of the selected apps and keeps them inside the app so that you can check them after finishing your work. This is not possible if you block notifications through device settings.
Install (HelpMeFocus)
2. Notin
If you are following Tech4Fresher for a long time, you might have already noticed me talking about this app. Notin is one of the best simple notification apps available for Android.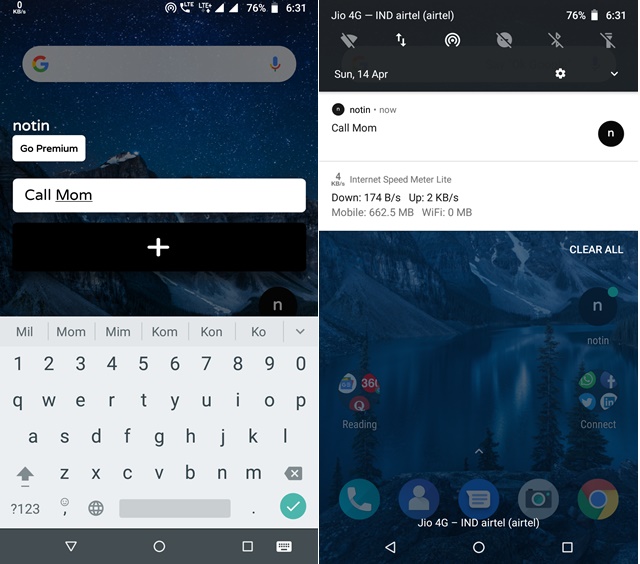 It allows you to take notes in a very innovative way. After installing, you just have to tap on its icon. It will show you a text box with a button. Type your note and press the Add (+) button and the app will instantly create a notification. In this way, whenever you pull down the notification panel, it will remind you of the note you added. Once done, just swipe the notification to delete it.
Install (notin)
3. Heads-up Notifications
If you are fond of heads-up notifications introduced in Android 5.0 Lollipop, you'll definitely love this app. This app displays the latest notification as a floating popup and works on every Android device running Android 3.1 or above. This app comes with five-pages of customization with complete full text and quick actions (only for Android 4.1+).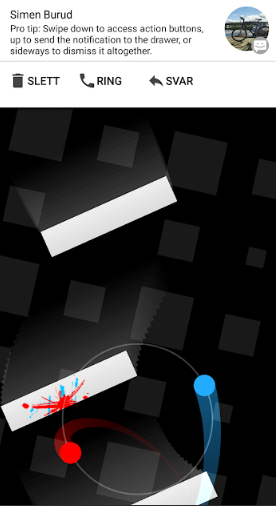 As this app doesn't even have the internet permission, there's nothing to worry about sending data outside your phone. Lastly, it also comes with Pocket detection feature and turns the screen on when you take your phone out of the pocket. However, Heads-up notifications don't work like default lock-screen notification on Android Lollipop.
Install (Heads-up Notifications)
4. Dynamic Notifications
If you have ever seen Motorola's Moto display or Microsoft Lumia's glance feature, you will better understand what this app brings to you. This app allows you to check for notifications without unlocking your smartphone. It comes with a simple user interface but offers many features including pocket detection, app selection and several kinds of colour, image, clock, etc related customizations.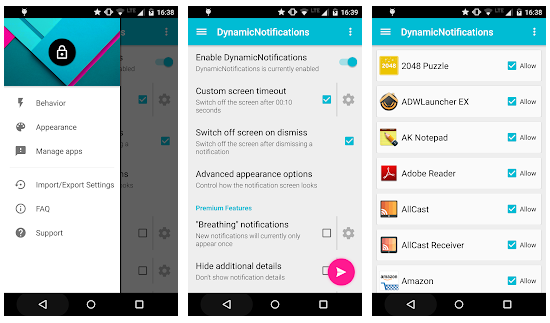 Also Read: 5 Best To Do Apps For Android
Though the free version of the app comes with enough features, you can any time upgrade to premium for features like Night mode, Auto Brightness, Auto Wake, Editable Swipe actions and more. The app is stable and works smoothly on almost all Android phones. Overall, this is one of the best notification apps for Android.
Install (Dynamic Notifications)
5. Shouter
It's one of the most interesting notification apps for Android. As the name suggests, it shouts for your notifications, means it reads your notifications. Have you ever come across a situation when your phone received a notification but it's far away from you?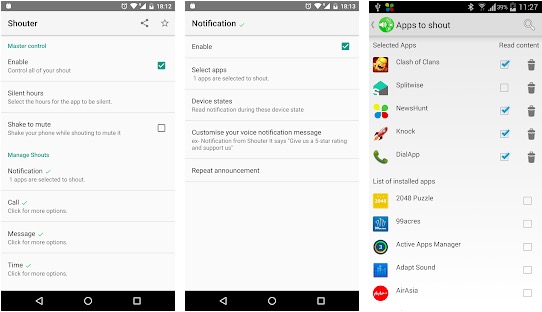 Shouter shouts the caller name, reads your messages, announces battery level while charging, etc. This app is found to be very useful while you are driving and can't afford to distract by someone's call. Besides the usability of the app, the app comes with many customizations options silent hours, disable reading message content and more which you can check under the settings menu.
Install (Shouter)
6. Floatify Lockscreen
Floatify is a wonderful notification app specially for people who spend too much time on full-screen mode. It gives you mini heads-up notifications whenever you are playing games or watching videos in full-screen mode so that you don't have to pull down the notification panel to check for new notifications.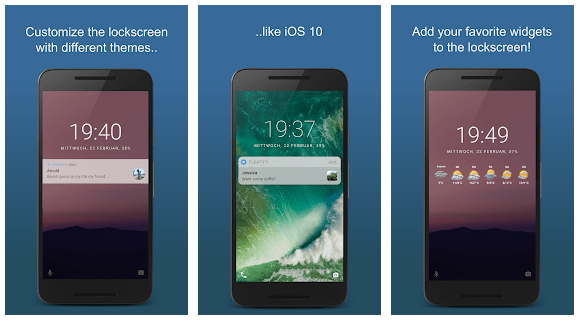 It comes with useful options like instant replies or marking the messages 'read' without leaving your current application. Floatify is a professional lock screen app that automatically turns on the screen as soon as you pick up your phone. It was working fine with WhatsApp but you can use it with any popular app like Telegram, Skype, WeChat, etc. Lastly, if you face any issues on devices running Android 8.0 Oreo, try Ava LockScreen.
Install (Floatify Lockscreen)
7. Notifix
Have you ever noticed the excellent notification management system of Gmail? Whether you receive one email or hundreds, it will show only one notification with all the information. But unfortunately, not all the apps come with this feature. They keep sending notifications one after another and make the notification panel looks cluttered.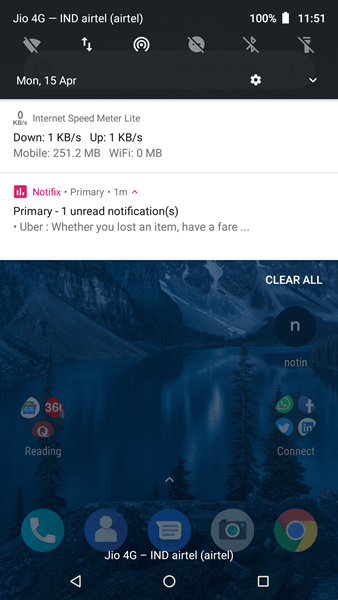 Notifix is a simple and useful app that categorizes all the notifications into four major categories: Social, News, Primary and Promotions. It even allows you to set a time period after which app will start grouping the notifications. Notifix is an excellent application if you have too much app installed and want to have an organised notification panel.
Install (Notifix)
8. Notisave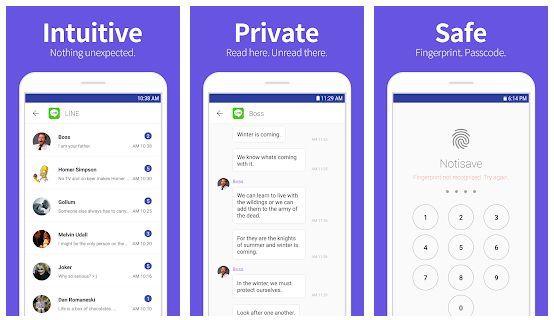 Notisave is one of the best notification apps for Android. It autosaves the notifications and keeps your notification panel clean. There are times when we clear all the notifications by mistake and regret later. With Notisave, you can check any notification at any time without any worries. Overall, it's a very useful app to keep on your Android phone.
Install (Notisave)
Recommended: 10 Best Online Dating Apps in India
Wrapping Up: Best Notification Apps For Android
I hope you found this article useful. There are tonnes of notification apps are available out there but I tried to only enlist the most useful ones. I will keep updating the article in future whenever I discover more such apps. I really liked the concepts behind Notin, Notifix and Notisave app. You can also choose any of the above apps as per your requirement or try them one by one. Lastly, don't forget to tell us which app you liked the most in the comments section below.