Discord is one of the most popular chatting services among the gaming community. Gamers across the globe are using it since very long. The best thing about Discord is it's highly customizable. If you have ever used Discord and set up your own server, you might already know its features. Today, I will share some best discord bots that you can use and enhance your gaming experience in 2021. All of these discord bots are quite useful in managing your server and bringing some cool new features. If you are a new discord user, learn how to add Bots to your discord server first. So, without any further ado, let's get started..!!
Best Discord Bots to Enhance Your Discord Server
Discord Bots List (2021)
1. Tatsumaki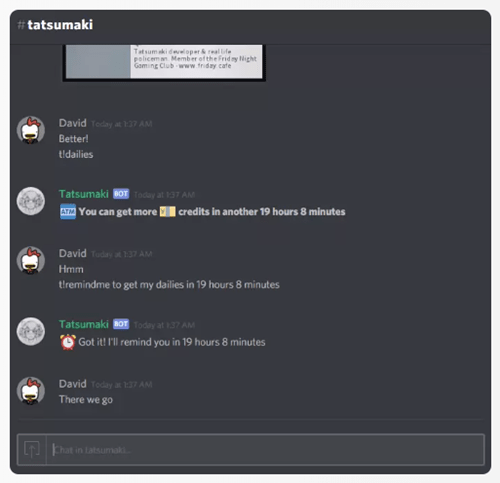 Tatsumaki is one of the best Discord bots to improve user engagement on the server. It provides many useful commands for notifications, welcome messages, several other features, etc. You can either control its settings from the Discord or Tatsunami also allows you to customize it from a dedicated dashboard.
To promote this bot and keep users active. it comes with an incentive program. The more you be active on the platform, the more XP you will earn and thus your level will significantly increase. Lastly, You can also search the web, stay up to date with Reddit threads and RSS feed, play 8 balls and more right within Discord.
Download Tatsumaki
2. GameStats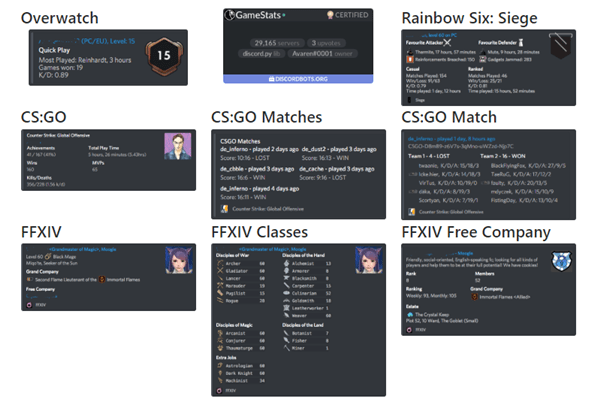 Keeping a track of progress and watching stats after every game is something I really like. It doesn't only keep me motivated but also inspires me to play more and face the competition. If you are also looking for similar features, add GameStats bot to your discord server. It helps gamers to track their progress and share it. As of now, Gamestats supports many popular games like PUBG, Rocket League, Fortnite, World of Worships and many more.
Download GameStats
3. Serum
While playing games, it's quite difficult to minimize the current game and enter discord commands, and this where Serum comes in. It's a very useful bot which gives the user access various voice commands. You might have used Apple's Siri or Google Assistant, but Serum is activated by saying 'Hey Serum' followed by the command. It may not have all the features but you can use it for executing basic commands. This makes the whole process really simple and you won't have to switch between the game and the Discord.
Download Serum
4. StahpDozAds
StahpDozAds is the best discord bot for managing users on the server. If you are using a public server, there are times you will want to ban or kick out some disgusting users from the server. Using this discord bot, you can easily auto-ban or auto kick users who often posts offending materials or try to insult or humiliate other users. For the long term, you can even create whitelisted type links so that you can quickly remove the offensive videos if posted by any user. Overall, it's a very useful discord bot for server owners with many users.
Download StahpDozAds
5. GAwesome Bot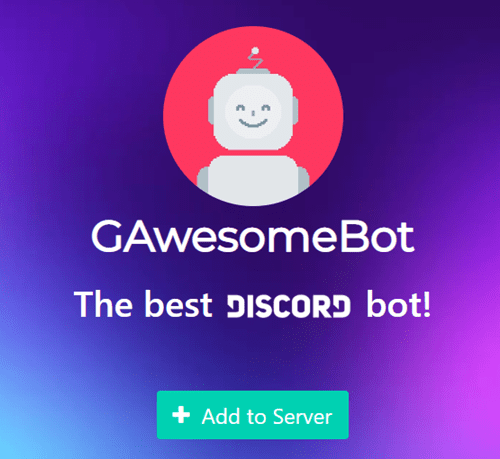 GAwesome is powerful and great discord bot comes with features like kick, ban, conduct polls, giveaways, generate sick memes, award member ranks, create to-do lists, convert units, use an urban dictionary, etc. It's highly customizable and known for increasing user activity on the server. It can also impose several moderations in the chat. Talking about the stats, more than 3400 discord servers are currently using it. If you are looking for a feature-packed bot for your discord server, don't hesitate to try it. GAwesome also allows you to search Google, Wikipedia, Youtube, etc.
Download GAwesomeBot
6. Zandercraft
If you also enjoy games with entertainment, you should download Zandercraft right now. As per the website, it's a chat, productivity, GIFs, and fun bot. You can type the command "+music <play/pause>" anytime to start or pause the music. Zandercraft works with Youtube and SoundCloud for playing music and videos. The best thing about this discord bot is its ability to play extra HD (XHD) and high-quality music. Use "+request <song name>" to add songs to your Zandercraft's playlist.
Download Zandercraft
7. Typical Bot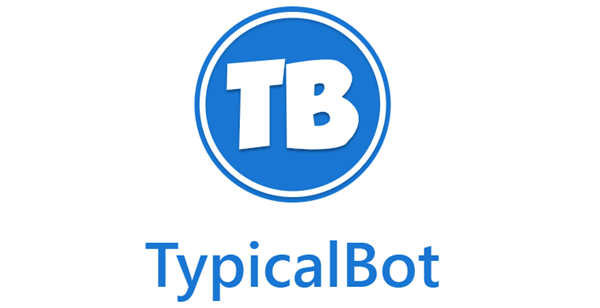 This is another discord bot used for server moderation. It comes with tools like join messages, moderating logs and queues, join, ban, leave, etc. If you have used Aethex, you will found its features are similar to that. Typical Bot is stable and comes with many useful features. You can send a warning, bans and quick kicks to the users who are active on the server. It is easy to set up and comes with an intuitive user interface. The developer also claims that they are currently working on a new version of TypicalBot, which includes a lot of big changes. It will improve the stability and quality of TypicalBot.
Download TypicalBot
8. Miki
Miki aims to make your discord server even more interesting with exciting games, giveaways, etc. It also has a point system where users who will send and receive messages also get experience points and climb the leaderboards. Miki allows you to customize your profile and show off your beautiful little cards.
Download Miki
9. Deadpool
Deadpool is may not a popular bot but it can make your various tasks super-easy. It's a discord bot that is planning on helping you manage your server and keep it safe. it comes many useful commands like Moderation commands, Fun commands (including memes, etc), Logging (make sure you have a logs channel), stats for different games, short URLs, get information about your server, etc.
Download Deadpool
10. Mee6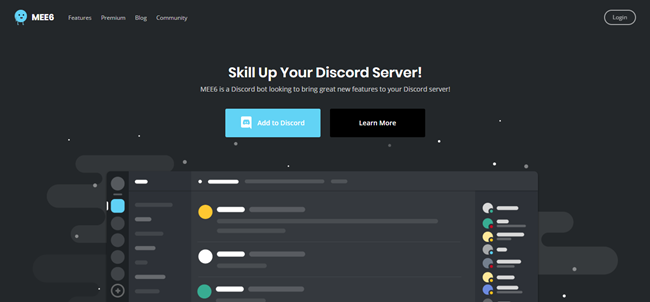 Mee6 is another best discord bot which you can use to make your discord server easily manageable, and it also brings some fun features. It allows you to create your own custom commands, welcome new users with a friendly message, and have a customizable auto-moderator.
Mee6 helps users to keep up to date with all the latest and greatest trends of the internet. You can access anything from Reddit, Twitch, to Youtube, etc. Lastly, when users participate in servers discussion, they will gain experience points and improve their levels.
Download Mee6 
11. Discord Translator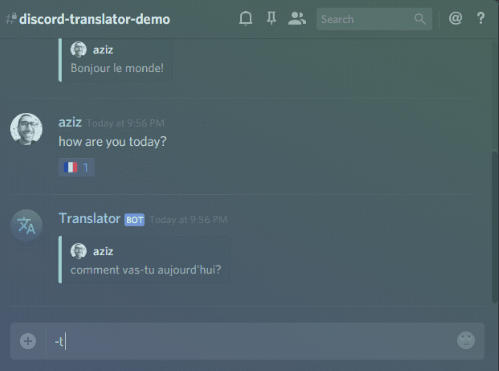 The language barrier is one of the most common problems gamers face when they play multiplayer games or interact with other players from different part of the world. Discord Translator supports more than 100 languages and offers some really useful features. It comes with powerful translation commands, automatic translation of users and channels, Text-to-speech voice, etc. Overall, its customizable and easy management system.
Download Discord Translator
12. DynoBot
If might already know about this discord bot but if don't, you should. Dynobot is one of the first bots users install on their discord server. It's a feature-packed bot that comes with many useful features. First of all, it gives you all the control over a dedicated dashboard. It has an auto-moderation feature with a Mod log.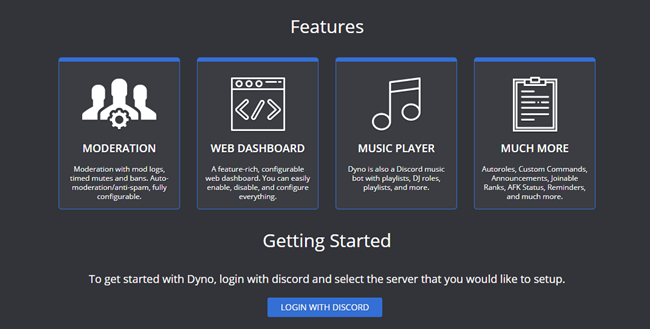 You can use it for broadcasting announcements, timed mutes, bans, etc. Lastly, it comes with Cleverbot integration and thus brings even more features like posting overwatch stats, stream Youtube, etc. Overall, Dyno is also one of the best discord bots for your discord server that features a simple and intuitive web dashboard.
Download DynoBots
Also Read: 10 Best Castlevania Games You Should Play
Final Words: Useful Discord Bots to Improve Your Discord Server
I hope you will find these Discord bots useful to enhance your gaming experience. There are hundreds of Discord bots out there, but we've only shared those which we have used or tested. If you are using Discord without any bots, believe me, you are missing so many things. If you know any other useful Discord bot not listed here, make sure to share that in the comments below.