Discord is by far one of the most popular messaging services used by gamers and common folks. But, if you want to use Discord to its full extent, all the premium features are often capped for Discord Nitro.
In terms of personalization and custom themes, Discord always lags behind to a certain degree. This is where, BetterDiscord comes to save the day, with its wide range of Discord themes. In this article, we are going to discuss how to get started with BetterDiscord and install some of the best themes available on the internet.
Also Read: How to Record Discord Audio, How to Unban Someone on Discord, and How to Share Screen on Discord
What is BetterDiscord?
BetterDiscord is a modification for Discord, developed by third-party creators. It provides users with the ability to personalize and enhance the appearance and functionality of Discord through the installation of various themes, plugins, and other modifications.
It is important to note that BetterDiscord is not officially endorsed or supported by Discord itself, and its usage may potentially violate Discord's Terms of Service.
Despite this, BetterDiscord has gained considerable popularity among Discord users due to its extensive range of features, which contribute to an enhanced Discord experience.
Among the notable features offered by BetterDiscord are:
1. Custom themes: You can completely transform the visual aesthetics of Discord by applying diverse themes. These themes bring alterations to the color scheme, typography, and other visual aspects, offering a unique and personalized appearance.
2. Plugins: BetterDiscord supports the integration of plugins, which are small software extensions that adds additional functionalities to Discord. You can use these plugins to enhance the user experience in various ways, such as incorporating a built-in music player, enhancing the chat interface, or providing powerful tools for server management.
3. Other enhancements: In addition to themes and plugins, BetterDiscord also brings many modifications that aim to improve the overall Discord experience. These modifications can bring about alterations to Discord's visual layout, user interface, or even its core functionality, ensuring users have greater control over their Discord environment.
How Do BetterDiscord Themes Work?
BetterDiscord themes modifies the CSS (Cascading Style Sheets) of Discord, a language utilized to control the visual presentation of web pages. CSS allows us customize Discord's color scheme, typography, and other visual elements.
To use a BetterDiscord theme, you must first obtain the theme from a reputable source. Once downloaded, extract the theme files to the appropriate directory in BetterDiscord.
Once done, go to BetterDiscord's settings to enable the desired theme.
Enabling a theme prompts BetterDiscord to apply the CSS alterations to Discord, thereby transforming its appearance, including the chat window, user interface, and settings menu.
If you want to personalize the the overall look and feel of Discord, BetterDiscord themes offer an excellent solution. You can choose from a wide array of themes available, that aligns with your preferred style. The process of installing a BetterDiscord theme is straightforward and can be completed within minutes.
Advantages of Using BetterDiscord Themes:
1. Enhancing Visual Appeal and Usability: BetterDiscord themes allow for a visually appealing Discord interface that is more enjoyable and user-friendly.
2. Style Customization: Given the wide-variety of available themes, users have the flexibility to select a theme that resonates with their style.
3. Easy Installation: Implementing a BetterDiscord theme is a hassle-free procedure that can be accomplished swiftly.
Some Risks of using BetterDiscord Themes:
1. Unofficial Support: BetterDiscord is not officially endorsed by Discord, and its usage may infringe upon Discord's Terms of Service.
2. Potential for Crashes: Some Poorly developed BetterDiscord themes have been known to cause Discord to crash.
3. Malicious Code: Certain unpopular themes may contain harmful code that poses a threat to the security of your computer.
How to Install a BetterDiscord Theme? 
You can download BetterDiscord, from its website. Once downloaded, follow through with the on-screen instructions. Right after the installation process, BetterDiscord will restart the Discord app. For further clarification, BetterDiscord is available on Windows, macOS, and Linux Discord clients. 
Once done, You can follow the steps down below to apply themes on Discord: 
Step 1: Open your Discord desktop client, and hover to the bottom-left corner to click on the Settings gear icon.
Step 2: Click on 'Themes' from the left sidebar, right under the 'BetterDiscord' settings menu.
Step 3: Simply click on 'open theme Folder'. Now you can navigate straight to the BetterDiscord themes folder. Bear in mind, all these themes are in CSS file formats.
Step 4: This is where you need to move the CSS files from the Download folder to the BetterDiscord themes folder. For better accessibility, you can refer to the exact path given below.
C:\Users\<username>\AppData\Roaming\BetterDiscord\themes
Step 5: Right after moving the themes to the BetterDiscord folder, you will find the theme name followed by a toggle. You can enable the toggle to successfully apply the theme on your Discord client.
Read: 8 Best Voice Changer Apps for Discord
Best BetterDiscord Themes You Should Try
Now that you are already done with setting up BetterDiscord, here is our top pick for the best BetterDiscord themes to beautify your chat rooms like never before.
1. Ultra
Ultra is a modern, ASMR-inspired Discord theme that looks absolutely stunning. With the right amount of black at all the perfect spots, the Ultra theme is very well-balanced. This gives all the more reasons to hail Ultra has one of the best Discord themes to use for.
Download Ultra
2. Fallout 4 Terminal
A very quirky skin for your Discord client, that makes your chat box like a hackable terminal, straight out of fallout. Not to mention, this old-school terminal approach completely sets it apart from all the colorful and flamboyant themes on our list. Just to be on the safe side, the Fallout 4 terminal theme overlays on top of everything, including Discord streams.
Download Fallout 4 Terminal
3. Fluent Discord
Just as the name suggests, this Discord theme is inspired by Microsoft's own Fluent Design System. With the Fluent Discord theme, you can bring forth Windows 11's design language right into Discord. Although Fluent Discord is still at its earlier stage, the theme is promising enough. In fact, it has the potential to become one of the fan-favorite in no time.
Download Fluent Discord
4. Slate
According to the creator of the theme, Slate takes an optimized, functional approach while bringing GitHub's UI to Discord. For anyone who is a frequent GitHub user, there's a certain appeal to it. Bear in mind, Slate focuses on utility over visual aesthetics. Then again, right down from the font size to the overall theme, everything in Slate is customizable.
Download Slate
5. ClearVision
Simply put, with over 800,000 downloads, ClearVision is by far one of the most cherished themes on BetterDiscord. Furthermore, it offers a plethora of customization options. Due to its huge popularity, you can find ClearVision right on top of the theme page on BetterDiscord. So, it's worth giving ClearVision a try before you move forward.
Download ClearVision
6. Material Discord
Inspired by Google's latest Material U design, you are going to feel connected with your Android device. Keeping up with the design, you get rounded corners for message bubbles just like Google's messaging app. Not to mention, other interface elements follow the same design principle. Overall, if you are a fan of Android 12 design, in particular, Material Discord is just the right theme for you.
Download Material Discord
7. Zelk
Zelk is based on the GTK theme you find on Zorin OS. Initially, you will get the blue interface, although you can completely customize it with different color schemes including red, purple, green, and more. If your primary requirement is to theme your Discord, getting in line with the rest of your setup, Zelk is the one for you.
Download Zelk
8. Tokyo Night
Tokyo Night is that dreamy theme longed for by every programmer. Tokyo Night brings forth Microsoft's Visual Studio Code experience within Discord's UI. More specifically, it is inspired by VSCode's own Tokyo Night theme. So, if you want to keep your desktop setup aligned, Tokyo Night can be a good pick.
Download Tokyo Night
9. Comfy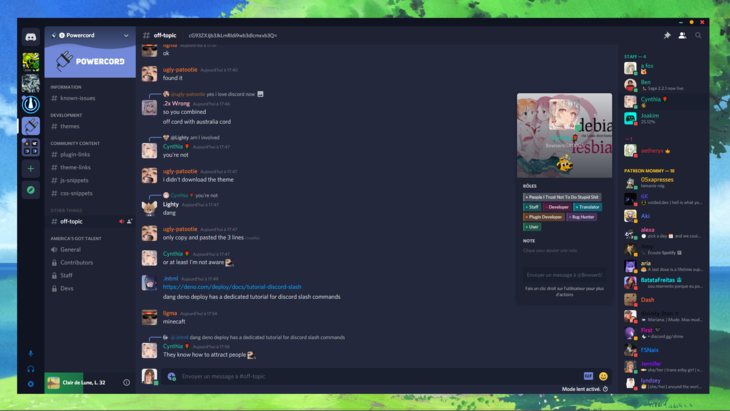 Comfy is a theme that is solely dedicated to soothing your eyes for long-hour sessions on Discord. Another visual change in Comfy is the inclusion of squircle bubbles used on profile pages. Comfy features a cool shade of blue, making it extremely comfortable especially at night.
Download Comfy
10. Dracula
Dracula is one of the most popular dark themes readily available for code editors and even Discord. In fact, the Dracula team has created an official port for the BetterDiscord theme. Overall, the Dracule shares all the attributes you find on the same theme for other applications.
Download Dracula
11. NotAnotherAnimeTheme
One of the biggest highlights of NotAnotherAnimeTheme is the utmost customizability it provides. Starting from changing the background image to changing scroll bar colors, you can personalize Discord just the way you want. To add further customization, simply edit the CSS file of NotAnotherAnimeTheme and you are good to go. You can also refer to this YouTube video.
Download NotAnotherAnimeTheme
12. Quarrel
Being a third-party UWP client, Quarrel hasn't got much popularity in Discord. But the UI brings forth all the visual elements from the Quarrel app, right into Discord. Users can also add background blur or transparency to Discord. Try Quarrel once, and you are going to love the visually pleasing interface.
Download Quarrel
13. MinimalCord
A list of Discord themes will always remain incomplete without mentioning minimalism. This is where MinimalCord steps in. Offering users a thoughtful minimal appeal, you are going to appreciate the dark interface. It is a very simple Discord theme without all the bells and whistles of the default one.
Download MinimalCord
14. Spotify Discord
Last but not least, we have Spotify Discord, which shares the same design language and color palette as that of Spotify. In fact, you can expect the same resemblance to that of Spotify's desktop client. So, if you prefer Spotify, this is the theme you should be looking for.
Download Spotify Discord
Which BetterDiscord Theme You Liked the Most?
That concludes our article on BetterDiscord themes. There is a wide selection of impressive BetterDiscord themes to choose from. The ideal theme for you will depend on your personal preferences. If you desire a user-friendly and customizable theme, ClearVision is a recommended choice. For those seeking a dark and stylish theme, Dracula is an excellent option. And if you prefer a colorful and playful theme, Quarrel is highly recommended.
Regardless of your tastes, there is undoubtedly a BetterDiscord theme that will suit you perfectly. Take some time to explore the variety of themes available and discover the one that resonates with you. By following these suggestions, you will undoubtedly find the ideal BetterDiscord theme for your needs.