Discord is by far one of the most popular messaging services used by gamers and common folks. But, if you want to use Discord to its full extent, all the premium features are often capped for Discord Nitro.
In terms of personalization and custom themes, Discord always lags behind to a certain degree. This is where, BetterDiscord comes to save the day, with its wide range of Discord themes. In this article, we are going to discuss how to get started with BetterDiscord and install some of the best themes available on the internet.
Also Read: How to Record Discord Audio, How to Unban Someone on Discord, and How to Share Screen on Discord
What is BetterDiscord?
BetterDiscord is an add-on that enhances Discord functionality with themes, Twitch emotes, plugins, and more. Although there are a plethora of ways in which you can mod Discord, BetterDiscord makes it easily accessible with simple drag and drop functionality.
How to Download and Install BetterDiscord?
You can download BetterDiscord, from its website. Once downloaded, follow through with the on-screen instructions. Right after the installation process, BetterDiscord will restart the Discord app. For further clarification, BetterDiscord is available on Windows, macOS, and Linux Discord clients.
Note: BetterDiscord is a third-party application for Discord, and violates the company's terms of service while modifying it. Although Discord hasn't taken any legal action against BetterDiscord. So, proceed at your own risk.
Keeping aside all the legal obligations, now we can move forward with the article. You can follow the steps down below to apply themes on Discord:
Step 1: Open your Discord desktop client, and hover to the bottom-left corner to click on the Settings gear icon.
Step 2: Click on 'Themes' from the left sidebar, right under the 'BetterDiscord' settings menu.
Step 3: Simply click on 'open theme Folder'. Now you can navigate straight to the BetterDiscord themes folder. Bear in mind, all these themes are in CSS file formats.
Step 4: This is where you need to move the CSS files from the Download folder to the BetterDiscord themes folder. For better accessibility, you can refer to the exact path given below.
C:\Users\<username>\AppData\Roaming\BetterDiscord\themes
Step 5: Right after moving the themes to the BetterDiscord folder, you will find the theme name followed by a toggle. You can enable the toggle to successfully apply the theme on your Discord client.
Read: 8 Best Voice Changer Apps for Discord
Best BetterDiscord Themes You Should Try
Now that you are already done with setting up BetterDiscord, here is our top pick for the best BetterDiscord themes to beautify your chat rooms like never before.
1. Ultra
Ultra is a modern, ASMR-inspired Discord theme that looks absolutely stunning. With the right amount of black at all the perfect spots, the Ultra theme is very well-balanced. This gives all the more reasons to hail Ultra has one of the best Discord themes to use for.
Download Ultra
2. Fallout 4 Terminal
A very quirky skin for your Discord client, that makes your chat box like a hackable terminal, straight out of fallout. Not to mention, this old-school terminal approach completely sets it apart from all the colorful and flamboyant themes on our list. Just to be on the safe side, the Fallout 4 terminal theme overlays on top of everything, including Discord streams.
Download Fallout 4 Terminal
3. Fluent Discord
Just as the name suggests, this Discord theme is inspired by Microsoft's own Fluent Design System. With the Fluent Discord theme, you can bring forth Windows 11's design language right into Discord. Although Fluent Discord is still at its earlier stage, the theme is promising enough. In fact, it has the potential to become one of the fan-favorite in no time.
Download Fluent Discord
4. Slate
According to the creator of the theme, Slate takes an optimized, functional approach while bringing GitHub's UI to Discord. For anyone who is a frequent GitHub user, there's a certain appeal to it. Bear in mind, Slate focuses on utility over visual aesthetics. Then again, right down from the font size to the overall theme, everything in Slate is customizable.
Download Slate
5. ClearVision
Simply put, with over 800,000 downloads, ClearVision is by far one of the most cherished themes on BetterDiscord. Furthermore, it offers a plethora of customization options. Due to its huge popularity, you can find ClearVision right on top of the theme page on BetterDiscord. So, it's worth giving ClearVision a try before you move forward.
Download ClearVision
6. Material Discord
Inspired by Google's latest Material U design, you are going to feel connected with your Android device. Keeping up with the design, you get rounded corners for message bubbles just like Google's messaging app. Not to mention, other interface elements follow the same design principle. Overall, if you are a fan of Android 12 design, in particular, Material Discord is just the right theme for you.
Download Material Discord
7. Zelk
Zelk is based on the GTK theme you find on Zorin OS. Initially, you will get the blue interface, although you can completely customize it with different color schemes including red, purple, green, and more. If your primary requirement is to theme your Discord, getting in line with the rest of your setup, Zelk is the one for you.
Download Zelk
8. Tokyo Night
Tokyo Night is that dreamy theme longed for by every programmer. Tokyo Night brings forth Microsoft's Visual Studio Code experience within Discord's UI. More specifically, it is inspired by VSCode's own Tokyo Night theme. So, if you want to keep your desktop setup aligned, Tokyo Night can be a good pick.
Download Tokyo Night
9. Comfy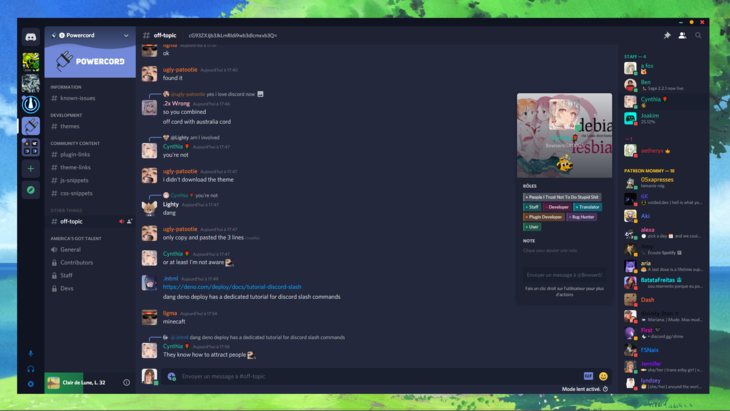 Comfy is a theme that is solely dedicated to soothing your eyes for long-hour sessions on Discord. Another visual change in Comfy is the inclusion of squircle bubbles used on profile pages. Comfy features a cool shade of blue, making it extremely comfortable especially at night.
Download Comfy
10. Dracula
Dracula is one of the most popular dark themes readily available for code editors and even Discord. In fact, the Dracula team has created an official port for the BetterDiscord theme. Overall, the Dracule shares all the attributes you find on the same theme for other applications.
Download Dracula
11. NotAnotherAnimeTheme
One of the biggest highlights of NotAnotherAnimeTheme is the utmost customizability it provides. Starting from changing the background image to changing scroll bar colors, you can personalize Discord just the way you want. To add further customization, simply edit the CSS file of NotAnotherAnimeTheme and you are good to go. You can also refer to this YouTube video.
Download NotAnotherAnimeTheme
12. Quarrel
Being a third-party UWP client, Quarrel hasn't got much popularity in Discord. But the UI brings forth all the visual elements from the Quarrel app, right into Discord. Users can also add background blur or transparency to Discord. Try Quarrel once, and you are going to love the visually pleasing interface.
Download Quarrel
13. MinimalCord
A list of Discord themes will always remain incomplete without mentioning minimalism. This is where MinimalCord steps in. Offering users a thoughtful minimal appeal, you are going to appreciate the dark interface. It is a very simple Discord theme without all the bells and whistles of the default one.
Download MinimalCord
14. Spotify Discord
Last but not least, we have Spotify Discord, which shares the same design language and color palette as that of Spotify. In fact, you can expect the same resemblance to that of Spotify's desktop client. So, if you prefer Spotify, this is the theme you should be looking for.
Download Spotify Discord
Personalize Your Discord like Never Before
So, that was everything about personalizing Discord, with some of the best BetterDiscord themes you can find out there on the internet. Let us know in the comment section below, which theme you are going to use on Discord?