Since 2020, the term workout has gained quite popularity. Why wouldn't it? As everyone was stuck at home, they all tried to remain fit. People have already started to look for the best ways possible for an effective workout. And not to mention, this sudden surge in its popularity also brought to attention a lot of fitness apps and workout apps. Both in the Google play store and even in the apple store, these apps have recently gained the topmost spots.
As the restrictions are slowly let down and people have started to go to the gym, it does not necessarily mean that these apps have faded away. No, instead, people have found a better way to integrate these apps with their gym workout. If you too are a fitness freak and are looking for an app that suits your every need, you have come to the right play.
In this list, we are just going to include the apps that are available both on android and in the Apple store. So, let's get started with our list.
Also Read: The Best Camping Apps For Android & iOS
Best Fitness and Workout Apps for Android & iOS
1. Centr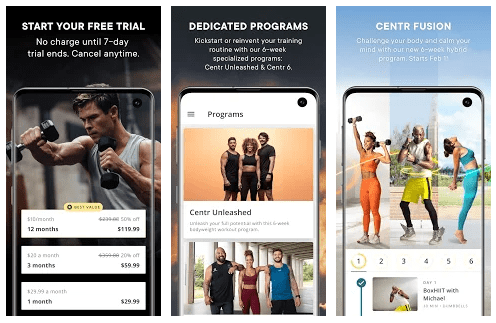 Centr is a fitness app that promises to be a one-stop shop for all your health and fitness-related purchases. Not only that, but the app also has a meal planner, a virtual personal trainer, and a virtual meditation coach. The whole catalog consists of over 1000 workout routines, 493 recipes, and 137 mindfulness exercises.
Platforms: Android & iOS (Paid)
2. FitOn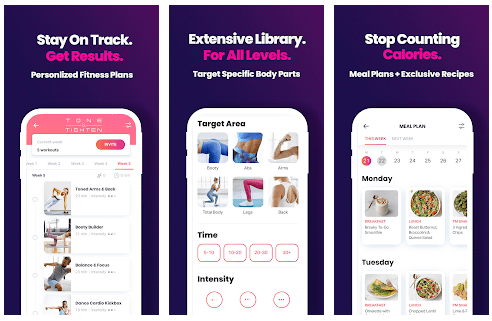 Now, FitOn is considered to be a truly effective and highly useful workout app. It offers the users tons of workout videos and resources for free. Of course, there are definitely a few premium features that you need to check out, but still, a majority of the app is free. In addition to all that, this app also boasts a large number of exercises that can be done with only minimal equipment.
Platforms: Web, Android & iOS (Freemium)
3. Charity Miles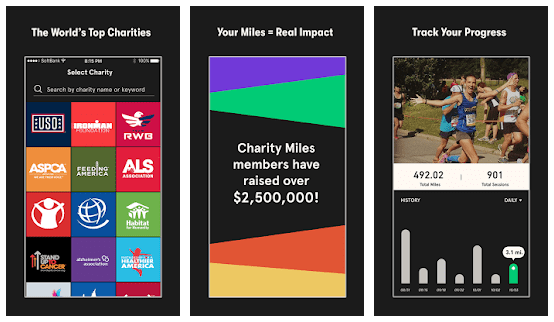 Unlike FitOn, Charity Miles is a completely free fitness app. Now, the way this application works is very different from any other app that works. In this, the user gets to donate a certain amount of money if they walked or ran for a mile. The price limit of the donation is set by the company. By running and walking for a mile, you can donate 25 cents. However, if you chose cycling for a mile, you'll end up donating 10 cents. Isn't' this a great and innovative way of doing charity.
Platforms: Android & iOS (Free)
4. 8Fit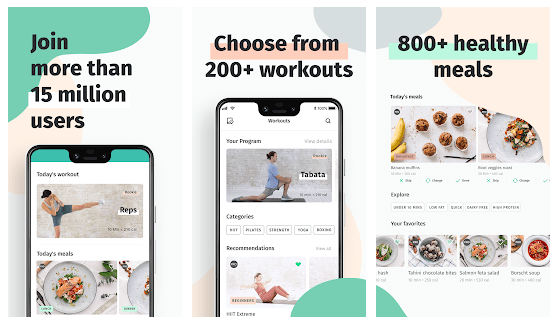 8bit can be easily considered as a weight-free workout app. It comes with a custom meal plan for every individual, thus giving it a personalized edge over the competition. The app is free, it also has a pro feature that costs $60 per month and gives the users an option to improve and customize their meal plan even more. The best thing is that this app won't ask you a bunch of questions. It gets right into the meat of it.
Platforms: Android & iOS (Freemium)
5. Fit Radio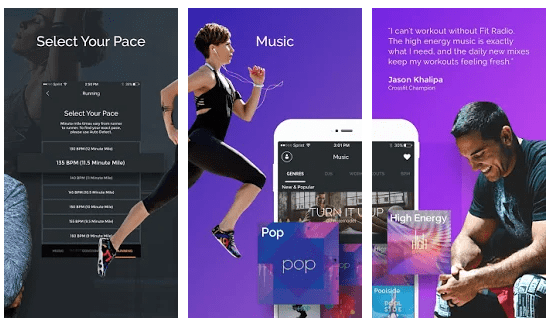 Not your basic fitness app, Fit Radio is more like your personal music-streaming application that can help you curate the best possible list of songs for your workout session. Previously this app only had a paid version, but since it gained a lot of popularity in the past few years, it went on to release its free version also.
Platforms: Android & iOS (Freemium)
6. Jefit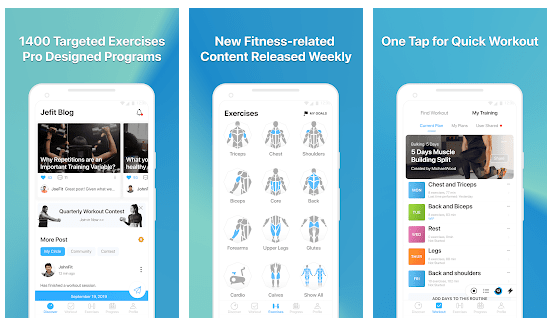 With the price of the pro version set at $6.99 per month, some do say that this is in fact one of the most reasonably efficient apps that helps in your workout. Initially, it comes with prebuilt routines that you can easily do along with other exercises. This app also has all the tools that can track your workout time and it keeps a record of the reps. The free app is ad-supported with only limited features. In the pro version, you might also find video-based training and goal settings.
Platforms: Android & iOS (Freemium)
7. Keelo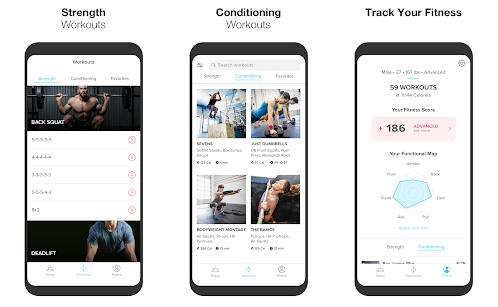 As an app that comes only in paid form, Keelo is best suited for high-intensity interval training. Now, this one is also the one that you should pick if you are going to the gym for training. The app has a huge catalog of workouts and a workout functional map that can tell you if you are in for anaerobic exercise. This app can also tell you about which muscle you need to exercise.
Platforms: Android & iOS (Paid)
8. Nike Training Club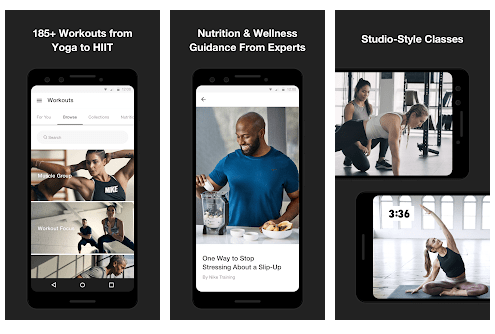 This workout app became free during the pandemic, and as you can guess by the name, it is made by Nike and is a basic fitness app. In this, there are various routines that you can follow for a 30, 40, and 60-minute exercise. In a way, you can use this app for both short workout sessions as well as hour-long sessions.
Platforms: Android & iOS (Free)
9. Onyx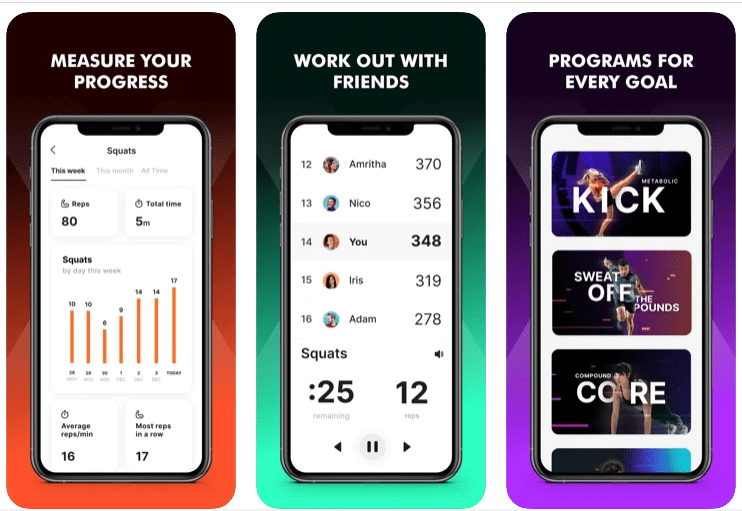 This paid app can easily be made accountable for being your instructor while working out. Though there isn't any free version of this application yet, the pro version has still been able to impress the folks who have tried it. The workouts in it are fairly straightforward for the most part. However, you'll need an iPhone for the AI to work properly.
Platforms: iOS (Paid)
10. Shred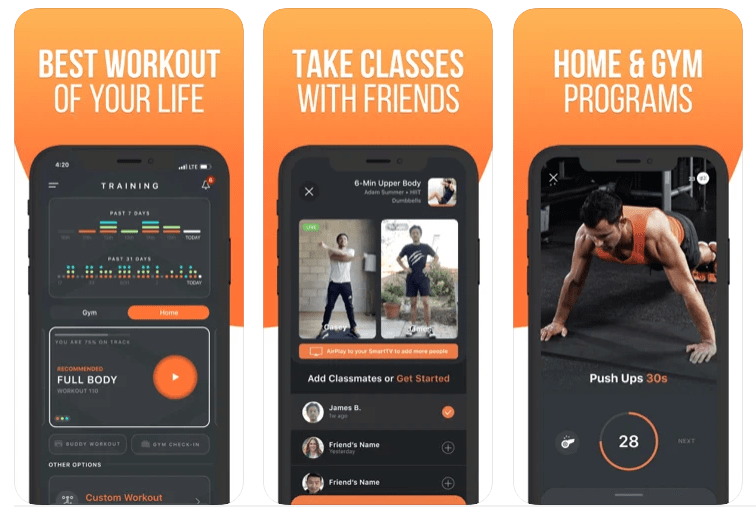 Now, Shred is the last workout app on our list. This is one app that allows you to create a workout routine from the basic gym equipment. Shred can set you up with the perfect program that combines cardio with muscle-building exercise, both of which are utterly important for getting shredded.
Platforms: Android and iOS (Free)
Recommended: 7 Best Photo Editing Apps for Android
Now that we have come to the end of the line, there is some piece of wisdom that we wanted to share. if you are ready to go down the road of fitness, pick any one of these fitness apps, and you might find that they all work just fine. Fitness is more about motivation to work out. If you have it, you can achieve it.