There are several instances when you meet with a complete stranger, but later on, regret not asking for their contact info. The same is applicable if you desire to connect with your long-lost friend. That being said, there is actually a part of the internet dedicated to connecting you to your person of interest.
Well, there are several free people search engines that allow you to look for people and acquire their details. That is why we have curated this article on some of the best people search websites that you can use completely for free.
Also Read: 15 Cool Websites to Visit When You Are Bored
Free People Search Websites
Note: You might also encounter some paid people search engines, but the only added advantage is that you can get all the information in one place. Looking through some of the websites mentioned below can help you to gather the same resources completely for free.
1. Truthfinder
Truthfinder, just as the name suggests is the people search engine that can provide you with accurate results. With Truthfinder users can look for individual police records, any count records, contact information, social media photos, and more.
In order words, Truthfinder is catered towards background checks. There are also some additional tools that premium users can make use of including reverse phone, dark web scan, lookup for address, and more.
Pros:
Offers accurate results for US citizens
Best suited for background checks
Offers additional tools such as reverse phone
Comes with a huge database
Cons:
The free version can offer only limited resources
Visit Truthfinder
2. Pipl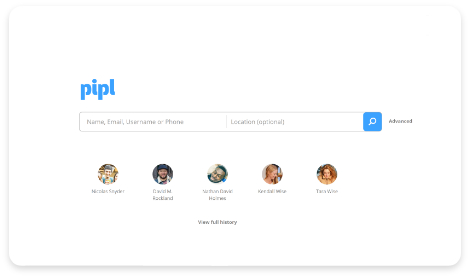 Pipl is by far one of the most popular people search engines on our list. The primary reason behind, it seamlessly works on every country while offering accurate information. Using Pipl you can easily get professional, social as well as contact information.
The only downside of Pipl is that it is targeted towards professional users only. In fact, it has gone as far as to mention their services are not catered towards personal, non-commercial purposes.
Pros:
Offers search for 5 days
Requires very minimal information to workaround
Offers every accurate result
Pipl searches are available worldwide
Cons:
The higher cost makes it unusable for individuals
Visit Pipl
3. US Search
US Search is yet another respectable website that you can use to look for people across the US. With a very simple and easy-to-understand UI, all you need is the first and last name of your prospect.
At the same time, you can also provide additional information to streamline the search. As far as the free searches the concerned, you can only look for their age, location as well as possible relatives. Anything more would end up with an additional payment of 1.99 USD.
Pros:
The services are very affordable for anyone to use
The results show up pretty fast
Comes with one of the oldest databases
Catered towards US searches
Cons:
Free users can only look for limited information
Visit US Search
4. Spokeo
Spokeo is a people search engine that focuses on public records, white page listings as well as social media. There are varieties of ways in which you can search people in Spokeo including their names, phone numbers, email addresses, and location.
As stated by Spokeo, they use their proprietary deep web technology that allows showcasing results with such accuracy, oftentimes missed by search engines.
Pros:
Best suited for connecting people online
Offers US-based search results
You can get basic results completely for free
Intuitive and easy to use
Cons:
The pricing can be expensive for some
Visit Spokeo
5. PeopleFinder
PeopleFinder is the people search engine that is quite famous among the general public. Be it searching for someone's social media handle, email, property record, or even criminal and court record, PeopleFinder has got you covered.
But, all thanks to the state-of-the-art database, you can look out for just about anything on PeopleFinder. Further including, PeopleFinder is completely free to use for the most part. With just an additional payment of 2.95 USD, you can look out for the whole record.
Pros:
Easily reconnect with your old friends
Allows review of property data
Best suited for background check
Showcases criminal and court records
Cons:
It takes longer for search results to appear
Visit PeopleFinder
6. Whitepages
More than just a people search engine, Whitepages is predominantly used for background checks and professional information at the time of hiring. With Whitepages you can find detailed information regarding the person's contact, addresses, criminal and court records, and more.
Apart from the website, Whitepages also offers Android and iOS apps to search people on the go. While the majority of the information can be accessed for free, the premium subscription can offer you detailed background info.
Pros:
Extremely effective while hiring employees
Offers very accurate search results
Free users can easily access basic info
Users can search globally
Cons:
It comes with a very limited dataset
Visit Whitepages
7. Facebook
Last but not least on our list is Facebook where the search for every individual begins. In fact, chances are you can hardly fail to find any person who is not available on Facebook. That being said, you can customize your search based on interests, location, places as well as work.
All thanks to the Find Friends feature, you can look out for a person let alone using their name. The only downside is, there isn't any option for background checks whatsoever. But, the plethora of functionalities surely makes up for it.
Pros:
Seamlessly connect with your old friends and family
Completely free to use
Can be used to search for people globally
Cons:
Not suitable for background checks
Visit Facebook
What to Keep in Mind While Looking for People Online?
One might consider looking out for people online might not be a huge deal, but at the same time, there are a few things to keep in mind while searching online.
Check Multiple Sources: Chances are you won't be able to find a variety of information from a particular website. That is why make sure you look into different websites in order to find the information that is useful.
Paid Services is Not the Solution: Our suggestion would be to have patience while looking out for people online. While looking out for a particular person can get intimidating at times, you are going to be at a loss with paid services.
Also Read: 10 Best Free Logo Maker Websites You Can Try
The Bottom Line
So that was our curated article on some of the best free people search engines that you can use to find people online. Just bear in mind, while some of their works seamlessly for the US, others can be used to search for people globally. Let us know in the comment section below, which website worked the best for you.