If you urgently need your credit card or some cash then digging in your purse can be quite troublesome. There's a solution to it: buy a phone wallet case. You can easily carry your credit cards, ID along with some cash. It also adds a protective layer to your cellphone in case you would drop it. You would get plenty of options so we are here to help you with your purchase. Today, we will share some best iPhone wallet cases that you can buy to keep your phone and cards safe.
Also Read: 3 Best Laptops Under $500
Best iPhone Wallet Cases to Rock in 2022
1. Otterbox Strada Series Case For iPhone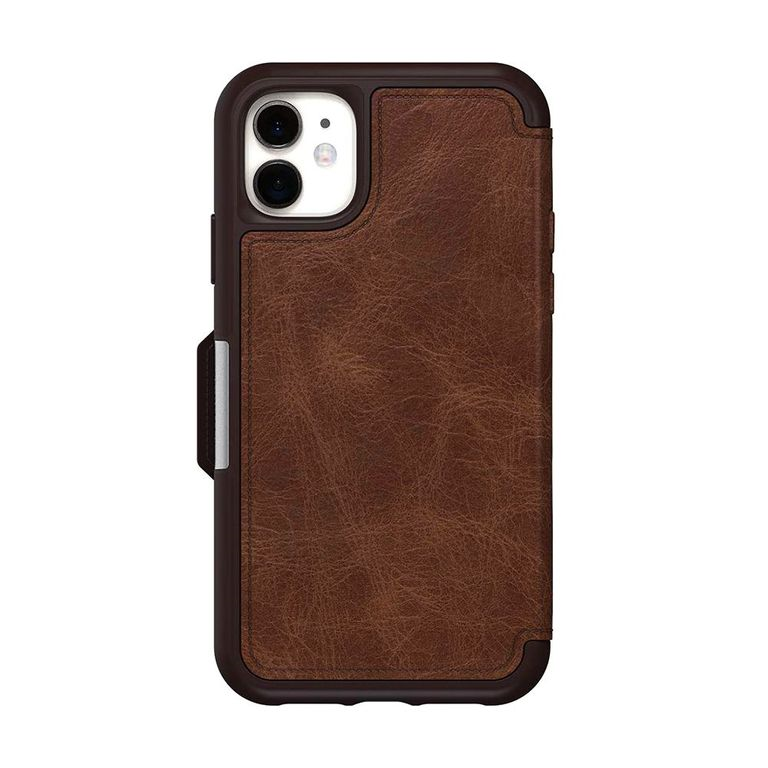 This case is made up of genuine leather and it has a sleek, slim design. It has a vertical card slot where you can keep cash and your credit cards. The cellphone wallet case features a book-style folio that acts as a protective layer to your screen. It is drop protection and the wallet has raised edges that protect your camera lenses.
The product is available in two colors: black and brown. Otterbox is one of the best brands for cases. You can get the same case for other iPhones as well including the older iPhone.
2. Bellroy 3 Card Case For iPhone 11 Pro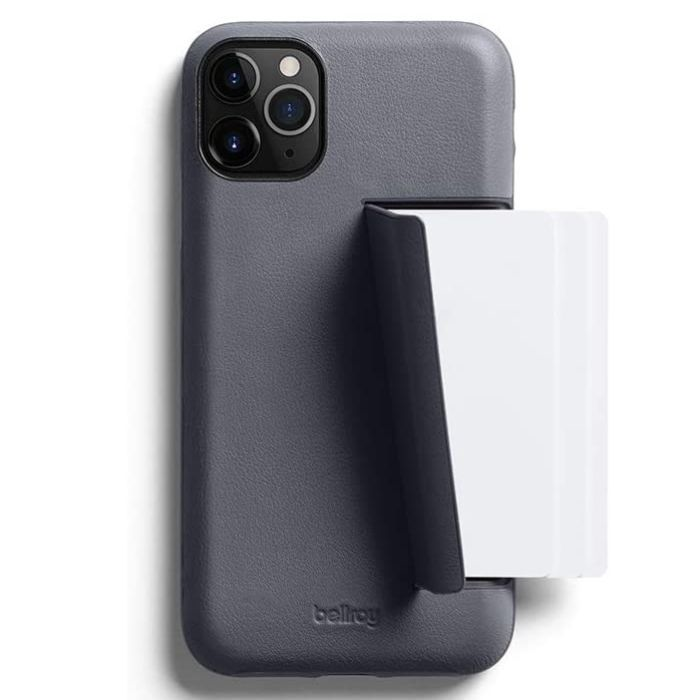 This product is available in four colors: coral, caramel, black, and graphite. So, you can choose the color which suits your personality. It has an integrated section for up to three credit cards. The case is made of premium leather and has a slim, sleek, and pocket-friendly design. This item is perfect for travelers.
You would find the pocket under the magnetic case right behind the mobile case. The product is anti-drop thanks to its flex polymer shell. Bellroy's iPhone wallet case has an extra SIM slot for an additional SIM card. You can also get the same case for other iPhone devices.
3. Smartish Wallet Slayer Vol 2. Case For iPhone 11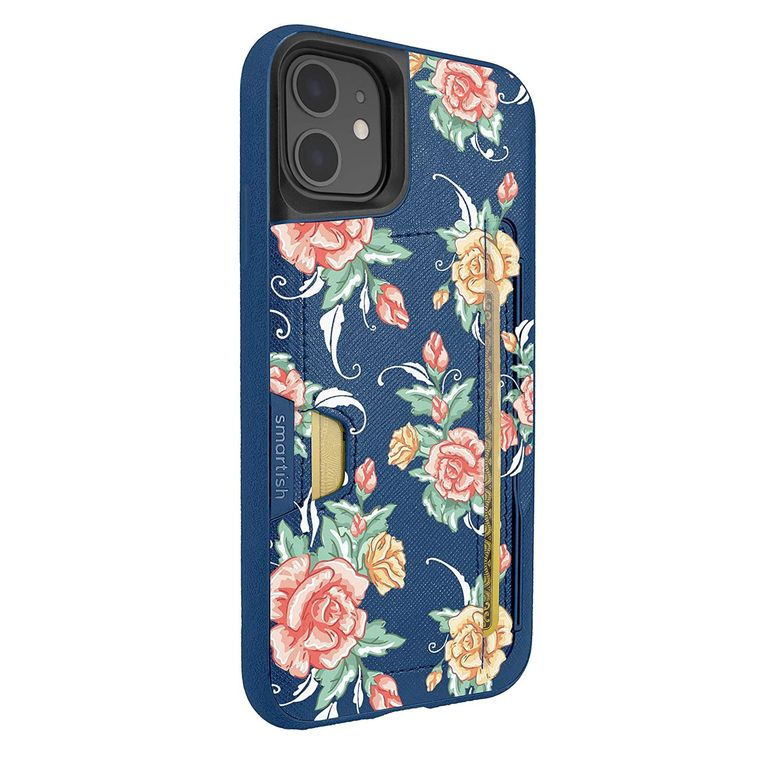 You can easily carry three cards and some cash with this wallet case. It has a kickstand so you can watch movies or series anywhere you want. Moreover, the case has high grip textured sides which would give you the right amount of grip.
It has a sleek and slim design. This case is one of the few stylish iPhone wallet cases you would find in the market. The item weighs 1.6 ounces.
4. Olixar Leather-Style Wallet Case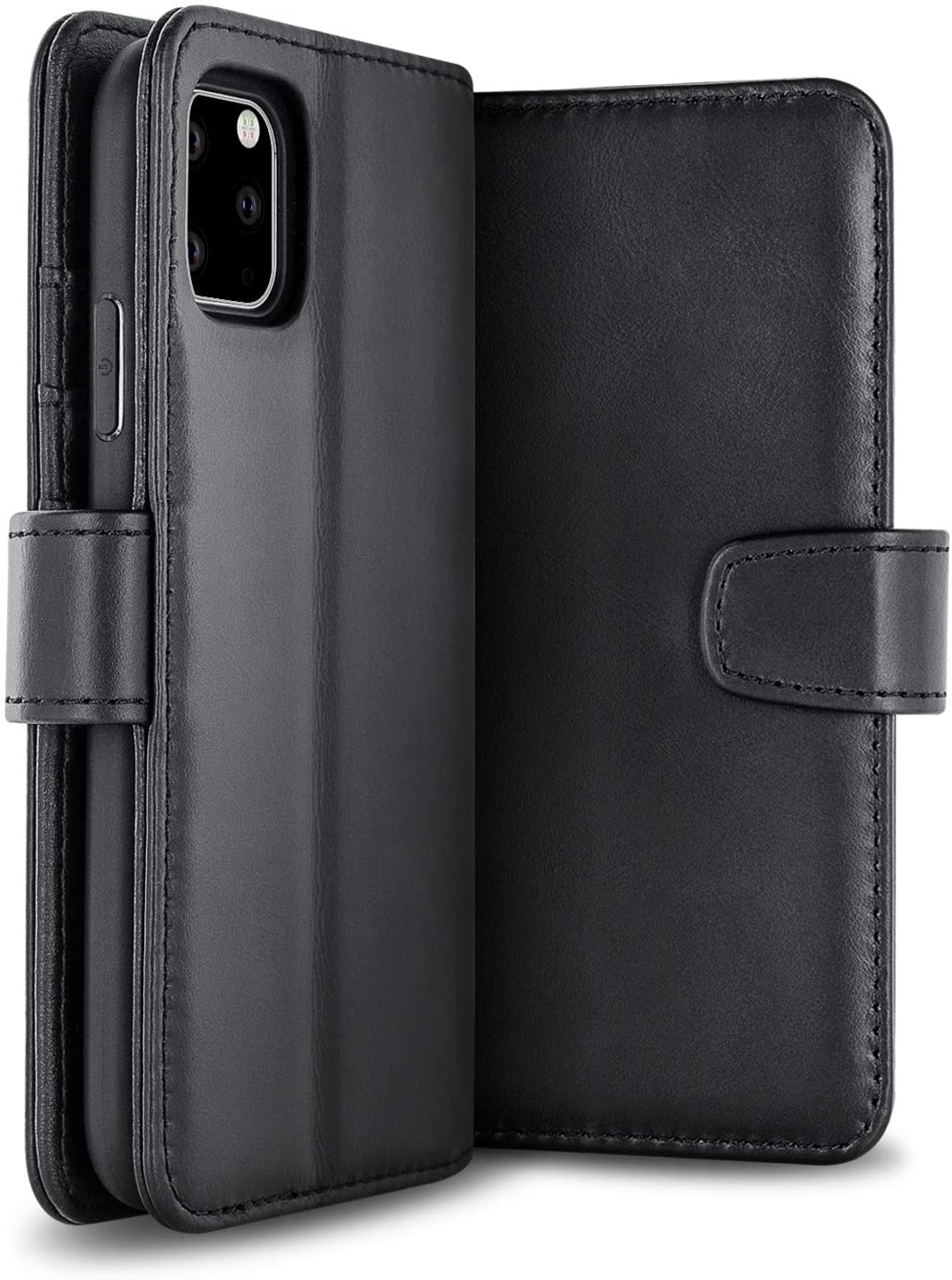 The Olixar leather-style wallet case is the perfect example of a middle ground between a bulky and minimal design language. Apart from offering extensive protection to the back, the case closes at the rear with a magnetic clasp.
There's an adequate slot to carry more than 2 cards at the same time. On the plus side, the Olixar wallet case supports wireless charging. You also get all the cutouts and proper button placements. Overall a great case to offer 360-degree protection to your iPhone.
5. Apple Leather Folio Case For iPhone 11 Pro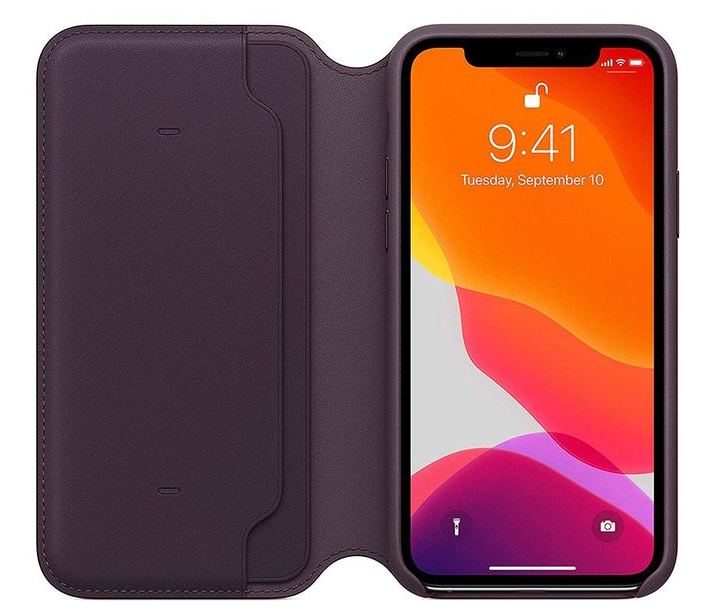 The product is made up of premium leather and it has a sleek, pocket-friendly design. You would get it in vibrant aubergine color. It provides double protection to your cellphone thanks to the soft microfiber lining inside. There's enough space to hold your bills, cards, and small notes.
It is exclusively built to protect your phone from drops and scratches. The weight of this product is 5.3 ounces.
6. Mujjo Leather Wallet Case For iPhone 11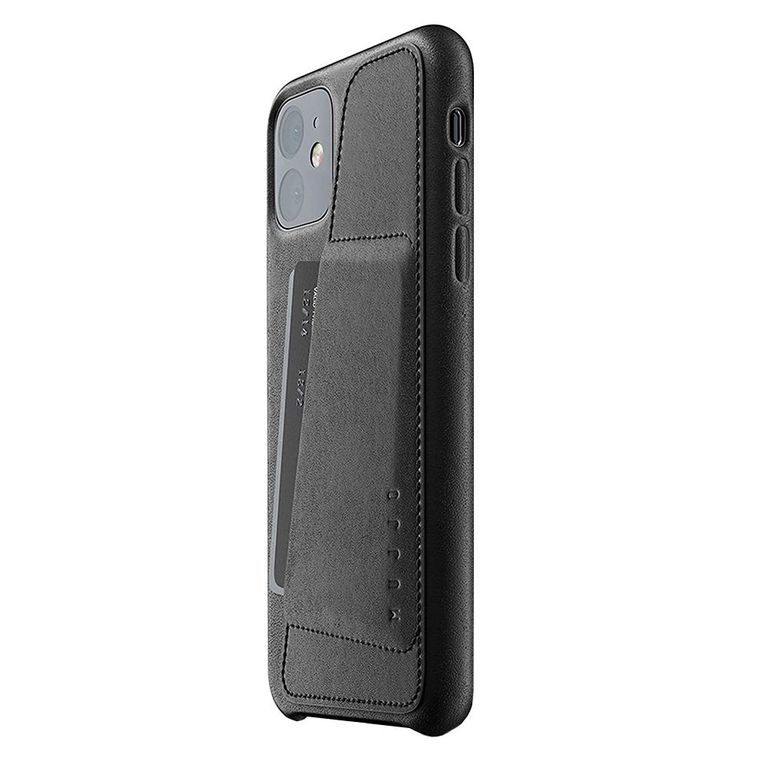 This product is made up of high premium leather and comes with a two to three cardholder pocket. It has a beautiful finish that improves with every use. The product has a stylish and seamless design. You would get a comfortable grip with this mobile case.
It is lined with a satin-like microfiber which provides extra protection to your mobile. The product is backed by two years warranty. Mujjo Leather Wallet weighs 3.53 ounces.
7. Spigen Slim Armor CS Wallet Case For iPhone 11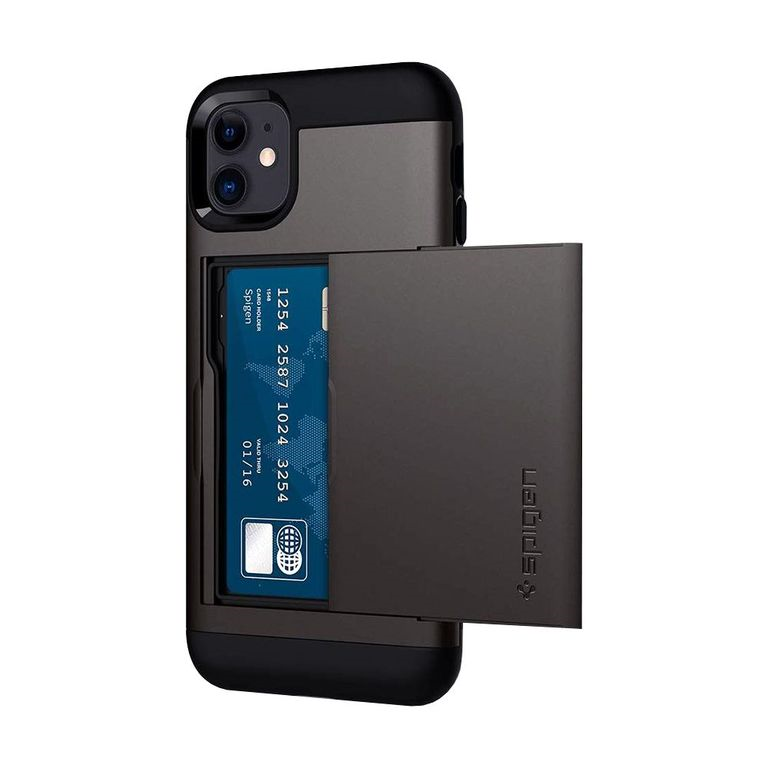 The wallet case can hold up to two cards with ease. It is compatible with iPhone 11. Its lifted edges prevent surface scratches. You can keep all your essentials in one place without worrying about misplacing them. It has shock-absorbing interiors with a rigid outer frame.
The weight of this item is 0.704 ounces. If you're looking for a stylish budget-friendly product then we would highly recommend this product. You would find this product in gunmetal color.
8. Belemay Wallet Case
Belemay creates some of the most classic–looking cases that you can find on our list. Not to mention, it goes as far as using genuine cowhide leather. With an inner TPU layer, the Belemay Wallet case can easily protect your iPhone 11 from the majority of accidents.
There is also an included side pocket to store all your cash. Even with all the functionalities, it keeps the case fairly light and slim. And for the best part, there is also a cutout at the back to show off your Apple logo.
9. Survivor Clear Wallet Case
The survivor clear wallet case is one of the most unique cases on our list. Yet it still retains the conventional wallet case format. Keeping the back translucent, it offers all the functionalities of a wallet case through the front cover.
You get three separate card slots with the case. The Survivor clear wallet case also complies with MIL-STD-810G drop-test standards. With the TPU material, the case is also not prone to frequent scuffs and scratches.
10. Lopie Slim Card Case For iPhone 11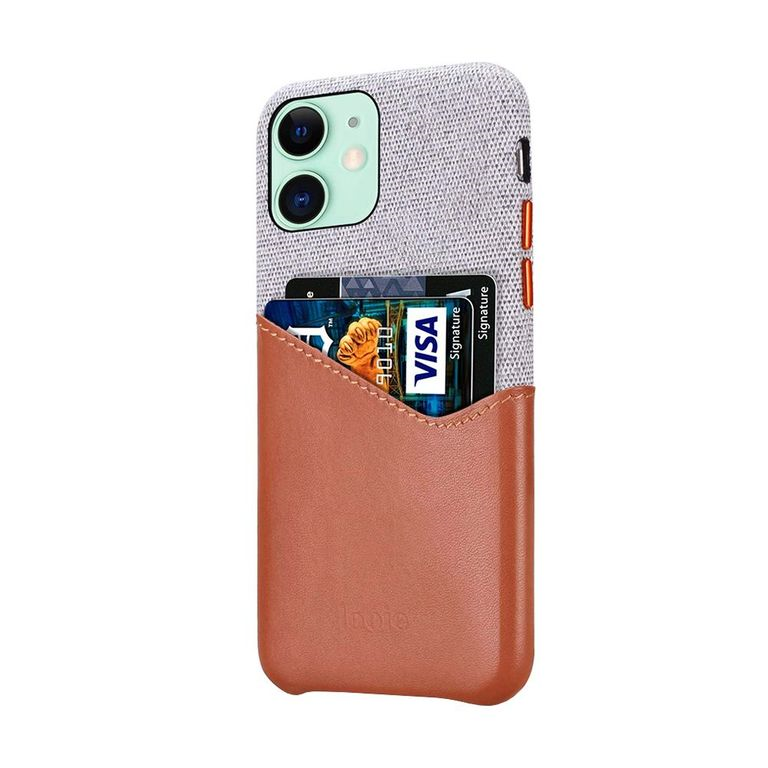 Louie Slim Card case for iPhone 11 is made of premium leather and features a convenient card slot at the back of the case. You can keep your cards, notes, cash over there. There are NANO card storage and eject card storage inside the case. It is ultra-thin and light-weighted.
The case supports wireless charging and has easily accessible aluminium buttons. Its slim and compact design makes it pocket-friendly. You would get a comfortable grip with this case. The item weighs 0.64 ounces.
11. Snakehive Vintage Leather Wallet
The Snakehive wallet is made out of European cowhide nubuck leather. Making it one of the most premium leather wallets. It also offers adequate ruggedness while keeping a sleek form factor.
Combining the inner and outer layers, you can expect comprehensive all-rounded protection for your iPhone. Being a dedicated wallet case, you get three slots to hold cards and a separate lining for cash. Lastly, the front cover also doubles up as a viewing stand.
12. Goospery Wallet Case
If you want the best of both worlds, the Goospery wallet case is the perfect fit for you. While it looks absolutely stunning, it also offers comprehensive protection and adequate storage. The additional TPU hard layer can easily withstand most of the impacts.
While consuming content, the front cover can also double up as a viewing stand, catering to your entertainment needs. Not to mention, can get the Goospery wallet case from seven different colors to choose from.
13. Greenwich Blake Leather Folio Case
Last but not least, on our list is one of the most premium wallet cases. If you are tired of using fake, synthetic leather, the Greenwich Blake leather folio case has got you covered. You get authentic leather in the outer layer, while the inner shell has an electroplated finish. Overall a case, that is stylish and speaks of sophistication.
Also Read: How to Back Up iPhone, How to Unlock Your iPhone and How to Factory Reset iPhone?
Choose Your Best iPhone Wallet Case
Having a case that also allows you to store things can be quite convenient. This is our compiled list of the top ten iPhone wallet cases. Hope you liked them. You can link your favorite wallet case in the comment section below.