Marriage is a lifelong commitment to stay with someone who is ready to keep you by his/her side and trusts you more than anyone else. As this relation starts with trust and belief, finding the right partner becomes a big deal. No one can take the decision to get married to someone right away. Today, I am going to share a list of the top 10 best matrimonial sites in India.
We always strive to share some useful websites which can solve your real-life issues. And when it comes to marriage, finding a life partner isn't an easy job for everyone. Yes, it's true that the number of love marriages in India has increased in recent years, but there are lots of people who still believe in arrange marriage. They start looking for a perfect bride or groom when they are ready for this commitment.
There are some people who don't trust these online portals and find them risky. But I don't know why they are even bothering about this thing when Marriage is itself risky stuff even when you know your partner (just kidding 😜). These matrimonial sites are full of options to match everyone's preference. Whether you are looking for a partner in your caste, community, city or with any particular habit, these online matchmaking sites have you covered.
Also Read: 10 Best Online Dating Apps in India
Best Matrimonial Sites in India
I have compiled a list of best matrimonial sites of India which will help you in finding a suitable bride or groom easily. This list is entirely based on Alexa ranking, website popularity, reviews and my own personal opinion.
1. JeevanSathi.com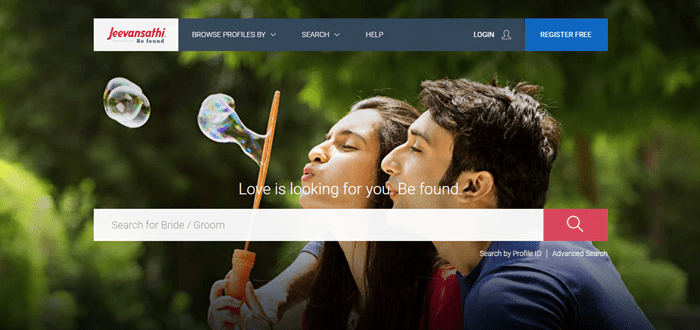 JeevanSathi is one of the best and top running matrimonial sites in India. Started in 2006, it comes online with a tagline  – "We Match Better". JeevanSathi has a powerful filter enabling you to search profiles by language, religion, caste, city, age, occupation, etc. You just need to register on the website and perform a search.
The website offers a dedicated toll-free customer care service in case you need help. JeevanSathi has a photo-protection feature to avoid any misuse. You can search for your perfect bride or groom across India at a very reasonable membership charge.
2. Shaadi.com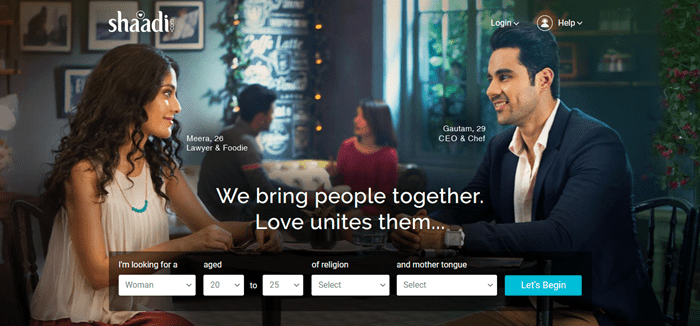 Shaadi.com is another oldest player in this field who always strive to provide the best matches possible. It surfaces online in 1996 and helped hundreds of people in finding their lovely partner. This matrimonial site has been voted as the number 1 "match-making" service globally. Shaadi.com offers their services in almost all regions of India but they are more successful in Southern India. You can make your profile at this matrimonial site easily and start your search.
3. BharatMatrimony.com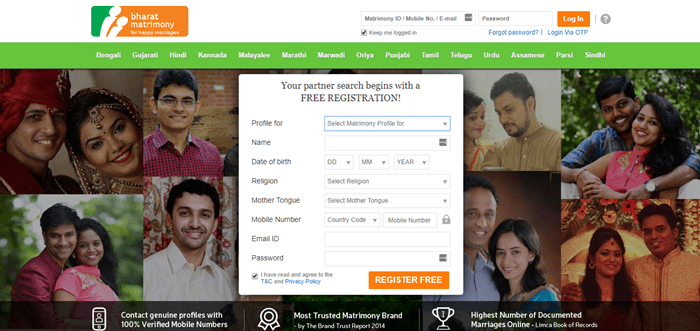 Bharat Matrimony is one of the most trustworthy matrimonial websites in India. It already has its name in Limca book of world records for a record number of marriages. The website has more than 15 portals for every region like Tamil Matrimony for Tamilians, Kannada Matrimony for Kannadiga, etc. Each website has thousands of profiles registered and helps you find a suitable life partner in your community.
The search feature of Bharat Matrimony is really powerful and allows you to filter results on the basis of age, education, religion, etc. They also conduct meet up campaigns regularly and try to make things even more comfortable between families.
4. M4Marry.com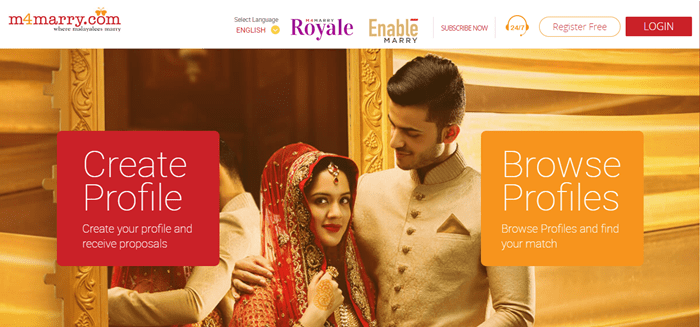 M4Marry is Kerala's biggest matrimonial site which is specially made for Malayalam people all over India. The website has a high trust quotient where users can create their profile by filling basic information. Along with uploading photos, there an option to add horoscope as per your preference. The website has a powerful and optimized search feature.
Though M4Marry doesn't charge for its basic services, if you want access to chats, contact details and option to send personalized messages, you have to become a premium member at a reasonable cost.
5. ChavaraMatrimony.com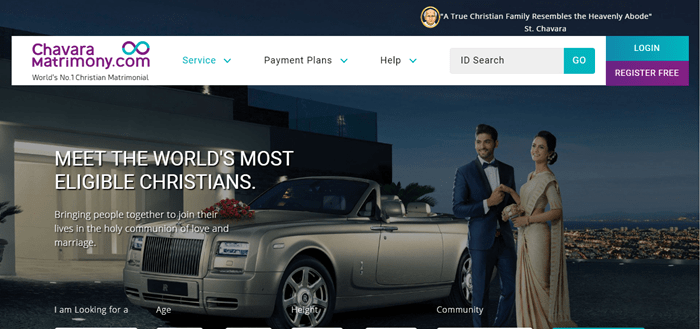 Also Read: 5 Best Anonymous Chat Apps For Android
If you are looking for a Christian bride or groom, Chavara Matrimony is the website you should visit. This is one of the popular and trustworthy matrimonial sites to find a soulmate in the Christian community. The website has a monthly booklet for the same purpose in Kerala, which is managed by Chavara Cultural centre formed by CMI priests. Chavara Matrimony has a huge list of Christians from all over the world. It already helped many people who were looking for a perfect Christian partner.
6. Vivaah.com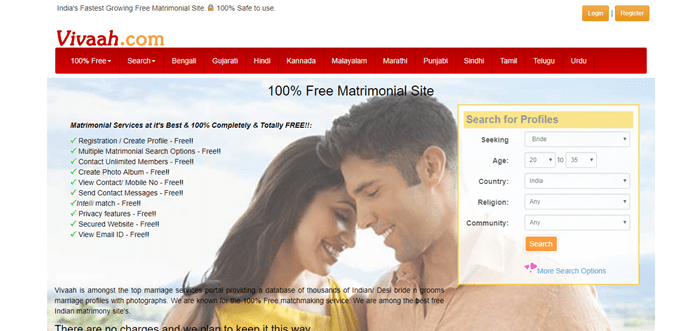 Most of the matrimonial sites in our list offer some really useful features only under the premium package, and this is where the Vivaah.com comes in. Launched in 2002, the website came with a tagline "partners should not come with a price tag" and so offering matchmaking service totally FREE. The Vivaah.com also has a large user database which people uses to find a suitable life partner. Email customer support is also very good.
7. MatrimonialsIndia.com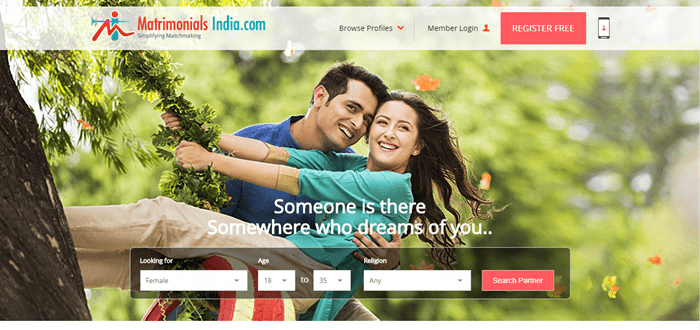 Matrimonials India is another oldest matrimonial site in India. But like other websites, it does not provide matchmaking services instead it guides you to specific partner websites as per community. The motto of this website is to save time by helping you find the right best matrimonial site in no time.
They also have a wedding directory that can help you with other related services like catering, parlours, fireworks, etc. If you face any problem, there's a 24×7 online help facility too.
Recommended: Top 10 Online Shopping Sites in India
8. KMMatrimony.com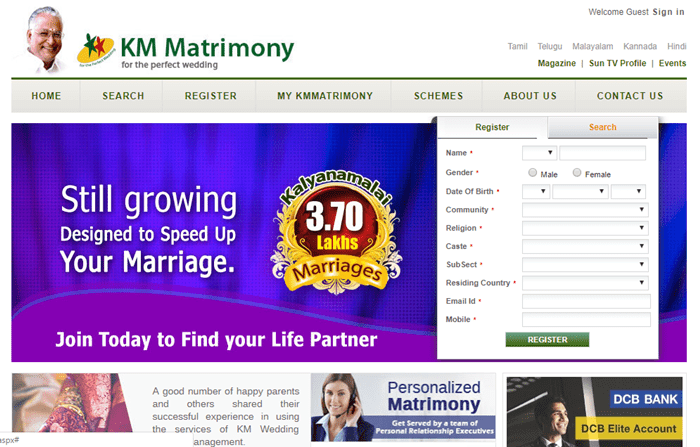 KM Matrimony is based on southern India and focuses only on Malayalam, Telugu, Kannada and Tamil people. This website may not look fancy to you but they also have many successful marriage stories on their website. The KM Matrimony is easy to use and working good in south India.
9. MuslimMatrimony.com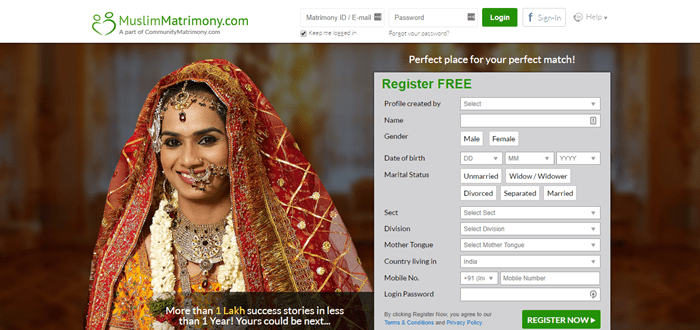 Muslim Matrimony is known as the world's number one best matrimonial site for the Muslim religion. Considering the population of Muslims in India, the website strive to help people in finding a suitable bride or groom in the Muslim community. Muslim Matrimony is the largest and most trusted site among Muslims in India.
It has more than 350 websites in its network and so they know how to build a successful website for helping people. First of all, you have to register for a free account on this portal filling your name, gender, date of birth, marital status, state, division, mother tongue, country, mobile number, email, login password, etc. The website comes with a beautiful user-friendly interface and power search option.
10. SecondShaadi.com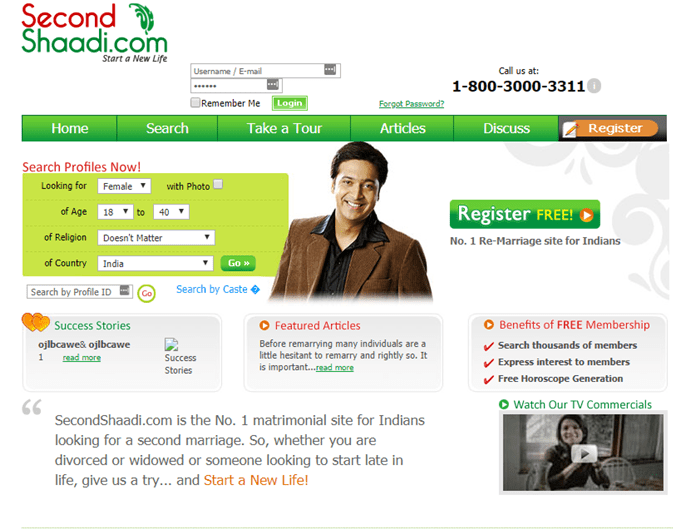 Everyone deserves a second chance in their life. If you are a widower, divorcee or your first marriage couldn't run for any reason, don't be upset. Second Shaadi is a wonderful matrimonial site which can help you in starting your life again. No matter what your age is, you can always look for a favourite match and give yourself a chance of a second marriage. The website lets you register for free and start using its services.
Verdict: Matrimonial Sites in India For All Religion, Caste and Community
When technology and the internet are making their place everywhere, why not use them to make finding a partner an easy task. If you are looking for reviews, there are a number of happy couples who got to know about their soul partners on these best matrimonial sites in India. Just start searching for your preferences and start talking to each other. If you know any other popular matrimonial website, make sure to comment it down below. For more, stay tuned with Tech4Fresher.