As technology is making its way to every corner, why not use it to find a beautiful partner. Gone are the days when we pass paper chits to our crushes or ask our friends to help in starting a conversation. Now, there are many dating apps available out there which can help you find a partner in no time. These apps come with some set of unique features, so choosing the right app can be a tough task.
Today, I am here with 9 Best Online Dating Apps you should check out in 2021. You can install any of the online dating apps below to find out your partner. So, Let's get started.
Related: 5 Best Anonymous Chat Apps For Android If You Like Talking With Strangers
Best Online Dating Apps for Android & iOS
1. Happn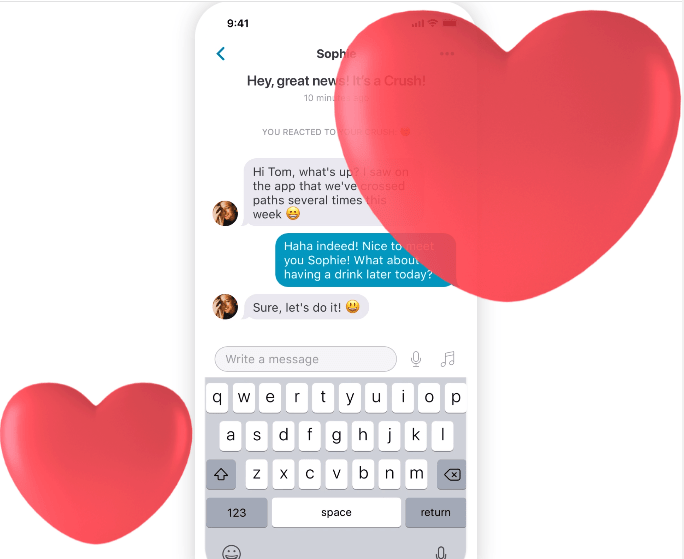 Ever stuck at the girl who just crossed your path? Earlier, it was very difficult to know about her. Ofcourse, not all of us are courageous enough to just ask – Hey beautiful! What's your name? This is where Happn comes in.
The app has an amazing concept. Every time you cross paths with another happn member in real life, their profile shows up on your timeline.
You can check out their profile along with the time and place of your last encounter. If you find someone you should be interested in. Like them secretly with the Heart button, they won't find out unless the interest is mutual. If you want to be noticed right now, charm her to send a notification. If she likes you too, you can start a conversation.
Happn shows the number of times you've encountered with this person. And if you don't want to see a person on happn anymore, just tap the Cross button.
Install Hapnn on Android / iOS
2. Tinder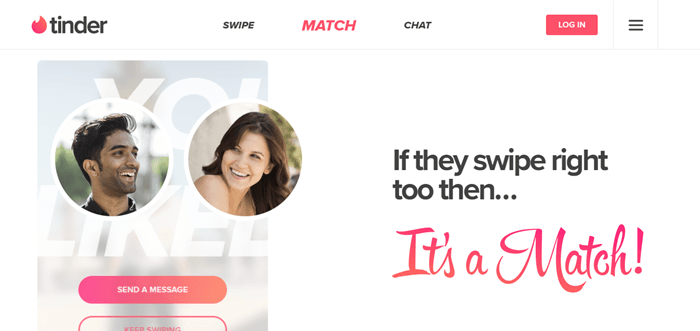 Tinder is another popular online dating app which has helped many people find their partner. With time, the app has become more user-friendly and comes with tonnes of cool features.
Tinder likes to keep thing simple and so here, you just need to swipe around. Right swipe stands for Like, left one for no interest. In case if you feel awesome on seeing someone's profile you can even swipe up to let profile user know that you really liked them. Keeping the privacy at topmost, only people you've matched can message you. Tinder is no doubt one of the best online dating apps available out there.
Install Tinder on Android / iOS 
3. Truly Madly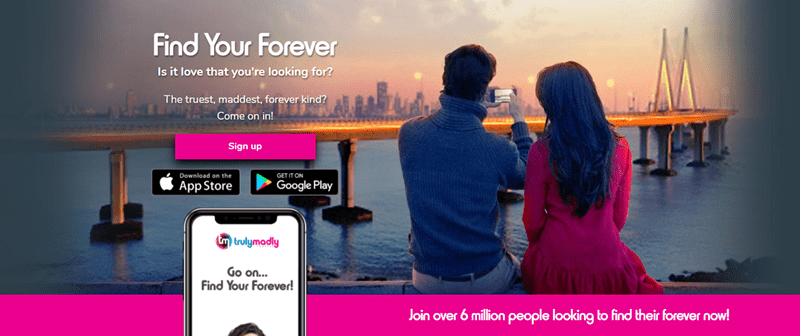 Also Read: 5 Best Selfie Editing Apps For Android
Truly Madly is now one of the best alternatives of Tinder for users. The app has almost all the features available in Tinder. Furthermore, you can even ask your friends to endorse you (as we do on Linkedin). This will increase your trust score and will eventually lead to a higher number of conversations with your matches. Truly Madly also find matches on the basis of interests and preferences. The app comes with several interesting games like Styletastic, Foodie Funda, Hocus Pocus etc. Truly Madly is also one of the best online dating apps in 2021.
Install Truly Madly on Android / iOS
4. Woo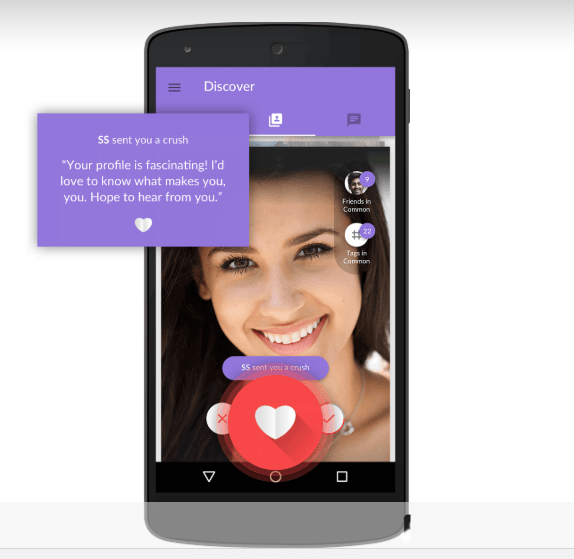 Everyone has a class and so Woo is there to maintain it. Woo focuses on urban class people and does the matchmaking task by giving preference to well-educated professionals. According to woo, "It is a dating app that puts women first." They understand the problems users and facing with online dating, and that's why they have built an app to inspire trust and comfort. Woo helps you meet like-minded people by matching preferences. Woo has some unique features such as Voice Intro, Tag Search, Question Cast and Direct Messaging.
5. OKCupid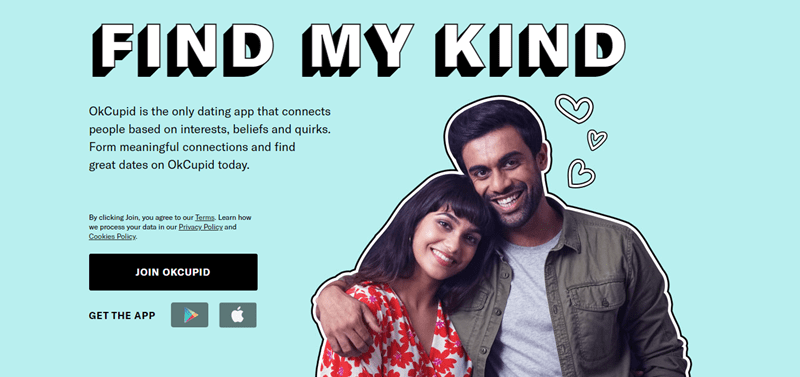 OKCupid fulfils your requirements by showing you the right kind of love you are waiting for. Here, you don't have to feel shy about speaking about your preferences. Just feed the app and leave the rest on its algorithm. OKCupid is one of the most popular and among best online datings apps out there. Better dates come from better connections. OkCupid shows off who you really are, beyond just a photo. It believes, "You should get noticed for what makes you."
Install OkCupid on Android / iOS 
6. Hinge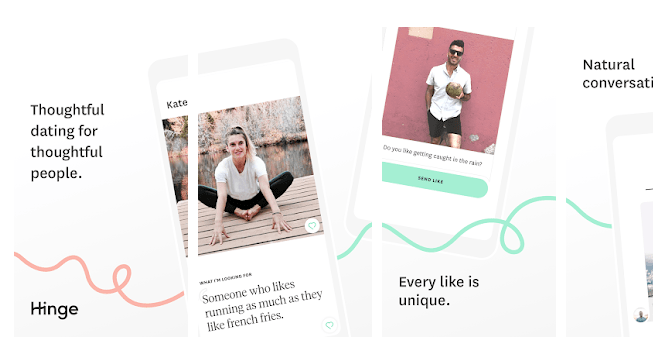 Hinge is another awesome online dating app available on the Internet. While others are focusing on strangers, this app has a different way of working. The app uses your Facebook profile and wants to set you up with friends of your friends. It gives suggestions of friends, friends of friends and even some 3rd-degree friends. The tagline of Hinge is – "Thoughtful Dating For Thoughtful People". So, if you are someone who wants to approach a friend of a friend but nothing is working out for you. You can try Hinge and test your luck.
Install Hinge on Android / iOS
7. Moco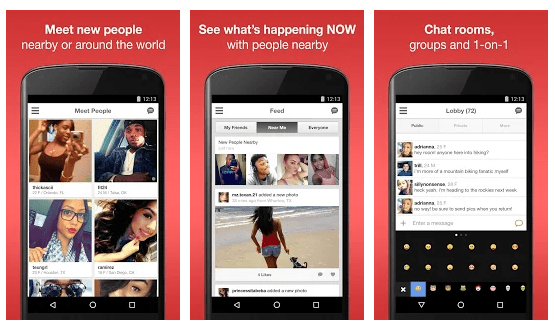 Also Read: These Mobile Apps Will Make Your Camping Trips A Lot Easier
Finding true love isn't a bad thing but you shouldn't stop making good friends in search of love. Moco helps you find people of your interest, join chat rooms, do group chatting. The app has all the features like adding a profile, images, etc. With finding your partner, Moco can help you make new friends and socialising in a way that you have never imagined. This app has kept our memories alive when we had no option other than joining chat rooms and chatting with new people all over the world.
8. Coffee Meets Bagel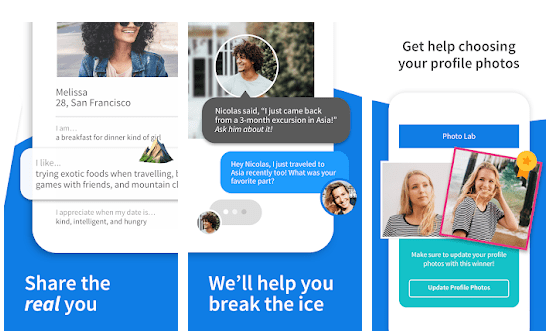 Coffee Meets Bagel is giving more power to women. They will only receive suggestions from those guys who have already shown an interest in them. This makes Coffee Meets Bagel more secure for women. Each day at noon, guys will receive up to 21 quality matches – known as "Bagels".  You will have the option to either LIKE or PASS. Then, Coffee Meets Bagel will curate the best potential matches for women among the men who expressed interest. So, if you are women and more concerned about privacy and security, try Coffee Meets Bagel once.
9. Try Date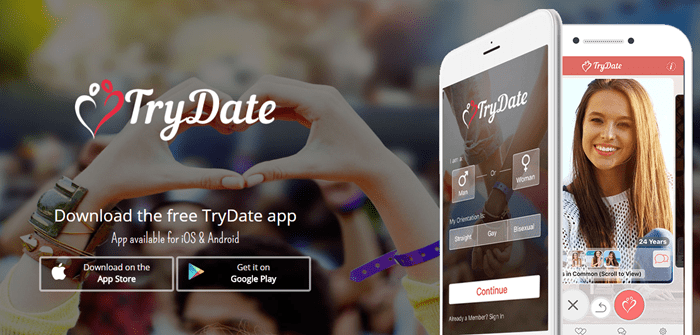 One of the good thing about this app is it guarantees to have 100% verified profiles. The concept is simple, easy to use. You just have to navigate and swipe between profiles around your area, decide whom you like, and a match will be created if the same person likes you back. You and your match won't be able to see each other's profile or know who you are talking to except that you've both liked each other. Chat and interact to gradually reveal yourself and the person behind your match. It gives a chance to learn about each other's personality before their looks.
Install Try Date on Android / iOS
Enjoy these Best Online Dating Apps
I hope the above apps will put a full stop in your search for the best Online Dating Apps. All these apps are very popular and claim to have verified profiles. So, mostly there won't be any risk but precaution is always appreciated. So, which online dating app you are going to install on your smartphone? Let us know in the comments section below.