Well, treadmill desks are in the trend. You can make the most of the time, working and walking simultaneously. It can be quite challenging for you at first. But with time you would get accustomed to it. For people, who spent hours sitting on a chair and working, treadmill desks are perfect for improving your postures and getting rid of joint pain. 
Also Read: 10 Best Fitness and Workout Apps You Can Use
1. NordicTrack T Series Treadmills
Equipped with self-cooling technology, its powerful SMART-Response motor is designed to handle your intense workouts. FlexSelect Cushioning helps in shock absorption reducing the unnecessary pressure on your muscles. Nordic Track treadmill can be your exercise partner to help you achieve all your fitness goals.
It is perfect for small spaces. You can easily fold your NordicTrack treadmill and store it. The major selling point of this treadmill remains its foldable design and striking display panel. The maximum user capacity of this treadmill is 300 pounds. NordicTrack is backed up with a 10-year frame warranty, 2-year parts warranty, and 1-year labor warranty.
2. XTERRA Fitness Treadmill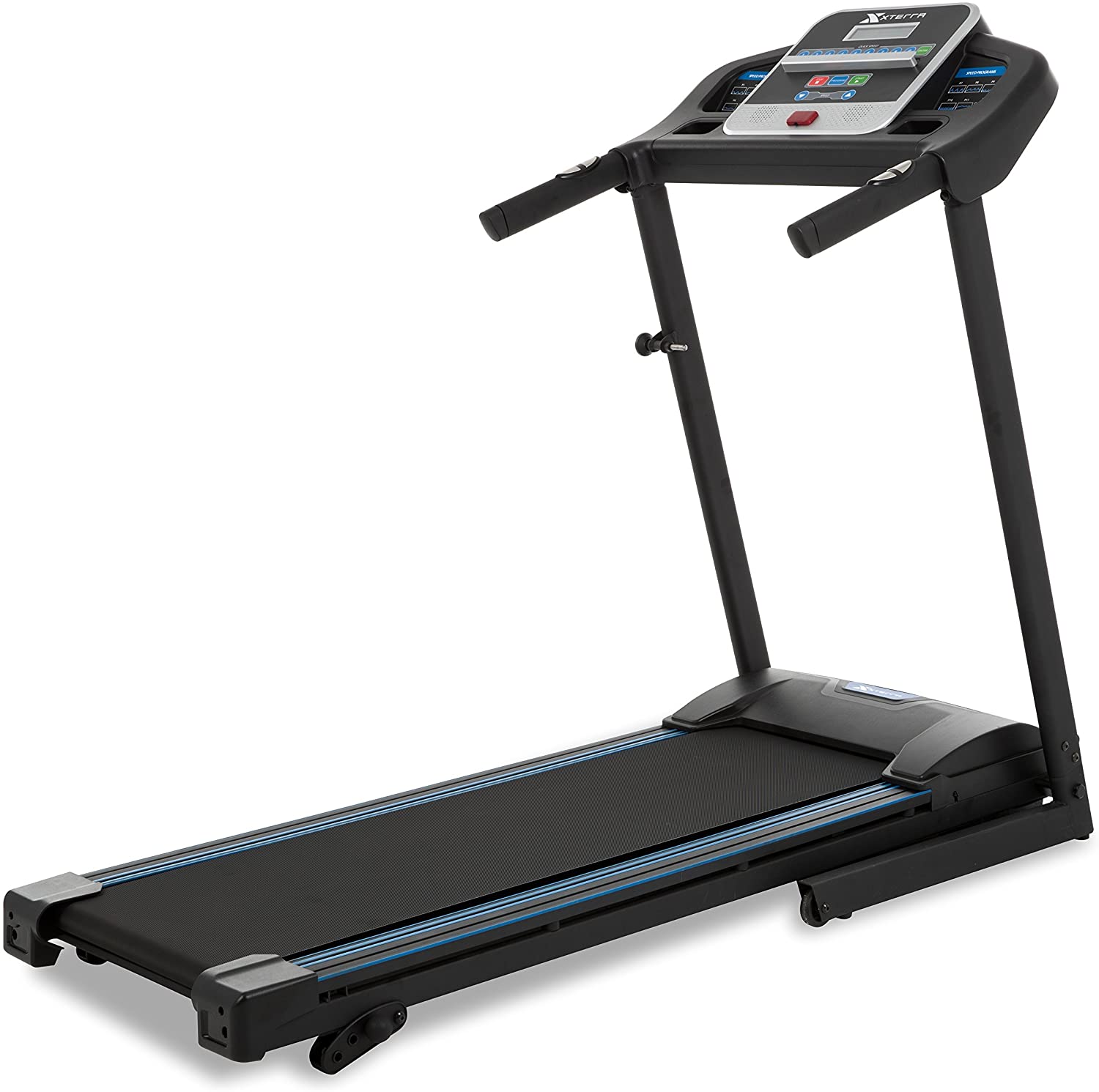 Looking for the best multi-function treadmill model for regular exercise? Consider XTERRA Fitness Treadmill. The treadmill is packed up with advanced features including an Intuitive 5-inches LCD display with a powerful torque 2.25 HP motor. It offers 3 levels of manual incline to help you control the intensity of your workout.
Its cushioned deck technology ensures that you get the best of your workout with no pain. The spacious running surface reduces impact and keeps your joints safe. Due to its high performance, robustly built, XTERRA Fitness Treadmillis the top-rated product on Amazon.
3. RHYTHM FUN Desk Treadmill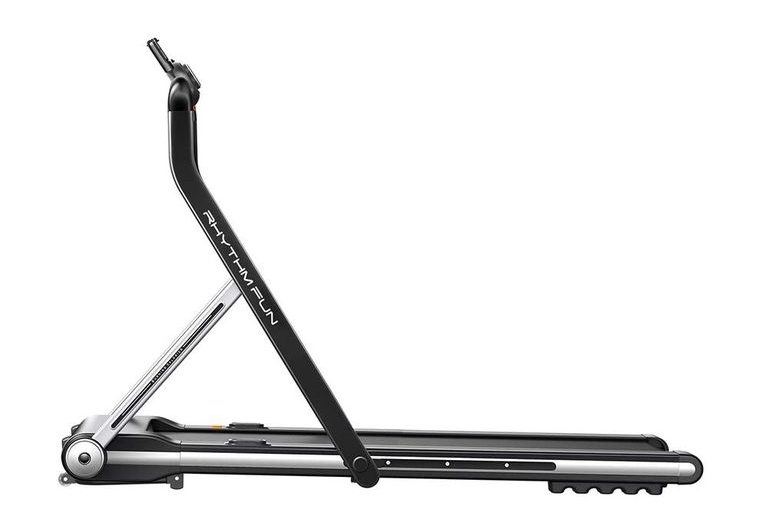 This is the most versatile treadmill you would get in the market. You can use it in two different ways: when you fold its integrated handrail down it will become an under desk treadmill. You can run with a maximum speed of 7.5 miles per hour when the handrail is placed upward.
It features a noise-reduction tech and the product weighs less than 100 pounds. Furthermore, it has an in-built Bluetooth speaker. There's more to this treadmill, you would get a stand on the treadmill where you can keep your cellphone and watch videos. This product is perfect if you're looking for a reliable, affordable, and safe treadmill.
4. WALKINGPAD A1 Smart Desk Treadmill

WALKINGPAD A1 Smart Desk Treadmill is perfect for people who are looking for a sleek designed treadmill. It is compact, portable, and light-weighted. You can run at a maximum speed of 4 miles per hour which is amazing for its size.
The height of this item is 2 inches only and its frame is made up of stainless steel which adds durability to the product. Altogether, the product has good ratings and positive reviews. Moreover, its silent motor makes it ideal for office settings.
5. Goplus 2 In 1 Folding Treadmill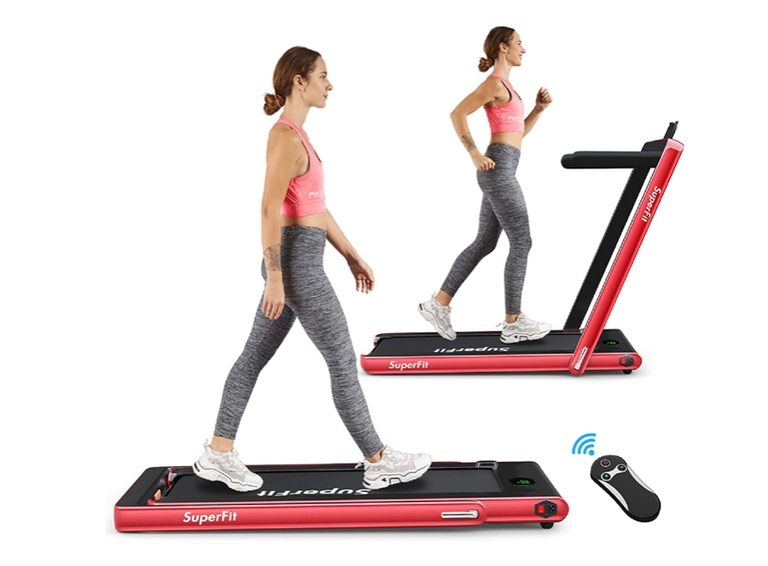 This is the most affordable treadmill on the list. It has a fine-built and foldable design. The treadmill would be the best option for you if you're in need of a good quality under-desk walking treadmill. It has a super sleek design and if you live in a small apartment then go for this one. It features an in-built Bluetooth speaker and in-built wheels for moving, storing the treadmill. 
There's a spot where you can keep your phone and watch videos. Moreover, the product comes with remote control for adjusting the speed. When its handrail is lowered you can go up to 2.5 miles in an hour and when it's lifted then you can cover a distance of 8 miles per hour. This space–saving walking desk is valued at $500.
6. SYTIRY Treadmill
If you're someone who loves working out at home, SYTIRY Treadmill would be perfect.It is36 programs and heart-sensor and outdoor scene simulation. There are in-built applications like YouTube, Facebook, and Twitter so you can listen to music or watch videos while running. Its 3.25hp powerful motor allows you to run at up to 9mph offering superior performance.
There are many features including an emergency stop system, 3-in-1 shock absorption system, and many more. The multi-layered mat is crafted to carry out a maximum of 300 pounds of load. Noiseless operation and hydraulic soft-drop systems are the main highlights of this treadmill.
You may also like: 10 Best Online Resume Builders for Jobseekers
Meet Your New Year Resolution with these Treadmill Desks
Hope you liked the compiled list of the top 5 desk treadmills for work for the year, 2022. They are versatile and easy to use. We advise you to look for products that don't make much noise and are easy to assemble. So, what are you waiting for? Choose the one that works best for you and get started with your new year's resolution.