Amazon's Audible is one of the most popular audiobook sellers in the world. 
When people start using Audible, they are usually pretty sure that they will redeem their audiobook credit every month. 
New Audible users always have the plan to listen to several awesome audiobooks, but life doesn't go as per the plans. Your life might get super busy, you are not finding Audible worth or for any other genuine reason, you may want to cancel Audible subscription. 
Every application has a targetted audience and the interest of that audience also varies with time. So, if you no longer want to pay a high amount for Audible membership or not liking its recommendations, it's ok. 
Today, I am going to explain how you can cancel your Audible subscription in some easy steps. But before that, let's understand what cancelling Audible means and is there any alternative way or not. 
Also Read: How to Delete Instagram Account
What Will Happen if I cancel Audible Subscription?
There is much confusion hovering around the topic of cancelling the subscription. 
First of all, I would like to confirm that cancelling Audible membership means stopping the monthly recurring charge of 14.95 USD. However, your purchased audiobooks will remain available for you. You will be able to receive audiobooks as gifts from others. 
Even, if you plan to return to Audible in the future, you will be able to purchase audiobooks on the platform. There will be no restrictions or limitations. 
Just make sure to exchange or return Audible audiobooks before cancelling the subscription. Otherwise, you won't be able to do it later. 
Also Read: How to Deactivate Facebook Messenger Account in Just 2 Minutes
Pause Your Audible Subscription
As an alternative to cancelling Audible subscription, you can even pause it. 
If you have already bought many audiobooks or can't find anything to use your credits, there's a way to pause your subscription. In this way, the monthly recurring charges will stop for three months. But do remember that pausing the subscription will also stop credits for that period. You will start receiving credit only when your Audible membership will be resumed. 
Steps to Pause Audible Subscription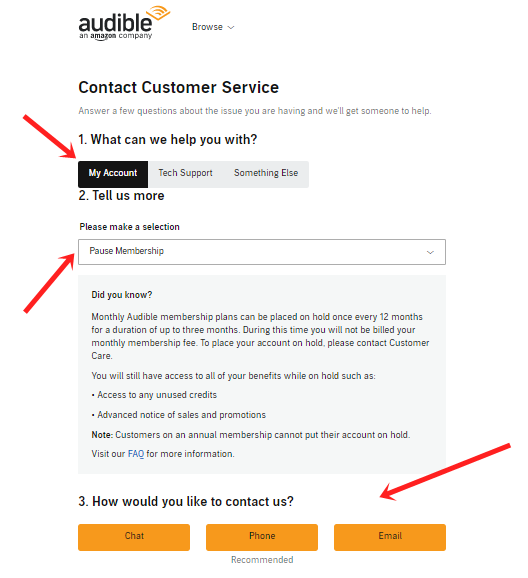 First of all, go to Audible's contact us page.
Choose My Account in response to 'What can we help you with.'
Click on the Please make a selection dropdown and select Pause Membership. 
Lastly, select chat, Phone, or Email (anything) to request to pause your Audible subscription. 
How to Cancel Audible Subscription?
Before I jump into the steps, let me make one thing clear to you. If you are looking for ways to cancel Audible subscription on Android or iPhone, please stop here. Unfortunately, there's no way to do it on your phone. You must have to cancel it using your desktop's web browser. It's a pretty straight-forward process, just follow the steps below:
1. Go to Audible's website and login into your account. 
2. Click on your name, and go to Account Details.

3. Click on View membership details, if you are not at that page.
4. Select Cancel membership present at the bottom of Your membership section.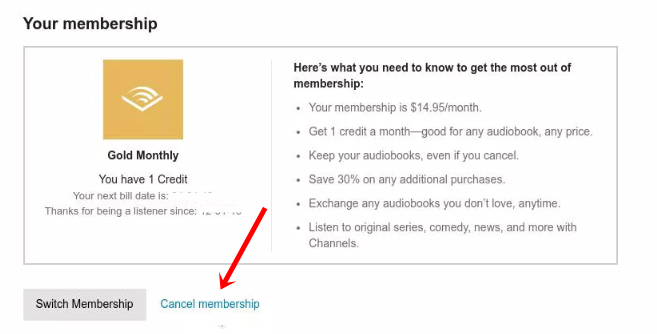 5. Now, this page will show the unused credits that you will lose after cancelling your subscription. To avoid, select Keep membership.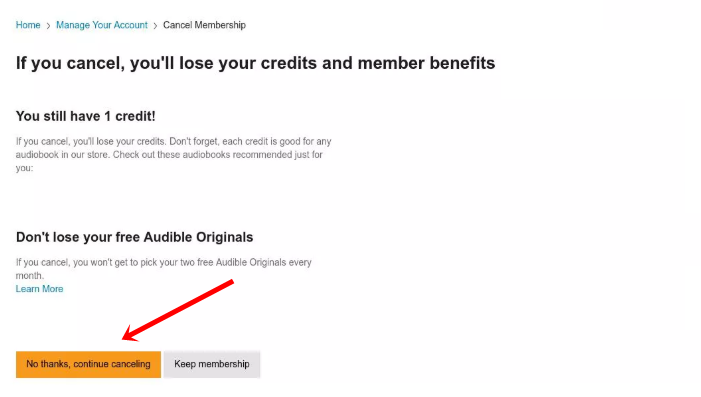 6. If you have already decided to leave, just click on No thanks, continue cancelling to complete the process.
Wrapping Up
That's it for this article. I hope you have successfully learned to cancel Audible subscription. Just remember that you can restart the membership anytime you want. You just don't get the free trial benefit if you have already used it on your Audible account.