Does your computer's CPU become hot so often? If yes, you might experience a lack of performance, face automatic restarts, etc. To ensure your computer's overall health it is essential to check CPU temp on Windows 10 regularly. Overheating of the CPU will not only affect the computer's performance but also lessen the lifespan of the computer in the long run.
For most of the people out there, the process of checking CPU temperature seems complicated. If you are also among those, this post is for you. Here, I will explain how you can check CPU temp in Windows 10 computers.
Also Read: 5 Best Thermal Pastes For Better Heat Dissipation in CPU
What is Bad Temperature?
Before proceeding further, it would be great if we know what is a bad temperature and what is a good temperature. The limit of the temperature varies from CPU to CPU. So if you want to know what your CPU's temperature limit is, then you have the search for your specific CPU on the web.
If you see the temperature listed as "Maximum Operating Temperature" or "T Case", this is what your CPU's temperature should be. If the temperature is listed as "T Junction", it means you should keep the CPU temperature 30°C lower than what written there. For example, if you see 100°C written next to the T Junction, it means you should strive to maintain your CPU temperature around 70°C.
Now, as you know what the bad and good temperature is, it's the right time to talk about the possible ways to check CPU temperature. Windows operating system doesn't offer any inbuilt functionality to check CPU temp on Windows 10. You have to take the help of the third-party programs to keep an eye on CPU temperature. Below we have rounded up a list of some of the best third-party programs that will help you to check CPU temperature. So without further ado, scroll down and explore them.
Tools to Check CPU Temperature in Windows 10
1. HWMonitor
HWMonitor allows you to monitor the CPU temperature as well as other parts of the computer such as hard drives, graphic cards, motherboard, etc. The following steps will guide you on how to check CPU temp on Windows 10.
1. First, you should download the HWMonitor software on your Windows 10 computer. To do so click here.
2. Follow the on-screen instructions to install the software. After successful installation, it will display a table of temperatures similar to the picture shown below.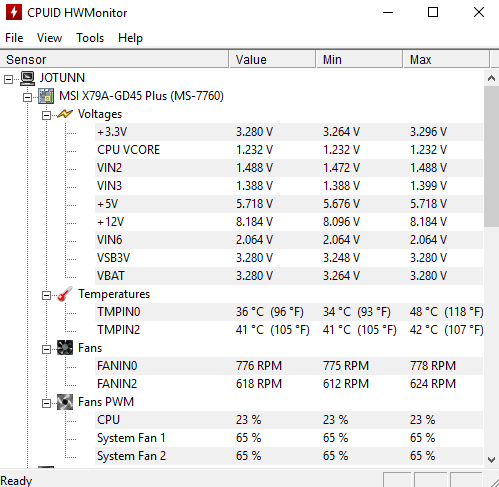 3. To check the CPU temp, scroll down to find the related temperature section.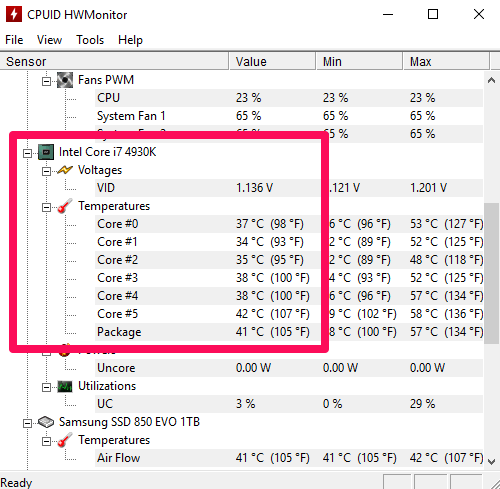 2. MSI Afterburner
MSI Afterburner is another great tool to check CPU temperature on Windows. This tool is designed to help gamers who are involved in playing high-end temperature. Besides CPU temperature, this tool also shows GPU temperature and various other data which will help you to get the most out of your computer.
First, you should download the MSI Afterburner. To do so click here. After successful installation, it will greet you with the graph showing the temperature of the CPU and GPU along with some other important information.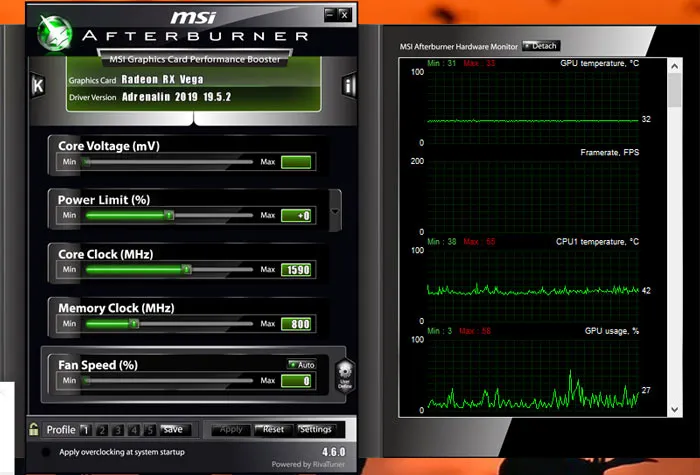 3. Core Temp
Core Temp is a simple and lightweight software that allows you to keep an eye on the processor or CPU temperature. It will provide all the essential information about along with its ideal temperature.
Once you have downloaded and installed the Core Temp on your computer, you will able to see its icon under the system tray. Usually, it's enabled by default but if not, you have to enable it manually. To do so click on the "Options" followed by clicking on the "Settings".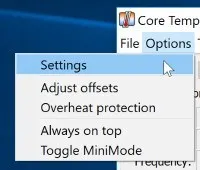 Switch to the "Windows Taskbar" tab and mark the checkbox available before "Enable Windows 7 taskbar feature". Lastly, check the "Temperature" checkbox and click on the "Ok" button.
Also Read: What is "COM Surrogate" (dllhost.exe) in Windows Task Manager
Wrapping Up
Keeping an eye on the CPU is very important if your work depends on your computer. If you ignore overheating of your CPU for a long time, you will start noticing performance degradation which will eventually affect your productivity. The CPU temperature is somehow also linked to the lifespan of CPU, so taking care of it will always help. I hope our today's post on how to check CPU temp on Windows 10 helped you enough.