One of the most disturbing things for a power computer user is increasing the temperature of the CPU. It doesn't matter whether you are using a high-performance PC or running your average computer at its maximum processing power, higher CPU temperature is always harmful for your system. It doesn't only affect the longevity of your CPU but also decreases its performance.
Though the sudden increase in temperature output may not require attention, if your CPU always remain hot, you need to take action as soon as possible. People usually use a cooling pad to get rid off this heating issue but sometime it's not enough, and here the concept of thermal pastes comes in. if you don't know, thermal paste is a greasy and thermally conductive compound which is usually applied between the CPU and cooler's heatsink.
Going a little deep, the top surface of most of the processors is not perfectly flat. Some of them have microscopic holes, while others have a slight curve. All these gaps are filled with air and reduce cooling performance. Now, applying a thin layer conducting thermal paste fills these gaps and improve the heat transfer.
If you want to keep your CPU cool, a thermal paste is highly recommended. Now, markets are filled with different thermal pastes and if you don't buy a quality one, you should not expect the required benefit. So, here are the top 5 best thermal pastes that we've selected after considering usage, performance, price and user reviews.
Read: What is Windows Modules Installer Worker and How to Fix its High CPU Usage?
How to Pick the Right Thermal Paste for Your Processor
While buying a thermal paste for your processor, make sure to consider the following factors. Getting your thermal compound right will not only improve temperature but also effectively increase your PC performance:
1. Thermal Conductivity
The first and foremost factor to look for is the thermal conductivity of the paste. Getting a thermal compound with higher thermal conductivity ensures it can effectivity dissipate the heat while keeping your system cool.
Bear in mind, each thermal paste comes with its own rating for thermal conductivity, ensuring how efficiently it can transfer the heat from the process to the heatsink. Both liquid and non-metallic thermal pastes tend to have different thermal conductivity.
For example, liquid thermal pastes have a 70w/mK thermal conductivity, while non-metallic compounds tend to have a thermal conductivity of 4-10W/mK. So, the higher the number, the better the thermal paste can conduct heat. 
Note: W/mK signifies watts per square meter of surface area.
2. Density and Viscosity
To ensure the overall effectiveness of the thermal paste, it is always important to check its density. It makes sure that the paste can easily squeeze through the CPU. Generally, liquid thermal pastes tend to have a lower density than normal pastes.
But, at the same time without adequate knowledge, it can be extremely hard to apply. Getting the right density and viscosity allows the paste to maintain the right consistency while applying directly to the processor without posing any harm to other components. 
3. Conductive or Non-Conductive
You need to take absolute care while applying the thermal paste on your processor. But, there are still instances where your system might experience a short circuit, especially if the paste can conduct electricity.
So, if you are not fond of the possibility of short-circuiting your processor, you can always go with a carbon-based compound that doesn't conduct electricity. Similarly, you can also pick a thermal paste that has lesser conductivity altogether. 
4. Thermal Design Power
The TDP (Thermal Design Power) refers to the overall power consumed by the processor. So, the TDP of your processor can give you a rough idea of how hot it can actually get. Generally, processors with higher TDP tend to consume more power, hence dissipating more heat for that matter. Under such instances, you can pick a thermal paste that can handle the heat. 
5. Overall Cooling Solution
Although with your thermal paste, it is always a good idea to equip your system with the best cooling solution available on the market. You need to ensure that the cooling solution is capable enough to deal with the heat generated by the processor. Otherwise, picking the best thermal paste won't even matter. Always invest in a good cooling solution.
Read: MacBook Air vs MacBook Pro: Which Mac You Should Buy in 2023?
Best Thermal Pastes For Your CPU
Best Thermal Paste for CPU
1. Arctic MX-4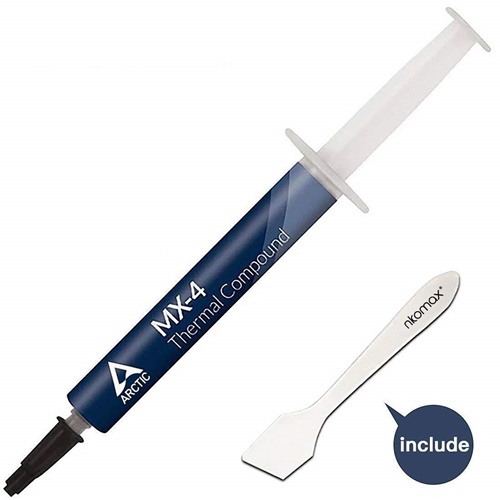 Arctic MX-4 is the best thermal paste in the market. There are many users who have used this superb conductive thermal paste and got relief from the high-temperature output. It's a grease-based thermal paste composed of carbon particles and that's why it provides amazing thermal conductivity. It's easy to apply and have a negligible thermal resistance. The product is listed as Best Seller and worth its price. I suggested this product to some of the friends a few months ago, and they haven't faced any issue after that.
Quick Details:
Easy application
Optimal thermal conductivity – 8.5W/mK
Non-electrical conductive
Low thermal resistance
Buy on Amazon: $9.99
2. Arctic Silver 5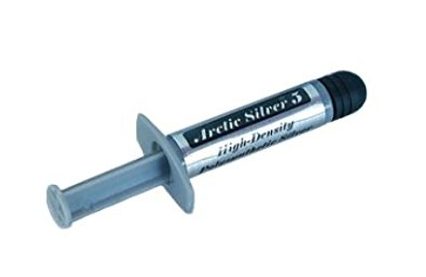 The Arctic Silver 5 is one of the oldest and popular thermal paste among PC enthusiasts. It is made of 99.9% pure micronized silver and provides a thermal conductivity of 8.7W/mK. There was a time when no other thermal paste can compete with this one. If you are running a highly configured PC and facing heating issues, you can consider buying this Arctic silver 5. The thermal paste comes with non-electrical conductive properties and also worth the money like the Arctic MX-4.
Quick Details:
Made up of pure Micronized silver
High Thermal conductivity
Controlled triple phase viscosity – will not separate, run, migrate or bleed
Easy to apply and remove
Buy on Amazon: $5.89
3. IC Diamond Thermal Paste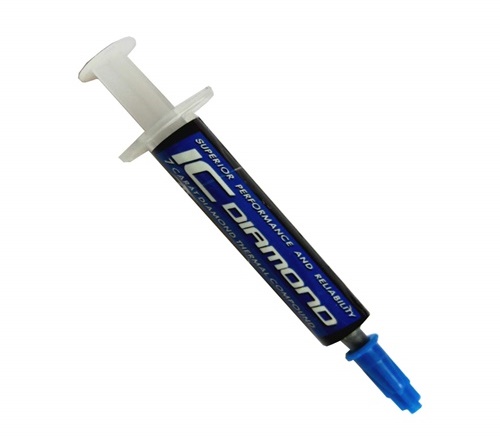 Another thermal paste is from IC Diamond and comes with amazing thermal conductivity. Most diamonds are extremely efficient thermal conductors and electrical insulators. That's why Innovation Cooling 7 Carat Diamond thermal compound won't disappoint you. Though the company hasn't shared all the ingredients with the listing. It includes diamond power with low phonon scatter and high covalent bonding. The product has a good rating and the price is also affordable.
Quick Details:
Thermal Conductance: 4.5 W/mK
Thermal Resistance: 0.25oC-cm2/W @ 100 BLT
Average Particle Size: <40 maximum particle diameter
Unique Diamond Filler
Long lasting and effective
Compliance: RoHS Compliant
Buy on Amazon: $8.99
4. Noctua NT-H1

If you have also overclocked the processor and facing high-temperature output, Noctua NT-H1 will fix this issue. It's one of the high-quality thermal paste and offers great thermal conductivity. The product has an excellent rating on the marketplace and available at an affordable price. Talking about the thermal paste, the company claims that it is made up of a hybrid thermal compound with different micro-particles. Noctua NT-H1 is widely popular for its long-lasting performance and stability. It's the best thermal paste in the market.
Quick Details:
Operating Temperature: -50 – 100°C
Quality product at an affordable price
Long lasting and high performance

Long-term stability: recommended storage time up to 3 years, recommended usage time on the CPU up to 5 years

Not electrically conductive and non-corroding thermal grease: no risk of short-circuits and safe to use with all types of heatsinks
Buy on Amazon: $11.48
5. Thermal Grizzly Kryonaut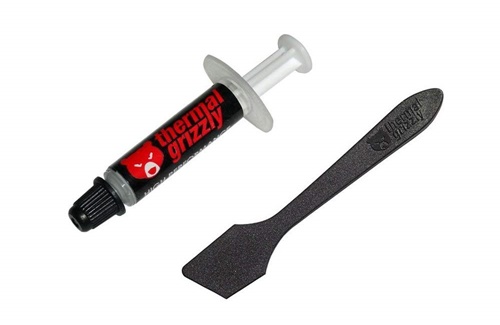 In a short span of time, Thermal Grizzly Kryonaut paste has become quite popular. It's currently listed as a Bestseller on Amazon with good user reviews. It comes with thermal conductivity of around 12.5W/mK and delivers great performance when compared to others. It's also a greasy paste that stays for a longer time. The thermal paste is also non-electrically conductive offers good stability. The thermal paste also includes a spreader tool (spatula) and compound product.
Quick Details:
Great thermal conductivity – 12.5W/mK
Not electrically conductive
Easy to apply with the provided spatula.
Buy on Amazon: $9.38
Check out: 3 Best Laptops Under $500 & 7 Best Laptops Under $1000 You Can Buy
Fix Heating Issues in Your CPU Using a Best Thermal Paste
People usually get dependent on the cooler and thermal paste comes by default with the CPU, but they are not always enough.
If your CPU is running high on temperature, it's time you should invest in the best thermal paste. It's not only an affordable solution but also saves you from bigger expenses.
Higher temperature affects the performance of your CPU in many ways. If the heat dissipation rate is not good, you will start noticing that your PC is not working as fine as before. So, which thermal paste you are going to buy? Share your words in the comments section below.