For people who spent hours working in front of their laptop, cooling pads are a must. Cooling pads are extremely useful in maintaining the device's operating temperature. Moreover, cooling pads with adjustable heights give you comfort. Prolonged use of the device can overheat it and if you own an old laptop then overheating is a common issue. For resolving these issues you can opt for a cooling pad.
Related: 5 Best Thermal Pastes For Better Heat Dissipation in CPU
Factors to Consider While Buying a Laptop Cooling Pad
While there is a plethora of cooling pads out there in the market, not every single one is the right fit for your laptop. So, in this section, we are going to cover some of the most important features to look for while buying a laptop cooling pad.
1. Ergonomic Design
It is very important to understand that a laptop cooling pad without good ergonomics is always hard to work with. Make sure it is conformable to use and comes with a minimum adjustable height option.
Since laptops tend to have flat bottoms, cooling pads should always come with inclinations. Furthermore, LED lights can be a good addition, since it can indicate that the device is working properly. In fact, there are also cooling pads with adjustable brightness for that matter.
2. Speed
Make sure to look for fan speed while getting a cooling pad for your laptop. In fact, a high fan speed ensures that you get the right performance and efficiency to keep your laptop cool. For the most part, the average speed of cooling pads ranges between 1000 to 1500 RPM. 
There are also cooling pads that come with adjustable fan speeds. Furthermore, you need to look for the overall fan quality, along with the total number of fans that comes with the cooling pad. Anything between the diameter of 90 to 110 mm should be adequate enough for your laptop.
3. Noise Level
One of the biggest shortcomings of laptop cooling pads is the noise that generates. The higher noise level can be distracting at times, especially if you want to focus on your work. That being said, it is always a good idea to check the noise level of the cooling pad before buying. You can go with something that generates noise of 23 dB or below. 
4. Overall Size
You should always pick a cooling pad that can handle the size of your laptop. The majority of the laptop cooling pads out there in the market are specially designed for mini laptops ranging from 11 to 14 inches. Although there are definitely cooling pads that can fit 17-inch laptops in it. Just bear in mind, the size of the cooling pad, should never be smaller than your laptop.
5. Portability
Since laptops are meant to be carried anywhere, your cooling pad should be able to do the same job as well. In case your cooling pad is not portable, it would remain a part of your desk setup. So, while getting a cooler pad, always check whether it's lightweight and easy to carry or not.
6. Look for Mesh Platforms
Last but not least, a cooling pad can comes with a mesh platform can work wonders, while increasing the overall airflow for your system. Not to mention, getting a mesh platform can also help in dissipating more temperature, allowing your system to remain cool. By creating the surface more breathable, you can increase the performance to many folds.
The Best Cooling Pads for Your Laptop
1. AICHESON Laptop Cooling Pad 5 Fans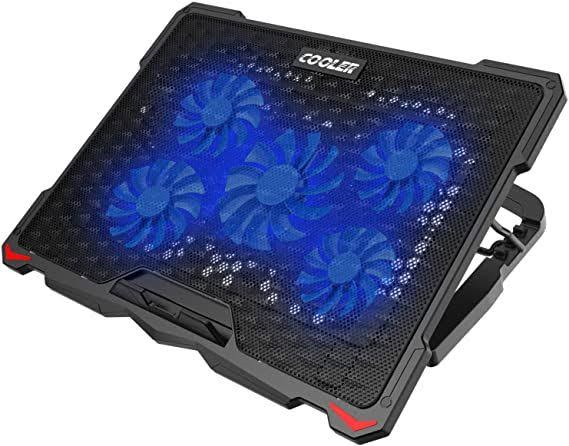 AICHESON Cooling Pad 5 Fans comes with a double rotatable switch and metal panel. It has a sleek and ergonomic design. There are four fans and one extra fan for superior airflow. You can work all day without worrying about overheating issues.
Moreover, there are two adjustable height settings so you can adjust its height as per your requirement and work comfortably. Its built-in two USB ports allow you to connect other USB devices. The product is exclusively designed for gaming and office use. It is suitable for laptop size up to 15.6-17 inches. This product weighs 860 grams. Overall, it's a good product in its price range.
Buy on: Amazon
2. TECKNET Laptop Cooling Pad With 2 USB Powered Fans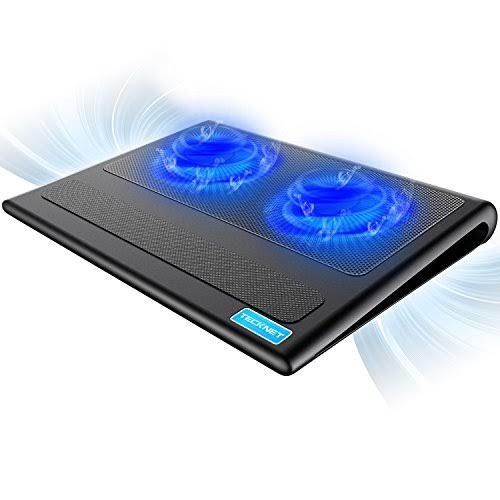 The product has a compact and sleek design. The cooling pad uses dual 120 mm fans delivering an impressive amount of cooling. You can work for hours thanks to its silent operation and retractable stand. The brand would give you, one-year warranty on the product. Furthermore, the cooling pad is powered by USB, its built-in two USB ports help you to use it with other USB devices. This product weighs 840 grams.
Buy on: Amazon
ALSO READ: 3 Best Laptops Under $500
3. SOUNDANCE Laptop Cooling Pad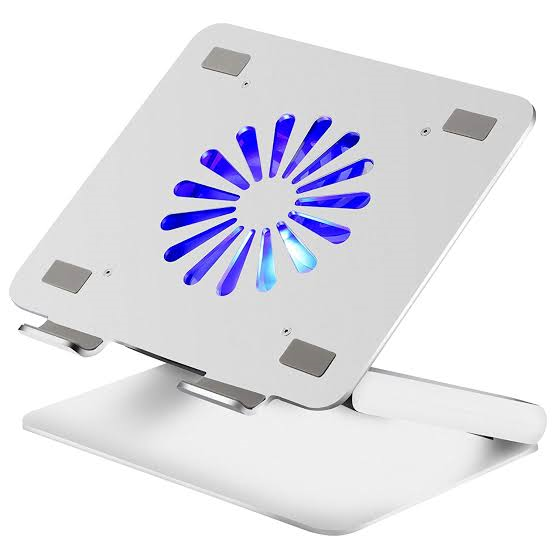 SOUNDANCE Laptop Cooling Pad comes with 7 levels of adjustable heights. Adjust its height as per your requirement. This cooling pad uses dual 140 mm fans for high airflow. You can work comfortably all day long. It comes with two in-built USB ports, one to connect to your laptop and the other one to connect to other USB devices.
The cooling pad supports a variety of laptop sizes and there's a rotational switch that allows you to adjust the speed of the fan as you like. Its weight is 620 grams.
Buy on: Amazon
4. TopMate C5 10-15.6-inch Gaming Laptop Cooler Cooling Pad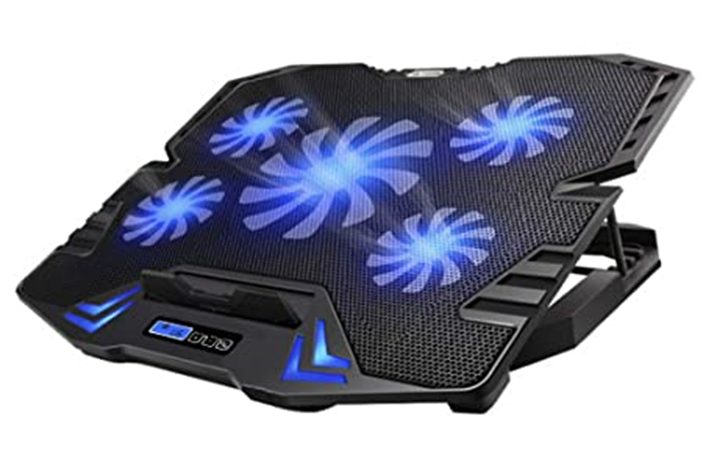 For comfort and better posture, there are five adjustment heights that would relieve your back and neck pain. TopMate C5 10-15.6 inch Gaming Laptop Cooler Cooling Pad has a unique and sleek design. The material used in this pad is plastic+metal mesh which ensures durability and longevity of the product.
The product has an ergonomic design and in-built two USB ports. You can connect your laptop, router, and PlayStation to it. For avoiding sliding the laptop, there's a hinged flap that you can flip. There are a small LCD screen and a button control panel. You would see wind speeds information on the screen and with the control button, you can switch between different modes. This cooling pad has 6 wind speeds and 3 fan operation modes. Its weight is 200 grams only.
Buy on: Amazon
5. KLIM Wind Laptop Cooling Pad (4 Fans)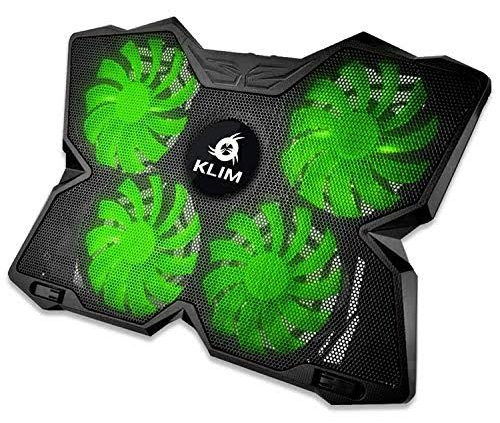 KLIM Wind Laptop Cooling Pad has 2 fans have upgraded the motor with a speed of 1300RPM. It supports all laptops up to 17 inches. If you're facing continuous overheating issues then it can be quite annoying. The Dezful Heavy Duty [4 Fans] LED Cooling Pad is a one-stop solution for that. It has a robust built and sturdy design.
This cooling pad comes with an adjustable bottom for different angles providing you with the comfort you need while working for long hours. It also includes four fans which increase the lifespan of the laptop. A free braided durable USB cable is there to help you connect to different devices. You would get a one-year warranty on the product. This product weighs 940 grams.
Buy on: Amazon
Recommended: Why is My Computer So Slow? Here's How to Fix It!
Which Laptop Cooling Pad You Liked the Most?
You need to take quality considerations before purchasing any product. All of these products retail for a very competitive budget. Hopeful that you liked all of our enlisted products. You can also list down your favorite products in the comment section below.