It's not always the hardware that causes audio problems on the computer. Sometimes, major operating system updates, buggy features, security patches or a slight misconfiguration in the settings can make you experience "no sound on computer" issues. Today, we will have a look at some ways which can help you fix these audio problems on your computer.
5 Fixes for "No Sound on Computer"
Check Your Cables
Set Your Audio Device as System Default
Restart Your PC
Use Audio Troubleshooter
Update and Reinstall Audio Driver
1. First thing First – The Cables
Don't let minor issues eat all of your precious time. Always double-check your cables and make sure speakers or headphones are connected into proper jacks before moving to other steps. You can also check the volume that it's turned up. For complete details, just click on the speaker icon on the taskbar and select Volume Mixer to view all the audio options. 
2. Set Your Audio Device as System Default
If you have connected a headphone or speaker via USB or HDMI port, you might need to set your device as default.
To verify this, press Windows key and search for "sound".
Then select Sound settings from the results.
select your audio device and from the "choose your output device" dropdown menu.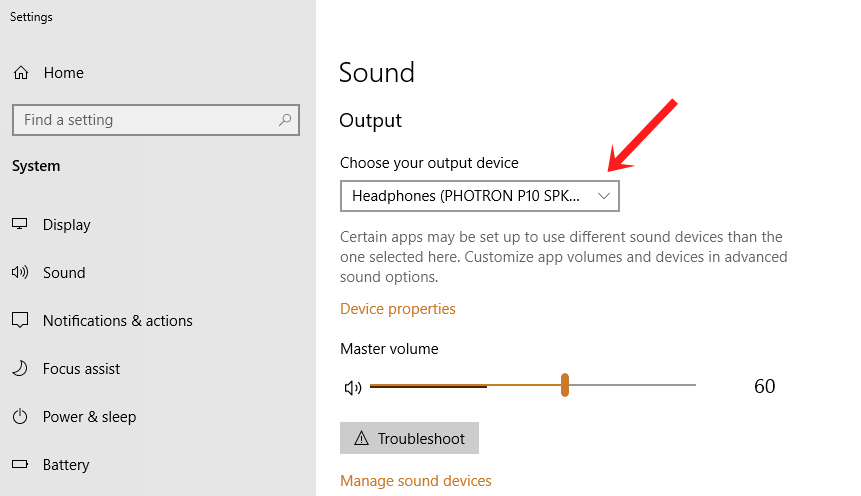 3. Restart Your PC
There are a lot of times when the Windows need to restart the system for finishing an update. If you have also recently upgraded your Windows and it didn't restart automatically for some reasons, do it now. This workaround works many times for solving issues in Windows 10.
4. Use Audio Troubleshooter
Windows default Audio Troubleshooter can fix these issues seamlessly. You just need to type "audio troubleshooter" in the search box, select Find and fix problems with sound and follow the instructions on the screen.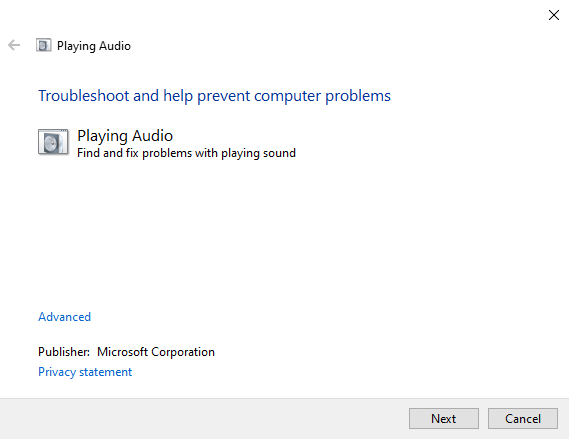 5. Update and Reinstall Audio Driver
If you have still got no success in fixing the "no sound on computer" problem, updating your Windows 10 audio driver may help.
Press Windows + R keys, type "devmgmt.msc" in the run box and hit enter.
Click on Audio inputs and outputs, look for your device driver from the list, right-click on it and select Update driver.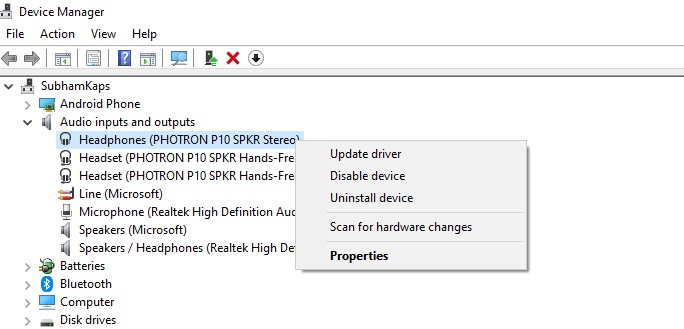 If updating the device audio driver also doesn't work, you can just uninstall and reinstall the driver to fix the sound problems. Just repeat the above steps and instead of selecting Update driver, select Uninstall device and follow the instructions. Windows 10 will reinstall the missing drivers automatically on the next reboot.
You can also check:
I hope one of the above methods has fixed your "no sound" issues on Windows 10. If you are still not getting sound on your computer, I would suggest you reach out nearby service centre or professional for better hardware-related help.