Apple has finally announced their much-waited tracking device, called AirTags. Now, this is a small and handy device, best suited for everyone who frequently loses or misplaces their personal belongings. With the help of AirTags, users can easily find missing devices and even locate their exact location if lost.
AirTags are equipped with CR2023, replaceable batteries that Apple claims to give you with almost a year of battery life before they need replacement. So, as for the average consumers, you don't really have to worry about charging the AirTag. Once the battery capacity is low, you could simply swap in a new one. But, how exactly you can determine the life span of your battery? So, let's find out in our curated guide how to check your AirTag's battery life.
Also Read: How to Factory Reset Apple AirTags Using iPhone
Steps to Check Apple AirTag Battery Life
At first, on your iPhone, open the Find My application.
Head over to the bottom of the screen and tap on the 'Items' tab.
In case you have multiple Airtags linked, tap on the name for which you want to check the battery.
On the next screen, you will find the battery life through a visual icon. You can see it right below the name assigned for the AirTag.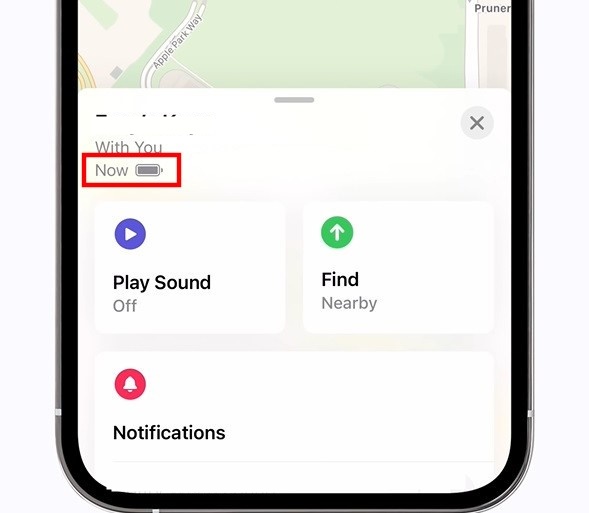 Just bear in mind, as of now, there's no way you can actually check the exact percentage of the battery. But the icon might suffice enough to give you a rough estimate of the remaining battery. Apple might fix this issue on their later updates.
Replacing Apple AirTag's Battery
If you want to replace the battery of Apple AirTag, make sure you remove the same from its accessories. Now, follow the steps down below, to successfully replace the battery.
At first, flip your AirTag while facing down the white side. You will get the stainless steel side towards yourself.
Now using two of your fingers, push in while twisting the steel side counter-clockwise.
This will open the back of the AirTag. Now, take out the old battery and put in a new one. Put the battery with the positive side (+) facing upward. Put back the stainless steel cover by twisting it clockwise.
So, now you not only how to check the battery of your AirTag but also change them when needed. Check our article on how to add AirTag to Find My app on your iPhone.
The Bottom Line
So, there you have it. Everything you needed to know on how to check your AirTag's battery life. Just make sure to keep a close eye, so that it doesn't run out of juice in the most unexpected time. The same goes for changing the battery for your AirTag.
This is extremely helpful, in case you find someone following you using AirTag. Since most of the retailers and convenience store sells coin cell batteries, you won't have a hard time finding one for your AirTag.