Why most of the Android phones don't get new version update even after months of official OTA update release? Every Android user has a dream of using the new Android Version on his/her smartphone. Google releases a new Android version every year. They are going to release Android 11 in 2020. But if we look at the history of Android OS updates, even after almost two years of Android 9 Pie release, only 40% of users are running this version.
Why don't all Android Phones get Updates?
Google releases the stock version of update which basically the Original Android without any custom layer. You might have noticed that all the smartphones running Stock version like Google Pixel, Nexus, Motorola smartphones receive updates quickly. This is because here manufacturers don't have to do any major changes. They just do some optimizations and can release the update.
But if we talk about other manufacturers like Samsung, Xiaomi, HTC or any other, they don't use Stock Android (Android version as released by Google). They add Custom Skins on the top of Stock Android like Samsung uses TouchWiz UI, HTC has its own Sense UI, Xiaomi applies MIUI in all of its Smartphones. They also add many applications, features and options. So, we can't see Stock Android on these phones.
Let's see the dialer app on a Nexus phone, a Samsung phone and a Xiaomi phone. you can easily see the difference.
This modification on Stock Android incur cost and time and users may have to wait for 3-4 months for the new version update. But again, it's not confirmed that you'll receive an update after waiting. Almost, all Android smartphone manufacturers only design and optimize new update only for their flagship devices like Note 8, Galaxy S8, Galaxy S9 for Samsung. They don't bother to offer an update to their budget segment phones.
So, if you are using a low range budget segment phone from any manufacturer, don't expect any update from them. You have to be fortunate enough to receive an update.
Is there any Alternative or Solution?
Rooting is the only method to install/flash any new Android version on your phone. If you don't know what is rooting? How can you root your smartphone? Let me know in the comments below.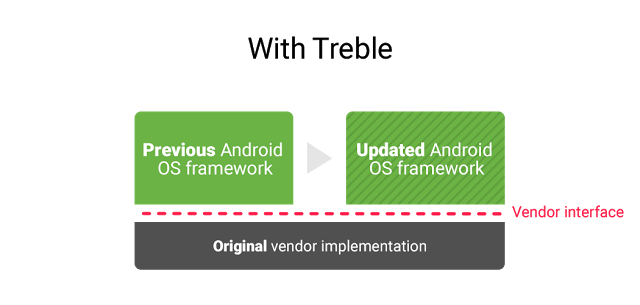 Anyway, In Google I/O 2017, Google has announced its Project Treble to speed up the Android updates by adding a Vendor Interface Layer. And, with Android 9 Pie, Google also achieved a very good result by releasing new update simultaneously for many smartphones. The stable vendor interface layer is now providing access to the hardware-specific parts of Android. So, the device makers now choose to deliver a new Android release just by just updating the Android OS framework. They no longer required any additional work done by the silicon chip manufacturers. Let's see how this update will improve the condition further.