Facing Bluetooth connectivity issues in your windows 10 device?
We might have received a lot of updates in Windows 10 since its inception, but still, there are times when we feel irritated solving some common issues of our PC/Laptop.
If your Bluetooth device is working fine everywhere except for your Windows 10 machine, you are at right place. Today, I will show you how you can easily reinstall Bluetooth driver for Windows 10 and solve some common Bluetooth connectivity problems.
Drivers connect your hardware with software and are very important to get things done. Unfortunately, we don't get full-fledged support for hardware issues in Windows computer yet. So, you have to know of basic troubleshooting things to find and fix these driver related issues. So, without any further ado, let's come straight to the point.
Reinstall Bluetooth Driver for Windows 10
1. Press Windows + R keys to open the run box, type devmgmt.msc and press Enter.
2. Double click on the Bluetooth option, look for your Bluetooth adapter, right-click and select Uninstall device. You may find a lot of paired devices here. So, just look for the one which starts with a manufacturer name (like Dell, Qualcomm, etc) and ends with Bluetooth. In my case, it's Dell Wireless 1705 Bluetooth.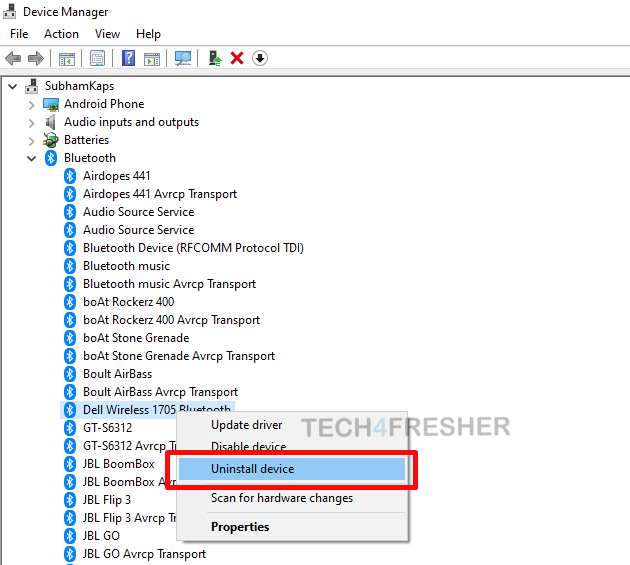 3. Now, check the box for Delete the driver software for this device, and click Uninstall.
4. Once the Bluetooth driver is uninstalled, restart your computer.
5. The Windows 10 will automatically reinstall the missing Bluetooth driver on rebooting the system (An active internet connection might be needed for this purpose.
Note: If you are on Windows 8 or 7, you have to visit the laptop manufacturer website, select your model & windows version and download the driver software to reinstall it.
If you got no success even after reinstalling Bluetooth driver on Windows 10, refer following articles: