Qualcomm is all set to unveil its latest flagship chipset Snapdragon 8150 on 4th December at its Annual Tech Summit, Hawaii. While some reports are saying SD 8150 is just an internal name and it may be called Snapdragon 855 at the time of launch,  there are strong rumours claiming Snapdragon 8150 as its real name.  The company is following the new Snapdragon 8xx naming scheme for the next processor. The new processor is a successor of Snapdragon 845 which was launched last year and will come with new CPU design and features.
Snapdragon 8150 Benchmark Scores
Though benchmarks scores change along the development, we can't deny the fact that Snapdragon 8150 has already surpassed the other flagship processors in Antutu and AI Benchmark scores.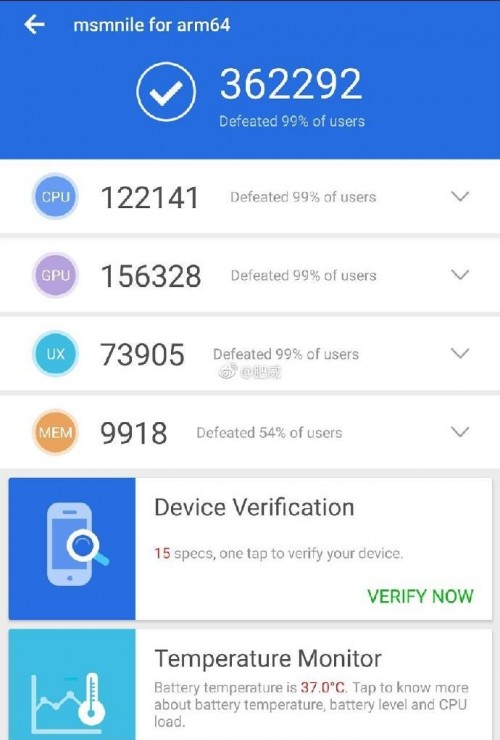 Starting with Antutu, the SD 8150 scored an overall of 362292 points beating Huawei's flagship Kirin 980 (273,913) and overtaking Apple's A12 Bionic (353,210) by a small margin.

Talking about the AI Benchmark scores, the Qualcomm's latest SoC has crushed the competition and topped the list by scoring 22082. The second position obtained by MediaTek Helio P80 (19453) and third by Kirin 980 (14295). In the test, the SD 8150 has shown the performance close to double the performance of SD 845.
Also Read: What is Android System WebView? What is it Used For?
On Geekbench, the processor has shown good improvement in multi-core performance over the Snapdragon 845 but failed to maintain that mark in the single-core performance. However, the results are obtained at quite an early stage and it changes after final development.
Tri-Cluster CPU Design
The Snapdragon 8150 is expected to come with tri-cluster CPU design. So, instead of having 4+4 cores, the company has divided the cores in the following manner: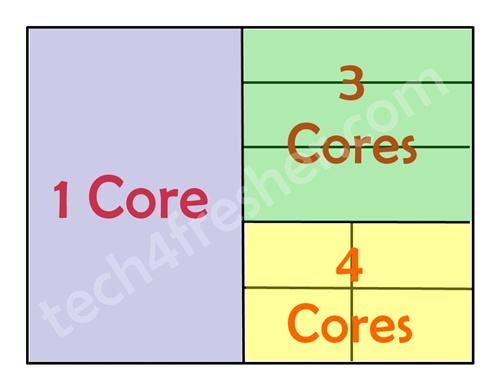 1 Core = Kryo Gold Core with a maximum frequency of 2.842GHz and 512KB of L2 Cache. It will be used for high-performance tasks.
3 Cores = Kryo Gold Cores with a maximum frequency of 2.412GHz and 256KB of L2 Cache each. These will be used for medium performance tasks require a sustained speed.
4 Cores = Kryo Silver Cores with a maximum frequency of 1.8GHz and 128KB of L2 cache each. These will be used for energy efficient low-performance tasks.
However, Qualcomm neither unveiled nor confirmed every detail yet, the information received via leaks and reports gives us an overall idea about its design and performance. With Snapdragon 8150, the company is likely taking a different approach by utilizing ARM's DynamiQ architecture that allows manufacturers to pair different types of cores with several clock speeds into one cluster.
It's also important to note the one core with high-performance and three with medium performance capabilities are built on Cortex-A76 and four efficient cores are on Cortex-A55.
GPU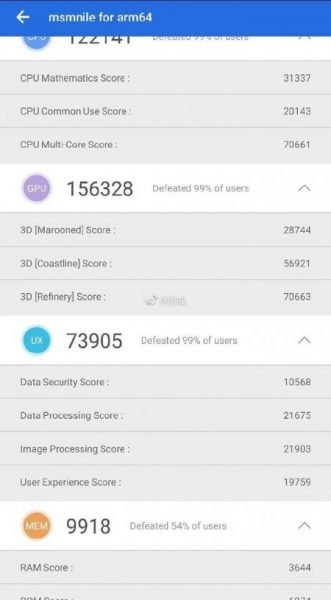 We already know that we're getting Adreno 640 GPU with Snapdragon 8150. Putting Light on GPU scores obtained in Antutu benchmark result, the processor has scored 156328 which is around 20% increment over the performance of Adreno 630 in SD 845.
5G Connectivity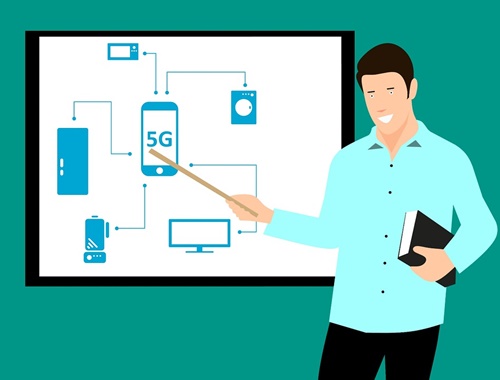 Also Read: Qualcomm's First mmWave 5G Antennas and Its Uses
Qualcomm has already sent the event invites and the theme is "Dare to be the first 5G mobile experience" which strongly hints towards the presence of 5G capabilities in the upcoming Snapdragon 8150. The processor is expected to come with X50 5G NR modem but there isn't any confirmation.
Other Changes
We have already gathered many details about Snapdragon 8150 even before release. Some of these are based on leaks while some are collected from various benchmark testing websites. Although, we haven't received any details about Kryo core versions, fabrication modes, display, RAM and other supports till now. We will update this article as soon as these details will be surfaced online.
Snapdragon 8150 Phones
There are many phones that are expected to be launched with the power of Snapdragon 8150. The first smartphone on the list Samsung Galaxy S10. Then, OnePlus 5G and Motorola Odin are also making their way. The current scenario is every other manufacturer is working hard to launch the first 5G smartphone and we have no choice other than to wait and see who will make the history.