Ethernet Splitters come in handy when you want to connect multiple devices to the internet over the same network. These products are a cost-effective solution and allow you to connect to one broadband connection. As the Ethernet spitter doesn't require any software setup, setting them with your wired internet connection is pretty much simple.
So, if you want an inexpensive solution to split the internet connection between multiple devices over a single ethernet cable then ethernet splitters are really useful for you. We understand that there are plenty of similar products available in the market. Thus, you may find it difficult to decide which one to go for. Today, I will share the best five ethernet splitters you can buy.
Also Read: 5 Best Mobile Hotspot You Can Buy
How Ethernet Splitters Are Different than Switches?
Using an Ethernet splitter you can create a breakout for a single incoming Ethernet into multiple connections. Ethernet switches on the other hand allow you to expand the overall number of ports available on the network.
Using packet-switching technology, Ethernet splitters can connect multiple devices and direct data to the right device. But, if you want to add more ports within the network to connect multiple devices, consider getting an Ethernet switch.
How to Buy the Perfect Ethernet Splitter? 
Choosing the right Ethernet splitter can get tedious at times, given the complications of the technology along with various products out there in the market. Hence, we have curated some of the most important factors to consider while getting your Ethernet splitter.
1. Type of Ethernet Splitter
There are three different types of Ethernet splitters including passive, active, and PoE (Power over Ethernet).
Passive Ethernet Splitter: This is by far one the most basic Ethernet splitter which can create a breakout to an incoming Ethernet into multiple outgoing signals. Passive Ethernet splitters also offer limited distances and speed requirements. 
Active Ethernet Splitter: Active Ethernet splitters are a step up as compared to their passive counterpart. It is capable of amplifying the incoming network, ensuring a stronger and more stable connection. These splitters require power and are best suited for long-distance transmission.
PoE Splitter: Power over Ethernet are specialized Ethernet splitters that are also capable of delivering power to the connected devices. PoE splitters are best suited for devices including IP cameras. 
2. Port Configuration
Next stop, you need to consider the total number of ports you would require for the setup. Typically, you can get Ethernet splitters with configurations for 2, 4, and 8 ports. Make sure to future-proof your port configuration based on your needs.
3. Type of Connected Devices
You can find your specific network requirements based on the type of devices you would be connecting. Pick your Ethernet splitter that can handle the speed of gaming consoles and similar high-bandwidth devices.
4. Required Bandwidth
Your Ethernet splitter should be capable of handling the bandwidth you would need. For instance, while using a 1000ft CAT6a cable, you would need a splitter that supports 10Gbit/s.
5. Distance Between Devices
In order to connect devices that are located apart from one another, make sure to look for an Ethernet splitter that has a higher transmission distance. An active Ethernet splitter can get the job done.
6. Compatibility
It is very important to choose an Ethernet splitter that is compatible with the majority of the Ethernet ports. Some of the most commonly used Ethernet standards include Cat5e, Cat6, and Cat6a. Understanding the variation can help you get the right Ethernet splitter.
7. Ease of Use
Last but not least, make sure to choose an Ethernet splitter that is easy to use. There are several plug-and-play models that require very minimal configuration. This will ensure, you don't end up with complex and hard-to-configure devices.
The Best Ethernet Splitter You Can Buy
1. TP-Link 5 Port Ethernet Splitter

TP-Link 5 port ethernet splitter comes with 1 input port and 4 output ports. The design of the product is quite impressive and its small size makes it fit anywhere in your home or office. All you have to do is connect the internet connection ethernet cable in the input socket and you're ready to enjoy high speed across 4 devices.
This product has secured 4.6-star ratings out of 5 stars on the Amazon marketplace, which proves the quality of the product. Talking about the speed, TP-Link 5 offers Auto MDI/MDIX support for all its ports, therefore you can expect a high-speed internet connection. TP-Link 5 is an ideal choice for house owners or small businesses.
Buy on: Amazon
2. Netgear GS608 8-Ports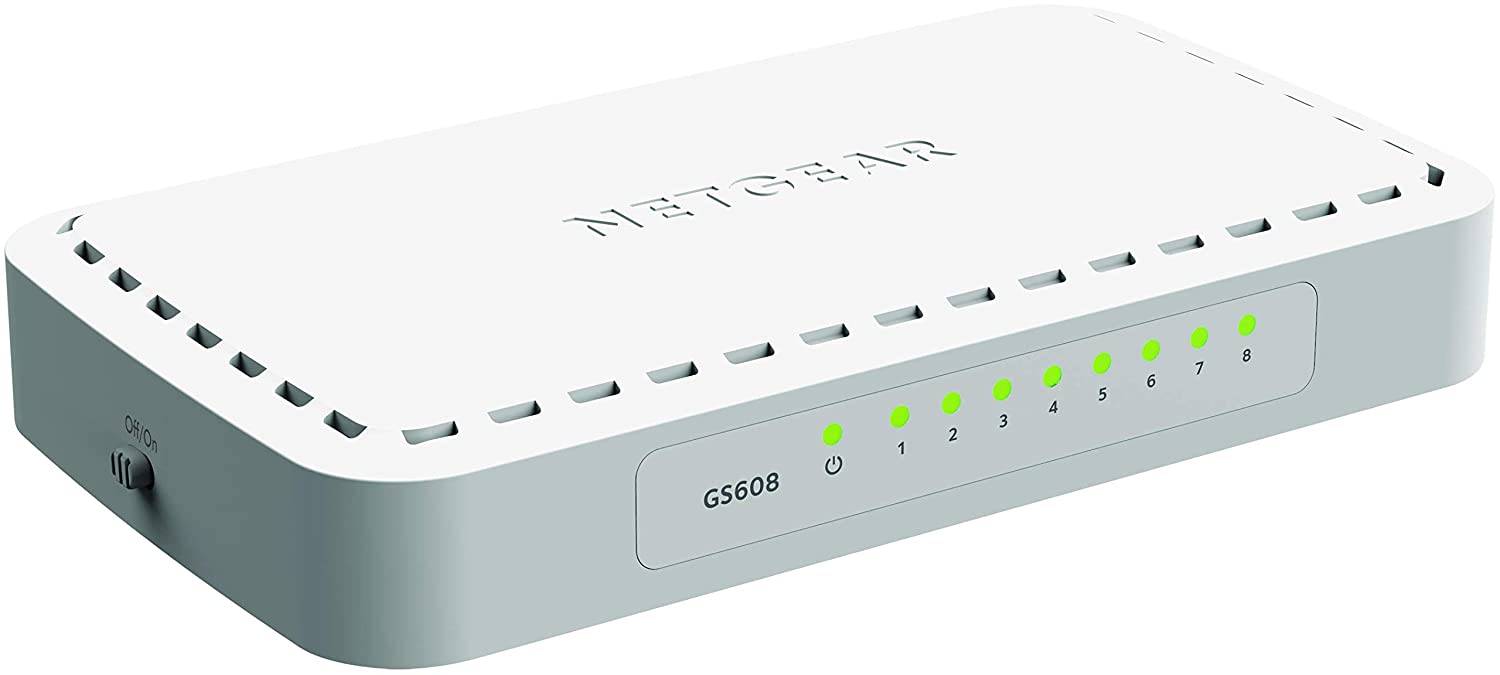 Netgear is another well-establish brand that manufactures both plastic and metal body ethernet splitters for both home and office use.
It has a simple yet attractive design and all the ports are located at the rear side to make an effective deal with cable clutter. You can use this device easily as it doesn't require any software installation, all you have to do is connect the power cord and you are all see to enjoy the high-speed internet connection.
Buy on: Amazon
3. TP-Link 16 Port

TP-Link 16-ports is an innovative and power-efficient ethernet splitter available in the market. This Ethernet switch supports an internet connection speed of up to 100Mbps.
This device comes with 16 LED indicators to show a successful internet connection. The auto feature of this ethernet switch makes the installation process straightforward and allows you to establish a hassle-free internet connection with up to 16 devices.
Buy on: Amazon
4. Cisco 24 Port Gigabit Switch

Cisco 24 port gigabit switch is a 90-bit unmanaged ethernet splitter that comes with 24-ports and a plethora of features that makes the internet connection more sustainable. This ethernet switch accommodates the speed up to 1000Mbps. Hence this is an ideal option for mid-size businesses.
Each port works independently without affecting the speed of other ports. Moreover, for optimal internet speed, the connection can be switched between half and full-duplex mode.
Buy on: Amazon
5. D-Link DES-1024C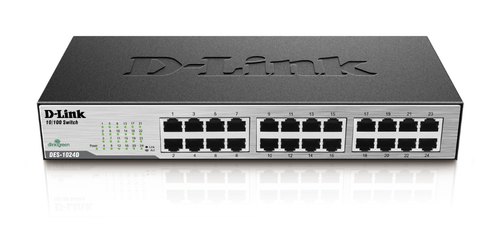 D-Link DES-1024C is another 24-ports ethernet splitter in our list. This ethernet splitter offers to support up to 100Mbps. The build quality of the device is astonishing which makes it a durable product. This unmanaged ethernet splitter comes with LED indicators to indicate the successful connection.
Buy on: Amazon
Choose your Favorite Ethernet Splitter
Selecting the best Ethernet splitter is essential for optimizing your network connectivity without compromising speed or stability. Each splitter on our list excels in performance, durability, and ease of use, ensuring seamless internet connectivity for all your devices. By investing in one of these top-notch Ethernet splitters, you're not just enhancing your network; you're also ensuring a smooth online experience for yourself and everyone sharing your connection. If you are using or know any other product that deserves a place in this list, let us know. We will love to test that out.