Puzzle games are among my favorite games. They are not just good for enjoyment and time-pass but also improves your thinking capabilities. The excitement of gameplay and stressing out our mind to solve that particular challenge and win the game, are something I really like. If you are also fond of puzzle games, you're at the right place. Today, I will share some best Puzzle games for Android that you can play in 2021. Though I tried to include most of the new games, you will also find some popular titles here. So, without any further delay, let's get started..!!
Also Read: 15 Best Football Games For Android You Can Play
The Best Puzzle Games For Android
1. Sudoku – The Clean One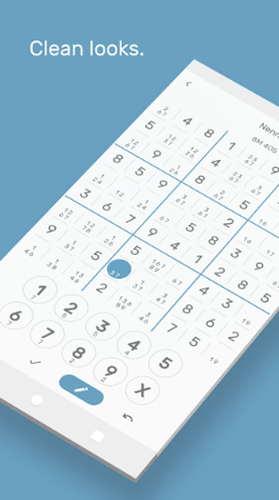 You might have already played Sudoku before but I can assure you've never experienced the simple and intuitive interface that this game offers. Solving Sudoku requires focus and attention, and these are the areas where the developers have already focused while making this game.
This Sudoku game comes with a clean and uncluttered UI. You just have to choose the difficulty level and start playing. There's nothing to distract you.
Download (Free, supported by ads and in-app purchases)
2. Unblock Me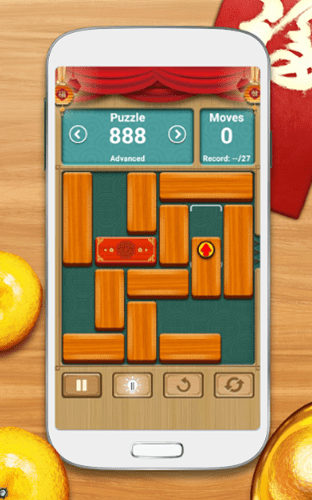 Unblock Me is one of the best puzzle games for Android. The game is very simple. You just have to move the blocks out of the way of the red blocks and in order to move it off the board. But as you complete the easy levels and start thinking yourself as an expert player of Unlock Me, it will start showing surprises.
The levels will become difficult and require more usage of the brain. You can play this game with your friends and see who is more intelligent than you. The game may become sometimes frustrating yet it's really exciting.
Download (Free, supported by ads and in-app purchases)
3. The Room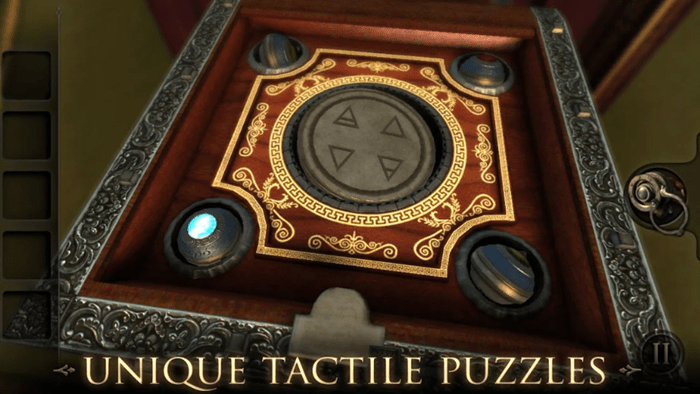 Also Read: 10 Best Android Apps Not Available on Play Store
If you are looking for a mind-boggling puzzle game with lots of mystery puzzles, the Room is for you. This game requires you to keep finding clues and proceed in the game. The Room is a part of Fireproof studios, who are already famous for games with great graphics. You will literally find yourself playing as a part of the game. The game is available for ₹65 ($0.99) but its really worth the price.
Download (₹65 or $0.99)
4. Bonza Word Puzzle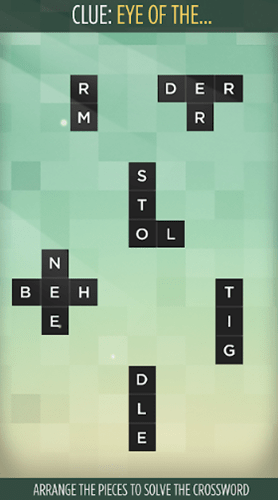 Available with Editor's choice label on Play Store, Bonza is one the best word Puzzle games out there. Just like any other Word game, you have to find meaning words around the given topic. You can even solve daily puzzles offered by the company. Overall, Bonza helps in improving vocabulary and passing time. Give it a try.
Download (Free, supported by ads and in-app purchases)
5. Trainyard Express
Puzzle games usually lose their essence if they are too easy. Players like to experience a new challenge at each level. Trainyard Express is a simple and interesting game which is easy to learn but tough to master.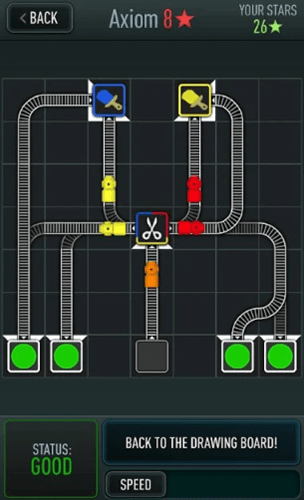 To play this game, you will have to remember two things. Red trains go to red stations, blue trains go to blue stations, etc. Then, keep drawing the track for them so that they can reach their destination. You won't have to think about time or any kind of score. Just use your brain to find out a solution for puzzles. This is one of the lite puzzle games which you can play on your Android devices.
Also Read: 10 Awesome Games Like Roblox You Can Play in Your Free Time
Download (Free, supported by ads)
6. Two Dots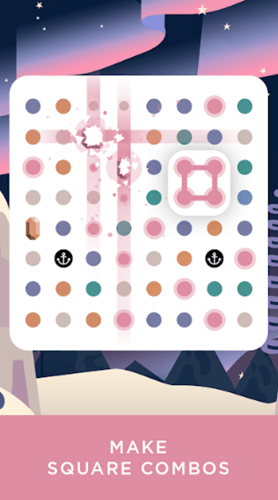 Two Dots is one of the most addictive puzzle games for Android. The gameplay involves connecting one dot to another, sink anchors, make a line, create bombs, fight the fire, and much more.
This game comes with beautiful minimalistic UI with relaxing game music and fun sound effects. As per the play store listing, it has more than 1935 exciting levels. Moreover, you can even challenge your friends on Facebook, beat them and win medals.
Download (Free, supported by ads and in-app purchases)
7. Mekorama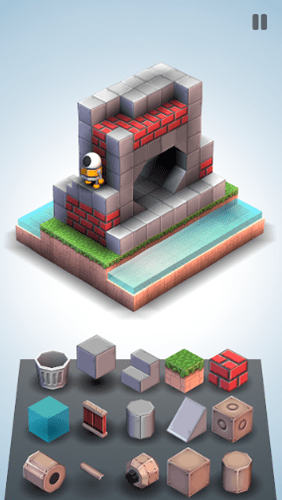 Mekorama is another best puzzle game for Android which is all about helping a robot. In this game, you will help the robot in passing several mysterious levels. The game will become tougher with levels. If you are interested, you can even design your own levels. The game is addictive and has excellent user rating on the Play store. If you are looking for Puzzle games, you must try it.
Download (Free, supported by in-app purchases)
8. Monument Valley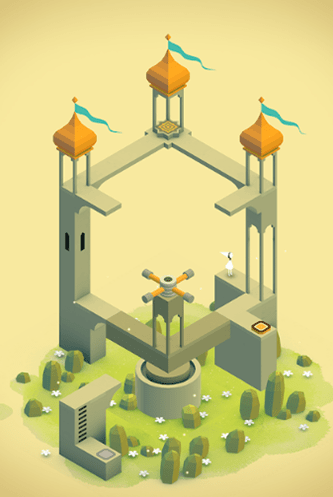 Monument Valley is also one of the best puzzle games available on the Google Play Store. In this game, you have to guide a silent princess to pass a stunning amazing world, after solving numerous puzzles and mysteries. The best part about this game is its amazing 3D graphics and soothing sound effects. The gameplay involves mysterious monuments, uncovering hidden paths, unfolding optical illusions and a lot more.
Download (₹260 or $3.99, also offers in-app purchases)
9. Friday the 13th: Killer Puzzle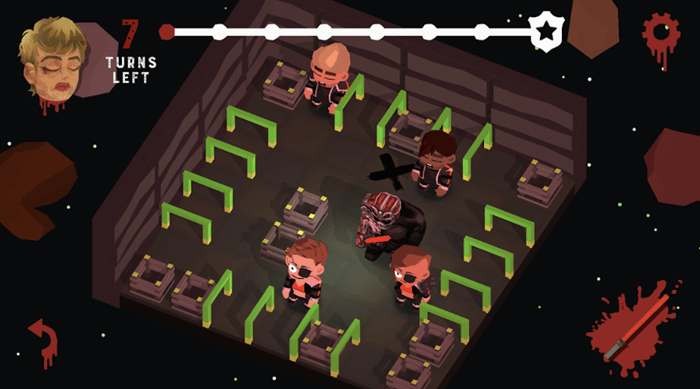 If you love action and horror games, you should also try this Killer puzzle game. It has 8 heart-throbbing episodes with more than 100 killer puzzles levels. You will cross the campgrounds of Crystal Lake to the highrises of Manhattan, from supermax prisons to snowy ski resorts. etc. The more you level up, more horrifying F13 murder weapons will be unlocked. Overall, it's a very good puzzle game filled with horror and adventure.
Download (Free, supported by ads and in-app purchases)
10. 2048
This is one of the oldest puzzle games for Android but still popular among many gamers. The game is simple but you can't win without applying the power of your brain.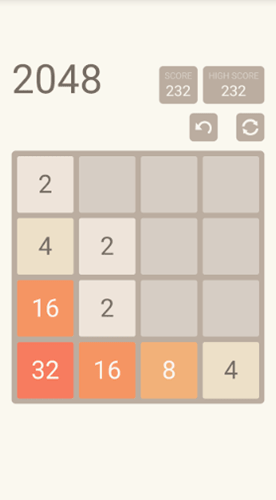 2048 works on a simple concept. you just have to move the numbered blocks vertically and horizontally to get the highest sum. Your ultimate goal will be to achieve to get a '2048' block. After completing the game, you can even change the difficulty level and can go up to 8×8.
Download (Free, supported by ads and in-app purchases)
11. Threes!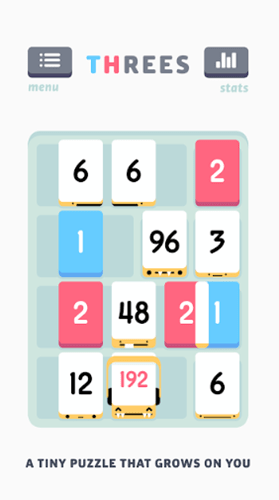 If you love simple puzzle games like 2048, try this game too. It's another number-based puzzle game which offers a reason to sit idle for hours. The game has only one rule that you can create 3 only by combining 2 and 1. After that, you can proceed to another. The game will be over when you are out of moves. Overall, it's an interesting game you can play on your Android smartphone.
Download (Free, supported by ads)
12. Balance
Coming to the last puzzle game on our list, the concept of Balance revolves around electricity. The game offers many challenges you probably never thought of.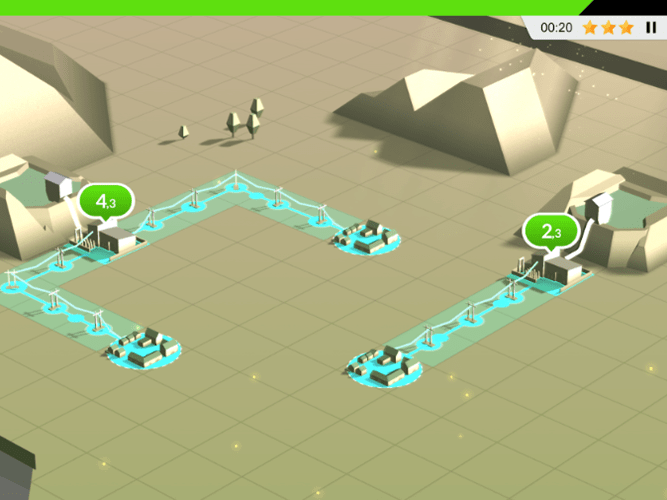 Balance is a free puzzle game in which your goal will be to make sure there are no blackouts, power grids are functional and you always produce the right amount of power. You will have to take care of power plants, connections, and voltage and ensure that there should be no shortage of electricity.
The game sounds interesting but sometimes becomes challenging too. Balance comes with great graphics and related sound effects. So, you can't easily get bored seeing the same things.
Download (Free, supported by Ads)
Recommended: 10 Best Castlevania Games You Should Play
Final Words: Best Puzzle Games For Android
These are some of the best puzzle games for Android. Most of them are available for free on the Play Store but may require you to pay if you try to remove ads. The games are from different categories like Action, Adventure, quiz, casual, etc. So, just check them out and you'll definitely find a game of your taste.