Have you been in a situation where you were holding your laptop and moving in your house just to find a place with good wifi signal? The wifi signals of our router depend on several factors and if not placed at a correct place, it creates a lot of trouble sometimes. While we can analyze wifi signals in a few days like where it is good, where it's poor and places with no signal, there are many wifi analyzers available for Windows that can help you analyze all the areas and place your router at a correct place.
Why You Should Use a WiFi Analyzer?
The Signals of our Wifi routers depends on many factors and most common of them are obstacles and interference. if your router is placed in an isolated area or behind walls, you don't get the strong wifi signal everywhere in your home or office.
The situation will still remain the same even if you have bought a router with the desired performance and range, but installed at a wrong place.
This is why you need Wifi Analyzer to know the signal strength properly using heat maps. You can also see the detailed configuration of your router using any of the software below.
Read: Top 7 Free IDM Alternatives You Can Try
Best WiFi Analyzer for Windows
In this article, I have listed some of the best Wifi analyzer software to help you find the optimal position to place your router and enjoy good signal strength everywhere.
Applies To : Windows 10, Windows 8, Windows 7
1. WiFi Analyzer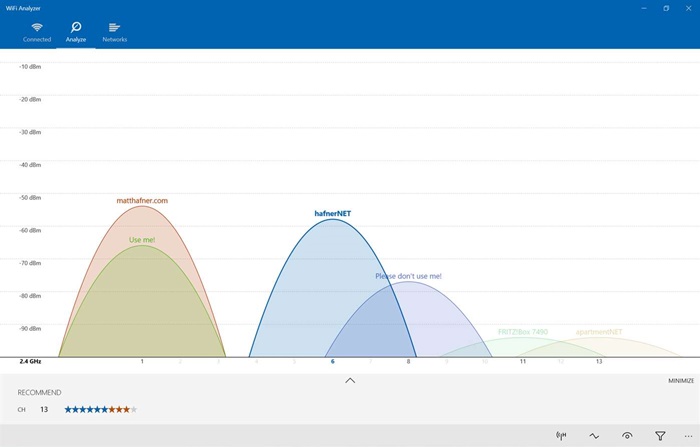 If your laptop is running Windows 10, then you can use WiFi Analyzer for searching the correct spot to install your router. This software shows you all the suitable channels using heat maps so that you can easily find the optimal location to place your router.
This is one of the easiest and best WiFi analyzers for Windows 10. The software also finds the networks interfering with yours and prioritize them using star ratings. WiFi Analyzer is available on the Microsoft store.
The software is easy to use and offers some useful features under its free package. But if you still want more features like the ability to keep the screen turned on, the premium version is also available. The premium will also notify you on finding an access point.
So, if you have the right version of Windows, you should definitely go for this software. The free version is enough in most of the cases.
Download WiFi Analyzer
2. NetSpot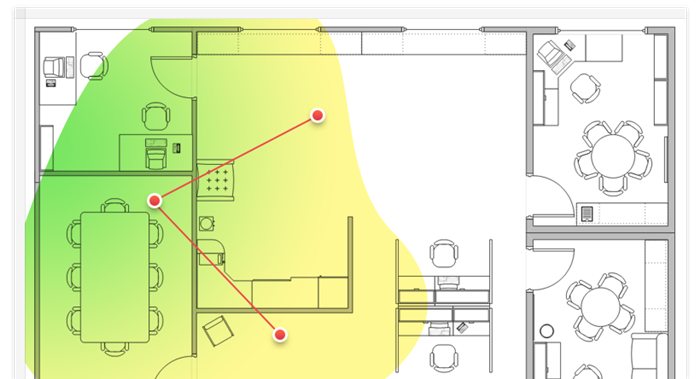 Unlike most of the Wifi analyzers, the team behind NetSpot also focused on user-interface and made this one of the most recommended Wifi analysis software for both beginners and professionals. Its interface is easy to use and self-explanatory and so you won't need any external help to use it.
NetSpot is an advanced Wifi Analyzer for Windows that comes with two modes – Discover and Survey.
The Discover mode shows the rate of data transfer from user to the internet and Survey mode creates heat maps to identify different networks and locations in your area. Both the modes help you find an optimal location to install your router for better signal strength and least interference.
Netspot is a powerful wifi analysis application which is good for professional and companies. It comes at a minimum cost of $49 for the home version and so might be expensive for personal use. This version is for 2 users and cannot be used commercially. It comes with some limitations like allowed to take only 2 snapshots of two different zones with a max of 50 data points per zone. NetSpot is available for Windows 7/8/10.
Download NetSpot
3. WiFi Analyzer Tool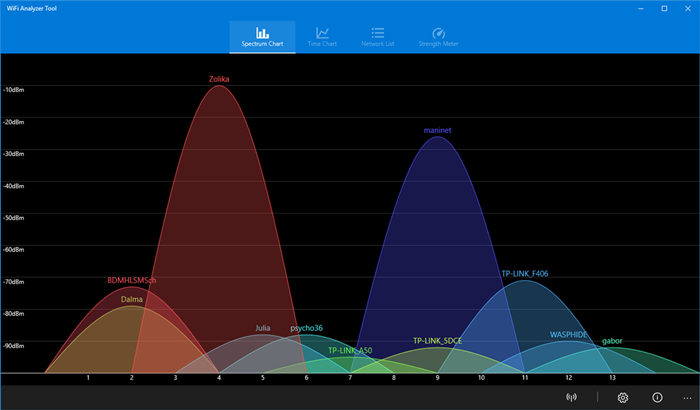 If you are looking for a good WiFi Analyzer for your personal use and doesn't want advanced features, go for this. WiFi Analyzer tool supports both 2.4 GHz and 5 GHz band. It shows you spectrum charts with all the networks in your area overlapping with each other. So that you can find the best available channel to connect your wifi router.
You can also connect with the listed networks. Other features include light and dark theme, beep tone for signal strength and save spectrum images.
This tool is available for Windows 10 only and comes with a price tag of $4.95 on the Microsoft store. However, there's a sale going on for a few days in which you may buy this tool at $1.69 only.
Download WiFi Analyzer Tool
4. WiFi Commander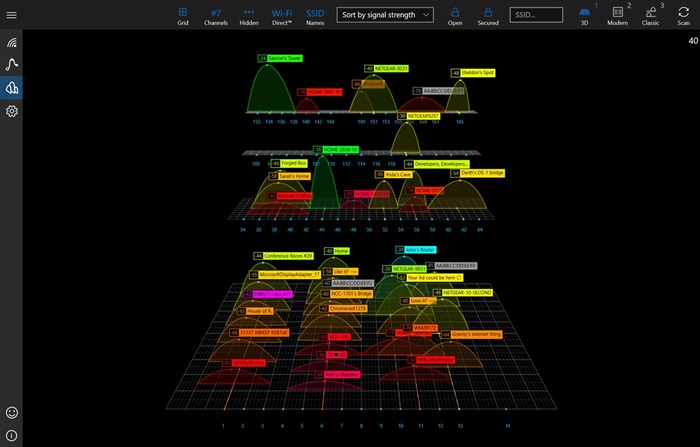 It's true that all the tools listed here are for analyzing wifi signals but what if it can be done in an interesting and fun way. WiFi Commander does the same job but with beautiful user-interface and 3D graphs.
This is one of the best wifi analyzers for Windows which works even in real-time.  Users with touchscreen laptops can even interact with the 3D graphics showing channel distribution. This application is ad-free and helps you connect to the best network based on updated real-time data.
Download WiFi Commander ($4.99)
5. inSSIDer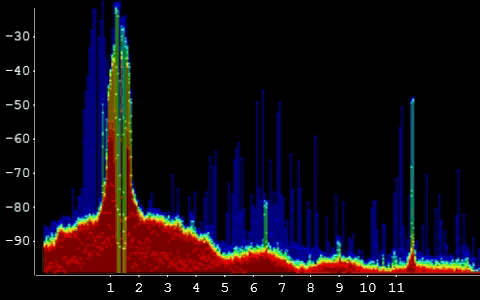 If you are looking for a wifi analyzer tool for your office with all the advanced options, inSSIDer is a suitable WiFi Analyzer software for you. It's available for Windows 10, 8 and 7 but doesn't support 2.4 GHz band.
It is a powerful tool that offers tonnes of features and specially designed for large networks with accuracy and reliability. In order to identify and give you proper results, it records Wifi signal metrics over a period of time and enables you to choose the best among them.
Also Read: 5 Ways to Fix ERR CONNECTION REFUSED Error in Chrome
inSSIDer also monitors channel saturation and identify the sources of interference. It regularly does a routine analysis to ensure you are connected to the best network.
The tool can quickly and accurately measure signal strength, help you pick the best channel for your home WiFi network. With more features, it also brings a high price tag. Its basic version comes at $149, making it not an affordable option for personal use.
Download inSSIDer
6. SpeedTest Master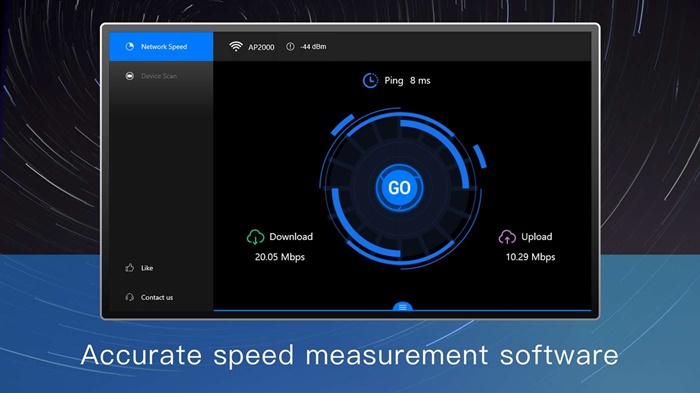 While the inSSIDer is an advanced and powerful WiFi Analyzer for Windows, not everyone wants to go so complex. So for an alternative, you can download this awesome tool.
Most of the people want a simple and quick solution that let them analyze their wifi network for details. SpeedTest Master benchmarks your network speed by one-click within seconds and scans your local network for the online devices.
It is fast and provides comprehensive measurement including download speed, upload speed and ping latency. etc.  It also shows the hostname, IP address, and Ping latency for the online devices in the local network. Unlike other tools, it also allows users to switch networks. Speed Test Master automatically saves all the analysis results.
The application is really simple and completely ad-free like previous Microsoft analyzers.
Download SpeedTest Master
7. Wireshark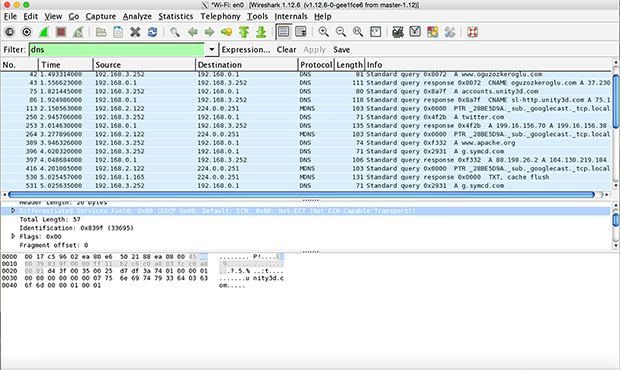 Wireshark is an open-source free packet analyzer software used to analyze networks for troubleshooting. It can analyze a variety of communication protocols including WiFi.
It lets you see what's happening on your network at a microscopic level and is currently a standard across many commercial and non-profit enterprises, government agencies, and educational institutions. All of its features and scope depends on the Open Source community.
Wireshark is free but you can't expect to use it right out of the box. It comes with a steep learning curve. There are training courses available on its website to help people interested in learning WireShark.
Download WireShark
Recommended: 10 Simple Ways to Fix WiFi Connected But No Internet Access
Final Words: WiFi Analyzers For Windows
Most of the tools are tested by many users and have good reviews. You can install any of the above wifi analyzers depending upon your requirements i.e whether you want to use it at your home or office. The only difference between the above software is their ability to help you find the right place and their compatibility with different versions of Windows.